The Lincoln Handicap is the first big betting race of the new flat racing turf season in Great Britian.
The Lincoln Handicap takes place on the 23rd of March 2024.
It is over a straight mile and traditionally heralds the start of the flat.
The race is famous for ante-post gambles, although there has only been one successful favourite in the past ten seasons.
Find out more about the Lincoln Handicap: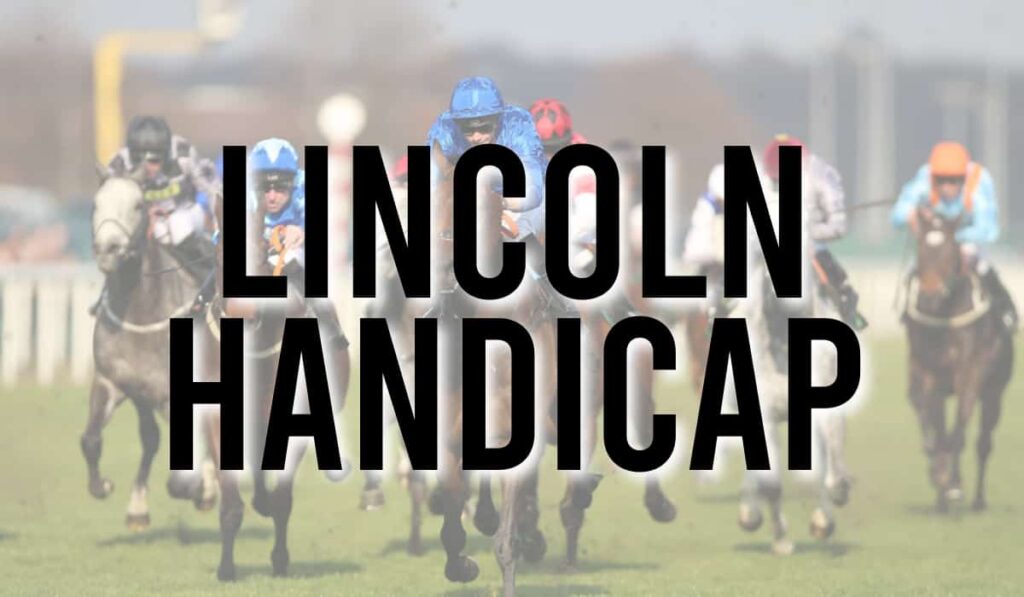 The Lincoln Handicap – Race Overview
The Lincoln Handicap takes place at Doncaster Racecourse in late March or early April and is open to horses aged 4 and over.
The going is usually soft for the opening flat season meeting so that is a consideration when assessing the early entries.
There is always much debate over the best draw but recent history suggests that high numbers hold sway.
If you are looking for more racing tips for events taking place at Doncaster then check out our Doncaster Racecourse betting tips page.
For all Doncaster races, our finest racing tipsters give free horse racing tips!
Famous Lincoln Handicap Winners & History
The original Lincolnshire Handicap was first run at Lincoln in August 1849 over two miles.
The Lincoln Spring Handicap was introduced in March 1853 with the trip shortened to a mile two years' later. It adopted the Lincolnshire Handicap title in 1860 and was transferred to Doncaster in 1965 when Lincoln Racecourse was permanently closed.
The renamed Lincoln Handicap gradually became established at the opening Spring meeting to become one of the most prestigious mile handicaps of the season. Ob (1906, 1907) became the first horse to win the Lincoln Spring Handicap twice with only Babur (1957, 1958) able to match his achievement.
The most famous gamble in the race took place on Frankincense in 1968. Barry Hills was travelling head lad to John Oxley and was part of a stable gamble from 66-1 down to 5-1 favourite. The horse eased out to 100-8 on the day but Hills was able to launch his own training career on the proceeds. He would train Pablo, a well-backed 5-1 chance, to win the race with son Michael aboard in 2003.
Frankincense carried 9st 5lbs to victory and the record winning weight in this big race is 9st 10lbs, defied by Cataldi (1985) and Babodana (2004).
Horses that carry more than 9 stone to victory in the Lincoln often go on to make their mark in listed or Group race company (read more in our type of horse races guide).
The classiest winner in Lincoln history was undoubtedly Addeybb in 2018, trained by William Haggas and ridden by James Doyle.
He won the Champion Stakes at Ascot in 2020 and travelled to Australia to win the Queen Elizabeth Stakes in 2020 and 2021.
Betting on the Lincoln Handicap
There is a very busy ante-post market for the Lincoln Handicap as soon as the weights are announced.
The recent trend has been for improving four-year-olds who were not fully exposed at three.
There is quite extensive media coverage ahead of the flat season these days and stables like William Haggas, John and Thady Gosden and Charlie Appleby often have one set aside for this race.
Lincoln Handicap Previous Result
Check out the latest result from this race:
Key Lincoln Handicap Trials
With this event being the first turf race of the season for most of the participants, it is difficult to highlight any one trial.
The race certainly suits horses with experience in big handicaps such as the Cambridgeshire at Newmarket Racecourse but there have also been winners who ran previously in Dubai.
Those with fewer than four handicap victories tend to do best, being less exposed than most of their rivals.
Addeybb had won the Silver Cambridgeshire at Newmarket on only his fifth career start and easily shrugged off a 6lbs weights rise at Doncaster racecourse.
Haqeeqy had a similar profile, having also won a competitive handicap on his fifth career start.
Lincoln Handicap Betting Trends
As you would expect for a race of this nature, favourites have a modest record.
Expresso Star (2009) and Penitent (2010) were both winning favourites but it was not until Auxerre (2019) that the next market leader obliged. The intervening years yielded a run of long-priced winners including Brae Hill (2012) at 25-1 and Levitate (2013), Ocean Tempest (2014) and Bravery (2017) at 20-1.
Looking further back, the history of the Unibet Lincoln is littered with winning outsiders.
Bronze Hill won at 50-1 in 1973 and Zucchero (2002) was the most recent of several successful 33-1 shots.
Punters do seem to have stemmed the flow of shocks in recent years with Addeybb (2018), Auxerre (2019) and Haqeeqy (2021) all being well supported.
Lincoln Handicap Stats
In modern times, only Star Of A Gunner (1987) and Hunters Of Brora (1988) have won the Lincoln over the age of six.
The recent trend has certainly been towards four-year-olds, winning five consecutive times from 2016 to 2021.
There is also a trend towards horses carrying 8 stone 12lbs or more with only Levitate (2013) failing to meet these criteria since 2009.
Almost all recent winners had previously been successful over a mile or further.
Perhaps the most significant stat is that a high percentage of them had won between two and four times in their careers, leaving plenty of scope for improvement.
In terms of the draw, three-quarters of recent winners came from stalls 9 or higher. While this is not conclusive, it does suggest that a low draw should be treated with caution for your Lincoln bets.
Top Trainers and Jockeys
William Haggas equalled Jack Robinson's record of training four Lincoln winners when Addeybb won in 2018. He had previously been successful with High Low (1992), Very Wise (2007) and Penitent (2010).
Richard Fahey saddled Brae Hill (2012) and Gabrial (2015) while Charlie Appleby has enjoyed recent success with Secret Brief (2016) and Auxerre (2019).
John Gosden trained Expresso Star (2009) and struck again with Haqeeqy in 2021, this in time in partnership with his son Thady.
Charlie Maidment is the only jockey in history to ride four Lincoln winners, his victories coming way back between 1868 and 1873.
In more recent times, Jimmy Fortune was successful on three occasions.
Tony Hamilton rode both of Richard Fahey's Lincoln winners and James Doyle enjoyed back-to-back successes aboard Addeybb (2018) and Auxerre (2019).
Summary of Lincoln Handicap
The Lincoln Handicap is a fiercely competitive mile handicap and one of the toughest races of the season to unravel.
Despite the likelihood of soft ground and uncertainty over the draw, punters have enjoyed recent success with Addeybb, Auxerre and Haqeeqy. All three were heavily supported in the ante-post market.
We have looked at all the information you need including betting odds, tips and more, so you can enjoy the race whether placing a bet or watching on TV!