Welcome to our official guide to Cork Racecourse.
One of the busiest racecourses in Ireland, Cork Racecourse Mallow (or just Mallow Racecourse, as it's known to locals) hosts around twenty fixtures a year in both flat and National Hunt disciplines. A popular venue with the equestrian community, it is respected as a fair test for any horse and trainers strive to win here wherever possible.
If you are looking for the latest betting tips for Cork, check out our full guide to Cork Racecourse tips.
Find out more about Cork Racecourse: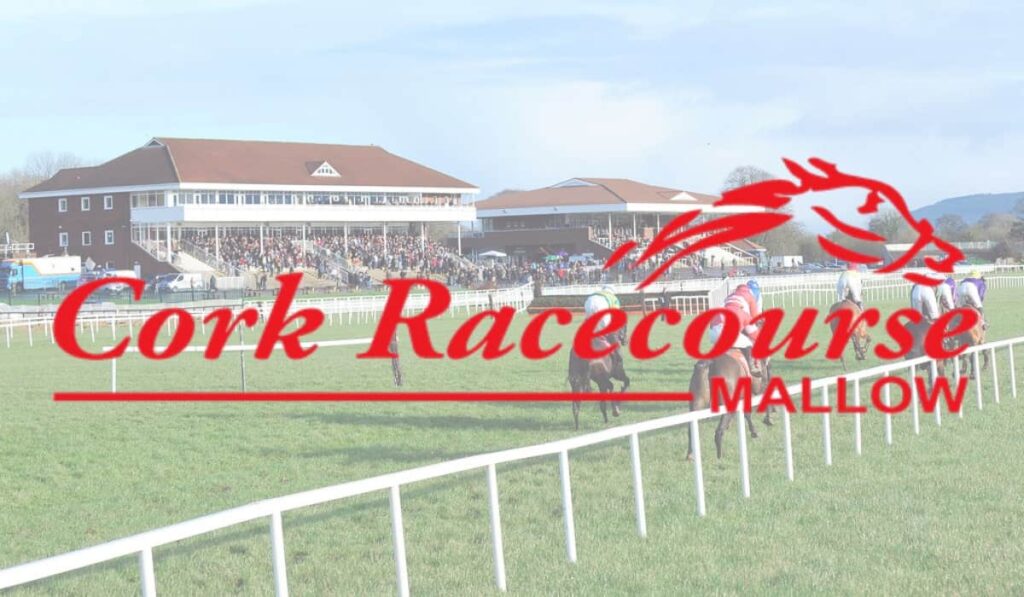 Overview of Cork Racecourse
Cork Racecourse Mallow plays host to both flat and National Hunt racing and is one of only three racecourses in the whole of Ireland with a straight six-furlong course.
The National Hunt track is a right-handed flat oval measuring approximately 1 mile 4 furlongs, with a chase track to the outside and hurdle track within. 8 fences sit on the chase track alongside 6 regulations and 2 ditches. It's a testing track with next to no room for error and has caught out even the most experienced of horses at times.
There are two parts to the flat track: a round right-handed flat oval approximately 1 mile 4 furlongs with just over 3 furlongs to the home straight, and a flat 7-furlong straight sprint track that finishes close to the grandstand to enjoy a roaring crowd reception. Cork Racecourse has what many consider the best straight 7f course In Ireland.
Cork Racecourse Mallow has a good variety of facilities for both well-versed racegoers and newbies alike; with five public bars, a carvery restaurant, a coffee bar and several hospitality suites.
It's entirely wheelchair friendly with access to all areas as well as a designated elevated viewing spot, priority disabled parking spaces and wheelchair accessible toilets in both stands.
What's more, it's a very family-friendly venue – with baby changing facilities throughout, and a permanent playground in place as well as free activities laid on during race days; including face painting, bouncy castles, magic shows and other entertainment.
Cork Racecourse History
Cork Racecourse Mallow was founded in 1924 but there has been racing in the surrounding areas for hundreds of years; as is the case for many town-based tracks in Ireland.
Indeed it was just down the road at Buttevant that the first-ever steeplechase was supposedly run in 1752, from the church there to the church at Doneraile.
The town of Mallow is extremely rich in history and retains much of its 18th and 19th-century character to this day; including of course, the ongoing tradition of racing in the area. Visitors to Cork Racecourse Mallow can visit a whole host of historical sites when they're in the town.
Cork Racecourse Map
There are two courses at Cork Racecourse Mallow, the flat and jumps tracks. Check out the maps below.
Cork Flat Track
Below is a map of the flat course at Cork: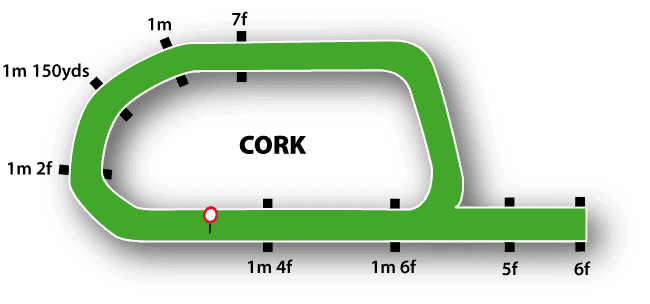 The flat course is twelve furlong (outer circuit), with the jumps tracks inside.
It is a tight course with a straight 7-furlong course. It is generally considered to be a fair course.
Cork Jumps Track
Below is a map of Cork's jump track:

It is a ten-furlong inner circuit course (on the inside of the flat track).
It is known as a fair and galloping track and runners tend to end up spread out by the finish. Conditions can get testing in winter.
Main Races and Events at Cork
For flat racing, the Munster Oaks and Give Thanks Stakes, both Group 3 races in Ireland, are considered the highlights of the Cork Racecourse Mallow calendar. The former is run over a mile and a half and has been hosted at Cork since 2005. The latter is run over the same distance but a month later in August and is for fillies and mares aged three and above.
If flat racing Irish Premier Handicaps are your preferred horse racing events you don't want to miss the Mallow Handicap, Cork Derby Handicap, Habitat Handicap or Doneraile Handicap which are all great betting events.
When it comes to National Hunt, it is home to the Cork Grand National Handicap Chase and the Grade 2 Hilly Way Chase is extremely popular and has been won by several well-known names in the scene; including Douvan and Beef or Salmon.
For hurdles, the Cork Stayers Novice Hurdle pays out €35,000 to the winner and is run over three miles.
Cork Racecourse Address
The address of Cork Racecourse is:
Cork Racecourse Mallow
Killarney Road
Mallow
County Cork
Ireland
How To Get To Cork Racecourse Mallow
The ways to get to Cork Racecourse are:
By car – Cork Racecourse Mallow is located just 1km out of Mallow, 35km north of Cork city and 64km south of Limerick city. Both cities are easily connected to the racecourse by road, and those travelling from Dublin or Waterford also have easy vehicle access.
By train – Mallow rail station is served by regular trains from Cork, Dublin, Tralee and Killarney. On race days, a free shuttle bus service runs to and from the train station timed before and after the day's events.
By air – For those travelling by air, Cork Airport is 45km from the course and is served by Ryanair, Aer Lingus, Aer Arann, British Airways and BMI. Helicopter landing directly at the racecourse can be arranged in advance.
Hotels near Cork Racecourse Mallow
Mallow is a small town and so accommodation options are not plentiful – but there are a few!
There are no chain hotels in Mallow but you can find independent budget and B&B options in the town, including The Dutch Tulip, The Hibernian Hotel, Greenfield House B&B, Oaklands B&B and Anabella Lodge B&B.
A little further afield (a short drive away), you can find premium hotel Springfort Hall Hotel, a four-star country house hotel that has rooms starting at £93 per night.
Most visitors to Cork Racecourse Mallow choose to travel in and out of the town on the same day so don't require overnight accommodation. There are plenty of hotel, B&B and guesthouse options in Cork spanning all budgets and types.
Betting Shops Local to Cork Racecourse Mallow
Cork Racecourse Mallow has a Paddy Power betting shop on-site, and you'll find the usual independent bookies trackside. This is where you can usually find the most competitive odds.
Mobile phone signal isn't the best in and around Mallow, so if you want to bet online using your smartphone or device you may find it best to do so before you arrive at the racecourse, just in case.
Mallow itself isn't a big place and so you won't find lots of betting shops local to the town, but there is a branch of Paddy Power and one of BoyleSports in the town centre. Both can be found on Main Street, just a few doors down from each other!
Best Cork Races Betting Sites
We often recommend betting online and via mobile betting apps. This is because you can often get the best odds, great offers when signing up and you can place bets quickly and safely without having to queue.
If you are looking to bet online we recommend the following great deals shown on this page.
Many of the these online betting sites made our list best betting sites and come highly recommended.
Cork Races 2024
Here is the horse racing calendar for Cork Races in 2024:
| Date | Weekday | Racecourse |
| --- | --- | --- |
| 06/01/2024 | Saturday | Cork |
| 21/03/2024 | Thursday | Cork |
| 30/03/2024 | Saturday | Cork |
| 31/03/2024 | Sunday | Cork |
| 01/04/2024 | Monday | Cork |
| 26/04/2024 | Friday | Cork |
| 10/05/2024 | Friday | Cork |
| 11/05/2024 | Saturday | Cork |
| 21/05/2024 | Tuesday | Cork |
| 14/06/2024 | Friday | Cork |
| 05/07/2024 | Friday | Cork |
| 26/07/2024 | Friday | Cork |
| 05/08/2024 | Monday | Cork |
| 16/08/2024 | Friday | Cork |
| 11/09/2024 | Wednesday | Cork |
| 01/10/2024 | Tuesday | Cork |
| 13/10/2024 | Sunday | Cork |
| 03/11/2024 | Sunday | Cork |
| 24/11/2024 | Sunday | Cork |
| 08/12/2024 | Sunday | Cork |
Check out our guide for the full list of Ireland's horse race meetings in 2024.
Cork Racecourse Weather
Many punters like to keep up the weather when planning their day at the races, it's helpful so you know what to wear but also so you can be up to date or predict racing goings.
Check out the Cork weather forecast:
CORK WEATHER

Cork Racecard
The racecards for Cork races will be released the day before the races are set to happen. You can view full racecards in advance, check out – horse racing tomorrow and horse racing today. In these, you will get an advance look at all the runners, trainers, form and riders.
You can also of course purchase a racecard from the track which carries much of the same useful information. Many like to keep these as souvenirs, especially from major UK horse races.
Other Events at Cork Racecourse Mallow
A less prominent highlight of the race calendar at Cork Racecourse Mallow is a fairly new one – the Easter festival that runs over three days every year and began in 2010. A favourite amongst more informal racegoers, it is extremely family-friendly and sells out every year.
Popular Questions
What is the cheapest way to get from Cork to Cork Racecourse?
From Cork to Cork Racecourse is approximately 30 mins by car, so driving is a cheap option. Some free or cheap shuttle buses sometimes operate as well.
How many hotels will I find close to Cork Racecourse?
There are  lots of hotels in Mallow close to Cork Racecourse, there are obviously lots of options in Cork city as well, which is 30 mins away. In our guide we look at some of the best around.
Summary of Cork Racecourse
Cork Racecourse Mallow is a stunning racecourse set in the amazing Irish countryside.
Known as a relatively fair track, it hosts top-quality flat and jumps race meetings, including their own Grand National – The Cork Grand National!
The staff are very friendly and knowledgeable, it is a track loved by locals and visitors from afar. It is a jewel of Irish racing.
Highly recommended.
Ireland Racecourses Alphabetical
Here is a full alphabetical list of Irish racecourses, as you can see there are lots of options and racecourses spread across the entire country: