Ready to take your Lucky 15 bets to the next level? Look no further!
Our team of experts has researched, analysed the races, and delivered the best tips, stats, and trends to help you win big with our daily Lucky 15 Tips.
With our cutting-edge Lucky 15 Calculator, you can calculate your odds and maximise your profits like never before.
And don't forget our free horse racing tips from every racecourse to ensure you're always up to date with the best insider knowledge.
So what are you waiting for? Join the winning team and get the best tips for today's horse racing events.
Get our Lucky 15 tips: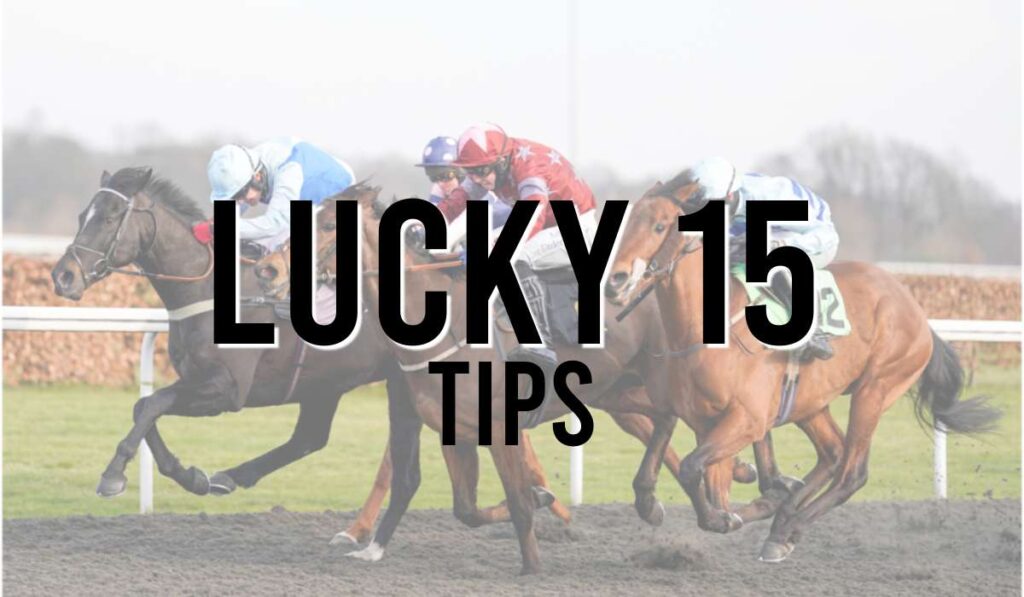 Lucky 15 Tips for Today
Here are the Today's Lucky 15 Tips.
What are Lucky 15 Tips?
A Lucky 15 is a betting strategy for placing 15 separate bets on 4 selected horses.
This approach involves four singles, six doubles, four trebles, and one four-fold accumulator bet.
It provides returns for a single winning horse and increases returns as more of the 4 selected horses win.
It's important to note that since a Lucky 15 involves 15 different bets, the total cost of the wager is the stake multiplied by 15.
Therefore, a £1 Lucky 15 would amount to a total of £15, while a £2 Lucky 15 would amount to £30 etc.
What is the smartest strategy for Lucky 15 Tips in horse racing?
The smartest strategy when wagering money on Lucky 15 Tips is to punt on an each-way lucky 15 bet slip.
The profitable sports bettors wager E/W lucky 15 bets on selections they feel will outrun their odds.
Some of the leading bookmakers pay treble the odds for a single winner and this means one winner can show profitable returns.
The knowledgeable sport betting punters place the E/W bets using online bookies paying additional places like these:
Bet365 extra places today on each way Lucky 15's
Coral extra places today on each way Lucky 15's
Ladbrokes extra places today on each way Lucky 15's
Paddy Power extra places today on each way Lucky 15's
Betfred extra places today on each way Lucky 15's
William hill extra places today on each way Lucky 15's
What other Types Of Lucky Bet Are There?
Below are the three types of Lucky bets that are available for betting enthusiasts:
Lucky 15 – This type of bet involves selecting 4 options and placing 15 bets.
Lucky 31 – This option requires choosing 5 selections and placing 31 bets.
Lucky 63 – This bet type involves selecting 6 options and placing 63 bets.
It is worth noting that Betfair offers bonuses that increase as the number of selections increases.
For instance, a Lucky 31 offers a 20% bonus if all 5 options win, while a Lucky 63 offers a 25% bonus if all 6 options win.
Our racing experts provide tips for lucky 31 and 63 bets each day.
How do We select our Lucky 15 tips?
Our betting strategy typically involves tipping a To Win Lucky 15 instead of the Each Way Lucky 15. This means our four picks have to win their races, not just finish in the top three.
Our tips usually range in price from evens to 5/1, with a preference for selections above 5/2.
We dedicate many hours daily to selecting our horse racing tips. In doing so, we leverage various statistical tools, take notes, track horses, and observe each race run in the UK and Ireland daily.
With this method, we've built an extensive database of horses that should do well on a given day.
Lucky 15 Betting Options
If you are looking to place a Lucky 15 bet check out these betting sites:
Frequently Asked Questions
How Much Does a Lucky 15 Cost?
Placing a Lucky 15 bet involves 15 bets on 4 selections. A £1 win-only bet costs £15.
How Much Does An Each-Way Lucky 15 Cost?
For each-way Lucky 15, there are both win and place elements in 15 bets. A £1 EW Lucky 15 costs £30.
What Happens If You Have Two Non Runners In a Lucky 15?
If one of your selections in a lucky 15 bet is a non-runner, your bet is still valid but settled without the non-runner. A Treble becomes a Double, and a Double becomes a Single.
Is Lucky 15 The Same as a Yankee?
Lucky 15 and Yankee are both four-selection multiple bets. Yankee excludes single bets, while Lucky 15 includes them.
How Does A Lucky 15 Payout?
A Lucky 15 bet involves 15 equally valued bets on four events, with four singles, six doubles, four trebles, and a four-fold accumulator. It offers returns even if only one selection wins and higher returns with multiple wins.
Summary of Lucky 15 Tips
Lucky 15 bets are a popular choice for those who want to increase their chances of winning while also having a chance to win big.
One advantage is the potential to earn returns with just one winning selection and significant returns with multiple wins.
However, the 15-bet structure can be costly, and all four selections must win for a significant return.
Selecting four winning horses can also be challenging, making it a riskier option when compared to other types of bets.
Experienced bettors may find Lucky 15 bets worthwhile, while beginners may want to start with other bets until gaining more knowledge and experience.
If you have enjoyed this top-rated betting tipsters page, here are some other articles related to horse racing tips you may also like:
Subjects covered in Lucky 15 guide – free horse racing tips, horse racing multiple bet, tips for horse racing punters, best horse racing tips and sports bets, one of the most popular multiple bets, Lucky 15 cheltenham festival tips.