Welcome to British Racecourses, where we find hidden gem outsiders for you to bet on. Our team of experts scours race cards to find horses overlooked by bookmakers but with the potential to win at great odds.
We use analysis, form study, and insider information to identify "dark horses" and provide subscribers with the best tips for their bets.
Our dark horse racing tip is a value bet, typically with higher odds.
Whether you're a seasoned bettor or a newcomer, our tips can help you make informed decisions and potentially increase your winnings.
As a knowledgeable sports bettor, if you like to wager bets on horses at big prices you should check the list of top betting sites for EW betting online.
Get our daily dark horse betting tips: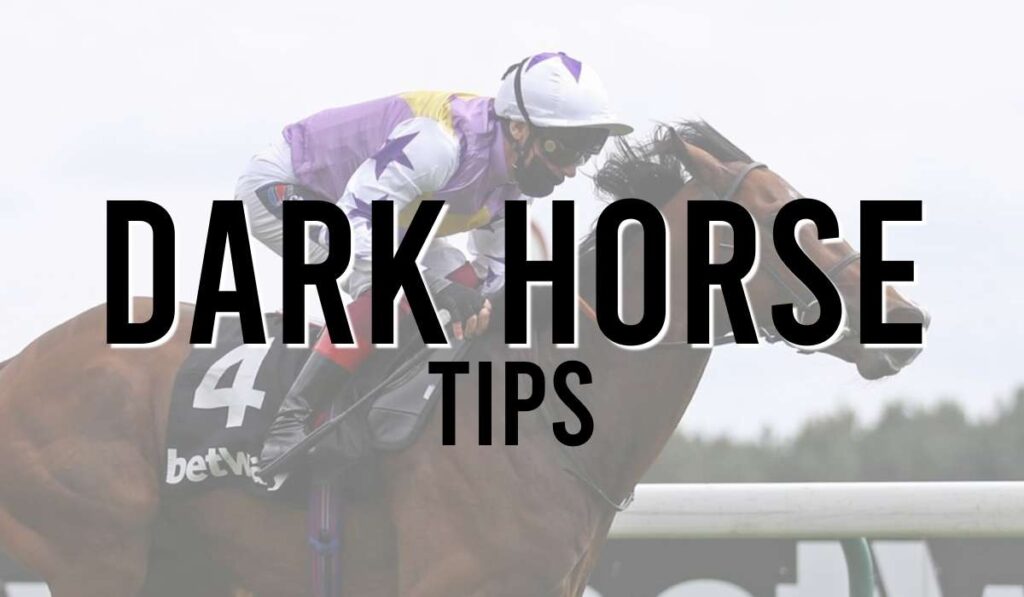 Dark Horse Tips for Today
Here are the Today's Dark Horse Tips.
What Is A Dark Horse Bet?
In horse racing, a"dark horse" is a term used to describe a horse that is relatively unknown or has little betting support but has the potential to perform well in a race.
This term is often used to describe a horse that is not a favourite to win but has shown promising performance in previous races or has favourable conditions that may give them an edge in a particular race.
Betting on a dark horse can sometimes offer higher payouts if the horse performs well and wins the race.
What Are The Advantages Of Dark Horse Betting?
Betting on a dark horse in horse racing can have a few potential advantages:
Higher odds: Dark horses are typically seen as less likely to win, meaning bookmakers offer higher odds. This can lead to a larger potential payout if the horse wins.
Smaller stake: Because the odds are higher, you can win a larger amount of money with a smaller stake than by betting on a favourite. This can make it an appealing option for those who don't want to risk a large amount of money.
Excitement: Betting on a dark horse can add excitement to the race, as you are cheering for an underdog to outperform expectations and potentially win the race.
It's important to remember that betting on a dark horse also comes with risks.
They are seen as less likely to win for a reason, and there's a higher chance that you could lose your money.
As with any form of gambling, it's important to gamble responsibly and within your means.
How We Select Our Dark Horse Tips
Selecting a dark horse bet in horse racing involves several factors, including monitoring the horse's form, past performances of the jockey and trainers, track conditions, and race distance.
Here are some of the steps we take to select a dark horse bet:
Research: We do our homework and research the horses' form, past performances, and track conditions to find dark horse picks. The past performance is very important.
Jockey and Trainer: We look for horses with a reputable jockey and trainer with a good track record.
Track conditions: Our tipsters consider how the horse has performed on different track conditions, such as firm, soft, or heavy.
Distance of the race: Our experts look for horses that have previously performed well at the same distance as the upcoming race.
Odds: We look for horses with higher odds but ones likely to do well.
Considering these factors, you can narrow your choices to a few potential dark horse picks and increase your chances of winning big, essentially making informed decisions.
Dark Horse Betting Options
Looking for a new bookmaker for our dark horse racing tips? Then check out these leading bookies now:
Summary of Outsider Tips Today and Dark Horse Racing Tips
The Dark Horse tip is a bet consisting of a single horse with odds usually of 10/1 or more – so very enticing odds!
By finding the best providers of tips for Dark Horse bets, you can make informed selections and increase your winning chances.
Check out our recommendations and Dark Horse tips, or why not construct your bet?! It can be a lot of fun.
If you have enjoyed this top-rated betting tipsters page, here are some other articles related to horse racing tips you may also like:
Summary of dark horse tips – dark horse betting tips, today's horse racing of longshots,