Irish Racecourses
Irish horse racing is an amazing experience and part of the cultural fabric of the country.
With 26 racecourses in Northern and The Republic of Ireland, there are plenty of racing events and racecourses to choose from.
With 391 Irish race meetings in 2023 you can experience the fun, atmosphere and excitement of attending a horse racing track in Ireland with the calendar season running from 1st January 2023 to the 31st December 2023.
Find out more about Irish racing, including a guide to the courses, a look at the main events and their history today: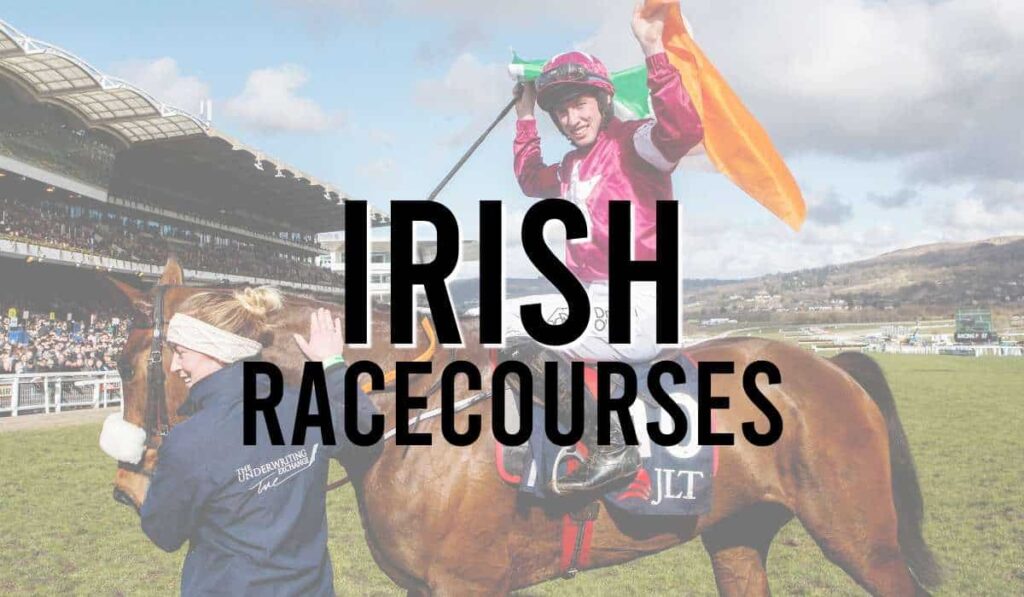 Ireland Racecourses Alphabetical
Here is a full alphabetical list of Irish racecourses, as you can see there are lots of options and racecourses spread across the entire country:
A Brief History of Racing in Ireland
Racing has always been a key pastime in Ireland.
The ancient Brehon Law that governed the country until the 17th Century insisted that the sons of the king were provided with horses for racing. To this day in 2020, there are some 16,000 people employed by the racing industry. It is not just culturally significant to the country but also a key industry.
The rules of Irish racing were devised by William Temple in 1673. In a letter to King Charles II, he described horses as a drug in Ireland.
This was followed by the formation of the Honourable Society of Sportsmen in 1749, which was renamed the Turf Club in 1784. To this day, the Turf Club and HRI (Horse Racing Ireland) regulates Irish racing.
The thoroughbreds that run in Ireland today are all descendants of a trio of stallions, imported from the middle east in the 18th Century – this is the same with most thoroughbred racing.
These days, Ireland is considered the world leader in thoroughbred racing and breeding both in National Hunt Racing and flat, racing takes place nearly every day.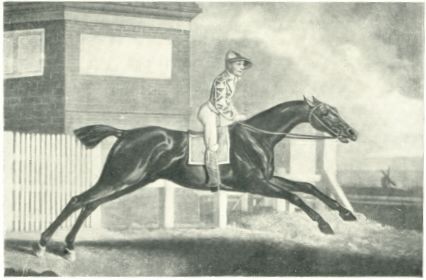 How Many Racecourses are There in Ireland?
There are 26 racecourses in Ireland, each of which offers something different.
23 of these are in Southern Ireland and 3 racecourses in Northern Ireland.
Here is the full list of 26 racecourses in Ireland:
Throughout the remainder of this guide, we will give you more information about each Irish racecourse, simply follow any links off to more in-depth guides, which will include a particular focus on the major sites, cities and events. We'll help you find the perfect course for your needs.
If you are planning a visit and wondering which of the 26 Irish racecourses is best for you to visit will depend on a range of factors. These include:
Do you enjoy jumps (national hunt) or flat racing?
When are you looking to visit?
How much are you prepared to pay for admission to the course – although most are very reasonably priced.
Are you hoping to attend a major event on the global racing stage or local race meetings?
How will you get to the racecourse? Will you need parking on-site or accessible public transport links and a bus shuttle to the course?
Are you looking for a conventional horseshoe circuit, or something a little quirkier?
What section would you like to sit in – the paddocks or a private box?
All racing in Ireland is governed by Horse Racing Ireland (HRI).
Dublin Racecourses
For many non-Irish nationals, Dublin is the beating heart of the country. That works well for racing fans; meetings are among the most popular sporting events in the Irish capital, and it is comparatively simple to reach Dublin through a range of transport means.
Here are the racecourses closest to Dublin:
Leopardstown (8 miles from the city centre)
Fairyhouse (18 miles from the city centre)
Punchestown (24 miles from the city centre in co Kildare)
Curragh (33 miles from the city centre in co Kildare)
This does not, in any way, diminish the qualities of other racecourses in Ireland. As discussed, every site has its own charm and range of benefits.
Dublin remains hugely popular with tourists though, so you may be able to tie in a race meeting with a general city break if you are crossing the Irish sea or coming from further afield.
These Dublin racecourses remain central to the World's racing stage due to the high-profile runners and riders who race here year after year for great prize money and prestige at their major meetings.
Northern Ireland Racecourses
There are two main racing tracks in Northern Ireland – Downpatrick and Down Royal.
These Northern Ireland racecourses boast state of the art facilities and some of the most important equestrian events in Irish horse racing.
However, these two racecourses are also complemented by Farmacaffley and the Dundalk Stadium. Placing the latter here may stir up a little controversy, as it is geographically located on the Irish border. Technically, however, Dundalk is considered among the category of Northern Irish racecourses.
What are the Major Irish Racing Festivals?
Racing festivals are a major part of the culture in Ireland. All of these are celebrated occasions and see countless people cram into the paddocks to see who completes the circuit fastest.
Some of the most prominent racing festivals in Ireland are:
Cork Easter Festival
Fairyhouse Easter Festival
Punchestown National Hunt Festival
Killarney Spring Festival Festival
Curragh Guineas Meeting
Down Royal Ulster Derby
Curragh Derby Meeting
Bellewstown Festival
Curragh Oaks Day
Killarney July Festival
Galway Festival
Tramore Festival
Killarney August Festival
Longines Irish Champions Weekend
Down Royal Festival
Irish Grand National meeting
Punchestown Winter Racing Festival
Fairyhouse Premier Jump Racing Weekend
Leopardstown Christmas Racing
Limerick Christmas Racing
We review all the major Irish races, follow our links to find out more about:
For more information on these events, including how to get to the course and purchase tickets, take a look at the website of the racecourses in question. You'll be enjoying a famous meeting in no time at all thanks to Horse Racing Ireland.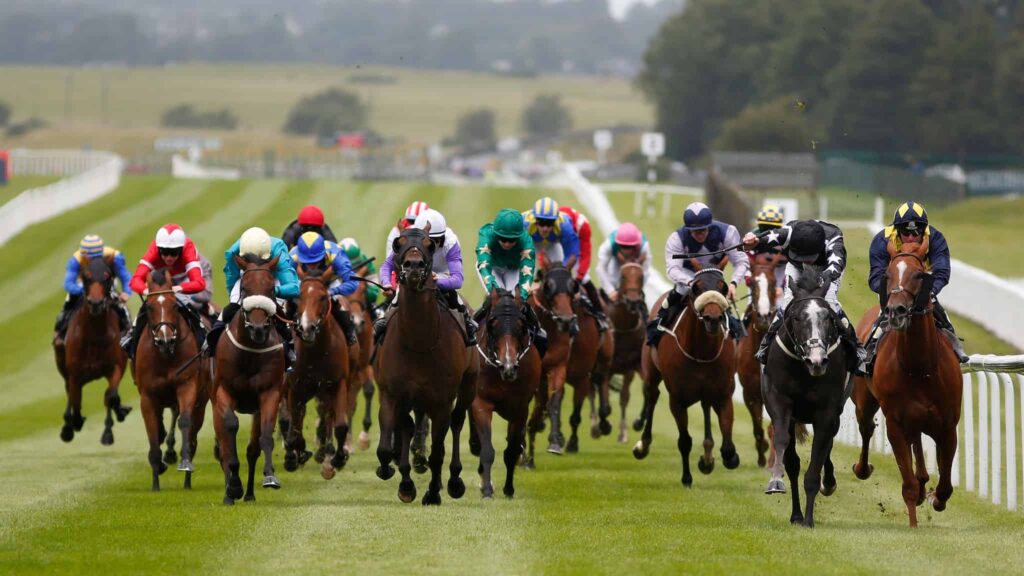 How Important is the Horse Racing Industry to The Irish Economy?
Racecourses and the events they host provide some €1.1 billion to the Irish economy each and every year. That's not exactly small change!
All events held in Ireland are a major deal of locals and citizens alike and are central on the World's racing stage.
As a tourist, you will be welcomed to racecourses with open arms. The money you bet is critical to the country as a whole.
Breeding of racehorses is also a big moneyspinner in Ireland, as the country produces some of the finest colts and fillies in the world. These are then exported around the globe to compete in a variety of international meetings.
Of course, local horses are also popular with the natives.
The famous trainers like Aidan O'Brien and Willie Mullins all dominate winning many events on home soil, as well as on UK and English racecourses, where they often send horses to compete.
Frequently Asked Questions About Irish Racing
Here are the most common questions we get asked about racing in Ireland:
What are the Best Racecourses in Ireland?
The best racecourses in Ireland in our opinion are:
Galway
Curragh
Cork
The Curragh
Dundalk
However, "best" is a subjective term. Take a look at the information that we have provided and choose which day at the races, or horse racing festival, you would like to attend. As the old saying goes, it's a case of horses for courses.
Our two favourites, however, would have to be Galway and Listowel as we have had personal success with our horses (Dooley Thoroughbreds) at these tracks.
Is Horse Racing a Big Deal in Ireland?
When it comes to racing, Ireland takes itself very seriously and racing is a big deal.
Ireland has bred some of the most celebrated and successful horses of all time, thanks in no small part to the climate and soil structure. This makes for ideal conditions for breeding and raising racing horses for success.
Equally, racing meetings are a huge social occasion with people from all walks of life coming together.
Who is the Most Famous Irish Racehorse of All Time?
Arkle (1957 – 1970) was possibly the most popular horse in the history of Ireland. Winning 27 of the 35 races he entered, Arkle remains a national hero. Read more about him in our Best Hennessey Gold Cup winners blog.
In terms of national hunt races, Dawn Run (1978–1986) is the most successful mare in the history of equestrian sport. While many Irish horses enjoy legendary status, these perpetual front runners are regarded on a different level.
Who is the Most Successful Irish Jockey of All Time?
Sir Anthony McCoy (better known as AP McCoy) dominated national hunt racing until his retirement, winning a championship race in every year that he was active in the jumps.
Richard Dunwoody is another legend of the sport, notching up 1,700 career victories across a multitude of meetings.
Summary of Irish Racing
If you have even a casual interest in racing, Ireland is a must-visit.
Whether you're a fan of the jumps or flat racing, there are a plethora of racecourses in Ireland.
You do not need to restrict yourself to one place. Dublin, Cork and Kildare, for example, all have plenty of options. Equally, be sure to investigate Northern Ireland for more choices of racecourses.
Check out the information that we have provided on each location and choose which event or festival you'd like to attend. Trust us – it's an experience you'll never forget.
Betting at Irish Racecourses
There are lots of options when looking to bet at an Irish racecourse, including on the course itself with independents (in Ireland, horse racing bookmakers are known as being some of the most fun and dynamic in the world) but check out the best current online bookies below or read more here in our in-depth guide – best Irish betting sites – or the great betting sites below: