Welcome to our Wexford Racecourse Guide.
Located in the southeast of Ireland, Wexford Racecourse has undergone a great deal of change in recent years and is now exclusively a National Hunt racing venue.
We explore this Irish racecourse in detail, looking at its history, a guide to the track, local hotel picks, racing fixtures, travel information, betting guides, tips and even the weather.
If you are looking for the latest betting tips for Wexford, check out our full guide to Wexford Racecourse tips.
Find out more about Wexford Racecourse: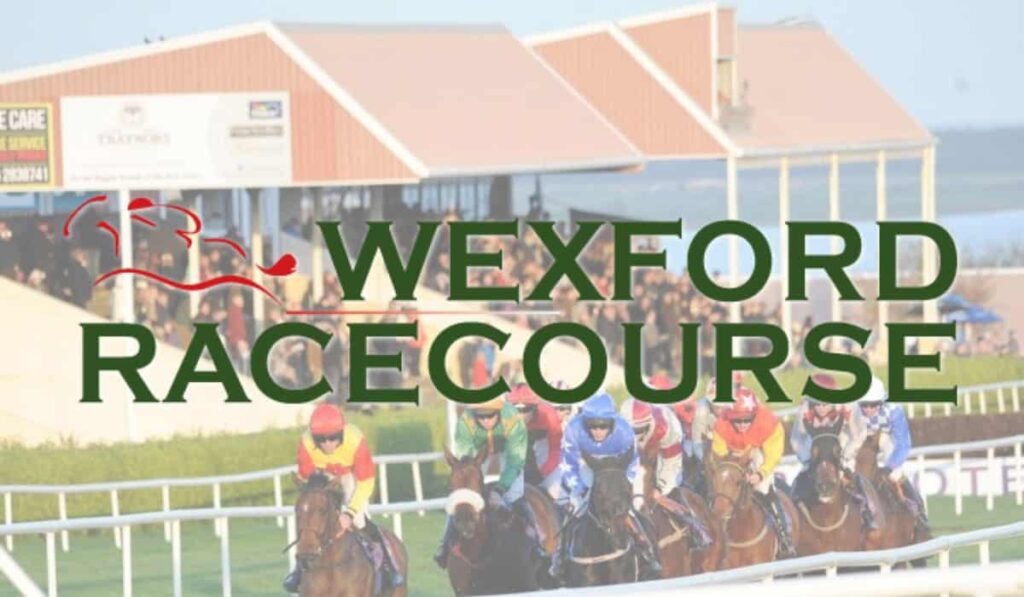 Overview of Wexford Races
Wexford Races, located in the town of Wexford, is known for its popular Friday evening meetings and race events throughout the months of March to November.
It was, until 2016, a flat and National Hunt racing course: but was converted exclusively to the latter a year after the track switched from being right-handed to left-handed.
Amongst the changes undergone, the course itself has been widened and realigned – and as a result, is popular amongst owners, trainers and jockeys, continuing to attract large and competitive fields of runners of many types.
Alongside the investment made in the track itself, Wexford Racecourse has enjoyed the development of its grandstands and hospitality and entertaining facilities. It has now positioned itself as an attractive venue for corporate events, hen and stag parties, and other large special occasion celebrations.
Wexford Racecourse is fast blossoming in popularity as a result of its modern amenities, sunny locale and increasingly impressive racing talent.
Wexford Racecourse History
Wexford Racecourse has verified documentation of horseracing taking place in its vicinity since the 1870s, but the current course near Bettyville was founded in 1951.
Indeed the sport was already in demand enough that a stunning 17,000 people attended the first race meet on that October evening.
Over the years since, various improvements and developments have been made to the course, and it has been levelled several times. The staff, made up of entirely dedicated racing enthusiasts, continue to work hard on both the facilities and marketing of Wexford Racecourse to this day; truly centring it in the Irish horseracing scene as an important venue and an attractive one for both those in the equestrian industry and racegoers alike.
Wexford Racecourse Map
Below is a map of Wexford Racecourse: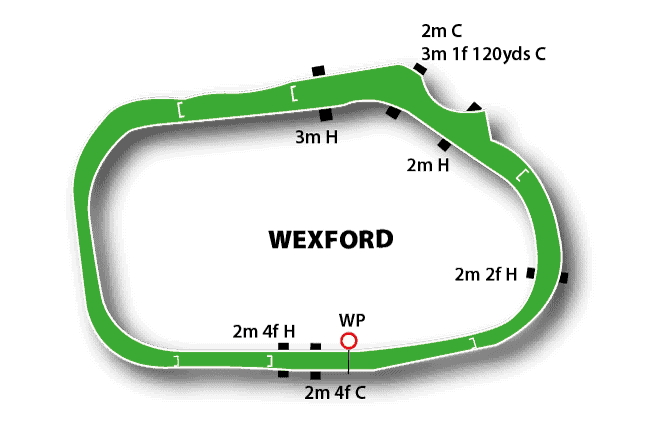 The track is undulating and rectangular in shape, measuring nine and a half furlongs.
Races are run left-handed despite previous meets having been right-handed, and the new winning post sits to the right of the stands. Wexford's track is sharp with tight turns and is favoured by fast, handy horses.
The hurdles course sits inside of the chase one: with six fences to a circuit of the chase course: three in the home straight and two on the far side.
Main Races and Events At Wexford Racecourse
There is no one set 'big event' in the calendar at Wexford Racecourse but instead, 11 separate fixtures that all usually pull in a sell-out crowd.
The races are usually of Grade 2 level. At Wexford continues to position itself in the Irish horseracing scene, it is increasingly drawing in more competitive events with more prominent horses and jockeys and larger value prize pots.
Wexford Racecourse can definitely be considered still very much 'one to watch' and so is likely to obtain larger and more impressive events in the coming years as other tracks flounder and this one develops and grows further.
Wexford Racecourse Address
The address of Wexford Racecourse is:
Wexford Racecourse
Bettyville
Newtown Road
Carricklawn
Wexford
County Wexford
Ireland
How To Get To Wexford Racecourse
The ways to get to Wexford races are:
By car – Wexford Racecourse is situated just a kilometre west of the town of Wexford, County Wexford. Situated between all major road routes into the town, it is easily accessible by road and takes about 1hr45 from Dublin, 2h15 from Cork, 3hr30 from Galway and 3hr30 from Belfast.
By train – the nearest train station is Wexford, which is served up to four times a day by Irish Rail from Dublin. Once in the town centre of Wexford, the racecourse is within walkable distance but can also be navigated by the regular bus service from the centre to Wexford General Hospital; which is just opposite the venue.
By airport – the closest airport to Wexford is Waterford Airport, but services are currently restricted there due to building works delayed by the ongoing coronavirus pandemic. Therefore, currently, the closest commercial airport to the racecourse is Dublin; some 2hrs away.
Hotels near Wexford Racecourse
Wexford Racecourse doesn't have hundreds of hotels in its vicinity, as the town is fairly small, but there are options available.
The town centre has some small, independently-owned hotels and guesthouses, or there are some more premium choices available for those looking for an upgraded stay. The Clayton Whites Hotel has a full on-site leisure centre, gym and spa, and frequently offers special discounts for those travelling as part of a promotional package. Across the Slaney River Estuary you'll find the Riverbank House Hotel, which is well renowned for its a la carte restaurant and customer service.
Those looking for chain hotels or more choices of overnight accommodation can find plenty in nearby Waterford or Kilkenny.

Betting Shops Local to Wexford Racecourse
Wexford Racecourse has a branch of Boyle Sports on-site for those looking to have a flutter on their races, but you'll also find a variety of independent bookmakers trackside toward the winning post (and they often offer the most competitive odds).
There are on-table tote facilities on race days for those in corporate and hospitality suites.
There's free WiFi throughout the venue at Wexford Races, so those wishing to bet online can do so easily on their devices; although mobile signal isn't bad in the area anyway, so connecting to the internet may not necessarily be required. Check out these top betting mobile apps.
The town of Wexford has a few branches of chain betting shops – including four branches of BoyleSports, two of PaddyPower and one of Bar One Racing. Several of these are in the town centre but smaller betting shops can be found in more residential areas.
Best Wexford Races Betting Sites
At British Racecourses we often recommend betting online and via apps when going to the races. This is because you can often get the best odds, great offers when signing up and you can place bets quickly and safely.
If you are looking to bet online we recommend the following great deals, all of these made our list of the best bookies.
Wexford Races 2023
Here is the horse racing calendar for Wexford Races in 2023:
| Date | Day | Track |
| --- | --- | --- |
| 05/03/2023 | Sunday | Wexford |
| 31/03/2023 | Friday | Wexford |
| 20/05/2023 | Saturday | Wexford |
| 31/05/2023 | Wednesday | Wexford |
| 20/06/2023 | Tuesday | Wexford |
| 21/06/2023 | Wednesday | Wexford |
| 07/07/2023 | Friday | Wexford |
| 11/08/2023 | Friday | Wexford |
| 01/09/2023 | Friday | Wexford |
| 29/10/2023 | Sunday | Wexford |
| 30/10/2023 | Monday | Wexford |
Wexford Races 2024
Here is the horse racing calendar for Wexford Races in 2024:
| Date | Weekday | Racecourse |
| --- | --- | --- |
| 17/03/2024 | Sunday | Wexford |
| 05/04/2024 | Friday | Wexford |
| 18/05/2024 | Saturday | Wexford |
| 29/05/2024 | Wednesday | Wexford |
| 13/07/2024 | Saturday | Wexford |
| 24/07/2024 | Wednesday | Wexford |
| 25/07/2024 | Thursday | Wexford |
| 07/08/2024 | Wednesday | Wexford |
| 09/08/2024 | Friday | Wexford |
| 30/08/2024 | Friday | Wexford |
| 27/10/2024 | Sunday | Wexford |
| 28/10/2024 | Monday | Wexford |
Check out the full list of Horse Racing in Ireland fixture calendar 2024.
Other Events at Wexford
Wexford Racecourse is not just home to horseracing – it hosts a popular parkrun on its ground too!
As the hospitality and corporate facilities and amenities have developed, so too has the amount of non-racing events happening on-site, and as a result it is now not uncommon to find other events taking place at the track even on days when race meets aren't scheduled.
Wexford Weather
Check out the weather for Wexford below:
WEXFORD WEATHER

Wexford

Racecard and Wexford Tips
The racecards for the Wexford races are released the day before the races take places, find out where to view racecards here – tomorrow's racecards and today's racecards. In these you will get an advance look at all the runners and riders, some people like to do this and select their horses before getting to the track.
You can also of course purchase a racecard from the track which carries much of the same useful information.
Summary of Wexford Races
Wexford is a great national hunt track hosting competitive racing.
Although one of the smaller Irish racing courses it has a good reputation and is popular with racing fans as well as families and those looking for a great day out.
Although Wexford is small, it packs a punch and is definitely worth a visit.
Ireland Racecourses Alphabetical
Here is a full alphabetical list of Irish racecourses, as you can see there are lots of options and racecourses spread across the entire country: