Our Each Way Tips are the perfect solution if you want to increase your chances of success and land a big payout.
Our expert tipsters carefully analyse the form guides, racecards, and other relevant factors to identify the most promising contenders for Each Way bets.
With our tips, you'll learn how to spot the best opportunities for Each Way betting and increase your chances of success.
If an each-way bet is your preferred bet type you should check the list of best each-way betting sites online.
Whether new to horse racing betting or a seasoned punter, our Each Way tips can help take your betting game to the next level. So join us today and start winning big with British Racecourses.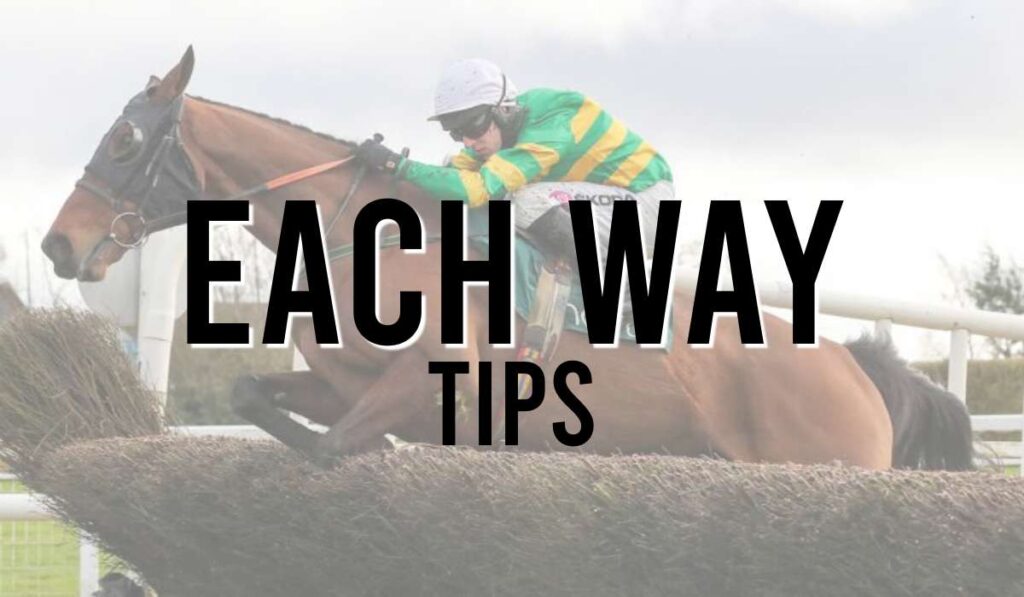 Best Each Way Bet Today
Here are the Today's Each Way Tips.
What Is An Each Way Bet?
Bookmakers offer an each-way bet composed of two wagers: a win bet and a place bet.
The selection must win the event to get a return on the win bet. For the place bet to give a return, the selection must finish in one of the predetermined places, such as first or second place.
The odds paid on the place bet are typically a fraction of the win odds, such as 1/2, 1/3, 1/4, or 1/5. The trade-off is that one has a higher chance of winning the bet, but the payoff is lower.
In UK horse racing, the "place" is strictly determined by the Jockey Club and depends on the field size. In a big race like the Grand National, the "place" could be 1st & 2nd, 1st, 2nd, & 3rd, or even 1st, 2nd, 3rd, & 4th, and may pay 1/4 or 1/5 of the odds.
Why Is Each Way Betting Popular?
In horse racing, there are two main types of betting options: Win Markets and Each Way betting, each with its advantages and disadvantages.
Although both methods have their benefits, many people prefer Each Way betting as it offers a more flexible outcome, allowing the bettor to back a horse to place in the top few positions rather than just demanding a win.
If you are interested in betting on outsiders and are willing to accept lower potential returns, then it's worth considering following our Each Way Tips for Today.
We pride ourselves on being the best each way tipster, with frequent and insightful bets that cater to less experienced punters who prefer a more cautious approach.
While we offer plenty of opportunities to bet on horses to win outright, such as our treble tips and nap of the day tips pages, our Each Way Tips Page provides our top tips for horses to place.
How Much Does An Each Way Bet Cost?
To place an each-way bet, you have to make two equal wagers, which means that if you want to place a £10 each-way bet, you need to put in a total stake of £20.
Is An Each Way Bet Worth It?
When deciding whether to place an each-way bet, asking two questions is important.
Will you at least break even if your selection places?
To determine this, consider the win and place odds for your selection, and ensure that the place odds are evens (1/1) or greater, or else you may lose money on the each-way bet. A simple trick is to find the each-way fraction and invert it to determine the minimum odds needed to break even.
For example, an each-way fraction of 1/5 requires minimum odds of 5/1.
Are there enough places to make an each-way bet worthwhile?
In horse racing, the number of each-way places on offer can vary depending on the number of runners in a race, and some combinations of field sizes and each-way terms can be more attractive than others.
For instance, an eight-runner and a 15-runner race typically pay out on three places for each-way bets, but in the former, your each-way bet only needs to beat five rivals to place, while in the latter, it must finish ahead of 12 rivals.
Each Way Betting Sites
Check out the below each betting sites which come highly recommended:
Back Our Each Way Tips
We love keeping our followers entertained with our in-demand each-way tips, which is one of the most popular horse racing multiple bets around.
These tips are like a breath of fresh air for those who prefer flexibility in their betting strategy.
Our Each Way Tips are composed of a single horse running at odds of 5/1 or higher, making for a truly exciting betting experience with mouth-watering potential payouts.
We make it our mission to update this page daily, so check back frequently and catch the latest EW betting recommendation!
Summary of Each Way Horse Racing Bets
Each Way bets are a popular bet for gamblers in the UK, allowing them to increase their payout by combining bets from multiple sporting events.
By finding the best providers of tips for Each Way bets, you can make informed selections and increase your winning chances.
Check out our recommendations and Each Way bet tips, or why not construct your bet?! It can be a lot of fun.
If you have enjoyed this top-rated betting tipsters page, here are some other articles related to horse racing tips you may also like:
Please gamble responsibly.
Subjects covered in our each way betting tips guide – horse racing multiple bet tips also includes sports bets, qualifying acca bet conditions explained.