Welcome to our guide to Bellewstown Racecourse.
Situated on a beautiful hilltop location with scenic views looking across the Mountains of Mourne and Irish Sea, Bellewstown Racecourse is a just short drive north of Dublin and attracts big crowds for its evening races throughout the summer.
If you are looking for the latest betting tips for Bellewstown, check out our full guide to Bellewstown Racecourse tips.
Find out more about Bellewstown Racecourse: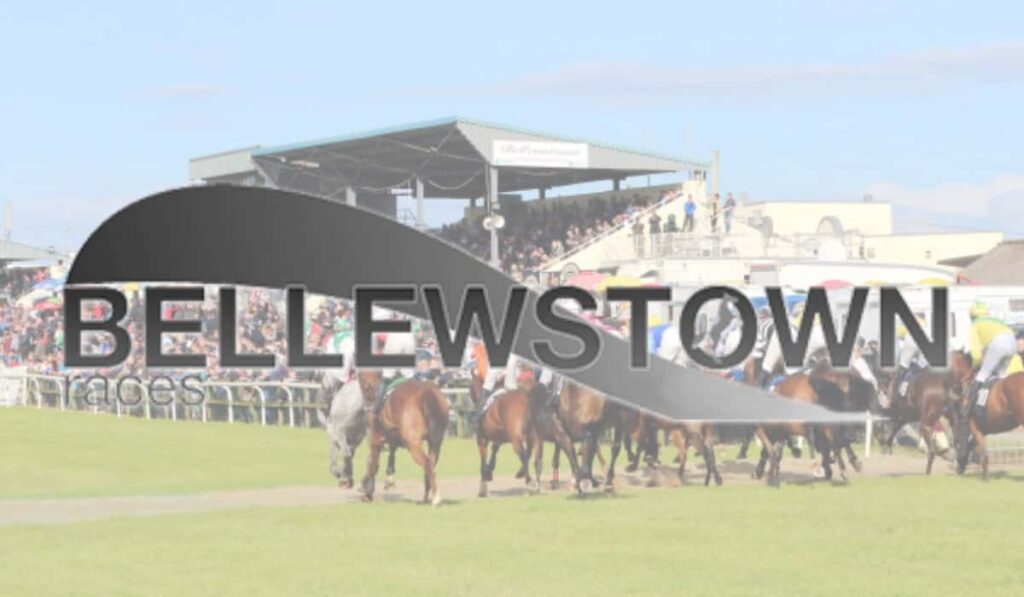 Overview of Bellewstown Races
Bellewstown Racecourse is small in stature but big in heart, and forms one of Ireland's smallest racecourses.
Hosting a variety of both National Hunt and flat racing fixtures through the summer evenings in July and August, Bellewstown Racecourse often attracts sell-out crowds and is easily accessible by road.
Its picturesque setting makes it a firm fan favourite for photo opportunities and it is popular amongst those celebrating occasions and special events.
Bellewstown Racecourse doesn't have a packed schedule of races but does usually hold at least two summer festivals a year.
Popular with both tourists and seasoned racegoers alike, it is not unusual for events to sell out ahead of time and so advance booking is always recommended.
All events are held in the evening and there is often fairground rides, street food vendors and other entertainment put on surrounding the track.
All races at Bellewstown Racecourse are shown live on Racing TV.
Bellewstown Racecourse History
Although the exact origins of racing at Bellewstown can't be traced, the first known record of was back in 1780 when King George III sponsored a race at the track. A £100 race called His Majesty's Plate, the existence of horseracing facilities in the area is therefore implied through at least that summer, if not for years before.
A brief mention of racing at Bellewstown is made even earlier, back in 1726 in the Dublin Gazette, but details are not forthcoming.
Originally, there was a cricket ground in the middle of the horseracing track although this is no longer the case. Believed to originally be just a National Hunt course, it now hosts both jump and flat racing.
Bellewstown Racecourse Map
There are two tracks at Bellewston the flat and the jumps track.
Bellewstown Flat Course
Below is map of the Bellewstown flat track: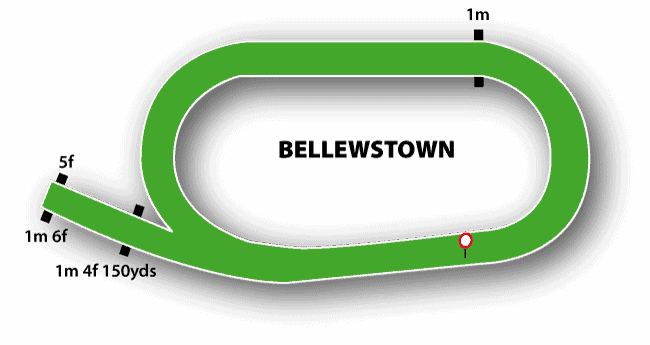 The track itself at Bellewstown Racecourse is a sharp left-handed oval about nine furlongs in length. Undulating throughout, the final two furlongs are slightly uphill. The course suits handy, nippy horses
Bellewstown Jumps Track
Below is a map of the Bellewstown jumps track: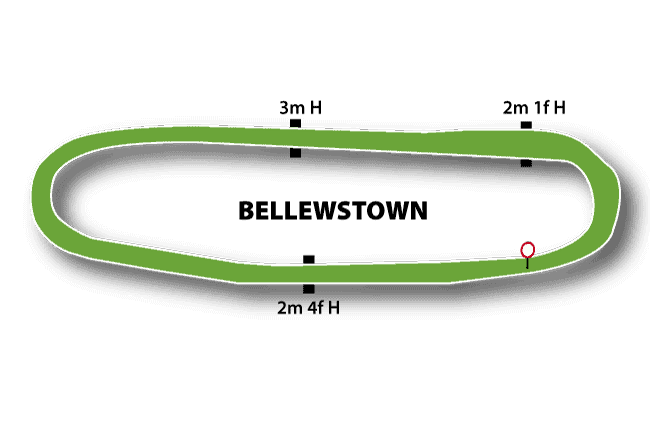 For National Hunt racing, there are five hurdles to a circuit; no fences.
The high ground of the course means it's on the firm side and well-watered.
Main Races and Events at Bellewstown
Perhaps unusually, there is no 'crowning jewel' in the Bellewstown Racecourse calendar – all events are equally attended and tend to sell out.
All races at Bellewstown take place in the evening and the views of sunset are truly spectacular from its spot on the Hill of Crockafotha.
Races at Bellewstown Racecourse aren't considered particularly challenging but their large crowds make for a great place to win and a fantastic welcoming atmosphere for novice horses and jockeys.
Bellewstown Racecourse Address
The address for Bellewstown races is:
Bellewstown Racecourse
Collierstown
Bellewstown
County Meath
Ireland
How To Get To Bellewstown Racecourse
The ways to get to Bellewstown races are:
By road – the village of Bellewstown is located a 15-min drive from the town of Drogheda and less than a hour north of Dublin. Located just off the All Ireland Route M1 motorway, the course is easily accessible by road and there is plenty of parking available at the venue.
By rail – the nearest railway station to Bellewstown Racecourse is Gormanstown, but Drogheda is not far away either. Trains from all over the country serve Drogheda and takes an hour from Dublin and two hours from Belfast by Irish Rail.
By bus – Bus Eireann run services to Bellewstown from Drogheda and the routes go past the racecourse's site. There are no specific bus services to and from the venue, but the proximity and size of the village means that everything is in walking distance.
By air – the nearest airport to Bellewstown Racecourse is Dublin Airport, which is less than half an hour's drive away and serves routes internationally.
Hotels near Bellewstown Racecourse
Bellewstown itself is just a rural village and so there are no overnight accommodation options directly on the racecourse's doorstep, but there is plenty of choice in the surrounding area and in Drogheda.
The City North Hotel and Conference Centre sits on the M1 motorway and is the ideal choice for those who need to travel in and out of the area swiftly. Rooms here start at less than £100 per night and the business facilities are excellent, so it's possible to work during the day and attend the races in the evening.
In Drogheda town centre, The D Hotel is a modern hotel set on the banks of the River Boyne and the family-run 4 star Windsor B&B is a popular option with reasonably priced rooms all year round.
There are some Airbnb and guesthouse options in Drogheda for groups but the accommodation is primarily hotels. For those looking to really make an occasion of their visit to Bellewstown Racecourse, the five star Tankardstown House Hotel is just a short drive away and offers unbeatable facilities and service all set in an 18th century townhouse. A premium option, rooms at Tankardstown House begin at around £250 per night.

Betting Shops Local to Bellewstown Racecourse
Bellewstown Racecourse has betting facilities on-site and independent bookmakers situated around the track for racegoers to place a bet with.
Mobile signal isn't the best in Bellewstown, so if those attending want to place a bet on their device it's advised to do so in advance.
There is a single branch of BoyleSport in Bellewstown village, but other bookies can be found north in Drogheda, which has branches of BoyleSports, Paddy Power and Tully Bookmakers.
Also nearby there's a branch of BoyleSport in Roseville near Bettystown Beach and an Offshore Bookmakers in Laytown.
Bellewstown Racecourse was the location of the Yellow Sam betting coup in 1975, which is still well remembered locally. Orchestrated by Bernard Joseph Curley, an under-handicapped horse and easy communication channels between the racecourse and bookies was taken advantage of to net a profit of £2million – one of the largest ever made in Irish betting history!
Bellewstown Races 2024
Here is the horse racing calendar for Bellewstown Races in 2024:
| Date | Weekday | Racecourse |
| --- | --- | --- |
| 13/04/2024 | Saturday | Bellewstown |
| 14/04/2024 | Sunday | Bellewstown |
| 04/07/2024 | Thursday | Bellewstown |
| 05/07/2024 | Friday | Bellewstown |
| 06/07/2024 | Saturday | Bellewstown |
| 27/08/2024 | Tuesday | Bellewstown |
| 28/08/2024 | Wednesday | Bellewstown |
| 02/10/2024 | Wednesday | Bellewstown |
| 03/10/2024 | Thursday | Bellewstown |
Check out our guide for the full list of Ireland's horse racing fixtures in 2024.
Best Bellewstown Races Betting Sites
At British Racecourses we often recommend betting online and via apps when going to the races. This is because you can often get the best odds, great offers when signing up and you can place bets quickly and safely.
If you are looking to bet online we recommend the following great deals with these top betting websites. All of these made our list of the best bookmakers and also have great mobile betting apps.
Bellewstown Racecard and Bellewstown Tips
The racecards for the Bellewstown races are released the day before the races take places, find out where to view racecards here – tomorrow's racecards and today's racecards. In these you will get an advance look at all the runners and riders, some people like to do this and select their horses before getting to the track.
You can also of course purchase a racecard from the track which carries much of the same useful information.
Bellewstown Racecourse Weather
It's important to keep up with the weather when arranging your trip to the races, so you are up to date with ground conditions and also so you can choose the right racing outfit.
Here is the weather for Bellewstown:
BELLEWSTOWN WEATHER

Summary of Bellewston Races
A quirky and picturesque Irish racing track, Bellewstown has lots to offer.
Whilst racing is not strictly of the highest quality the on-course atmosphere and venue are great and it really is a lof of fun. It is a racecourse popular with locals, tourists, families and racing fans.
Definitely worth a visit.
Other Irish Racecourses
Check out our reviews of other Irish Racecourses today: