Welcome to our official guide to Tipperary Racecourse.
Owned by Horse Racing Ireland, Tipperary Racecourse is a dual usage course that stages both National Hunt and flat racing throughout the year from April to October.
We explore this great Irish racecourse, looking at its history, a guide to the track, hotel picks, fixtures, travel information, betting guides and even the weather.
If you are looking for the latest betting tips for Tipperary, check out our full guide to Tipperary Racecourse tips.
Find out more about Tipperary Racecourse: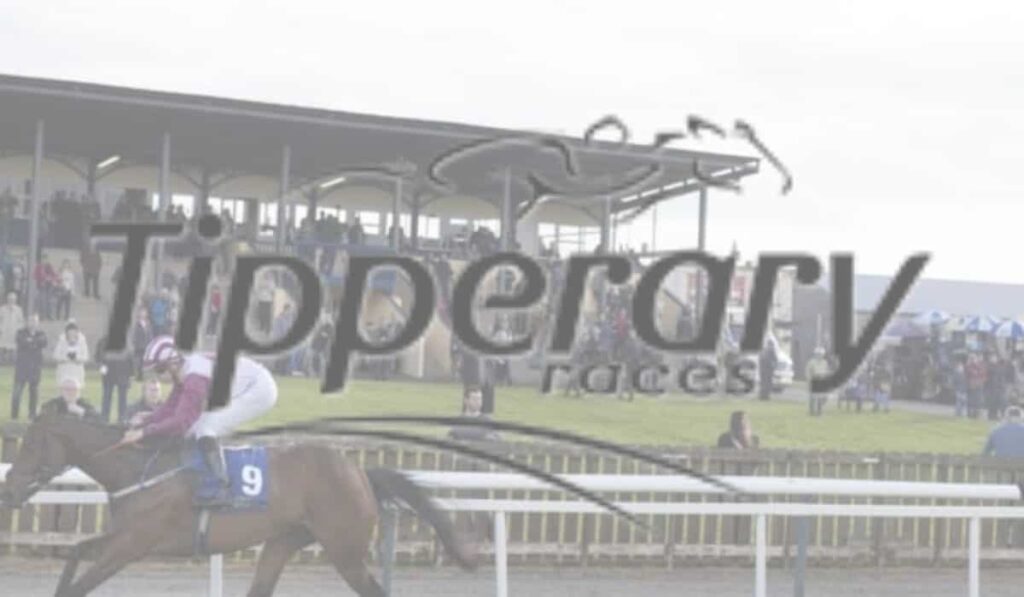 Overview of Tipperary Racecourse
Tipperary Racecourse is situated just 3km from the centre of Limerick, directly adjacent to Limerick Junction rail station. Known for many years as Limerick Junction Racecourse, the venue was rebranded to Tipperary Racecourse in the 1980s.
Its convenient location makes Tipperary Racecourse a busy one, and with a variety of reasonably priced packages for racegoers alongside corporate hospitality and specialised dining facilities available, you can find everything you'd expect from a high-quality racecourse all in one place.
The amenities available allow for racegoers to either just attend informally to watch and bet or to really make a special occasion out of their visit, depending on their appetite, attitude and budget.
In addition to standard race meets, Tipperary Racecourse holds numerous schooling meetings throughout the year to provide a stage to educate young horses in a safe and controlled environment. Open to licensed trainers and jockeys, these usually take place every three or four weeks throughout the year and consist of both schooling bumpers and schooling hurdles. Both take place on the outside edge of the inside schooling track and use Easyfix hurdles.
Tipperary Racecourse History
Racing has taken place at Tipperary since 1848, originally nearby at Barronstown Course.
The current track, which was known as Limerick Junction Racecourse until 1986, held racing from September 1916 when it was documented that trainers Senator JJ Parkinson, Stephen Grehan and Charles Moore all attended a meet.
The location of Tipperary Racecourse makes it extremely accessible and so it has enjoyed high visitor numbers and investment in its visitor facilities since opening in its new venue.
It remains an extremely popular horseracing venue and the future certainly looks bright for it.
Tipperary Racecourse Map
There are two tracks at Tipperary Racecourse, the flat and jumps track.
Tipperary Flat Course
A flat, oval, left-handed track of a mile and two furlongs around, the course is galloping in character. With a straight 5 furlong track.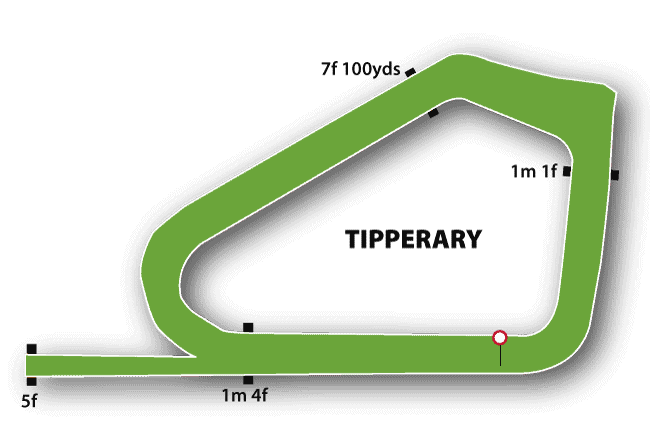 Tipperary Jumps Course
The chase course is set inside the hurdles track, with six fences to a circuit and two in the two-and-a-half furlong home straight; with a run-in of about a furlong.
The chase track is known as very sharp and is only a mile around. It is reputed as being best suited to quick, accurate jumpers horses.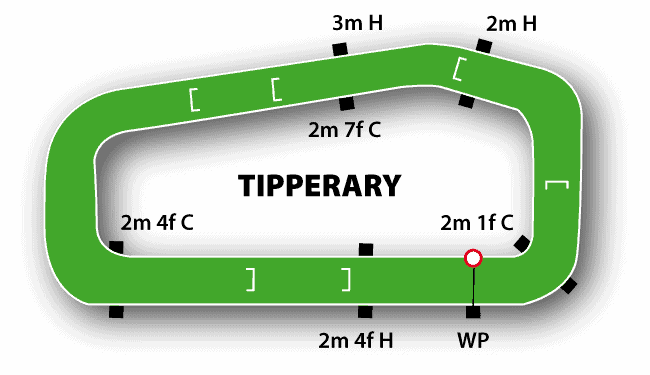 Main Races and Events at Tipperary Racecourse
The busiest and most well-attended event of the year at Tipperary Racecourse is 'Super Sunday', held on the first Sunday of October every year. Four notable races take place on this day: the Joe Mac Novice Hurdle, the Concorde Stakes, the Tipperary Hurdle and the Like A Butterfly Novice Chase. All grade 2 or 3, these are popular and prominent races and the whole day usually sells out every year.
The Joe Mac Novice Hurdle is run over two miles and has seen trainer Willie Mullins claim victory five times – the same amount of times he's also won at the Like A Butterfly Novice Chase!
The Concorde Stakes has been run at Tipperary since 1991, and the Tipperary Hurdle (also known as the Istabraq Hurdle) since 1997.
Tipperary Racecourse Address
The address of Tipperary Racecourse is:
Tipperary Racecourse
Ballykisteen
Limerick Junction
County Tipperary
Ireland
How To Get To Tipperary Racecourse
The ways to get to Tipperary Races are;
By road – Tipperary Racecourse is conveniently situated on the main Limerick – Waterford Road (the N24) and is just two miles from the centre of Tipperary town. There is plenty of free parking available on-site for race-goers and specific disabled parking bays. Tipperary Racecourse is just 18 miles by road from Cashel, 19 miles from Limerick, 54 miles from Cork, 114 miles from Dublin and 215 miles from Belfast.
By train – the only racecourse in Ireland directly adjacent to a train station, Tipperary Racecourse is directly opposite Limerick Junction rail station. Leaving the station and entering the course takes less than five minutes by foot. Limerick Junction is the interchange station for trains departing Limerick, Dublin Heuston, Waterford, Cork, Tralee and Ennis.
By bus – bus services run to Tipperary Racecourse by Bus Eireann, and timetables can be accessed directly from them.
By air – for air travellers, the nearest airport is Shannon Airport; which is served by international routes but is almost an hour's drive away.
Hotels near Tipperary Racecourse
There is no hotel on-site at Tipperary Racecourse but there are several options very close.
Limerick Junction station is served by two B&Bs: the Bit and Bridle Inn, and Woodlawn, both offering fantastic value for money in easy walking distance of the venue.
Just down the road is the Great Ballykisteen Golf Course Hotel, a premium country house hotel choice with swimming pool and spa facilities. In the town of Tipperary itself you'll find some small independent hotels, family-run guesthouses, Airbnbs and even boutique farm cottages to stay in; but if you're looking for a specific chain hotel, heading to nearby Limerick will be your best bet.

Betting Shops Local to Tipperary Racecourse
Tipperary Racecourse has its own branch of BoyleSports Racing on-site, alongside Tote facilities in hospitality areas (sometimes with table service) and independent bookmakers around the track offering the most competitive (and ever-moving) odds.
The town of Tipperary has three betting shops all on the same road, Main Street: one branch of BoyleSports, one branch of Paddy Power horse racing and one branch of Ladbrokes horse racing. There are considerably more betting shops in nearby Limerick.
Mobile signal isn't bad in either Tipperary or at Tipperary Racecourse, so bets can be placed online through your smartphone as desired with your preferred bookmakers.
Best Tipperary Races Betting Sites
At British Racecourses, we often recommend betting online and via the best betting apps when going to the races. This is because you can often get the best odds, great offers when signing up and you can place bets quickly and safely.
If you are looking to bet online or a new betting site we recommend the following great deals, these online betting sites above made our list of the best horse racing betting sites.
Tipperary Racecards
The racecards for the Tipperary races are released the day before the races take places, find out where to view racecards here – tomorrow's racecards and today's racecards. In these you will get an advance look at all the runners and riders, some people like to do this and select their horses before getting to the track.
You can also of course purchase a racecard from the track which carries much of the same useful information.
Other Events at Tipperary Racecourse
The flat Fairy Bridge Stakes is run at Tipperary Racecourse annually in August across seven furlongs and one hundred yards. A Group 3 race open to fillies and mares aged three or over, it is named after a previous horse who raced at the course – a tradition amongst many Tipperary races.
Tipperary Weather
It's always good to know what the weather will be like when going to the races, so you can plan your racing outfit and also so you know what to expect from the ground – important when reading the racing form.
Check out the current weather in Tipperary:
TIPPERARY WEATHER

Tipperary Races 2024
Here is the horse racing calendar for Tipperary Races in 2024:
| Date | Weekday | Racecourse |
| --- | --- | --- |
| 23/04/2024 | Tuesday | Tipperary |
| 25/04/2024 | Thursday | Tipperary |
| 09/05/2024 | Thursday | Tipperary |
| 15/05/2024 | Wednesday | Tipperary |
| 28/05/2024 | Tuesday | Tipperary |
| 02/07/2024 | Tuesday | Tipperary |
| 03/07/2024 | Wednesday | Tipperary |
| 04/07/2024 | Thursday | Tipperary |
| 09/08/2024 | Friday | Tipperary |
| 01/09/2024 | Sunday | Tipperary |
| 06/10/2024 | Sunday | Tipperary |
Check out the full list of Horse Racing in Ireland fixture 2024 calendar.
Summary of Tipperary Races
Tipperary is a popular Irish racecourse and it's easy to see why. Hosting good quality on racing on the flat and over the jumps it is all well-attended and a great day out.
It is a course well supported by locals as well as those travelling from further afield for a day out.
It comes highly recommended by the teams here at British Racecourse.
Other Irish Racecourses
Check out our reviews of other Irish Racecourses today: