Welcome to our guide to Kilbeggan Racecourse.
Located almost bang in the middle of the Republic of Ireland, Kilbeggan Racecourse is a National Hunt only racing venue that operates throughout the summer season.
If you are looking for the latest betting tips for Kilbeggan, check out our full guide to Kilbeggan Racecourse tips.
We explore this Irish racecourse looking at its history, a guide to the track, hotel picks, fixtures, travel information, betting guides and more.
Find out more about Kilbeggan Racecourse: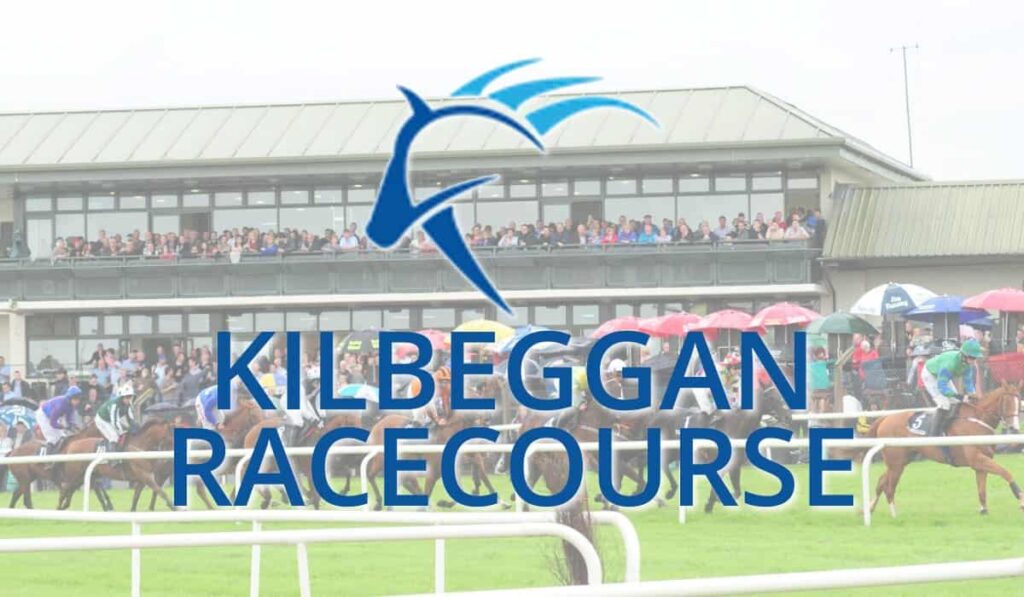 Overview of Kilbeggan Races
Kilbeggan Racecourse is a National Hunt venue and hosts a variety of racing events throughout the summer, almost always in the evenings.
Situated close to the town of Kilbeggan (itself a popular tourist venue and well known for its whiskey distillery), the course is as popular with local people as it is travelling racegoers and usually welcomes over 50,000 visitors annually.
Kilbeggan Racecourse has seen attendances grow vastly over the last few decades and has grown in popularity amongst its local community through a variety of outreach initiatives as well as standard marketing.
Today, it presents a range of competitive hospitality facilities and has well established itself as a preferred venue for corporate entertaining.
Kilbeggan, like so many horseracing venues now, does not have a strict dress code and only 'encourages' guests in its hospitality suites to dress in a smart/casual manner.
Kilbeggan Racecourse History
Racing at Kilbeggan and the surrounding area can be dated back as far as 1840, when a group of local gentleman organised a horse race with the prize of 40 guineas. The race was popular and drew a good crowd, which led to further races being arranged by local equestrian enthusiasts.
Although the formal course itself has changed venues on a few occasions, Kilbeggan Racecourse has been situated at its current site since 1901.
It has continued to grow and develop since then and is now a well-established venue in the Irish racing scene.
Kilbeggan Racecourse Map
Below is a map of Kilbeggan Racecourse: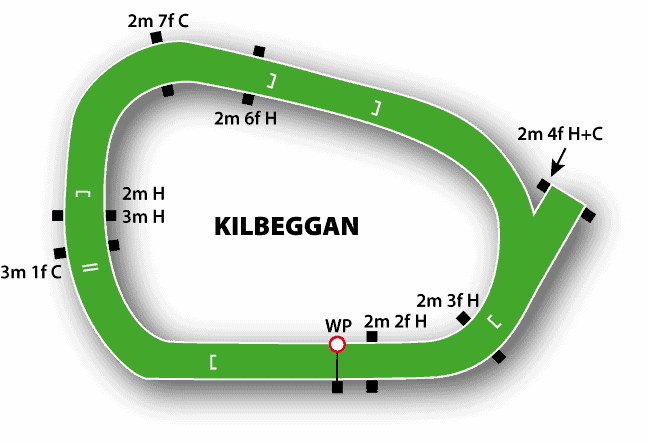 The track itself at Kilbeggan Racecourse is right-handed and very tight; with runners almost always on a turn which can present quite a challenge for those racing there.
The undulating course measures one mile one furlong in length and favours horses with good stamina.
There are five fences and six hurdles along the course.
Main Races and Events at Kilbeggan Racecourse
The highlight of the racing calendar at Kilbeggan Racecourse is the Midlands Grand National, which is run in July every year.
A handicap chase, it is run over three miles and one furlong with sixteen fences jumped – a good test of stamina for even the most proven of horses!
Noel Meade and Philip Fenton are both the top-rated trainers at the Midlands Grand National, but neither has won in the last five years; which may be an indication of new talent breaking through.
The race always attracts the top quality racing jockeys and racing trainers in the field and is always worth a flutter on!
Kilbeggan Races 2024
Here is the horse racing calendar for Kilbeggan Races in 2024:
| Date | Weekday | Racecourse |
| --- | --- | --- |
| 17/05/2024 | Friday | Kilbeggan |
| 02/06/2024 | Sunday | Kilbeggan |
| 17/06/2024 | Monday | Kilbeggan |
| 12/07/2024 | Friday | Kilbeggan |
| 26/07/2024 | Friday | Kilbeggan |
| 10/08/2024 | Saturday | Kilbeggan |
| 23/08/2024 | Friday | Kilbeggan |
| 06/09/2024 | Friday | Kilbeggan |
Check out our guide for the full list of Ireland's 2024 horse racing fixture calendar.
Kilbeggan Racecourse Address
The address of Kilbeggan Racecourse is:
Kilbeggan Racecourse
Kilbeggan
County Westmeath
Ireland
How To Get To Kilbeggan Racecourse
The town of Kilbeggan is fairly rural but is easily accessible from a variety of transport options.
The ways to get to Kilbeggan racecourse are:
By road – the new National M6 motorway between Dublin and Galway links Kilbeggan Racecourse to the capital with less than an hour's journey in the car, and the three larger towns of Athlone, Mullingar and Tullamore are all well-connected by road. The racecourse itself is situated a mile north of the town centre and is well signposted.
By bus – Bus Eireann runs services from Dublin Central Bus Station to Kilbeggan regularly, but the onward one mile will need to covered either by foot or private transport.
By train – nearby Tullamore, approximately eight years ago, has a train station and lies on the Dublin to Galway and Dublin to Westport lines.
By air – the nearest airport to Kilbeggan Racecourse is Dublin, some sixty miles away, which is served by international services and a variety of airlines.
Hotels near Kilbeggan Racecourse
Kilbeggan Racecourse is in a rural location and so overnight accommodation options aren't plentiful, but there is plenty in the surrounding area for racegoers.
Bang in the centre of Kilbeggan you will find the Seber House B&B, but this does get booked up fairly in advance of race events. South to Kilbeggan in Tullamore are several B&Bs, a few private-led holiday cottages and two big hotels – the Tullamore Court Hotel and the Central Tullamore Hotel.
Other overnight accommodation options for racecourse visitors can be found in nearby Athlone and Mullingar, and several guesthouse and rural B&Bs in smaller villages.

Best Kilbeggan Betting Sites
At British Racecourses, we often recommend betting online and via betting apps. This is because you can often get the best odds, great offers, free sports bets when signing up and you can place bets quickly and safely without having to queue.
If you are looking to bet online we recommend the betting sites here all made our list of the best horse online bookmakers.
Kilbreggan Weather
Check out the weather in Kilbeggan today:
KILBEGGAN WEATHER

Other Events at Kilbeggan
As with most courses, Kilbeggan Racecourse boasts a popular Ladies Day. Held in October each year, it acts as an attractive event for those celebrating an occasion or just wanting to dress up to attend. Indeed horseracing aside, the 'best dressed' contest is hotly fought for; with prizes valued at well over £3,000 for the winner and the competition so in demand it was held virtually during the Covid-19 lockdown!
Summary of Kilbeggan Races
Kilbeggan Racecourse is a great day out for racing fans and those just fancying a trip to the races.
It is popular with tourists and locals, offering value for money and a great day out. Although a lesser-known Irish racecourse, it is still one of our favourites.
You should definitely pay it a visit!
Ireland Racecourses Alphabetical
Here is a full alphabetical list of racecourses in Ireland, as you can see there are lots of options and racecourses spread across the entire country: