Welcome to our guide to Laytown Races.
Laytown Racecourse is an entirely unique venue – the only racecourse of its type to offer horseracing along the beach in Ireland.
Its prominence as such an unusual course means that it draws crowds from around the world and has been the focus of much media and press attention.
If you are looking for the latest betting tips for Laytown, check out our full guide to Laytown Racecourse tips.
Find out more about Laytown Races:
Overview of Laytown Races
Laytown Racecourse is situated (literally) on the east coast of Ireland, some 12km south of Drogheda and 44km north of Dublin.
The only racecourse that permits horseracing along the sand of the beach under-regulated Racing Rules, Laytown Racecourse hosts flat racing once a year every September – although has been closed since 2019 due to social distancing concerns during the coronavirus pandemic.
The track itself offers an entirely alternative surface to the likes of turf, dirt, all-weather and manicured grass that horses usually run on.
The sand and water present a unique challenge to horses that is unlike any other course. The course at Laytown Racecourse is straight and almost entirely level, but this is dependent on the tide and weather conditions.
Set up for the day of racing only on events day itself, the course is constructed once the tide recedes in the morning.
Up to six races can be run during the day – each measuring from six furlongs up to a mile. Rather than using set grandstands and hospitality facilities, an elevated field above the strand is set up with temporary marquees for both racegoers to watch the action as well as to act as the jockey's room, weight room and full bars and restaurants.
During the day of racing, as well as a couple of days before and after the event, access to the beach is restricted to the public.
The committee of Laytown Racecourse is currently led by Chairman Joe Collins with the aid of Manager Kevin Coleman. During their tenure, Laytown Racecourse has been featured on the BBC's Coast and Countryfile, as well as being featured in its own documentary.
Laytown Racecourse History
Racing on the beach at Laytown can be traced back as far as 1868; albeit not always under the official Rules of Racing.
For many years, there was no dedicated audience area, instead with crowds informally lining the track to watch events. However, in 1994, a horse was spooked by a small river stream along the course and bolted into the crowd – causing havoc and panic amongst both those watching and those participating. Several people were injured and three horses had to be put down because of injuries sustained.
Since 1994, safety measures have been installed to avoid this happening again; with barriers constructed, the crowd separated and the runners limited. The races did originally involve a straight before turning around and returning but for safety reasons, distances have been shortened to avoid any turn.
Laytown Racecourse Map
Below is a map of Laytown Racecourse: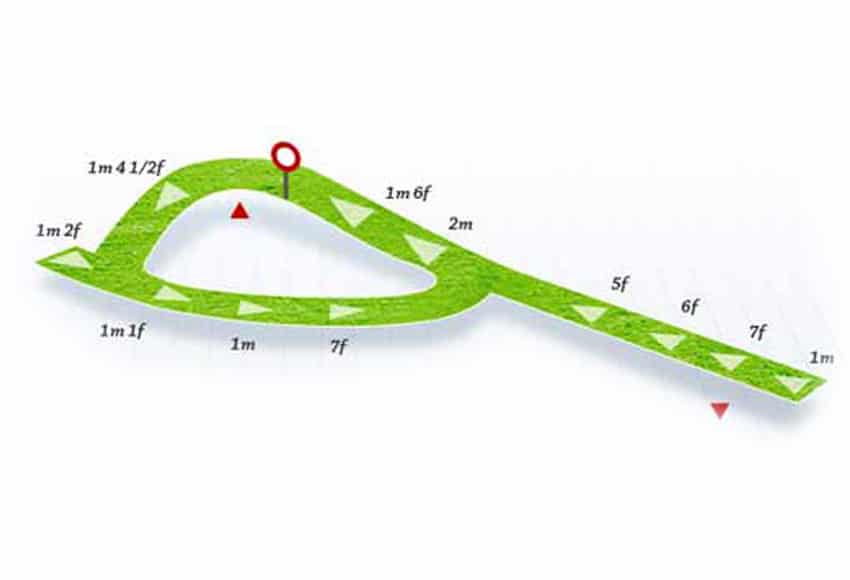 Main Races and Events at Laytown
Racing at Laytown Racecourse takes place one day a year in September and up to six races can be run on that day; weather dependent.
Tickets for the day need to be booked well in advance, as the course's unique charm attracts racegoers from all over the world – even those who don't have a passion for horseracing or would usually attend such events.
A whole host of the country's champion jockeys have won at Laytown Racecourse previously, including the likes of Colin Keane, Ruby Walsh, Joseph O'Brien, Declan McDonogh and Pat Smullen.
Laytown Race Address
The address for Laytown Races is:
Laytown Racecourse
Strand Road
Ninch
Laytown
County Meath
Ireland
How To Get To Laytown Racecourse
The ways to get to Laytown Racecourse are:
By road – Laytown Racecourse is a 20-min drive from Drogheda and about 45-mins from Dublin, easily accessible by main roads. There are no set car parks for the venue (as of course, it isn't actually a venue all the time) but on race day there are three and sometimes four free car parks dotted around the town of Laytown dedicated for racegoers. Free shuttle buses run from each of these car parks to the racing area before and after events.
By train – The nearest train station is Laytown and services run regularly from Dublin (every 40-mins) and Drogheda (every 30-mins). Shuttle buses run on race day from the station to the course, but it's only a 10-min walk so can be done easily before and after the day's races.
By bus – Laytown Racecourse is accessible by bus from both Dublin and Drogheda. Matthew's Buses serve the former and Bus Eireann the latter, with services running regularly.
By air – the nearest airport to Laytown Racecourse is Dublin, which is served by a variety of international routes.
Hotels near Laytown Racecourse
Laytown is too small a town for multiple hotel options, but there are a few overnight accommodation choices nearby. The Tara Guesthouse is situated in the centre of Laytown and a B&B can be found in nearby Bettystown close to the beach. Small hotel options can be found in Bettystown Cross and Beabeg Road.
Due to the nature of the rare Laytown Racecourse event, accommodation gets booked up in advance. Racegoers who need to stay overnight are advised to stay in either Drogheda or Dublin and travel to Laytown for the day.

Betting Shops Local to Laytown Racecourse
There are no permanent betting facilities at Laytown Racecourse as there is no permanent venue, but usually Tote facilities are in place in the corporate hospitality areas and independent bookmakers gather close to the barriers at the track for racegoers to use.
Mobile signal at Laytown Racecourse isn't the best and there isn't free WiFi, so any online bets should be made in advance of arriving at the course.
A branch of the independent Offshore Bookmakers can be found in Laytown, with a branch of East Coast Bookmakers just up the coast in Bettystown.
Branches of chain bookmakers including BoyleSports, PaddyPower and Ladbrooks can be found in nearby Drogheda.
Best Laytown Races Betting Sites
At British Racecourses, we often recommend betting online and via apps when going to the races. This is because you can often get the best odds, great offers when signing up and you can place bets quickly and safely.
If you are looking to bet online we recommend the following great deals with these online bookies.
All of these made our list of the best online horse betting sites.
Laytown Races 2024
Here is the horse racing calendar for Laytown Races in 2024:
| Date | Weekday | Racecourse |
| --- | --- | --- |
| 16/09/2024 | Monday | Laytown |
Find out more information on the Irish horse racing fixtures 2024 calendar.
Laytown Racecard and Laytown Tips
The racecards for the Laytown races are released the day before the races take places, find out where to view racecards here – tomorrow's racecards and today's racecards. In these you will get an advance look at all the runners and riders, some people like to do this and select their horses before getting to the track.
You can also of course purchase a racecard from the track which carries much of the same useful information.
Other Events Held in Laytown
For the 364 days that Laytown Racecourse isn't a racecourse, it's a beach open to the public. Anyone can rock up and build some sandcastles and paddle along the shore – just show up!
Laytown Weather
Check out the Laytown weather today:
Summary of Laytown Races
Racing at Laytown is totally unique.
Racing on the beach is rare and the town holds this amazing spectacle once a year. The racing is not top quality but the atmosphere is unmatched and it is a totally brilliant experience.
We believe that every horse racing fan should visit Laytown. A must visit!
Ireland Racecourses Alphabetical
Here is a full alphabetical list of Irish racecourses, as you can see there are lots of options and racecourses spread across the entire country: