Welcome to our official guide to Clonmel Racecourse.
We explore this brilliant Irish national hunt and flat racecourse in detail, looking at its history, local recommended hotel picks, travel information, betting guides and even the weather.
If you are looking for the latest betting tips for Clonmel, check out our full guide to Clonmel Racecourse tips.
Find out more about Clonmel races today: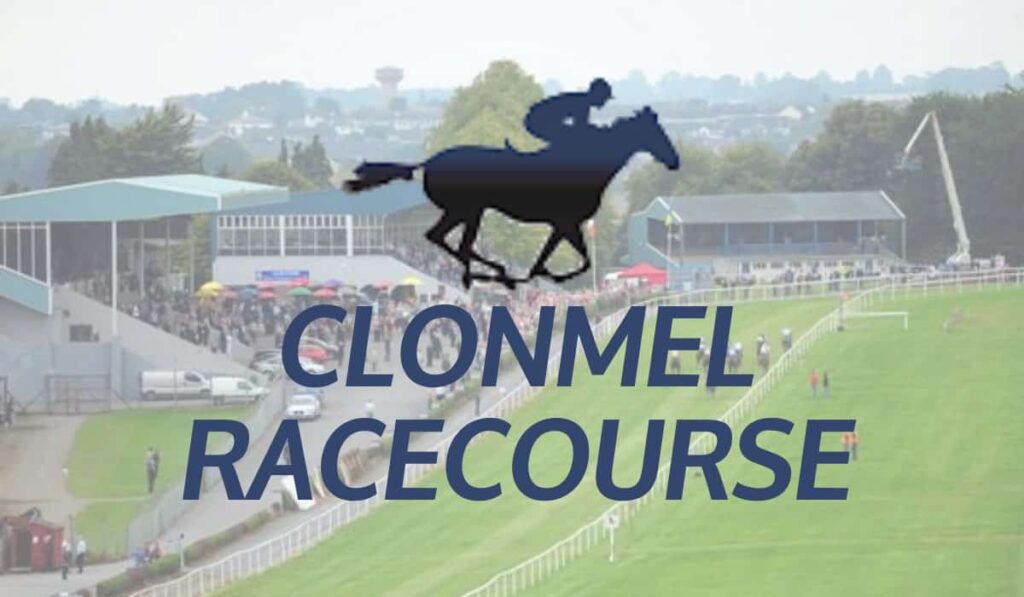 Overview of Clonmel Races
A lively and popular course with both horse racing novices and experienced race-goers alike, Clonmel Racecourse is situated 2km from the town of Clonmel in County Tipperary, central Ireland.
A venue for National Hunt and flat racing for over 150 years, Clonmel is well respected in the equestrian scene and remains a beloved course for many.
Clonmel Racecourse, also often known as Powerstown Park, welcomes competitors throughout the year and has played home to many well-known names in horse racing.
The track is a right-handed oval that measures approximately ten furlongs for flat racing and a mile and a quarter for National Hunt racing. For the latter, the first part of the circuit is uphill before a long downhill run and a two-furlong home straight run again on the climb. An undulating track, it can be a challenging one and is difficult to make up ground on. Only experienced jockeys and horses find Clonmel easy to navigate.
Despite being tricky technically, Clonmel remains a popular choice with families and more casual race-goers as it enjoys a reputation for a great atmosphere and ambience.
There are numerous hospitality facilities at the course and many events and meets held there are more to encourage socialising than they are to be of serious competition.
The course can also be hired outright for large events. In 2009, the whole course was renovated and refurbished; so now the venue is modern and accessible throughout.
Clonmel's location is picturesque and its natural shrubbery and trees add to its charm; giving it a more organic feel than some of the preened and primed courses most are used to.
Clonmel Racecourse History
Clonmel has played home to horse racing for over 150 years, always in the same scenic location between Slievenamon and the Comeragh Mountains. Racing was free to attend for many years but eventually, Villiers Morton Jackson took over the course for commercial purposes and began to charge two shillings for admission.
The money raised funded a new grandstand and facilities, and with these additions, demand to attend the racing grew. Some of the funds even went towards hiring detectives to keep pickpockets away from race-goers!
In 1987, the Clonmel Racecourse Supporters' Club was founded. The group works on community building, sponsorship and marketing.
Clonmel Racecourse Map
There are two tracks Clonmel, the flat and the national track.
Clonmel Flat Track
Below is a map of the flat course at Clonmel racecourse: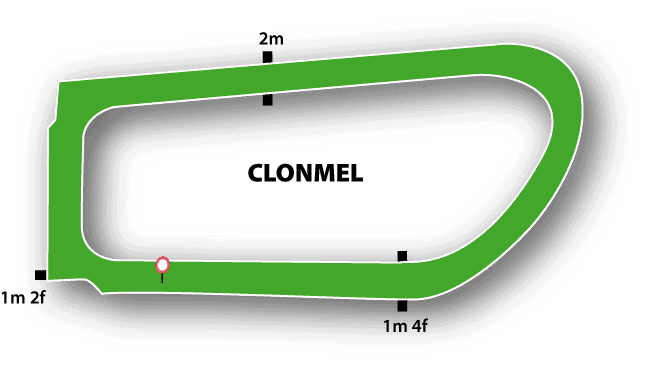 The course is right-handed and oval in shape. It has a long sweeping turn into the straight whilst some of its other corners are sharp. It is an undulating course.
Clonmel Jumps Track
Below is a map of the national hunt track at Clonmel: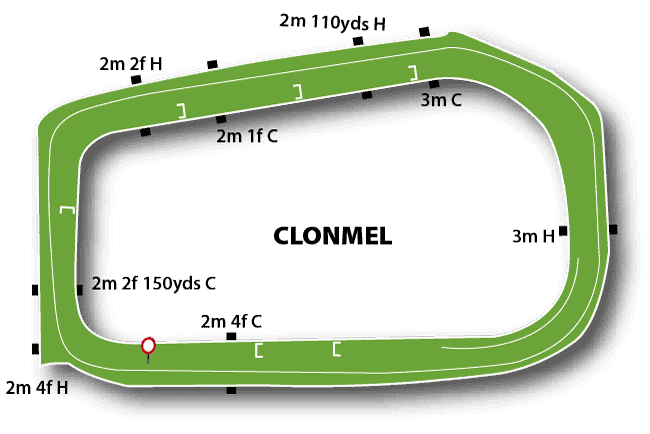 The national hunt course is tighter than the flat course. Conditions can get quite testing and being undulating often experienced horses and those track form fair well.
Main Clonmel Races and Events
The biggest event of the year at Clonmel is the Clonmel Oil Race Day, held annually in November.
The Grade 3 TA Morris Memorial Mares Chase has attracted many big names, and the Clonmel Oil Chase (run over two and a half miles) has crowned champions including Dorans Pride, Beef or Salmon and Sizing Europe.
The Mercedes-Benz Novice Hurdle has been ranked at Grade 3 status since 2013 and this too has crowned some big-name winners. It has so far been dominated by the same few trainers year and year again and is one to watch for emerging talent.
Other Events Held at Clonmel
The Summer BBQ event held every year at Clonmel makes for a great night out for party-goers and families alike. A great excuse to dress up and enjoy some drinks and good food, many Clonmel town residents attend this summer calendar fixture and it is popular amongst those celebrating occasions.
Address of Clonmel Racecourse
The address of Clonmel Racecourse is:
Clonmel Racecourse
Powerstown Park
Powerstown
Clonmel
County Tipperary
Ireland
How To Get To Clonmel Racecourse
The ways to get to the Clonmel races are:
Car – Powerstown Park is located on the Clonmel bypass, about two miles from Clonmel town centre. The N24 bypass is a major road and easily accessible to drivers; although many local to the area choose to take taxis to and from the course rather than to drive it. Walking to the course from the town centre is tricky as there are some major roads, but it's not unheard of to see locals strolling in to races.
Train and bus – The racecourse is situated less than half a mile (so, walking distance) from Clonmel train station and Clonmel bus station, so those relying on public transport also benefit from easy access. The rail stations sits on the line linking Waterford and Limerick Junction but there are no services running on a Sunday; so it's always best to plan ahead and book early for trains.
Air – for those travelling by air, Waterford Airport is 60km from Clonmel Racecourse.
Hotels near Clonmel Racecourse
The town of Clonmel is by no means a tourist hotspot, but there are some accommodation options nearby for those travelling into the town for the races.
The most premium option is the Raheen House Hotel, an upmarket choice with gardens, a restaurant and a bar set in an 18th-century manor house. Nights at Raheen House still only work out around £140 so prices are extremely fair.
Other, slightly more central places to stay (although it's worth noting Clonmel isn't big, so almost everywhere is within reasonable walking distance) include the two-star Hearns Hotel, pub rooms at Fennessy's, wine bar rooms at Mulcahy's and the family-run McCarthy's B&B.
There are no chain hotels in Clonmel but that's not to say you can't expect good quality from accommodation.
As with anywhere, budget will very much dictate the quality you can expect to receive. For big race meets, the town's accommodation does get booked up in advance so it's not recommended to travel without having confirmed where you'll be staying.

Clonmel Races 2024
Here is the horse racing calendar for Clonmel Races in 2024:
| Date | Weekday | Racecourse |
| --- | --- | --- |
| 11/01/2024 | Thursday | Clonmel |
| 15/02/2024 | Thursday | Clonmel |
| 29/02/2024 | Thursday | Clonmel |
| 28/03/2024 | Thursday | Clonmel |
| 18/04/2024 | Thursday | Clonmel |
| 16/05/2024 | Thursday | Clonmel |
| 07/06/2024 | Friday | Clonmel |
| 05/09/2024 | Thursday | Clonmel |
| 03/10/2024 | Thursday | Clonmel |
| 24/10/2024 | Thursday | Clonmel |
| 07/11/2024 | Thursday | Clonmel |
| 03/12/2024 | Tuesday | Clonmel |
Check out our guide for the full list of Ireland's horse racing fixtures in 2024.
Clonmel Racecards
The racecards for Clonmel races will be released the day before the races are set to happen. You can view full racecards in advance, check out – horse racing tomorrow and horse racing today. In these, you will get an advance look at all the runners, trainers, form and riders.
You can also of course purchase a racecard from the track which carries much of the same useful information. Many like to keep these as souvenirs, especially from major UK horse races.
Clonmel Weather
Punters and race-goers love to keep up with the weather to predict going conditions, as well as making sure what they wear for the races is suitable.
Here's the current weather forecast for Clonmel:
CLONMEL WEATHER

Betting Shops Local to Clonmel Racecourse
Clonmel Racecourse has a branch of Ladbrokes on-site as well as independent bookies which can be found track-side and usually offer the most competitive odds.
Mobile phone signal at the racecourse is strong enough that bets can be placed online as required.
WiFi is available in some hospitality suites but is not available course-wide as standard.
The town of Clonmel itself has several branches of chain bookmakers – two branches of Ladbrokes, two branches of Paddy Power racing, two branches of Bar One Racing and a branch of BoyleSports racing.
All tend to show Clonmel races where they are able to and most will offer advance bets so you can hedge before you travel on to the course itself.
Best Clonmel Races Betting Sites
At British Racecourses we often recommend betting online and via betting apps when going to the races. This is because you can often get the best odds, great offers when signing up and you can place bets quickly and safely.
If you are looking to bet online we recommend the following great deals with these top online betting sites.
Some of these are new online bookmakers such as Mr Green horse racing and 10bet, whilst others such as bet365 racing, Betfred and Betfair have been around for years. Many of these many our list of best Irish bookmakers so are worth checking out.
Summary of Clonmel Racecourse
A right-handed track with a stiff uphill finish Clonmel is an old school Irish racecourse. It is a venue loved by racing fans, families and local supporters.
With both national hunt and flat racing it hosts race days throughout the year.
Although not one of the most famous courses in the country it is both welcoming, competitive and always lots of fun.
Definitely worth a visit!
Ireland Racecourses Alphabetical
Here is a full alphabetical list of Irish racecourses, as you can see there are lots of options and racecourses spread across the entire country: