Welcome to our official guide to Galway Racecourse.
We explore this great racecourse in detail, looking at its history, the Galway Festival and its main races including the Galway Plate and Galway Mile, a guide to the track, hotel picks, fixtures, travel information, betting guides and even the weather.
If you are looking for the latest betting tips for Galway, check out our full guide to Galway Racecourse tips.
Find out more about Galway Racecourse: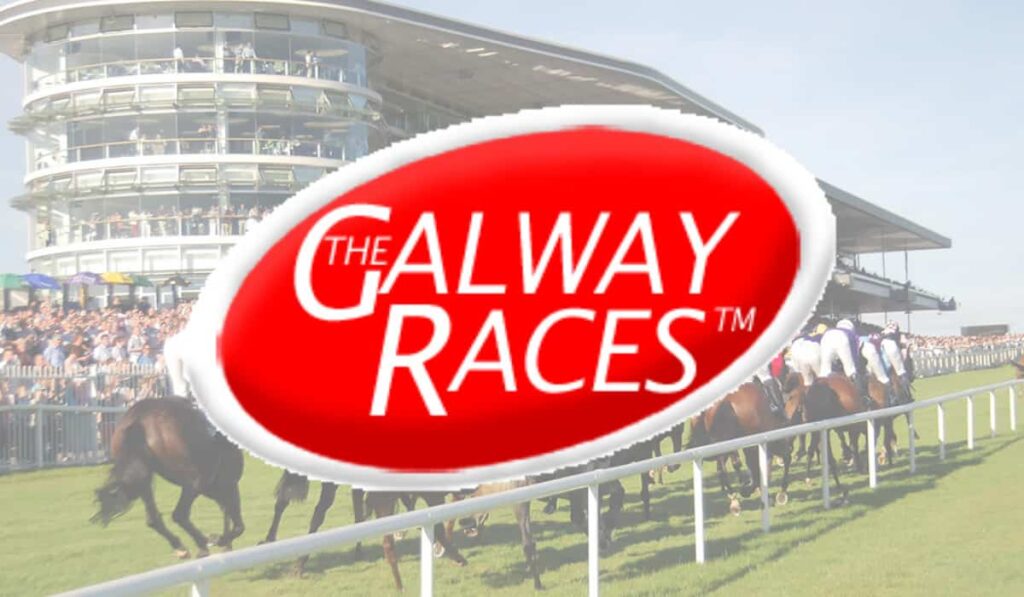 Overview of Galway Racecourse
Ballybrit Racecourse, known by locals as 'The Galway Races' is a horseracing track in County Galway, Ireland, just a few kilometres north of Galway city.
It hosts both flat and national hunt racing. It's a superb racecourse and the seven-day festival (its Summer Festival) is known all over the world for high-class racing and an unbelievable atmosphere.
There's nowhere quite like Galway Races.
It is a place we hold in our hearts at British Racecourses and we have been lucky enough to have winners there – think a mixture of Glorious Goodwood and Royal Ascot but with a greater sense of fun and a huge amount of Irish charm.
Ballybrit Racecourse is a superb and unique right-handed track of approximately one mile and three furlongs around. On the jumps and flat course it has a sharp decline into a dip before the home straight and a steep incline to the finishing line. Its final two fences on the jumps courses are the closest two fences of any course in the world!
At the end of 2019, Ballybrit Racecourse was granted planning permission for large extension and comprehensive refurbishment. This project is expected to commence in 2021 and will include the demolition of several older facilities as well as the construction of a new parade ring, new spectator viewing platforms, a new restaurant and a myriad of new hospitality facilities. We can't wait to see the results.
Galway Racecourse History
Horse racing is a fiercely protected tradition in Ireland, so it's no surprise that the courses there are often fairly old and steeped in history.
Ballybrit Racecourse opened in August 1869 and some 40,000 people turned up to watch the racing on the very first day for the very first race!
The course became so popular that Eyre Square, a park across the road, had to be used as a campsite for the crowds arriving in Ballybrit in advance of race days.
This was the start of what today remains their hugely popular Summer Festival which holds both flat and national hunt racing including the world-famous Galway Plate (a hurdle race worth over 200k euros at the prestigious Galway Mile).
To say that horse racing is a key part of Irish culture would be to understate the fact. Ireland has 26 major racecourses – many that we have reviewed: that's more per head of the population than any other country in the world and Galway is one of their jewels!
Almost 1.5m people visit Irish racecourses every year. Indeed, horseracing in Ireland is key to the country's economy. 35% of the country's equine population is thoroughbred, and Irish thoroughbreds are amongst the most successful in the world.
Galway Races continued to enjoy success and in 1929, when races began to be broadcast on radio across Ireland, it was one of the first racecourses featured; as it was again in the 60s when televisions became mainstream.
In 1979, Pope John Paul II visited Galway and gave mass at Galway Racecourse. Being a deeply Catholic country, great crowds were expected to attend – but no one could have predicted the 280,000 worshippers that would descend!
Some five years later another mass was held to celebrate the anniversary and 5,000 people attended that too.
The future for Galway Races looks bright, and the planned refurbishments and extensions should help propel the venue's success to even further heights.
Main Races and Events at Galway
Ballybrit and Galway Races is home to not just a major summer social event but is considered a key staple of the whole country's racing calendar.
The Galway Races Summer Festival (or just the Galway Festival for short) is the longest of all race meetings in Ireland and runs for a full seven days!
The Galway Festival starts on the last Monday of July annually and usually runs into August.
The highlights of the week include the Galway Mile on Tuesday, the Galway Plate (sometimes called the Galway Hurdle) raced on Wednesday, Ladies' Day on Thursday, Friday sees the mad-hatters day and the main race on Sunday is the Ahonoora Handicap.
A whopping 150,000 racegoers attend the festival each year and the city is buzzing for the entire week with restaurants, bars and hotels packed from people from all over Ireland indeed the whole world.
Galway Racecourse Map
Below is a map of both Galway Racecourses – the flat and jumps track.
Galway Flat Track
Below is a map of the Galway Flat course: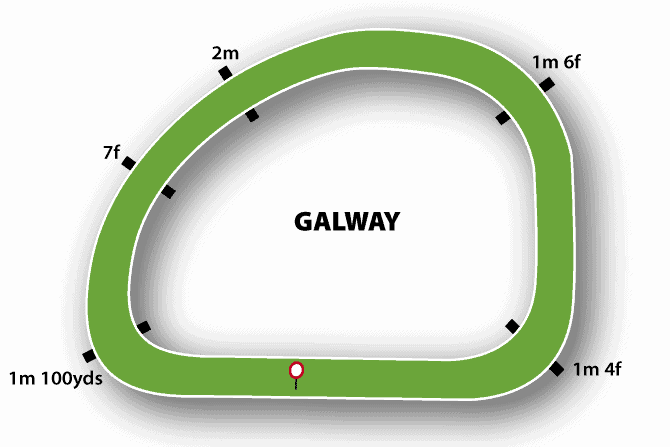 The flat course – Galway is an oval right-handed track with a circuit of just over 10 furlongs.
There is a steep incline to the finish starting with a climb on the home bend, however, unless the ground is really testing the track is mainly sharp in nature having tight bends and a short run in.
The home straight is short at just over a furlong so ideally, you need to be within striking distance on the bend as there's not much time to make up ground.
Galway Jumps Track
Below is a map of the Galway jumps track.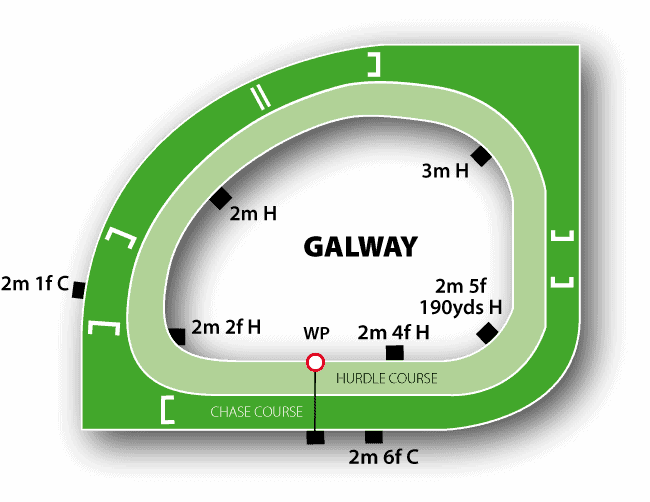 The national hunt course is also right-handed and just over ten furlongs around.
There is the same steep incline to the finish as on the flat course but unless the ground is heavy sharp and those ridden handy do well on this track as well.
The chase course has seven fences around, with the final two fences very close together – indeed they are the closest in the world – this is then followed by a run-in of over two furlongs which is on the long side.
The hurdle course is on the inside of the chase course it is even sharper than the chase course.
Galway Racecourse Address
The Galway Racecourse address is:
Ballybrit Racecourse
Ballybrit
Co. Galway
H91 V654

How To Get To Galway Racecourse
The ways to get to Galway Races are:
By road – Ballybrit Racecourse is easily accessible from anywhere in Ireland, as it's situated just off the major M6 motorway.
By bus – Shuttle buses run from the nearby Eyre Square on race days.
By rail – the nearest rail station is Galway, and the racecourse is about a 15-minute car journey from there.
By air – helicopters can land at Ballybrit if booked to do so in advance, but most of those choosing to travel by air to the course do so by public aircraft to Aer Arann Connemara Airport, which is less than an hour away.
Hotels Near Galway Racecourse
The nearest hotels to Ballybrit Racecourse are contrasting in style – some countryside manor-type hotels, and some business park budget options! The closest include the Breanloughan Briar Hill Hotel, Temple Lodge and the Clayton Hotel Galway.
We love The Connacht!
Needless to say, Ballybrit is just a small village, but the city of Galway (about 15-minutes away) is considerably bigger. Here you'll find plenty of accommodation to stay in, and many are recommended by the racecourse themselves.
More central options include The Stop, The House Hotel, Heron's Rest, the Imperial Hotel and City Point Holiday Apartments.
For something a little more friendly to the purse strings, there's also a variety of B&Bs in the city – usually family-run and very welcoming!

Best Galway Races and Galway Festival Betting Sites
We often recommend betting online and via apps. This is because you can often get good odds, and great offers when signing up and you can place bets quickly and safely without having to queue.
If you are looking to bet online betting sites we recommend the great deals for new customers shown on this page. We have also reviewed specific Irish betting sites and leading bookies such as Paddy Power.
Galway Races Tips
Tipping horses at Galway is difficult with ante-post betting because it is always best to check ground conditions and the draw (which has a huge bias to lower draws).
Here are the best Galway Races 2023 tips:
Galway Festival Betting Tips for 2023
Sirjack Thomas
Saltonstall
Current Option
Magnetic North
Casanova
Politicise
Betting Shops Local to Galway Racecourse
Betting at racecourses in Ireland is essentially the same as doing so in the UK, but of course, in euro (€) rather than pounds (£).
On-site, Ballybrit Races has two branches of Ladbrokes, Tote kiosks in all enclosures (as well as touch-screen self-serve Tote facilities), and two betting rings for independent bookmakers – one in the Mayor's Garden and one beside the Parade Ring (which is likely to move when the course refurbishment takes place).
In Galway city centre, branches of chain bookies can be found fairly easily, including BoyleSports Bookmakers, Paddy Power and Bar One Racing.
Galway Racecards
The racecards for the Galway races are released the day before the races take place, find out where to view racecards here – tomorrow's racecards and today's racecards.
You can also of course purchase a racecard from the track which carries much of the same useful information.
Galway Races 2023
Here is the horse racing calendar for Galway Races in 2023:
| Date | Day | Track |
| --- | --- | --- |
| 31/07/2023 | Monday | Galway |
| 01/08/2023 | Tuesday | Galway |
| 02/08/2023 | Wednesday | Galway |
| 03/08/2023 | Thursday | Galway |
| 04/08/2023 | Friday | Galway |
| 05/08/2023 | Saturday | Galway |
| 06/08/2023 | Sunday | Galway |
| 11/09/2023 | Monday | Galway |
| 12/09/2023 | Tuesday | Galway |
| 03/10/2023 | Tuesday | Galway |
| 28/10/2023 | Saturday | Galway |
| 29/10/2023 | Sunday | Galway |
| 30/10/2023 | Monday | Galway |
Galway Races 2024
Here is the horse racing calendar for Galway Races in 2024:
| Date | Weekday | Racecourse |
| --- | --- | --- |
| 29/07/2024 | Monday | Galway |
| 30/07/2024 | Tuesday | Galway |
| 31/07/2024 | Wednesday | Galway |
| 01/08/2024 | Thursday | Galway |
| 02/08/2024 | Friday | Galway |
| 03/08/2024 | Saturday | Galway |
| 04/08/2024 | Sunday | Galway |
| 09/09/2024 | Monday | Galway |
| 10/09/2024 | Tuesday | Galway |
| 08/10/2024 | Tuesday | Galway |
| 26/10/2024 | Saturday | Galway |
| 27/10/2024 | Sunday | Galway |
| 28/10/2024 | Monday | Galway |
Check out our guide for the full list of Ireland's 2024 horse race meetings.
Leading Galway Festival Owners 2021
Dooley Thoroughbreds – co-founders of British Racecourses website – were leading owners at the most recent Galway Festival with winners including Saltonstall, Sirjack Thomas and Current Option, as well as a second by Politicise.
Galway Races Weather
Punters and race-goers love to keep up with the weather to predict going conditions, as well as making sure what they wear is suitable.
Here's the current weather forecast for Galway Races:
GALWAY WEATHER

Other Events at Galway Racecourse
Despite Ballybrit being affectionately known often just as 'the Galway Races' because of its biggest event (and, of course, location), there are other race meets held here aside from the main seven-day event!
Racing continues through Spring and Autumn, and on non-race days, the venue is often used by companies for corporate events and hospitality.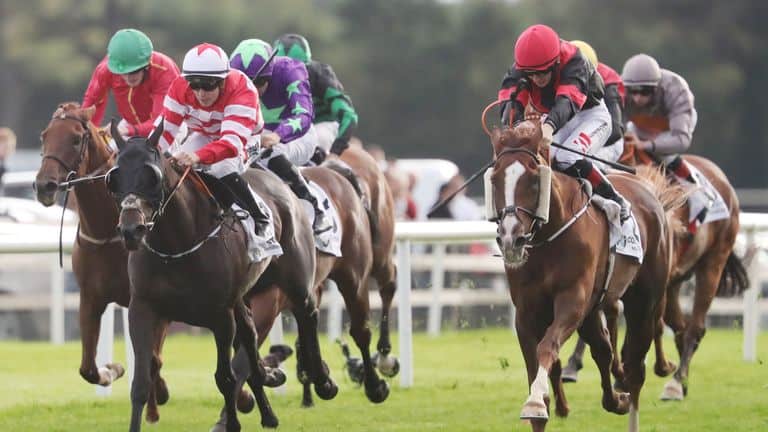 Popular Questions
Do you need tickets for the Galway Races?
No you don't need tickets for the Galway Races as you can pay at the gates.
What date is the Galway Races?
The date of Galway races change slightly each year but the seven-day festival generally start the last week of July and runs into August.
The main races include The Galway Hurdle and Galway  Mile.
Who won the Galway Mile in 2020?
The Galway Mile was won in 2020 for a second year in a row by Saltonstall trained by Ado McGuiness and owned by Dooley Thoroughbreds.
Summary of Galway Racecourse and Galway Races
Galway Racecourse is a stunning racecourse an arms throw from the beautiful town itself.
It hosts meetings throughout the year but will always be best known for the seven-day Galway Festival, featuring The Galway Plate (Galway Hurdle) and Galway Mile.
A Summer festival that hosts both national hunt and flat racing makes it unique.
The iconic and famous right-handed track with the steep incline to the finish has seen many thrilling finishes.
Galway is a superb racecourse and one we will always hold dear in my heart.
It is our favourite of all the brilliant Irish racecourses.
Ireland Racecourses Alphabetical
Here is a full alphabetical list of Irish racecourses, as you can see there are lots of options and racecourses spread across the entire country:
Our team as of December 2023 have reviewed these racecourses in Ireland and UK racecourses that are also worth a visit: