Welcome to our official guide to Downpatrick Racecourse.
We explore this Northern Irish jumps racecourse in detail, looking at its history, a guide to the track, hotel picks, fixtures, travel information, betting guides and even the weather!
If you are looking for the latest betting tips for Downpatrick, check out our full guide to Downpatrick Racecourse tips.
Find out more about Downpatrick Racecourse: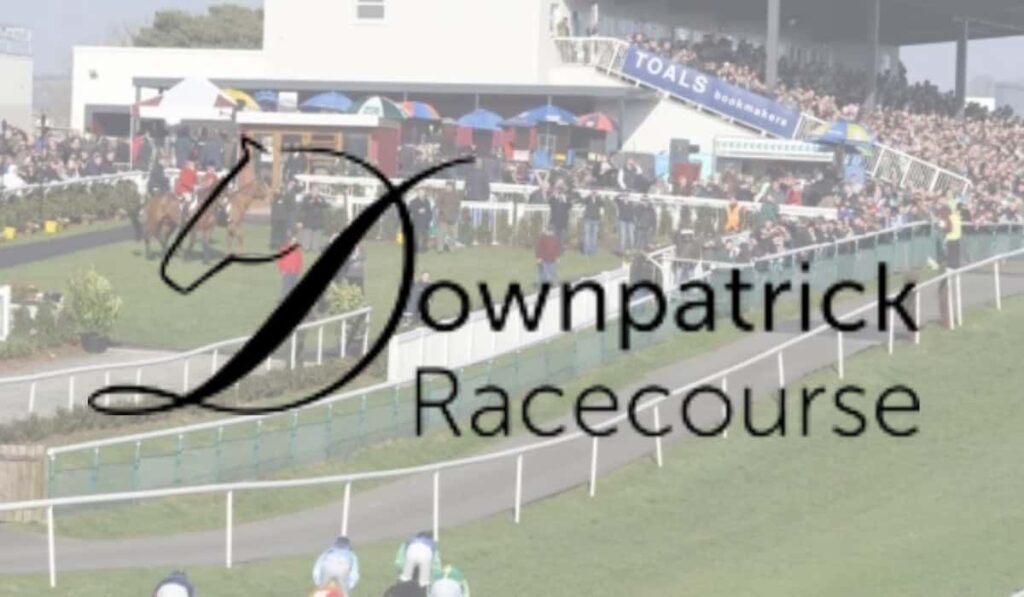 Overview of Downpatrick Races
Northern Ireland may not be blessed with an abundance of racecourses but quality certainly triumphs over quantity.
Take Downpatrick as an example. A historical venue in a historic town, operated under the auspices of Horse Racing Ireland, Downpatrick is a premier location for National Hunt racing in Northern Ireland.
Located in the scenic rolling countryside of County Down, Downpatrick Racecourse is found under a mile from the town centre of the same name. Steeped in history, Downpatrick is a popular location for tourists during the summer, many of whom attend the June Festival at the racecourse.
The track itself is narrow and right-handed and is eleven furlongs around.
All events that unfold here are National Hunt races, featuring six fences per circuit.
While the fences are generally on the small side and easy to clear, the track itself is hilly with many peaks and drops – like a horse racing rollercoaster.
The final straight is entirely uphill, meaning that stamina is a must for a competing horse.
The narrowness of the track makes overtaking challenging though, so lookout for a horse with great acceleration. Taking an early lead and front running can also be invaluable.
Downpatrick is a relaxed racecourse with no formal dress code, though smart casual is the least expected in an unofficial capacity. Several racedays include prizes for appropriate attire, so it's always worth dressing to impress. Keep the County Down weather in mind, too.
History of Downpatrick Racecourse
Downpatrick is the oldest racecourse in Ireland, with an illustrious history to match such as a status.
The first equestrian events in the area took place in 1685, and the venue that stands today was built over 150 years ago.
Previously, Downpatrick was home to both Flat and National Hunt racing. Flat options were gradually phased out over the decades though, and the final race of this ilk was run in 2009.
Downpatrick does have one other significant claim to fame. Byerley Turk, a foundation stallion for thoroughbred horses, competed in the area in the late 17th Century.
Downpatrick Racecourse Map
Below is a map of Downpatrick Racecourse: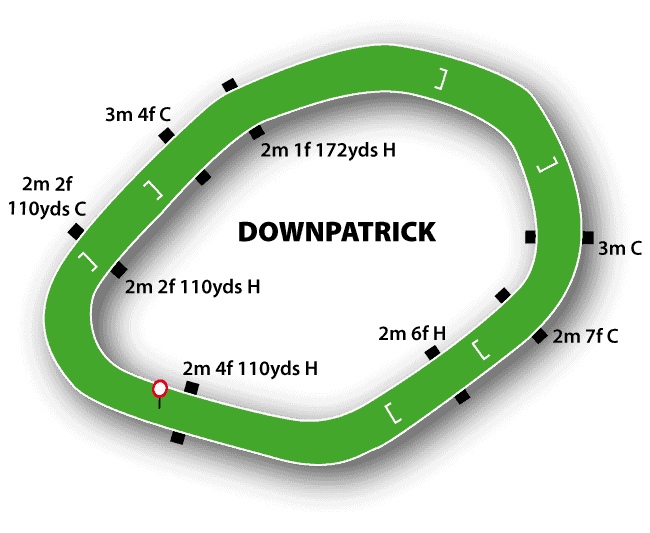 The course is narrow and right-handed with a relatively short 11 furlongs per lap.
It is a tricky and undulating course with many rises and falls, the nature of the course tends to suit more nippy horses rather than traditional long-striding and galloping types.
Downpatrick Racecourse Address
The official address for Downpatrick racecourse is:
Downpatrick Racecourse
24 Ballydugan Road
Downpatrick
Co. Down
Northern Ireland
BT30 6TE

How to Get To Downpatrick Racecourse
To ways to get to Downpatrick races are:
By road – if you prefer to drive, take the M1 Southbound from Belfast, exiting at Junction 6 onto the Ballynahinch. From here, take the A24 and then the A25 – this is the road that hosts Downpatrick Racecourse. If driving from Lisburn, take the Laganbank Road toward Saintfield, then turn off at the Ballynahinch. Follow the same instructions as above from here.
By Train – alternatively, travel into Lisburn. This is a comparable distance to Belfast, and also offers a route into Downpatrick via public transport. It's also the closest train station. Downpatrick Railway Station is a heritage monument, so not suitable for travel to visitors attending the races. You could always take a taxi from Belfast or Lisburn, but this is not going to be a cheap option.
By air – Belfast is the closest city to Downpatrick, found some 23 miles away. This makes Belfast the best airport to fly into if this is your choice of travel. It will take around an hour to travel to Downpatrick by bus from Belfast, with the racecourse a brief stroll away from the bus station.
Hotels Near Downpatrick Racecourse
As Downpatrick Racecourse is quite a distance from major transport links, you may want to stay local when attending a race meet. It is one mile from the town centre.
Unfortunately, options remain comparatively limited without travel in this historic town.
There are a handful of accommodations available to you, though. Denvir's, for example, is a charming inn located in the town centre, just a mile from the racecourse.
There are also numerous small, family-run B&Bs in the area if you search around. As small enterprises, these locations do not have personal websites. You'll be taking a chance on making a booking, "sight unseen." If this makes you uncomfortable, base yourself in Belfast and continue your onward journey in the morning.

Best Downpatrick Races Betting Sites
At British Racecourses we often recommend betting online and via mobile betting apps. This is because you can often get the best odds, great offers when signing up and you can place bets quickly and safely without having to queue.
If you are looking to bet online we recommend the following great online betting websites.
The online bookies all made our list of the best horse racing betting sites.
Main Races and Downpatrick Race Meetings
Downpatrick operates ten national hunt race meeting throughout the year, opening its doors in March and concluding in October.
A standard annual fixture list and race meeting fixtures for Downpatrick will resemble:
March – the great curtain-raiser of racing in Downpatrick is the Ulster National Day. The titular race is the main event of this meet, acting as a practice run for the Irish Grand National (handicap chase) for many jockeys and boasting prize money of €50,000.
May – Downpatrick takes a break in April but returns in May for two racedays. The first is a daytime event that unfolds on the first Bank Holiday Monday of the month. The second is an evening meeting, usually on the Friday preceding the second Bank Holiday.
June – June sees two racing meets unfold over back-to-back over a single weekend during the middle of the month. Referred to as Festival Saturday and Festival Sunday, these are daytime events that are followed by live music in the evening. The June Festival is considered the jewel in the crown of the Downpatrick Races.
July – Family Fun Raceday takes place every July at Downpatrick. In addition to seven races of the race meeting – including the Irish Jockeys in Support of Downpatrick Racecourse Maiden Hurdle – free activities to keep younger visitors entertained are included in the price of admission.
August – August sees two major events at Downpatrick. The first is Style Sunday, where dressing to impress is positively encouraged. The two final races award prestigious luxury holidays to the Most Appropriately Dressed Lady and Best Dressed Man, respectively. Ladies Day also takes place this month, with similar rewards available. The contents here, again tied to the final races of the meet, include the Ladies Upstyle Hair Competition and the Most Stylish Hat and Accessories Competition.
September – the solitary event of September is dubbed Get Ready for Autumn. Unfolding mid-month, this meet features seven races and live music after the final event of the day.
October – Downpatrick concludes its racing calendar in early October with the End of Season Raceday. There's a party atmosphere at this meet, ensuring that the season draws to a close with a bang.
Always confirm that events have not been cancelled, postponed or amended before travelling to Downpatrick. All race meets, fixtures and competitions are subject to change due to a wide array of external circumstances.
Downpatrick Races 2024
Here is the horse racing calendar for Downpatrick Races in 2024:
| Date | Weekday | Racecourse |
| --- | --- | --- |
| 07/04/2024 | Sunday | Downpatrick |
| 10/05/2024 | Friday | Downpatrick |
| 24/05/2024 | Friday | Downpatrick |
| 15/06/2024 | Saturday | Downpatrick |
| 16/06/2024 | Sunday | Downpatrick |
| 15/07/2024 | Monday | Downpatrick |
| 11/08/2024 | Sunday | Downpatrick |
| 26/08/2024 | Monday | Downpatrick |
| 20/09/2024 | Friday | Downpatrick |
| 11/10/2024 | Friday | Downpatrick |
Check out our guide for the full list of Ireland's 2024 horse race meetings.
Downpatrick Racecourse Weather
Punters and race-goers love to keep up with the weather to predict going conditions, as well as making sure what they wear is suitable.
Here's the current weather forecast for Downpatrick Racecourse, Northern Ireland:
Other Events at Downpatrick Course
You will not find events unconnected to racing at Downpatrick unless invited to a private function.
The venue is available for hire, however, and most race days are lengthy affairs that spill into the night.
Live music performances following races are a common occurrence at Downpatrick.
Downpatrick Racecard
The racecards for the Downpatrick races are released the day before the races take place, find out where to view racecards here – tomorrows racecards and today's racecards.
You can also of course purchase a racecard from the track which carries much of the same useful information.
Popular Questions
How long is Downpatrick Racecourse?
Downpatrick Racecourse is a tight undulating course of 1 1/4 miles.
What is the dress code for Donwpatrick Races?
Downpatrick is a relaxed racecourse with no formal dress code, though smart casual is the least expected in an unofficial capacity.
Several racedays include prizes for appropriate attire, so it's always worth dressing to impress. Keep the County Down weather in mind, too.
What is the address of Downpatrick Racecourse?
The address of Downpatrick Racecourse is:
Downpatrick Racecourse
24 Ballydugan Road
Downpatrick
Co. Down
Northern Ireland
BT30 6TE
Summary of Downpatrick Racecourse
A unique national hunt flat in Northern Ireland, Downpatrick is an uphill and downhill tight right-handed track.
Whilst the racing isn't always of the highest quality it is also well attended and well contested.
The main event is the Ulster National and you will find a race meeting from March to October.
We love this quirky track at British Racecourses, it is definitely worth a visit
Ireland Racecourses Alphabetical
Here is a full alphabetical list of Irish racecourses, as you can see there are lots of options and racecourses spread across the entire country: