Welcome to our official guide to Killarney Racecourse.
Nicknamed 'Ireland's most scenic racecourse, Killarney Racecourse is situated just a kilometre south of the picturesque town Killarney; popular with tourists from all over the world. The course has views overlooking the grounds of Ross Castle and is well known for its greenery and scenery… as well as some great racing, of course!
If you are looking for the latest betting tips for Killarney, check out our full guide to Killarney Racecourse tips.
Find out more about Killarney Racecourse: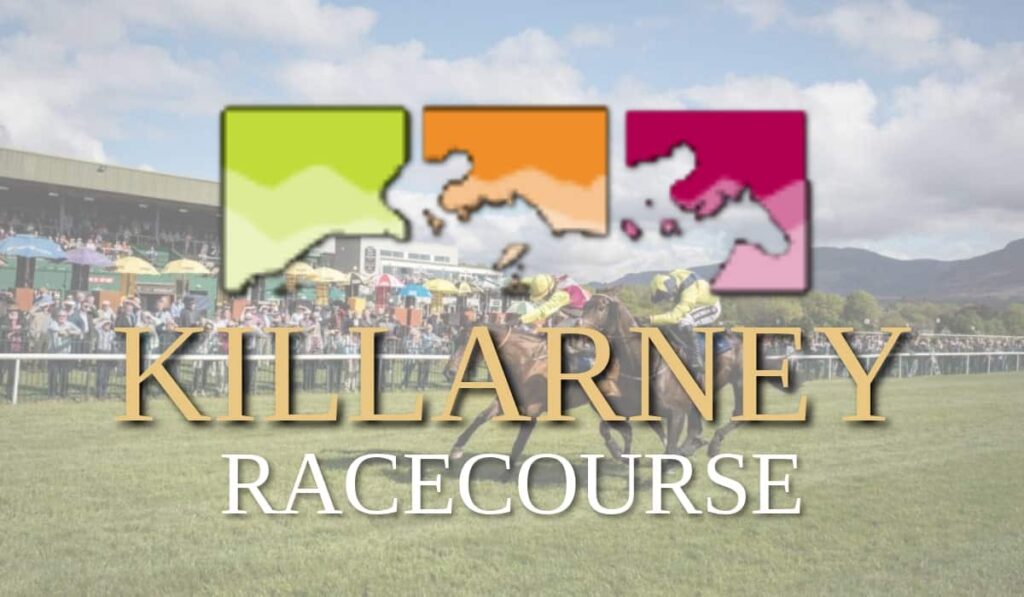 Overview of Killarney Races
The town of Killarney is one of the most popular tourist hotspots in the whole of Ireland, well renowned for its scenery, heritage buildings and Irish cultural sites. It even won the award for the country's tidiest town in 2011!
Killarney Racecourse lives up to the hype you'd expect for this area and has been home to horse racing since the early 1800s.
Killarney hosts both flat and National Hunt racing, with most meets taking place in the evening – ideal for those who will appreciate the sunset across the landscape setting.
As Killarney is so popular with tourists and therefore attracts many who aren't typical or routine race-goers, there is no set dress code and smart-casual attire is encouraged. This does lend many races a more informal feel than may be found at racecourses elsewhere, but many choose to dress up and the typical occasions of Ladies Day and other special events are always full of cocktail dresses and elaborate headgear.
Today, there are many hospitality options at Killarney and it is a favourite amongst Irish businesses for corporate entertaining.
Killarney Racecourse History
Despite being in one of the country's premier tourist areas, not as much is known about the history of Killarney Racecourse.
In the region, the first recorded instance of horse racing was back in 1822. The current course was opened in 1936 and hasn't moved since, although it did close temporarily as a result of the coronavirus pandemic.
Over the years Killarney has enjoyed much investment and has seen redevelopment and refurbishment as a result, with some expansion and enviable tourist traffic that other Irish racecourses simply don't attract.
Main Races and Events at Killarney Racecourse
Killarney Racecourse does attract some high-class racehorses, particularly for its big events.
The Kingdom Gold Cup is the richest race on offer through its four-day August festival with the Ruby Stakes also attracting some big names.
The Cairn Rouge Stakes during the July festival takes place on Ladies' Day and is closely contested by the Bourn Vincent Memorial Handicap Chase and the Bunkers Handicap Hurdle.
Killarney Racecourse Map
There are two courses at Killarney, the flat and national hunt track, both below.
Killarney Flat Course
Below is a map of the Killarney flat course: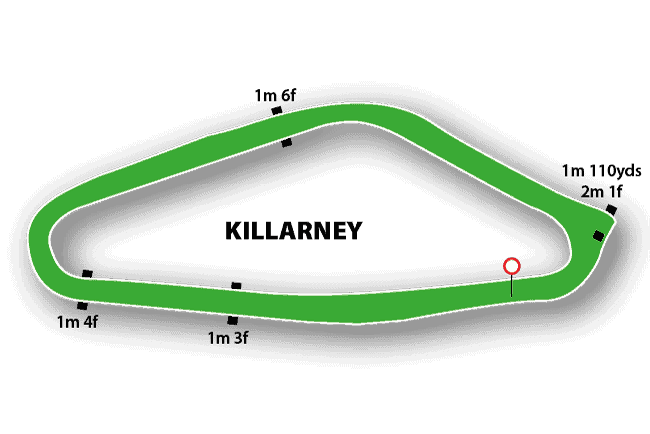 The left-handed oval track measures just over nine and a half furlongs.
The sharp track presents a challenge with the first bend after the winning post being extremely tight. Although having tight bends throughout the long run-in means that Killarney is deemed a fair track.
Killarney Jumps Track
Below is a map of Killarney's national hunt course: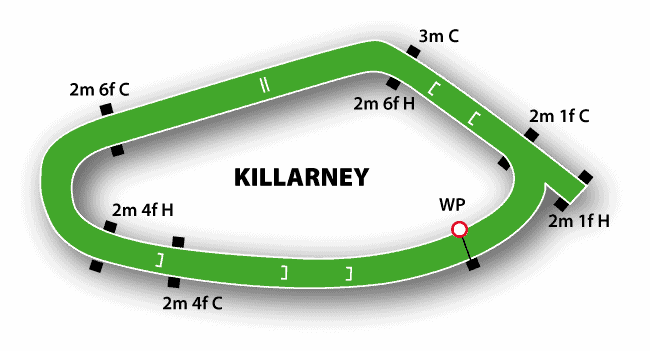 For National Hunt racing the sharp track also presents a challenge, with six fences to a circuit and three in the dog-legged home straight. The run-in on the jumps is approximately a furlong long, meaning the lead can change frequently after the last jump.
Conditions can get quite testing in winter.
Killarney Racecourse Address
The address of Killarney Racecourse is:
Killarney Racecourse
Ross Road
Scrahane
Killarney
County Kerry
Ireland
How To Get To Killarney Racecourse
The ways to get to Killarney races are:
By foot – Killarney Racecourse is located just 1km south of the town of Killarney. The town itself is very accessible from a variety of transport routes and as a result, the racecourse is very well connected.
By road – Killarney is accessible on major routes from every city on the Emerald Isle. Killarney itself has a bus station and train station less than a half-mile from the racecourse, with regular services from every major city.
By air – Kerry Airport is just a 15-min drive away and Cork and Shannon Airports are both less than 2-hours away, and both receive international flights. Helicopter landing can be booked via prior arrangement with the racecourse directly.
By boat – Killarney's location means that, somewhat unusually, it's also well connected by sea. Ferries from Rosslare, Dublin, Dun Laoghaire, Belfast and Larne dock at its seaport, and even the occasional international cruise liner!
Hotels near Killarney Racecourse
Killarney is one of the premier tourist hotspots in the whole of Ireland, so there are plenty of accommodation options for those visiting Killarney Racecourse.
Airbnb boasts lots of local listings for those looking to stay somewhere a little less traditional, but you'll also find a variety of chain and indie hotels, B&Bs, pub rooms and guesthouses. There are lots of large spa-type hotels catering for visitors and the most popular (and highly rated) are currently Killarney Dromhall Hotel, Muckross Park Hotel & Spa, the Killarney Heights Hotel and the Killarney Plaza.
For more budget options, visitors will find some cheaper budget hotels as well as varying levels of hostels. Most online booking sites will allow you to filter by the price but if you're looking for a less expensive accommodation choice, be sure to book in advance – as you have regular tourists as well as other race-goers to compete with for the rooms.
Betting Shops Local to Killarney Racecourse
Killarney Racecourse has independent bookmakers situated between the two main stands, as well as two branches of Ladbrokes Racing on-site.
Hospitality suites enjoy table service from bookmaker representatives on major event days.
Mobile signal at Killarney Racecourse is good, so race-goers can bet online with the preferred bookmakers of their choice as desired.
In the nearby town of Killarney, you'll find two branches of Paddy Power horse racing, two branches of Boyle Sports horse racing and one Ladbrokes betting shop. All show races where available from all of Ireland's racecourses are shown in these shops, as well from Killarney down the road whenever possible.
It's not standard to receive free WiFi with a hotel booking in Ireland so if you intend to bet online you may need to do so using your mobile data ahead of your travel to the course.
Killarney Races 2024
Here is the horse racing calendar for Killarney Races in 2024:
| Date | Weekday | Racecourse |
| --- | --- | --- |
| 12/05/2024 | Sunday | Killarney |
| 13/05/2024 | Monday | Killarney |
| 14/05/2024 | Tuesday | Killarney |
| 15/07/2024 | Monday | Killarney |
| 16/07/2024 | Tuesday | Killarney |
| 17/07/2024 | Wednesday | Killarney |
| 18/07/2024 | Thursday | Killarney |
| 19/07/2024 | Friday | Killarney |
| 22/08/2024 | Thursday | Killarney |
| 23/08/2024 | Friday | Killarney |
| 24/08/2024 | Saturday | Killarney |
| 06/10/2024 | Sunday | Killarney |
| 07/10/2024 | Monday | Killarney |
Check out our guide for the full list of Ireland's 2024 horse racing fixtures.
Best Killarney Races Betting Sites
At British Racecourses we often recommend betting online and via betting apps. This is because you can often get the best odds, great offers when signing up and you can place bets quickly and safely without having to queue.
If you are looking to bet online we recommend the following great deals with some amazing offers for new customers shown on this page.
All of the above horse racing betting sites were reviewed very favourably, many of these are also new Irish betting sites.
Other Events Held at Killarney
Killarney Racecourse hosts lots of race meets through the summer evenings which are popular with tourists and locals alike. It also hosts occasional gigs and live music events which often attract people from other counties and even countries to visit!
Killarney Weather
It's always good to keep up the weather, so you can't predict both the going conditions and what to wear the horse races is appropriate. Check out the weather for Killarney:
Killarney Racecards
The racecards for the Killarney are released the day before the races take place, find out where to view racecards here – tomorrow's racecards and today's racecards. In these, you will get an advance look at all the runners and riders.
You can also of course purchase a racecard from the track which carries much of the same useful information.
Summary of Killarney Racecourse
Killarney has one of the most beautiful racecourses in Ireland and indeed the world.
Setting in the stunning Irish countryside it hosts racing all year round on the flat and over the jumps. The racing is of top-quality and races are contested by leading jockeys and trainers.
If you are looking for either a high-class day of racing or just a great day out, be sure to add Killarney to your list.
A must visit and highly recommended.
Ireland Racecourses Alphabetical
Here is a full alphabetical list of Irish racecourses, as you can see there are lots of options and racecourses spread across the entire country: