Are you looking for what to wear for a day at the races? Fear not, our teams run through all the options, so you look great and feel comfortable on your day out – whether that is a trip to Royal Ascot or an afternoon at Newton Abbot!
Many people choose to dress up for a "Day at the Races", and it's a great day out with family and friends, especially those big occasions such as Glorious Goodwood, The Cheltenham Gold Cup and the Chester May Festival. The top priority is often elegance and style from head to toe and, although not always mandatory, it is considered part of the race day experience and excitement to dress up. However, you should always remember that your outfit should be comfortable enough to last all day – as you could be standing outside and walking around a lot – wearing weather-appropriate clothing is key! There is not always a horse racing dress code to follow.
Each UK racecourse has its own different dress codes (some have strict dress codes) for specific enclosures which will be mentioned on their websites, plus there's the British weather to contend with, so your outfit choices could depend on the racecourse, the enclosure you are in and the time of year.
Find out more today in our what to wear for the races: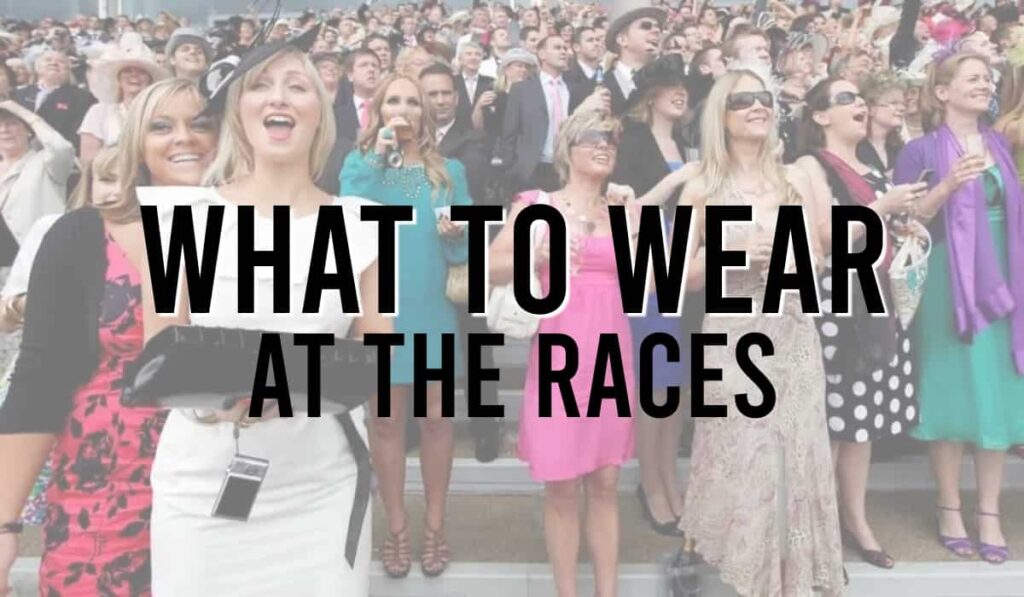 Things to Consider For Your Raceday Outfit
When planning your outfit for a day at the races make sure you take the following factors into consideration:
Time of year – a summer outfit at Newmarket Racecourse or Kempton Racecourse will be different from one at Newbury Racecourse in winter!
Which enclosure you're in – certain parts of racecourses have different dress codes.
Weather – as with any outfit check on the weather so you don't get caught in a shower unprepared.
Is it an evening or day meeting – most race meetings take place in the daytime but in the summer months there are often evening meetings (Windsor Racecourse holds lots) and in the winter months there is all-weather racing in the evening at Lingfield, Wolverhampton, Newcastle and Southwell, so you may need a jacket, scarf or pashmina?
Racecourse – some racecourses are more relaxed in general and at certain meetings, again this information can be found on their websites
Dress Codes – certain race days and major racing events have strict policies such as Royal Ascot and the Epsom Derby.
Season – whether you are going in spring, summer, autumn or winter will naturally affect your choices
So let's look at some examples…
What to Wear A Summers Horse Racing Meeting – Ladies' Guide
For a summer's day at the races, you will no doubt want to look and feel good. For this reason, a nice summer light dress is often the choice that is favoured as a classy horse racing outfit for ladies. However, as lovely and warm as the sun can be, it can turn into a race day disaster if you don't wear the right outfit.
When attending the races in summer the best option is to wear a flowy, elegant dress; something that you feel comfortable in but also stands out from the crowd.
The flowy dress gives better ventilation so you don't get sticky and helps you to avoid any fake tan disasters – for those who like that – as we know how terrible that can be!
Simple light colours and pastels are often popular such as this "rose long sleeve pleated midi dress" from Pretty Little Thing.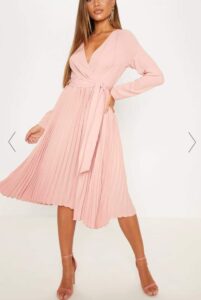 Any colour can be worn on a summer's day although wearing black and dark colours may not be a smart idea as you may get too hot.
Footwear can be a struggle as you are on your feet for most of the day and can be doing quite a lot of walking. Unfortunately, walking boots may not suit the look so we advise you to wear heels such as wedges or block heels. Wedges are the perfect footwear for the races as they are comfortable to walk in and they match the summer theme with the sandal type heel.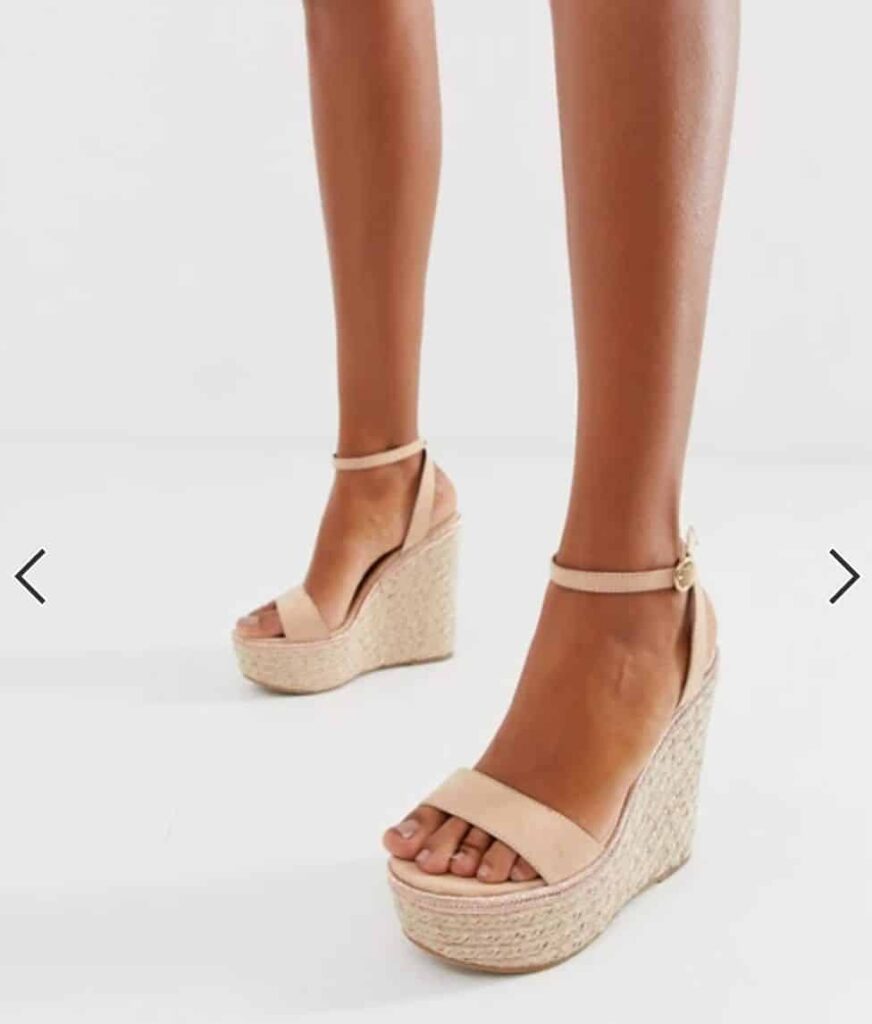 These wedges are the "ASOS DESIGN Justina espadrille wedges" from ASOS.
Ladies' Accessories to Wear on a Summer Day
A hat or a fascinator is an amazing choice for many ladies going racing – especially on a Ladies' Day. This can make your outfit much more dressy and can also keep the sun out of your eyes without having to wear sunglasses.
A little bag would be ideal so you don't have to carry everything around all day as well.
What to Wear to The Races in Summer – Men
There are always plenty of outfits for men to wear to the races but it's finding the right one to stand out on a summer's day and not be too hot.
If you're someone who likes to dress up in a suit then it's best to go with a lightweight suit so you don't get too warm.
With it being summer why not add some colour? A light-coloured suit with a collared shirt would match the summer theme – with it being such a bright day, let's go with some bright colours!
You may have a favourite suit and whether it's navy or black, why not add a coloured shirt (light pink or baby blue) instead of white to lighten up the outfit? A coloured tie can also be a great addition as well.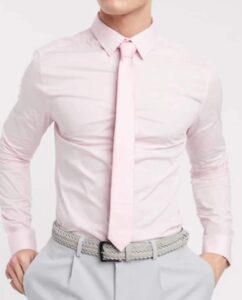 This shirt is the "New Look long sleeve muscle fit poplin shirt" in light pink, from ASOS and Newlook which we love.
On a sunny day, you want to wear the least amount of layers possible, even on your feet. Loafers are great to wear to the races as you don't need to wear them with socks (unless you want to) and they are very smart horse racing attire.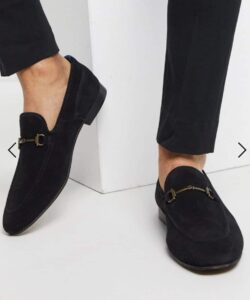 These shoes are the "H By Hudson Blythe bar loafers" in black suede, from ASOS.
Accessories you could add could be a nice pair of sunglasses to keep the sun out of your eyes when watching the horses and a watch to add some bling to the outfit!
What To Wear At A Winter Horse Racing Meeting – Men
Whether it's cold or wet, we won't let the weather ruin your day. Generally, when going to the races a suit is the best option as you can dress them up and dress them down.
Whichever colour shirt you feel is best, bear factors in mind such as the weather; if it is raining then the rain may show on your suit and that won't look good for all the photos you'll be taking!
Wearing a suit in winter definitely looks smarter as you can add a waistcoat under your jacket for an extra layer and button your shirt to the top with a tie to keep you warmer. It is ideal to wear a thicker, fluffy suit and this would make a huge difference.
You don't want to be walking around cold with a wet suit all day so why not add a smart overcoat and scarf to keep you dry and warm such as the example below?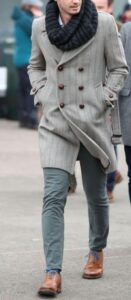 The footwear we would recommend would be derby shoes. These are smart and wearable with socks, they basically go with any type of suit as they offer a huge variety of colours.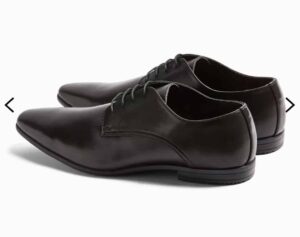 These shoes are the "Black Briar Derby Shoes" from TopMan. These would be great for more prestigious meetings.
Going to A Winter Horse Racing Meeting – Ladies
Looking for the perfect winter race day outfit? The most important thing is to stay warm in your winter racing outfits because if you are cold while being at the races this will ruin your whole experience – trust me I've been there.
On a cold day, a jumpsuit could be ideal for horse racing attire as your legs are fully covered so this could keep you warm. If you're more of a dress type person then a maxi dress could be best suited as more skin is covered. Soon you'll be in the best dressed racegoers!
When planning what to wear to the races in winter, you need to think about things such as long sleeves and how much coverage you have so you don't get a breeze.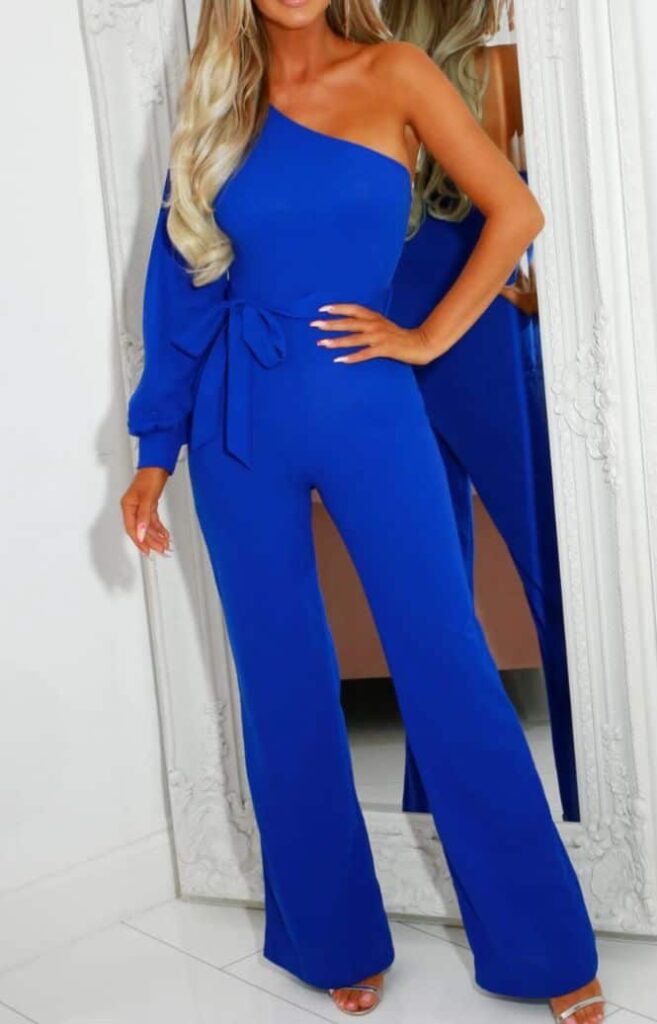 This jumpsuit is the "Total Goddess Cobalt One Shoulder Wide Leg Jumpsuit" from Pink Boutique.
If you wear a dress you could add some tights to keep your legs warmer and a long, fashionable coat to go over the top.
Footwear for winter is important because what could be worse than numb toes while you're at the races? You could add some heel boots as these will cover all of your feet and keep them warm but can also look very smart and trendy.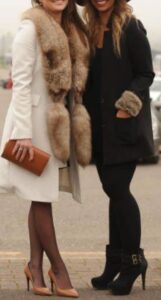 Adding some leather gloves to keep your hands warm would be one of the best decisions you could make or else you won't be able to feel your fingers by the end of the day. Get a colour to match your style and this could be used also as an accessory.
What to Wear to the Races – Casual Looks
For some race meetings, you can dress casually, in fact, smart casual horse racing outfits are probably the best popular looks seen on weekday meetings.
Whether you are looking for women's or men's race outfits, casual looks are definitely favoured.
Casual looks include smart jeans, chinos and smart pants for men – you can also wear smart, clean trainers at many courses. For ladies, similar smart trousers and jeans are also popular with, jumpers or shirts depending on the weather. Practical footwear is again permitted with hats not necessary.
What to Wear to the Cheltenham Festival
There is no official dress code at Cheltenham. Due to the festival taking place in March, attendees' dress choices may be influenced by the weather. The Cheltenham Racecourse advises attendees to dress appropriately for the weather, yet many women will wear hats.
Anything goes at The Festival, from feathers to tweed, gowns to caps. In all enclosures, restaurants, and hospitality facilities, gentlemen often wear a suit or similar attire.
The Cheltenham Festival does not have an official dress code, however, professional clothing is recommended.
Frequently Asked Questions about What to Wear at the Races
Here are the most popular questions we get asked about how to dress for the races:
Can you wear jeans to the races?
You can wear jeans to the races although this does depend on what stand of the racecourse you are in.
If you are based in a formal meeting or in the main grandstand then we would definitely advise you not to wear jeans.
Certain racecourses even have dress codes and may not allow jeans – so make sure to check the horse racing dress code before choosing your outfits.
A Newton Abbot races dress code and a Bath racecourse dress code could be completely different to a Chester races ladies day dress code!
There is a dress code at Newmarket races that you must follow, whether it is the ladies' day Newmarket dress code, Newmarket owners' dress code, or the complete Newmarket races grandstand dress code.
What shoes should I wear to the races?
Footwear to the races needs a lot of thought, your shoes need to be comfortable to walk around in as you do a lot of walking but also need to look smart.
For women, we would advise footwear such as wedges and for men, we would advise loafers or derbies.
Can you wear black to the races?
You can wear black to the races, although it's fun to get suited up for the races and your outfit should mirror that.
Therefore, consider choosing a colourful or seasonal outfit that you wouldn't necessarily choose.
Black is trendy, but you can play around with bold colours for the races. Also, each racecourse has its own style eg. a Lingfield races dress code in summer will be different from a winter dress code Wolverhampton racecourse.
Do I have to wear a hat for the horse races?
You do not need to wear a hat for the races for most meetings.
However at places such as Royal Ascot in The Royal Enclosure, for instance, it is required that all gentlemen at all times wear a three-piece morning suit and top hat. At all times, ladies must wear a hat or headpiece in the Royal Enclosure.
Can you wear a jumpsuit to the races?
You can wear a jumpsuit to the races you don't have to wear luxury womens dresses for the races!
Where formal dresses were once your only choice, at most racing events, jumpsuits and stylish formal trousers are now appropriate. Jumpsuits and trousers must be full-length rather than cropped for formal events.
Always check the dress code for the racecourse you are attending before deciding what to wear as some racecourses may not allow jumpsuits.
What do you wear to the races in winter?
What to wear to horse races in the winter is dedicated by the weather and course dress code.
You can usually find Southwell races in the autumn and winter months, therefore, knowing the Southwell races dress code is essential!
A wool dress/trousers are heavier than most other fabrics, keeping in a little extra comfort and warmth – limiting the need for layers.
This will make it easier for you to stay warm outside. Coats for the races should also be thought about, so you stay dry and comfortable.
What to wear to the Derby day races as a man?
The Derby Day race is smarter than most and black and white is the standard attire.
It's a classic fashion-wise day where the gents wear top hats, lounge suits and pinstripes.
What to wear to Ladies' Day at the races?
If you're looking for ladies day outfit ideas, you will want to wear something comfortable and stand out to Ladies Day at the races.
Bold variations of colours, stylish jewellery, accessories or a unique hat will help you stand out from the competition. Go above and beyond for ladies day and just wear something you love!
Popular Questions
What should I wear to the races?
What you should wear to the races depends on the meeting you are going to and the time of year.
Certain meetings and racecourses have dress codes, especially on formal occasions such as Royal Ascot and Glorious Goodwood.
Midweek races tend to be more relaxed and informal. Plus, you should always dress for the weather as you are likely to be outside.
In our racecourse guides, we state any dress codes to be aware of it.
What should ladies wear to the races?
Ladies should wear an outfit that they are comfortable in at the races – in winter it can be cold, hot in summer and there's also walking to be done.
Many ladies enjoy making an effort and dressing you smartly, particularly on Ladies Days.
Some courses have dress code policies, so its best to check those in advance.
Can ladies wear pants to the races?
Ladies can wear pants or trousers to the races.
Can you wear jeans to the races?
You can wear jeans to the races but there maybe be restrictions on certain meetings, at certain racecourses and in certain emclosures. It is advisable to always check dress code policies. We highlight these in our UK racecourse guides.
Summary of What to Wear At The Races
As you can see there are many variables and options to consider when choosing your races clothes, everything from casual wear to designer evening gowns for the races.
The main thing is to make sure that you feel comfortable and have a great day.
Most racecourses have different rules and regulations but we hope that we have given you some inspiration, so whether you are going for a summer or winter meeting you have a great day.
Enjoyed this article? Be sure to check out our horse racing blog for more articles about horse racing! And if you looking to place a bet when you're at the track be sure to check our guide to horse racing betting sites.
Subjects and keywords covered – fancy dress, formal dress code, colour palette, formal dress, collared shirt, horse racing dress code.