Welcome to our official guide to Thurles Racecourse.
A horse racing venue located in the town of Thurles in County Tipperary, Thurles Racecourse is a National Hunt track that's fondly known as "Ireland's First All Weather Track"… a humorous nickname based on its propensity to host races even in the most of inclement of weather conditions!
We explore this great Irish flat racecourse in detail, looking at its history, a guide to the track, hotel picks, fixtures, travel information, betting guides and even the weather.
If you are looking for the latest betting tips for Thurles, check out our full guide to Thurles Racecourse tips.
Find out more about Thurles Racecourse today: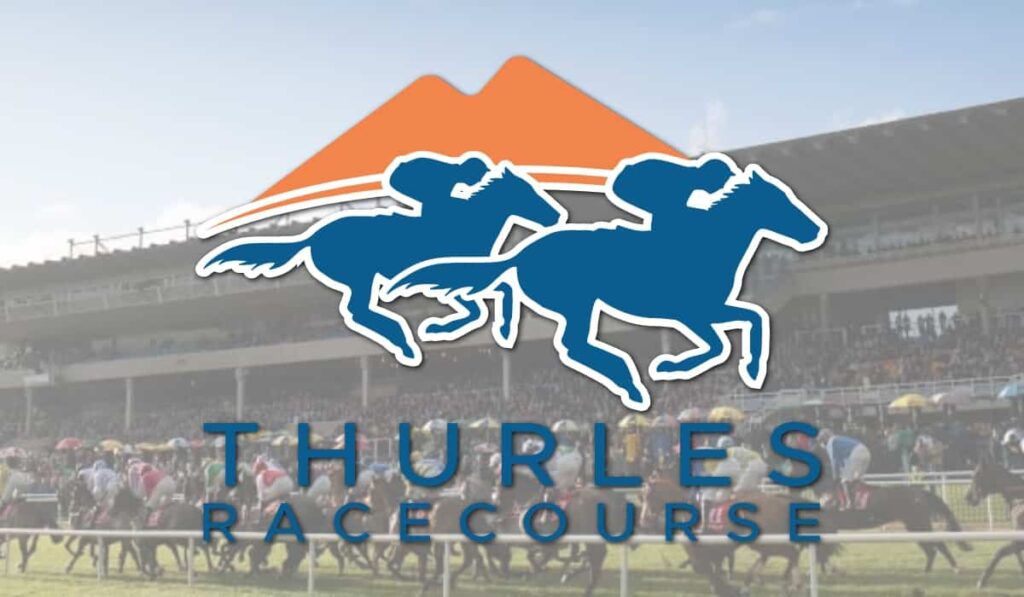 Overview of Thurles Racecourse
Thurles Racecourse holds a reputation for being a tough National Hunt track that mainly hosts races throughout the winter (October – March, usually), no matter the weather conditions. In actual fact, Thurles does host flat races too but these are few and far between as the course definitely lends itself more to the jumps.
The draining turf means it loses very few meetings in only the most extreme of weather conditions due to its resistance to the inclemency of Ireland's cold season. As a result, Thurles Racecourse is often used as a crucial preparation race for the Cheltenham Festival – and two Kinloch Brae winners at Thurles have gone on to win the Cheltenham Gold Cup (Don Cossack 2016, Sizing John 2017).
Thurles is the only privately owned racecourse in Ireland but is by no means exclusive in its admission. Tickets are reasonably priced and the amount of hospitality and catering options are similar to those at any other.
The course is very well taken care of and in some respects, Thurles Racecourse holds itself to a higher standard than any other.
Thurles Racecourse History
At Thurles, racing really runs in the family. The first recorded race meeting was back in 1732 and is documented in Trinity College's Pues Occurrences. Owned by a local family – the Molonys – since the early 1900s, Pierce Molony took over the course from the committee who was running it prior. It remains managed by the Molonys, today by Pierce's wife Riona alongside their daughters Patricia, Helen, Annemarie and Kate.
To begin with, the course only held four meetings per year due to its lack of stables, but the local community stepped in and helped provide others. To this day, Thurles Racecourse is still known for its collaboration with the local community.
Thurles Racecourse retains its reputation as the toughest in the country; producing raceable ground throughout even the worst of the winter weather. It is often jokingly referred to as "Ireland's first all-weather track" as a result of its fantastic drainage.
Thurles Racecourse Map
Below are the two racecourses at Thurles.
Thurles Flat Course
The track itself is undulating and right-handed, with a circuit of approximately a mile and a quarter.
Sections of the course are uphill but fairly steep descent to the 2 furlong home straight.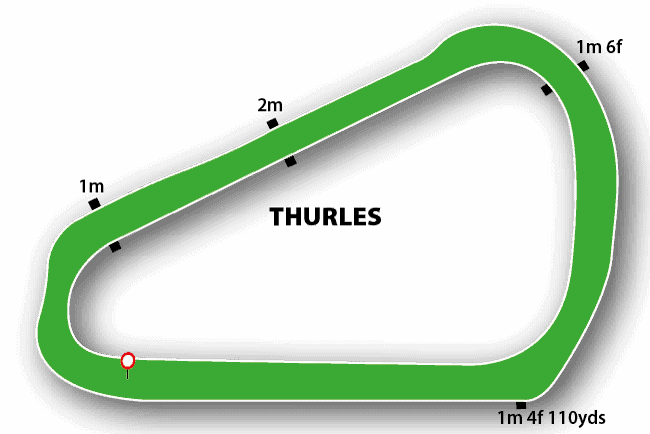 Thurles Jumps Course
Known as a tough National Hunt track and often testing, the whole track is sharp in character and favours handy horses across its six hurdles and seven fences to a circuit; two in the home straight lead to a run-in in of a furlong.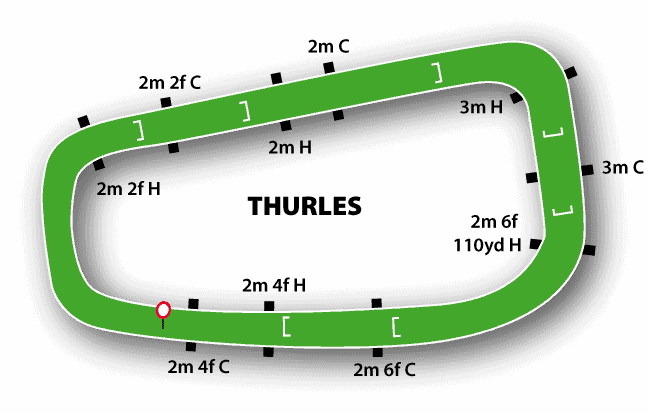 Main Races and Events at Thurles Racecourse
The most high profile race in the Thurles Racecourse calendar is the Kinloch Brae Chase, currently known as the Horse & Jockey Hotel Chase. A Grade 2 National Hunt steeplechase, it's run annually in late January or early February over 2 miles and 4 and a half furlongs across 14 fences. The Kinloch Brae was first run in 1997 and despite a brief downgrade to Grade 3, it has been re-promoted.
The Kinloch Brae is attended by horseracing fans from all over Ireland and the UK, as well as plenty of journalists and equestrian industry insiders on the lookout for talent and tips ahead of Cheltenham.
Thurles Racecourse Address
The address of Thurles Racecourse is:
Thurles Racecourse
Thurles
County Tipperary
Ireland
How To Get To Thurles Racecourse
The ways to get Thurles Races are:
By road – Thurles Racecourse is situated just a mile west of the town of Thurles and 5 miles west from the N8 Dublin-Cork road. Almost completely central to Ireland, Thurles Racecourse is well accessible by road from almost everywhere, so attracts racegoers from all across the country.
By rail – Thurles rail station is in the town and sits on the Dublin-Cork line for easy access. On race days, a free minibus service shuttles customers to and from the course.
By bus – bus wise, Bernard Kavanagh and Sons Bus services both host services to and from the town centre.
By air – the nearest airport to Thurles Racecourse is Shannon, just over an hour's drive away. Shannon Airport is served by international services and several low-cost airlines.
Hotels near Thurles Racecourse
Thurles is a fairly rural location and so overnight accommodation isn't overly plentiful, but there are choices around.
In the town of Thurles itself, you'll find The Anner Hotel (4 stars, rooms starting from £96 per night), Ryan's Daughter B&B (a budget restaurant rooms options), Hayes Hotel (a modern hotel with conferencing facilities), and The Clodagh Bar (a group hotel option accommodating up to 20 per party).

Betting Shops Local to Thurles Racecourse
You will find a betting kiosk run by BoyleSports Racing in Thurles Racecourse as well as several independent bookmakers trackside.
If you're intending to bet online it may be worth doing before you leave for the course, as mobile signal isn't always the best at the venue itself.
In the town of Thurles, you'll find two branches of BoyleSports, one PaddyPower betting shop and one Ladbrokes betting shop. All are within walking distance of each other and all show the races at nearby Thurles Racecourse whenever they can.
Best Thurles Races Betting Sites
We often recommend betting online and via apps when going to the races. This is because you can often get the best odds, great offers when signing up and you can place bets quickly and safely.
If you are looking to bet online we recommend the following great deals from these great bookmakers, all of the betting sites come highly recommended if you are looking for new online bookmakers. They all made our list of the best bookmakers.
Thurles Races 2023
Here is the horse racing calendar for Thurles Races in 2023:
| Date | Day | Track |
| --- | --- | --- |
| 22/01/2023 | Sunday | Thurles |
| 09/02/2023 | Thursday | Thurles |
| 23/02/2023 | Thursday | Thurles |
| 09/03/2023 | Thursday | Thurles |
| 18/03/2023 | Saturday | Thurles |
| 05/10/2023 | Thursday | Thurles |
| 19/10/2023 | Thursday | Thurles |
| 02/11/2023 | Thursday | Thurles |
| 23/11/2023 | Thursday | Thurles |
| 30/11/2023 | Thursday | Thurles |
| 17/12/2023 | Sunday | Thurles |
Thurles Races 2024
Here is the horse racing calendar for Thurles Races in 2024:
| Date | Weekday | Racecourse |
| --- | --- | --- |
| 21/01/2024 | Sunday | Thurles |
| 08/02/2024 | Thursday | Thurles |
| 22/02/2024 | Thursday | Thurles |
| 05/03/2024 | Tuesday | Thurles |
| 16/03/2024 | Saturday | Thurles |
| 10/10/2024 | Thursday | Thurles |
| 17/10/2024 | Thursday | Thurles |
| 31/10/2024 | Thursday | Thurles |
| 21/11/2024 | Thursday | Thurles |
| 28/11/2024 | Thursday | Thurles |
| 21/12/2024 | Saturday | Thurles |
Check out the full list of Horse Racing in Ireland fixture 2024 calendar.
Other Events at Thurles Racecourse
The Pierce Molony Memorial Novice Chase is run at Thurles Racecourse every March but has been rebranded to fit sponsorship rather than the former racecourse owner's name several times over the years. A Grade 3 race run since 2017, it is open to horses aged 5 years or over across a distance of 2 miles and 2 furlongs. This event is particularly popular amongst the local community and brings together many in memorial of their great friend.
Thurles Weather
It's always a good idea to keep up to date with the weather conditions when going racing, check out the current Thurles weather:
Thurles Racecards
The racecards for the Thurles races are released the day before the races take places, find out where to view racecards here – tomorrow's racecards and today's racecards. In these you will get an advance look at all the runners and riders, some people like to do this and select their horses before getting to the track.
You can also of course purchase a racecard from the track which carries much of the same useful information.
Summary of Thurles Racecourse
Thurles Racecourse is a popular racecourse with racing fans, as well as those just looking for a fun day out with family and friends.
The track hosts both flat and national hunt racing, and whilst the racing may not be strictly of the highest quality the fun t obe had and hospitality always is.
We love Thurles Racecourse and have had many a great day out – check it out for yourself!
Other Irish Racecourses
Check out our reviews of other Irish Racecourses today: