Welcome to our guide to Sligo Racecourse.
One of the stiffest but most picturesque racecourses in the whole world, Sligo Racecourse is a small county track that sees both flat and National Hunt racing action. Not used in the winter due to its northwest mountainous location, Sligo Racecourse is still a popular track amongst racegoers and considered a tough nut to crack – but a worthy one – amongst those in the horseracing industry.
We explore this great Irish racecourse in detail, looking at its history, a guide to the track, hotel picks, fixtures, travel information, betting guides and even the weather.
If you are looking for the latest betting tips for Sligo, check out our full guide to Sligo Racecourse tips.
Find out more about Sligo Racecourse: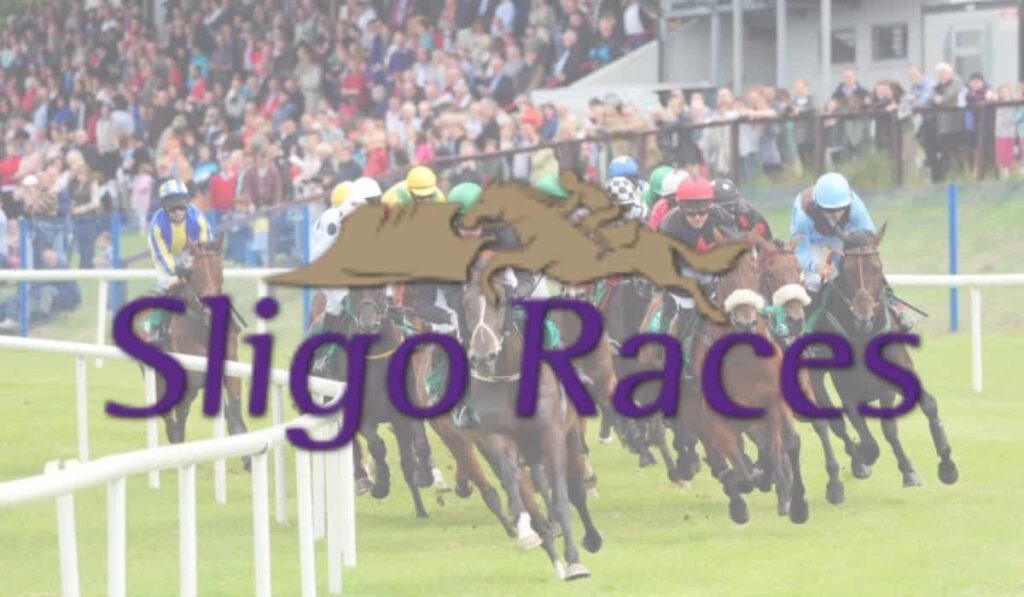 Overview of Sligo Races
Situated in a valley between the mountains of Benbulben and Knocknarea, Sligo Racecourse is nestled in one of the most scenic locations not just in Ireland, but arguably the world. As a result, the venue is often used by photographers and the media as a set: but through the summer and autumn months, it plays home exclusively to horseracing.
Sligo Racecourse is considered the stiffest in the country. From the winning-post horses turn sharp right and descend to the bottom of a hill before climbing for the duration of the last four furlongs – but it is only a mile in the round total.
The track has been recently well-drained so doesn't get too soft, but remains a real challenge.
Sligo Racecourse has benefited from several improvement works in recent years: including a €2 million redevelopment in 2013 that saw a new grandstand, pavilion bar, Tote betting facilities, offices, turnstiles and jockey changing facilities all installed.
Another €1.9 million is due to be invested into improvements at the course over the next few years and will see further amenities installed as the committee at the venue look to become one of the best on-site locations for the patrons of Irish racing.
Sligo Racecourse is a small but perfectly formed course and is set to continue on its journey to grow in popularity and position itself as a focal point in the Irish racing scene.
Sligo Racecourse History
Horseracing can be traced under Turf Club rules in Sligo as far back as September 1781, where a recorded race took place at Bowmore, Rosses Point. This four day festival of racing took place at a three-mile horseshoe-shaped seaside arena with the stakes totalling an impressive 200 guineas. The festival went so well that it was repeated annually until 1840 and grew year on year.
The current course has been in place since 1949 and was originally known as 'Cleveragh Racecourse' – which it is occasionally still referred to today. Since then, Sligo Racecourse remains a dainty but in-demand venue and is world-renowned for its beautiful location.
Sligo Racecourse Map
Below are the maps of the two Sligo courses.
Sligo Flat Course
Below is a map of Sligo's flat course: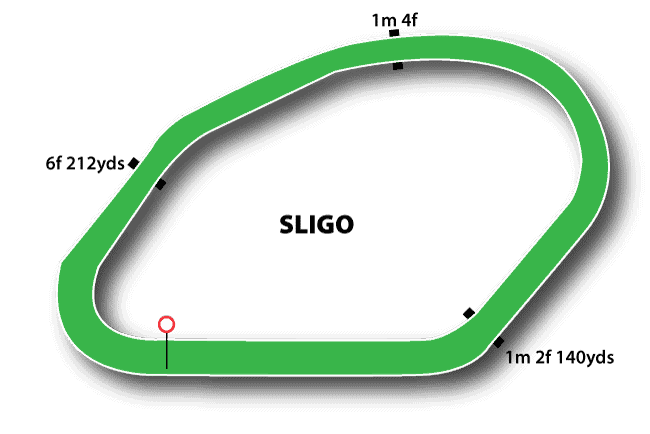 For flat racing, horses face a sharp undulating right-handed track of just over a mile. The run to the straight of just under two furlongs is slightly uphill but not enough to impact – speed horses tend to win here.
Sligo Jumps Course
Below is a map of Sligo's jump course: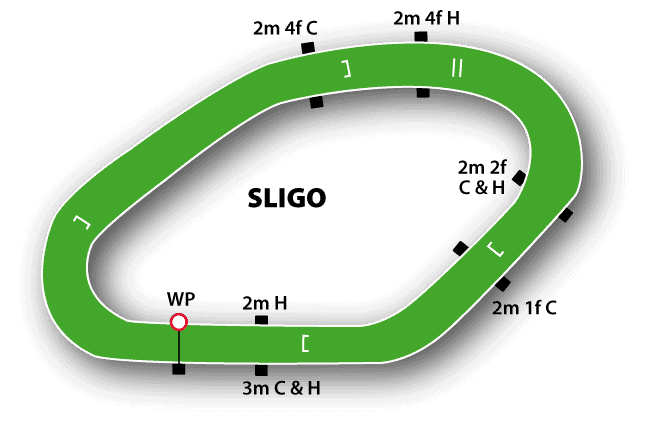 For National hunt racing, the course has five fences to a circle of the chase course which is situated just outside of the hurdles track. A good position before turning into the straight is vital: there's one hurdle just before and another at the bottom of a slightly uphill run-in.
Main Races and Events at Sligo
There is no one focal race in the Sligo Racecourse as it's a fairly small fixture in the horseracing scene. The schedule is flexible and tends to host eight or nine race meets a year, but this has seen a pause during the Covid-19 pandemic as races shift and move to larger venues with more scope for adequate social distancing.
Sligo Racecourse Address
The address of Sligo racecourse is:
Sligo Racecourse
16 Cleveragh Road
Cleveragh Demesne
Sligo
F91 T2VC
Ireland
How To Get To Sligo Racecourse
The ways to get to Sligo races are:
By road – Sligo Racecourse is situated a kilometre south of the town and is easily accessible by road with plentiful free parking available on-site. The course is about a two-hour drive from Galway, three hours from Belfast, three hours from Dublin and four hours from Cork. Driving is usually the easiest transportation option for those coming from outside of Sligo.
By rail – the nearest railway station is Sligo Mac Diarmada, served by routes regularly from Dublin Connolly Station; the busiest in the capital. Local bus services stop adjacent to the racecourse.
By air – those travelling by air are best to do so in to Knock International Airport, which is served by several routes around Ireland the UK. Knock International Airport is less than an hour's drive away but has a direct bus service to Sligo running daily.
Hotels near Sligo Racecourse
While Sligo itself isn't huge, there are plenty of hotel and other overnight accommodation options in the town centre. Most reasonably and toward the budget end of the scale are the Riverside Hotel, Harbour House B&B, Teach Eaimainn B&B and Innisfree International Hotel. Medium budget options include Pearse Lodge, the Clayton Hotel and the Sligo Southern Hotel and Leisure Centre. For those looking to splash the cash with a more premium option, The Glasshouse Hotel is very central and the Sligo Park Hotel has excellent leisure facilities.
One of Sligo Racecourse's newest developments is its Tote facilities, so there are plenty of kiosks and automated Tote machines on-site for those wishing to have a flutter on the races.
Independent bookies can be found next to the grandstand and mobile signal is usually just fine, so bets can be placed online through internet betting services too.
Those wanting to bet with a chain can do so in the town centre. There are three branches of BoyleSports racing, two of Ladbrokes horse racing and one of indie brand Bruce Sports all in and around the high streets, and further branches of the former two in nearby residential areas.
Best Sligo Betting Sites
We often recommend betting online and via apps. This is because you can often get the best odds, great offers when signing up and you can place bets quickly and safely without having to queue.
If you are looking to bet online we recommend the following great deals, all of these made our list of the best horse racing bookmakers.
Sligo Weather
Before your trip to Sligo races be sure yo check out the Sligo weather forecast:
SLIGO WEATHER

Sligo Racecard and Sligo Tips
The racecards for the Sligo races are released the day before the races take places, find out where to view racecards here – tomorrow's racecards and today's racecards. In these you will get an advance look at all the runners and riders, some people like to do this and select their horses before getting to the track.
You can also of course purchase a racecard from the track which carries much of the same useful information.
Sligo Races 2023
Here is the horse racing calendar for Sligo Races in 2023:
| Date | Day | Track |
| --- | --- | --- |
| 30/04/2023 | Sunday | Sligo |
| 16/05/2023 | Tuesday | Sligo |
| 13/06/2023 | Tuesday | Sligo |
| 09/07/2023 | Sunday | Sligo |
| 09/08/2023 | Wednesday | Sligo |
| 10/08/2023 | Thursday | Sligo |
| 23/08/2023 | Wednesday | Sligo |
| 27/09/2023 | Wednesday | Sligo |
| 27/10/2023 | Friday | Sligo |
Sligo Races 2024
Here is the horse racing calendar for Sligo Races in 2024:
| Date | Weekday | Racecourse |
| --- | --- | --- |
| 05/05/2024 | Sunday | Sligo |
| 15/05/2024 | Wednesday | Sligo |
| 11/06/2024 | Tuesday | Sligo |
| 07/07/2024 | Sunday | Sligo |
| 07/08/2024 | Wednesday | Sligo |
| 08/08/2024 | Thursday | Sligo |
| 21/08/2024 | Wednesday | Sligo |
| 02/10/2024 | Wednesday | Sligo |
| 25/10/2024 | Friday | Sligo |
Check out the full list of Horse Racing in Ireland fixture 2024 calendar.
Summary of Sligo Racecourse
Sligo is a stunning racecourse set in the shadows of beautiful Irish mountains.
A stiff and tight course, it hosts flat and jumps, but due to its altitude only has meetings in the summer.
With great hospitality, knowledgeable crowds and a cracking atmosphere, it is one of our favourite racecourses in the world.
Highly recommended.
Ireland Racecourses Alphabetical
Here is a full alphabetical list of Irish racecourses, as you can see there are lots of options and racecourses spread across the entire country: