Over the past decade, horse racing in Germany has flourished. The country now has some of the best racecourses in Europe, including the famous Iffezhiem Racecourse and Baden Baden, as well as some world-famous races.
The biggest German horse racing event is the Deutsches Derby which is run in Hamburg each year and there are loads of German horse racing meetings to choose from if you are visiting the country.
In this guide, we will highlight the top racecourses in Germany and their most important races.
Find out more about German horse racing: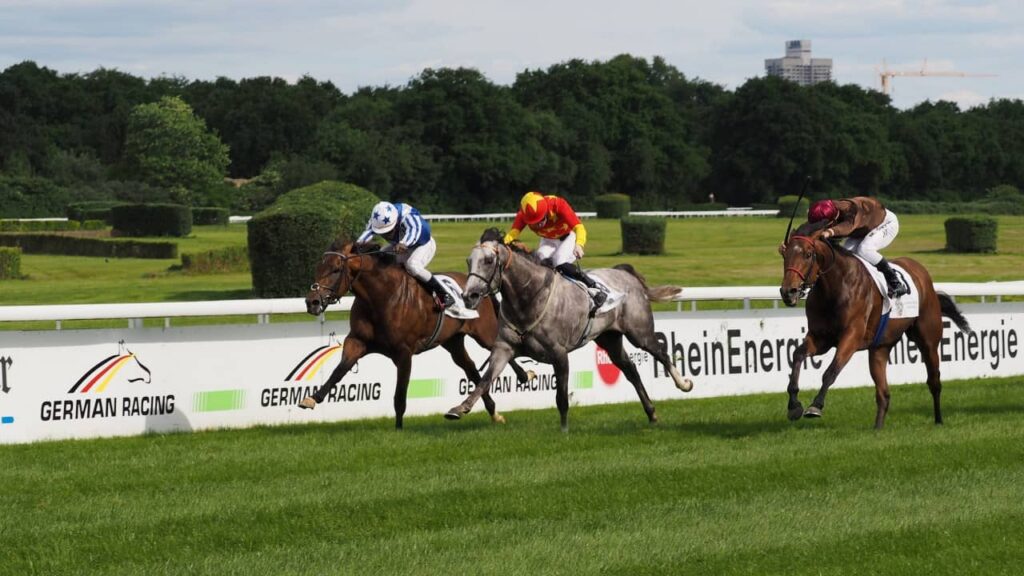 List of Group 1 Races in Germany
There are seven Group 1 horse racing events in Germany:
Deutsches Derby – 2400m, Hamburg
Grosser Preis von Berlin – 2400m, Hoppegarten
Bayerisches Zuchtrennen – 2000m, Munich
Preis der Diana – 2200m, Düsseldorf
Grosser Preis von Baden – 2400m, Baden-Baden
Preis von Europa – 2400m, Cologne
Grosser Preis von Bayern – 2400m, Munich
Find out more about Group 1 races in general.
List of Group 2 Races in Germany
Here is the list of all group two races in Germany:
| Race Name | Racecourse | Distance | Age | Month |
| --- | --- | --- | --- | --- |
| Gerling-Preis | Cologne | 2,400 | 4yo+ | April |
| Oleander-Rennen | Hoppegarten | 3,200 | 4yo+ | May |
| Mehl-Mülhens-Rennen | Cologne | 1,600 | 3yo c&f | May |
| Grosser Preis der Badischen Wirtschaft | Baden-Baden | 2,200 | 4yo+ | May |
| Diana-Trial | Hoppegarten | 2,000 | 3yo f | May |
| Badener Meile | Baden-Baden | 1,600 | 3yo+ | May |
| German 1,000 Guineas | Düsseldorf | 1,600 | 3yo f | June |
| Union-Rennen | Cologne | 2,200 | 3yo | June |
| Hansa-Preis | Hamburg | 2,400 | 3yo+ | June |
| Meilen-Trophy | (Rotates location) | 1,600 | 3yo+ | July |
| Goldene Peitsche | Baden-Baden | 1,200 | 3yo+ | August |
| Oettingen-Rennen | Baden-Baden | 1,600 | 3yo+ | August |
Prize Money in German Horse Racing
The average prize money per Group 1 race is $306,815 which is why so many foreign trainers are starting to compete in Germany for the big prize money pots.
The total prize money of $2.14 million is a huge winning bonus.
Here are the biggest three prize money horse racing events in Germany:
$684,319 – Deutsches Derby
$526,399 – Preis der Diana
$263,199 – Grosser Preis von Baden
German racing generally offers good prize money.
Best German Horse Racing Betting Accounts
Here are the best betting sites that allow bets on German horse races.
All of the bookies from the list of bookmakers above come highly recommended.
German Horse Racing Records
Here are the German records in horse racing:
Richest Race – Deutsches Derby – $684,000
Most successful jockey – Gerhard Streit
Most successful trainer – George Arnull
German Jockeys
Here are the most popular German horse racing jockeys:
Lutz Pyritz
Frederik Tylicki
Peter Schiergen
Andrasch Starke
Andreas Suborics
Popular Questions
Can you bet on Horse Racing in Germany?
Online sports betting is completely legal so you can bet on German Horse Racing.
In October 2011, the Interstate Treaty on Gambling was passed to allow all sport betting on German sports.
The law permitted 20 sportsbooks to apply for online betting licenses in Germany.
What betting apps work in Germany?
All the major bookmakers work in Germany like:
888 Sport
Bet365 Sports
Mr Green Horse Racing
BetVictor Sport Betting
BetBull
Unibet Sports Betting
Ladbrokes
Betfred
How to Get German Horse Racing Live Streaming?
The biggest online bookies will allow your horse race in Germany to be live-streamed as nearly all German horse racing meetings are available.
Make sure your betting account is funded and wager a bet on the German horse race to allow the live streaming to be available.
Providing that you place a small bet on the race in question, you should be able to fire up the live streaming and get the race experience.
Summary of German Racing
Germany is home to some great races and beautiful racecourses.
The popularity of the sport has risen in recent years and some of their horses compete at the highest level across Europe and the World.
If you are in Germany, we definitely recommended visiting some of the racecourses that we have mentioned!
Subjects covered in our German horse racing guide – Munich racecourse and Berlin Hoppegarten, German horse racing meetings, horse racing in Germany history.