Are you tired of using your 22bet betting account and want to cancel, close or temporarily deactivate it?
There may be many reasons you want to close your 22bet account – that is a personal decision. But whatever the reason, here's a step-by-step guide on how to delete the 22bet account you may have, along with an email template you can copy and paste to make the process simple and quick.
Find out how to delete your 22bet account: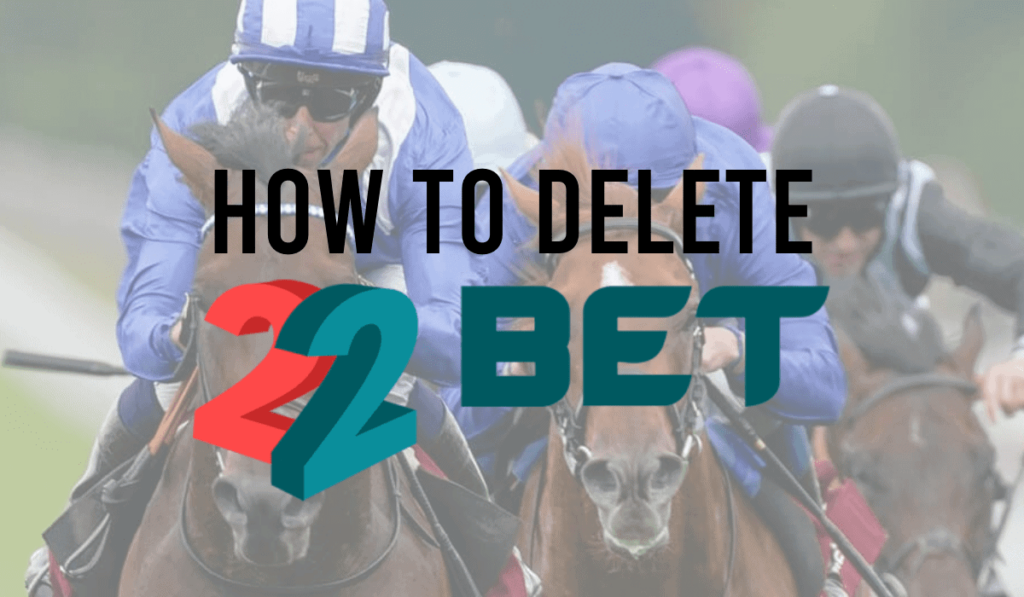 Who Are 22bet?
22Bet is a European online gambling website founded in 2018. They aim to offer the best possible online betting experience to players around the world. Since its inception, they have expanded across Europe and all around the globe.
22Bet is an online betting site platform for gambling, allowing registered users to bet on sports events or play casino games on their website.
As a user, you can play sports or casino games and earn cash by doing so. You can also bet and check the live games as they're happening.
It's one of the best horse racing betting sites, and they have plenty of great features for users to enjoy.
Reasons To Delete 22Bet Account
You may want to delete your 22Bet account due to lack of use, marketing, or to controlling your gambling. The most common reasons are:
Personal Responsible Gambling
If your gambling is getting out of control or you want to make a conscious effort to stop, a lot of people will choose to delete their betting accounts altogether.
Deleting your 22Bet account will prevent you from being able to access and place bets, as the site only allows registered users to bet or play casino games. You may still be able to check the live games without a 22Bet account, however, but you will not be able to play games and earn cash.
Welcome Bonuses
Some people try to delete an existing 22Bet account in order to reregister and claim a welcome bonus or free bet bonus. However, 22Bet doesn't always allow you to register with the same details so we don't advise doing this.
It's usually better to create a new 22Bet account with a different email address if you can.
What Does It Mean If I Delete My Account or Cancel 22Bet account?
If you choose to delete your 22Bet account, you will no longer have access to it, your winnings, or any of your game history.
The account will be closed and any information deleted from the systems so you won't be able to log back in.
If you want a temporary account closure, however, you can choose to start a self-imposed exclusion, which will mean you can't log into your 22Bet account for the amount of time that you specify. This is to ensure responsible gambling for any user of 22Bet online platform for gambling.
How To Delete 22Bet Account
You can delete your 22Bet Account by emailing their customer service team.
Login to your email account to which you are registered in 22Bet
Create a new mail
Title the email "Request to Delete 22Bet Account"
Write in the mail why you want to delete, deregister or deactivate your 22Bet account
Send the mail to "[email protected]"
You'll need to include some account information like name, email, website, and age. And try to use the same email account that is registered to your 22Bet account. This will help them to confirm that you are who you say you are.
Before you do delete your account, make sure that you withdraw or deposit cash in your account and this is not likely to be accessible after your account has been deleted.
What To Write In The Email to 22Bet
In the subject line space type 'request to delete my account'. And here's an example of what to write in the email regarding deleting your account with 22Bet.
I would like to delete my account with 22Bet and hope that you can help.
The email address registered with the website is [email protected] and the name associated with the account is Your Name.
Could you also provide me any information on any winnings I can withdraw or deposit before closing my account?
Thanks in advance.
Why Is My 22Bet Account Locked?
Your 22Bet account may be locked for three reasons:
Self Exclusion ban with 22Bet
During a self-exclusion, your account will be locked and you will not be able to log in, access it, edit account information, withdraw, place bets, and play sports or casino games.
You can't unlock your account during a self-exclusion and will need to wait until your ban has ended.
Age Verification
You can create and edit account with 22Bet, but you won't be able to use betting games without verifying your age with appropriate documents. After a certain period of time, you may become locked out of your account if you haven't done this.
To unlock your account in this instance, you will need to contact 22Bet customer service with the age verification evidence they ask for.
Failed Log In Attempts
You might also get locked out of your account if you have 3 failed attempts to log in, i.e. if you enter the wrong email address or password 3 times. You will need to contact customers services if this happens.
If you want to 22Bet reopen account, contact them directly.
Summary of Deleting 22Bet Sports
It is simple and easy to delete your 22Bet account as shown above.
If you are looking for a new betting account, free horse bets or more, check out our independent guides and our recommended bookies including William Hill racing, bet 365 racing, Labrokes racing, Betfred racing, Paddy Power horse racing, Mr Green betting and more.
Deleting Other Betting Accounts
If you need to know how to close other online betting accounts, take a look at these articles:
At British Racecourses, we strongly recommend responsible gambling at all times. So please always play within your means and reach out for professional advice should you need to.
Keywords Associated With Deleting 22Bet Account
How to deregister 22Bet
How to deactivate 22Bet account
22Bet close account
How to quit 22Bet for good
How to close 22Bet account