There are many reasons why you might want to delete your Betfair account, but whatever your reason here's the complete step-by-step guide on how to delete your Betfair account.
We've compiled all the information you need and even written an email template that you can use to send to Betfair to cancel your account.
Find out how to delete your Betfair account: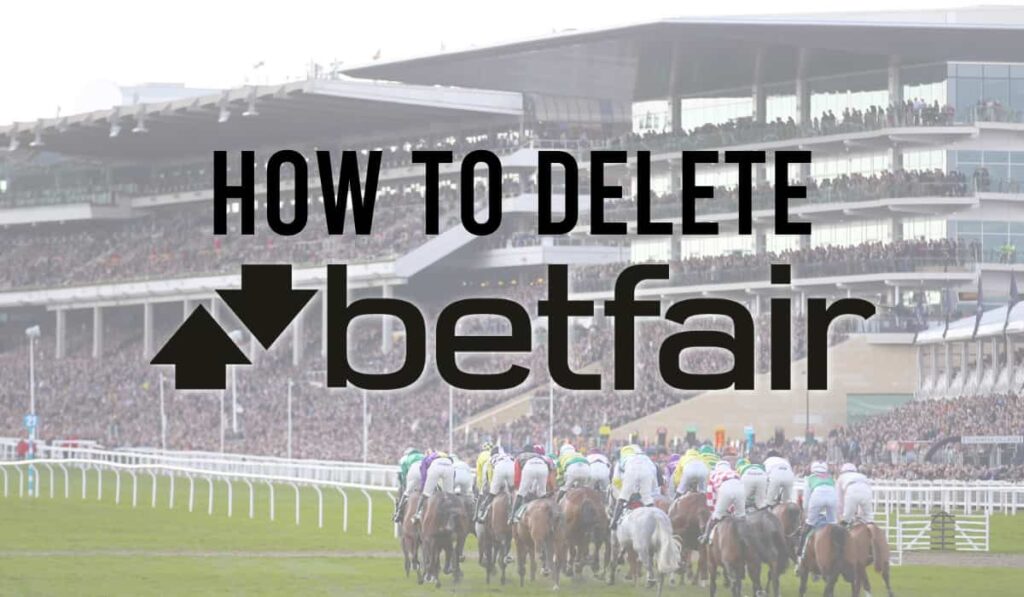 What Is Betfair?
Betfair is an online gambling platform where people can place bets and play games for money. They offer exclusive bonuses to people who sign up for an account with Betfair.
They offer a whole host of horse betting types and plenty of ways to bet on different sports.
How Many Betfair Accounts Can I Have?
Some people are tempted to sign up for multiple Betfair accounts in order to use the welcome bonus multiple times. However, Betfair doesn't allow multiple accounts per user.
They can control this easily as you need to verify your age with official documents, like your driving license, when you sign up.
Reasons To Delete Your Betfair Account
After you sign up for the welcome bonus and start playing and betting with Betfair, you may decide that Betfair isn't for you. Or you may, like other people, decide that you want to stop gambling or limit your gambling and so want to delete your Betfair account.
Limiting Gambling
If limiting your gambling is the reason you choose to close your account, you might also want to consider a self-exclusion period first. This is a temporary self-imposed ban where you can suspend your account for a set amount of time.
During this time you will not be able to log in, access your account, or withdraw and funds. But if you prefer to permanently delete your account, you can do so easily by email or telephone.
Closing Betfair Account
If you want to delete your Betfair account you need to contact the companies customer service team. You can do this by telephone call or email to customer support. Also, check out their faq section for more advice.
Email
You can email to request that the company delete your Betfair account. You should put in writing that you wish to complete an account closure and confirm your account information so they can verify who you are.
Here's an example of the email you can send to Betfair to request that they delete your account as well as all of the information associated with your email address.
I am writing as I wish to close my account with Betfair. I would like the account associated with my email address ([email protected]) and my name (Your Name) deleted, please.
Could you also confirm if there is anything to withdraw on my account before closing?
And please feel free to contact me if there is a problem or any reason why my Betfair account cannot be deleted.
Many thanks.
Phone
You can also contact Betfair to delete your account via telephone. You can do this by calling:
You should explain that you wish to close your account, confirm your details, and ask that Betfair check your balance before closing. It's likely that you won't be able to withdraw any winnings after your account has been deleted.
Why Is My Betfair Account Locked?
Your Betfair account may be locked for three reasons:
Self Exclusion ban
During a self-exclusion, your account will be locked and you will not be able to log in, access it, edit account information, withdraw, place bets, and play sports or casino games.
You can't unlock your account during a self-exclusion and will need to wait until your ban has ended.
Age Verification
You can create and edit an account with Betfair, but you won't be able to use betting games without verifying your age with appropriate documents. After a certain period of time, you may become locked out of your account if you haven't done this.
To unlock your account in this instance, you will need to contact Betfair customer service with the age verification evidence they ask for.
Failed Log In Attempts
You might also get locked out of your account if you have 3 failed attempts to log in, i.e. if you enter the wrong email address or password 3 times. You will need to contact customer services if this happens.
If you want to Betfair reopen the account, contact them directly.
Here are all the related posts to the Betfair betting brand.
The Betfair British gambling company operates the world's largest online betting exchange and provides sports betting markets including football, horse racing, golf betting and tennis. The British sports betting company is a huge brand in the gambling industry.
Summary of Deleting Betfair Sports
It is simple and easy to delete your Betfair account as shown above.
If you are looking for a new betting website, free horse bets or more, check out our independent guides and our recommended bookies including William Hill horse racing, bet 365 horse racing, Labrokes racing, Betfred, Paddy Power Sports, Mr Green horse racing and more.
Deleting Other Betting Accounts
If you need to know how to close other online betting accounts, take a look at these articles:
At British Racecourses, we strongly recommend responsible gambling at all times. So please always play within your means and reach out for professional advice should you need to.