The Tote Stayers Club rewards punters weekly at the Tote.co.uk website or via the Tote Mobile App.
Earn up to £10 in Stayers Club Exclusive Promotions with a chance to win tickets & prizes.
Tote Stayers Club TOTE STAYERS CLUB
Opt-in required. Simply place 6+ qualifying bets at the specified stake levels throughout the week and you'll earn your free Stayers Credit the following Monday. #AD
Full T&C's Apply
Tote offers customers up to £10 in free bets every week, along with the chance to unlock exclusive betting promotions in December 2023.
Why Join the Tote Stayers Club?
The Tote Stayers Club offers a unique opportunity for racing enthusiasts to engage with the captivating realm of stayers.
As a member, you'll gain access to a range of exciting benefits, including insider insights, exclusive offers, and thrilling experiences that will deepen your appreciation for this prestigious racing category.
How To Receive Exclusive Stayers Club Offers?
Here is how toearn free Stayers Credit and also receive exclusive offers:
Opt-in required to Stayers Club
Place 6+ qualifying bets
All 6+ bets must meet the specified stake levels
All 6-plus bets must be throughout the week
Earn your free Stayers Credit the following Monday
What Are The Stayers Club Rewards?
Here are the rewards you receive from the Tote Stayers Club in December 2023.
6 qualifying bets of £2+ earns you £2 Stayers Credit
6 qualifying bets of £5+ earns you £5 Stayers Credit
6 qualifying bets of £10+ earns you £10 Stayers Credit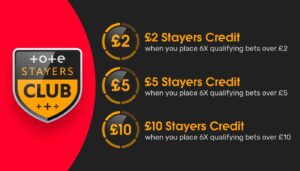 Membership Benefits
By becoming a member of the Tote Stayers Club, you'll unlock a wealth of advantages designed to enhance your racing experience. Here are just a few benefits you can expect:
Insider Knowledge: Gain access to expert analysis, behind-the-scenes interviews with trainers and jockeys, and comprehensive race previews and reviews, providing valuable insights into the world of stayers.
Exclusive Offers: Enjoy exclusive promotions, enhanced odds, and special betting opportunities tailored to stayers' races. From enhanced place terms to unique betting challenges, our club members receive priority access to exciting betting offers.
VIP Experiences: Immerse yourself in the thrill of stayers racing with our exclusive VIP experiences. From paddock tours and meet-and-greets with racing stars to trackside hospitality, you'll have the opportunity to witness the action up close and personal.
Membership Rewards: As a member, you'll earn loyalty points for every stayer race you bet on with the Tote. These points can be redeemed for various rewards, including merchandise, race day tickets, and even entry into exclusive prize draws.
Which Bet Types Qualify For Stayers Club Rewards?
Here are the following qualifying Tote bet types to earn free Stayers Credit:
Tote Placepot
Tote Quadpot
Tote Jackpot
Tote Scoop6
Tote Survivor
Tote Trifecta
Tote Exacta
Tote Swinger
Check out all the related Tote Pool Betting related posts.
Summary
Tote Stayers Club's Twitter hashtag is #StayersClub where sports bettors share their betting promotions.
This Stayers Club promotion is only available to select customers aged 18 (eighteen) years and over who are residents of the UK & Republic of Ireland.
The promotion period runs weekly between Monday 00:00 and Sunday 23:59.
All Qualifying Bets must be placed and settled within the Promotion Period.