In Great Britain, horses must be five years old or older to compete in the Grade One National Hunt steeplechase known as the Celebration Chase.
The Celebration Chase takes place on Saturday 27th April 2024.
Thirteen fences must be jumped over the course of the race, which is run at Sandown Park over a distance of approximately 1 mile and 7 and a half furlongs (1 mile, 7 furlongs, and 119 yards, or 3,126 metres).
Every year, the event is set for late April.
Find out more about the Celebration Chase: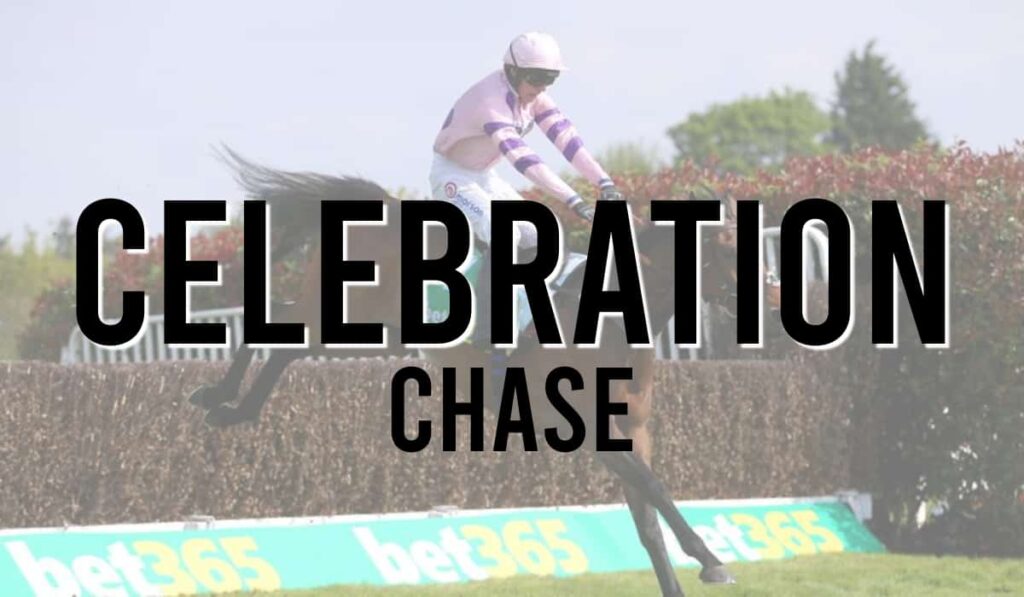 Celebration Chase 2023 Odds
The Celebration Chase odds are listed below:
The odds for this race have not yet been released.
Celebration Chase 2023 Tips
The Celebration Chase tips are below:
2 points to win for TBC at odds of TBC
1 point each way for TBC at odds of TBC
Many Celebration Chase horses will race in more races throughout the years. Stay updated on the horses and place ante-post bets if you want to wager on them.
If you are searching for more racing tips for events held at Sandown Racecourse then check out our Sandown betting tips guide.
For all Sandown races, our finest racing tipsters give free horse racing tips!
Celebration Chase Previous Result
Check out the latest result from this race:
Celebration Chase Facts
The Celebration Chase is a National Hunt Steeplechase in Great Britain which is open to horses aged five years or older.
The race is run over a distance of 1 mile and 7 and a half furlongs at Sandown Park, and during its running there are thirteen fences to be jumped.
The race is a Grade One contest, and it is currently scheduled to take place each year in late April.
Summary of the Celebration Chase
Thank you for reading this Celebration Chase guide.
There are more races in April that you might enjoy, so make sure you check them out.
Check out our Sandown tips page if you enjoy watching races at Sandown Racecourse.
Popular Questions
Where is the Celebration Chase held?
The Celebration Chase is held at Sandown Park.