Watching horse racing in the United Kingdom and Ireland has never been simpler. You can now view the biggest races on various platforms and TV stations.
At The Races and Racing UK re-brand themselves as Sky Sports Racing and Racing TV respectively and both cover racing daily. This means there is always a simple way to see your favourite equestrian stars in action, wherever you are in the world and whether you are a domestic or international watcher.
If you are wondering what channel you can watch horse racing on, we have got you have you covered.
We will explain all the various channels and places you can watch live horse racing events.
Find out about what channels you can watch horse racing on: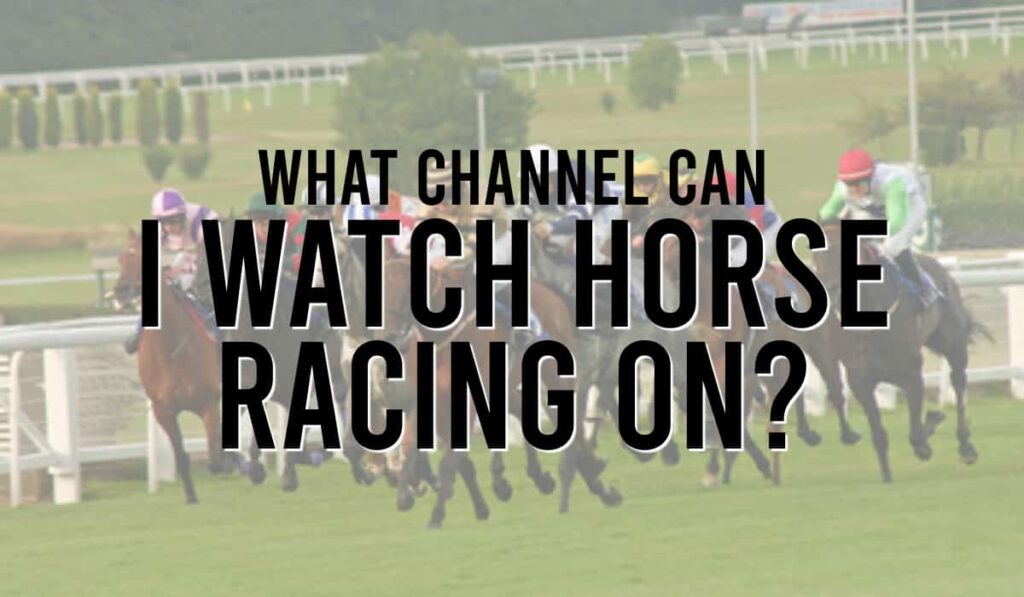 Racing TV is a British television channel and broadcasts live racing from 61 racecourses.
It is formerly known as Racing UK, launched on January 1st, 2019, when the channel expanded its repertoire to include racing from all 26 Irish racetracks.
As Racing UK grew, the parent company, Racecourse Media Group Ltd, established several new business units and collaborative ventures.
Racing TV broadcasts live racing from 61 racetracks, accounting for more than 70% of all racing in the United Kingdom and Ireland.
The station currently broadcasts over 90% of all Group and Graded races. On Racing TV Extra, each track has its unique live feed.
What TV channel is Racing TV on?
Racing TV is on Sky channel 426.
To join Racing TV visit racingtv.com/join or call our team on 0844 855 1881 (UK) or 0818 776 700 (ROI).
The Sky Channel 426 for Racing TV is not available unless you subscribe and pay to join RacingTV.
Is Racing Tv free?
The app is free to download, and Racing TV subscribers can watch the action right away by logging in to their account on the website.
Go to your Amazon Fire TV, Android TV, or Apple TV device and search for 'Racing TV to sign up.'
Sky Sports Racing is a horse racing-focused pay television channel in the United Kingdom.
It broadcasts coverage of domestic, European, and worldwide horse racing events and is a joint venture between Sky Group and Arena Racing Company.
What Channel Is Sky Sports Racing On?
Sky Sports Racing (Sky 415/Virgin 535) is a dedicated satellite channel in the UK that broadcast live racing worldwide.
Is Sky Racing Sports Racing Free?
Sky Sports Racing will be available to all Sky subscribers for free rather than as part of the premium Sky Sports package, which means Virgin Media cable TV consumers will continue to have access to it at no additional cost.
Is Sky Sports Racing the Same As At The Races?
Sky Sports Racing was formally known as 'At The Races' and is now a proud part of the Sky Sports family.
Having the ability to watch the best horse races in the UK live on the ITV television channel is great for horse racing fans.
bet365 offer an amazing ITV free bet bonus to UK horse punters which is a very popular betting promotion.
ITV Racing is an ITV Sport production for races shown on ITV or ITV4 in the United Kingdom. The show was an essential feature of World of Sport in its earlier life.
ITV secured the horse racing rights from Channel 4 in January 2016 and would begin broadcasting live images on terrestrial television on January 1st, 2017.
This isn't the first time ITV has covered a horse race. ITV broadcasted live horse racing on the airwaves from 1969 to 1985, with shows ranging from "They're Off" to "ITV 7."
On top of the racing coverage on ITV, the organisation broadcasts "The Opening Show" every year. It's essentially a magazine show that airs alongside horse racing footage.
It is usually broadcast live on-site each Saturday from the main course, with additional weekday programming during major festivals like The Cheltenham Festival and Royal Ascot.
Is Horse Racing On ITV Hub?
You can catch up on the ITV Hub for Horse Racing when the races are broadcasted on ITV Racing.
Coverage of all major UK horse racing events like Cheltenham Festival, Aintree Festival and Guineas Festival are available on catch-up with ITV Hub.
Most of the UK Horse Racing Festivals are broadcasted on ITV Racing.
Who fronts ITV Racing?
The ITV presenters who front ITV Racing are:
Oli Bell
Matt Chapman
Rishi Persad
Jason Weaver
Sally Ann Grassick
Adele Mulrennan
What Channel is ITV Racing on Sky?
The Sky channel to watch ITV Racing is 103.
Sky customers are offered their local version of ITV by default.
Live Horse Racing Streaming Betting Apps
Here are all the betting apps where you can live stream horse races from your mobile phone.
For a more in-depth guide, take a look at our best live horse racing streaming sites review
Summary of Watching Horse Racing on TV
Whether you are looking to join in the action from the comfort of your own home or on the go, there is plenty of options available to you in December 2023.
You can watch horse racing for free on ITV Hub or at any of the leading online betting sites when you deposit online.
If you want to watch the best live streams then the below online bookmakers also offer this great perk:
All of the above offer live sports streaming options, check them out today.