Traditional, straightforward gambling used to rely on just two things – knowledge and good luck. Punters that bet on horse racing and other events would study form guides, pick what they considered to be a likely rubber, and place their wager.
These days, a third element is included – timing. As the gambling industry has moved in the 21st Century, and especially thanks to the online revolution, there are more options than ever before for punters. It may be tempting to bet early if you see impressive odds, but a lot can happen during live sports – including horse racing.
This is why many bookies, online and off, have embraced the art of Cash Out. This is a chance to settle an original bet early, before a sports event concludes, in case circumstances have changed. For many punters, Cash Out is a godsend – but how does it really work?
Find out more about Betfred cash out:
Betfred Cash Out CASH OUT BETTING
New UK customers only. Payment restrictions apply. SMS verification and/or Proof of I.D. and address may be required. #AD Many punters choose Paypal Bank over a wide range of payment deposits and withdrawals.
Full T&C's Apply
What is Betfred Cash Out?
As mentioned above, Cashing Out is a way to settle your bet early if you start to worry about the outcome. You'll still need to gamble responsibly – Betfred Cash Out is not a free bet with no consequences – but it's certainly a welcome addition to modern betting sites.
When it comes to Cash Out, Betfred is not the only betting site to offer such a service. Most competitors provide a similar offer.
Place your original bet, watch how things unfold if necessary Cash Out early and stand a better chance of earning some winnings from your punt.
It all comes down to a simple fact – sports, including horse racing, are beautiful as they are unpredictable. No matter how much you study form guides and eagerly wait for the event, anything that could happen to render your bet invalid.
Imagine that you're watching a horse race. You took a punt on a big outsider, and to your shock, it is racing ahead of the chasing pack and looks like it could win. Suddenly, though, you start to see why the horse was an outsider. It's flagging, fast, and there is every chance it will fall behind and cross the line third at best.
Now, you have a choice. If your wager qualifies for Betfred Cash Out, you can activate this option before the end of the race. Imagine that your bet was placed at odds of 20/1 to win, and you wagered £10. Naturally, if the horse wins, you stand to make £210 (winnings plus a return of your deposit). If the horse in our example above does flag, though, you win nothing.
If you choose to Cash Out – and made a qualifying deposit for your wager – you can pick up something. You'll basically be pretending the race ended early, and your chosen horse win. You won't get the full winnings – that's just common sense on behalf of the bookie – but for the nervous punter, Cats Out offers early bet settlement to calm any anxiety.
Check out the big race offers, such as Cheltenham and The Grand National!
What is Betfred Partial Cash Out?
Partial Cash Out is a way to hedge our bets even further.
With Betfred Partial Cash Out, you can opt to end part of a bet early, but keep some of your stake back at the original odds.
We'll be honest – you're unlikely to have time to take advantage of Partial Cash Out during a high-speed, blood and thunder sporting event like a horse race. Open bets on a football match, though, are a different story.
If 10 minutes remain and your existing wager of £10 on a 15/1 shot is looking shaky, you could Cash Out half of this stake at odds of 5/1. As a result, if you bet comes in, you'll get your full £10 stake back, plus two sets of winnings – £75 from a £5 bet on a 15/1, and £25 from the Cashed Out bet at 5/1. If your bet doesn't pan out after the Cash Out, you'll still make a small profit.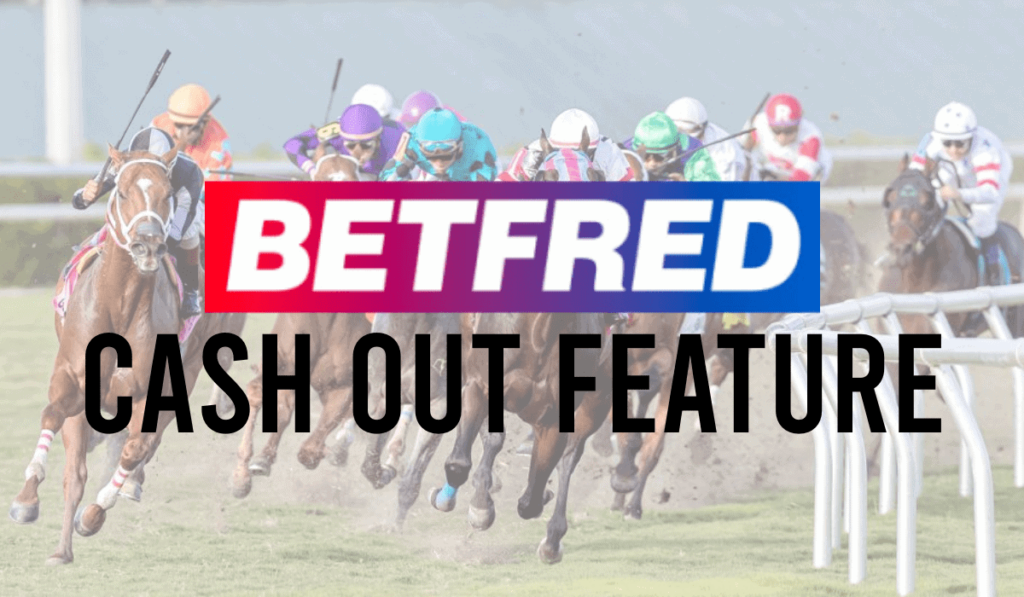 What are the Benefits of Betfred Cash Out?
As we have discussed throughout this guide, the advantage of Cashing Out with Betfred horse racing is the chance to secure a winning bet. As long as you continue to gamble responsibly, you can enjoy successful gambling without all the stress that comes with waiting for the end of an event and hoping for the best.
While Cashing Out means that you will not make the full amount promised in your initial stake, and deposit method restrictions apply, something is always better than nothing. If you Cash Out, whether in full or partially, you can take your max refund and bet another day.
How Does Betfred Work out Cash Out Value on a Qualifying Bet?
Whether you're making one multiple bets, whether you're betting on horse racing or any other sport, and whether it's your first sports bet or your hundredth, your decision to settle a bet early will likely depend on the Cash Out value ascribed by Betfred. Your bet credits stake needs to offer a suitable profit to make the process worthwhile.
The Cash Out value ascribed to open bets will constantly change, much like the minimum odds assigned to a sports event will vary. After you place your bet, continue to watch for the bonus amount ascribed to Cashing Out.
Cash out is not available when betting in-person at Betfred betting shops.
Remember our previous horse racing example. If our 20/1 outsider is romping ahead of the chasing pack with just a few feet to go, you'll likely be offered a qualifying bet settlement close to the 'real' odds – maybe 16/1. If the competition are breathing down the leader's neck, though, the value will drop sharply.
At this point, you have a choice to make. Without having to wait until the race finishes and seeing if you'll make all your winnings or nothing, you can Cash Out at, say, 5/1 and at least make £60 in winnings and refund of your stake.
Can all Bet Types on Betfred be Cashed Out?
Yes, in theory all bet types on Betfred can be cashed out. In reality, though, there are various restrictions and policies at play. Always check what Ts and Cs apply to Betfred. Examples of this include:
It's possible that payment method exclusions apply. If customers opt to make a wager deposit through an e-wallet or Apple Pay, for example, they may find these payment methods excluded from Cash Out. These payment restrictions apply to all single and multiple bets subject to bonuses
If you want to Cash Out, free bet credits cannot be used. You'll need to purchase bet credits using a debit card to make a qualifying bet suitable for Cashing Out. A free bet stake will not entitle you to Cash Out early and claim winnings without making any debit card deposits
Minimum odds will often fluctuate, and you may need to make a min deposit. This is especially likely if this is your first bet, which will also entitle you to an initial bonus as a new customer. Just remember, if this is a free bet stake, you will not be able to Cash Out (such as a 2nd place money back). Also, bonuses expire – you'll need to act quickly to keep your free bets valid
If you're placing accumulator bets, make sure that every one of your wagers qualifies to Cash Out early – and that no payment restrictions apply to different parts of the acca
In addition, be aware of other restrictions. You cannot use a casino bonus or a slots bonus to cash out early, for example. Above all, always gamble responsibly. Cashing Out a qualifying bet can help a punter minimise losses, but you'll still be wagering with real money attached to your debit card
When Can I Cash Out on Betfred?
This depends on what Ts and Cs apply to your qualifying bet. Like all betting sites, Betfred has its own policies. It's always advisable to take a look at the Cash Out option before committing to a bet.
Usually, though, Cash Out can be enjoyed at an appropriate time. If you're betting on a Premier League football match, for example, you can Cash Out in the 3rd minute or the 93rd. Betfred's Cash Out valuation will vary depending on what is transpiring during the sporting event, but it will often be open to you.
How to Claim Betfred Cash Out
It could not be simply to take advantage of the Cash Out option on the Betfred betting markets, assuming you have picked an appropriate wager. Essentially, it's identical to that of rivals, such as the Paddy Power Cash Out feature. Here are the necessary steps to claim Betfred cash out:
Review what payment method restrictions apply to Cashing Out – free bets, or deposit methods like Apple Pay betting, may not meet the wagering requirements for Cashing Out
Look for wagers that will allow you to Cash Out. This will be shown on your cyber-bet slip, and on the screen of any account holders
Place your qualifying bets. Early or last minute – it doesn't matter which, the time that you place a bet will not impact the ability to Cash Out
Wait for the event to start and make yourself comfortable
Watch the sporting event that you have placed your bet on
Keep an eye on your single and multiple bets during the sports event. The minimum odds will fluctuate constantly, and the Cash Out Betfred option will always be within reach.
You should be able to get the Betfred Bets Odds Guaranteed!
If you are in a position where your bet may come in, but you're worried about the repercussion of what happens if your bet loses, opt to settle your bet early by Cashing Out. You can achieve this with the touch of a button on the website or mobile app
Take your winnings, and either reinvest them in your next sports bet or withdraw them as mobile cash
As long as you accept that only certain deposit methods will apply to Cashing Out and that you practice responsible gambling, you can often take advantage of Cashing Out on Betfred. It's a way to still claim winnings without having to wait for an event to finish – and risk losing everything.
Here are all articles related to the online betting and gambling UK Betfred bookmaker:
Betfred is one of the world's biggest bookies, bringing customers a great sports betting and gaming experience.
Summary of Betfred Cash Out
Of all the sportsbook bonus options offered by betting sites, early bet settlement through Cashing Out a qualifying bet is always welcome.
Cashing Out can be particularly welcome to anybody placing their first sports bet, as it gives a lower-risk way to investigate whether gambling is fun for a novice punter. If you continue to meet the wagering requirements of Betfred's Cash-Out policies and remain gamble aware, Cashing Out can make a sports bet less nerve-shredding.
Pros
More control of your sports bets
Cons
No cash-out options for free bet offers
Other Betting Sites With Cash Out Feature
Here is a list of other online betting sites with cash-out special features, all of the below made our list of the best horse racing betting sites.
All the sports betting brands and the best betting apps also have a partial cashing out facility (aka partial cash in my bet).
The various online bookmakers accept cash in your bet options for single and multiple bets which could be placed on horse racing, a football bet, greyhound bet, or any other sports bets events but please be aware to check out the betting site terms and conditions for each brand.