The Tote betting app allows mobile users to place bets on the move, but is it worth taking up storage on your phone when you could bet using the browser?
You can bet on either the mobile site or the iOS app, but you will find that your phone or tablet application is the most responsive; the app has been specially created for mobile players.
Don't join Tote – Sport and Pools Betting (507427562) until you have read our tip on downloading the application and simultaneously capitalising on the latest 2023 sign-up offer.
How to Create a Tote Mobile Account
Creating your mobile account on Tote is straightforward. The account works the same across all platforms, whether desktop or mobile.
You can click the offer below to start the registration process:
Tote Betting App Mobile Betting App
New customers online only. £/€10 min stake (if EW then min £/€10 Win + £/€10 Place). Receive £/€30 Tote Credit within 48 hours of qualifying bet settlement. 7 day expiry. Qualifying bet is the first racing pool bet added to the bet-slip. 18+. Full T&Cs apply. BeGambleaware.org. #AD Full T&Cs apply.
Full T&C's Apply
Here's how to unlock the latest Tote welcome offer whilst signing up for a new account:
Firstly click the "play" button above to visit the site and their offer
You can then select the yellow "join here" button on their offer page
Input your details and start registering an account
Once registered, you can input the minimum deposit of £5
You will qualify for the offer and can use this on the app
Download the app and start playing your bonus on the move
How to Download the Tote App on iOS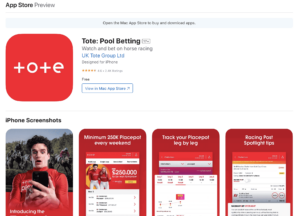 You can download the iPhone app using these straightforward steps:
Visit the iOS Apple App Store
Search Tote Betting App
You can click install or download
Once installed, open the app and sign into your Tote account
How to Download the Tote App on Android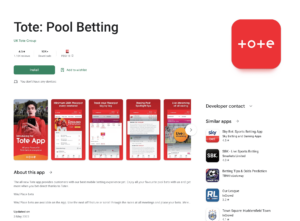 The Android version of the application can also be downloaded in seconds using these steps:
Go to the Google Play Store
Search for the Tote Betting App
Click Install
It won't take long to download, you can then open the app and sign-in
Is The Tote Betting App Worth It?
The Tote betting app is one of the leading race betting apps online – you can easily make bets and stream races from your smartphone or mobile.
It's a free app, making the entire experience far smoother. We recommend downloading the application rather than utilising the clunky browser not designed solely for mobile use.
It allows you to make bets quickly while on the go You will also get access to some of the biggest races of the year, including Cheltenham, The Grand National and more.
Is The Tote App Safe?
Tote is a well-known racing site renowned for its placepots and betting pools – but they also have a legit application for iPhone users.
Licensed and regulated by the UK Gambling Commission, this site is a safe online bookmaker with fair play regulations. You'll also find regular reminders to gamble responsibly among many mindful gambling programmes and links.
All their payment methods are safe and secure. This is a safe betting app created to coexist alongside the recognised website.
Where Can I Download the App on iOS?
The iOS Tote app is called Tote – Sport and Pools Betting and is available at the App Store. You can visit the store on your mobile devices and download it in seconds.
Only download the official Tote App from the Apple App Store and nowhere else to be safe.
Where Can I Download the APK App on Android?
You can download Tote: Pool Betting on the Play Store – simply access the store from your phone or tablet and download it in seconds.
The Tote Betting App Key Features
The Tote is a recognised online app, and here are some of the key features of this application.
Customer Support
The Tote app has excellent customer support – any negative feedback we found online refers to customers that misinterpreted or didn't read a welcome promotion.
But the customer support and help at the Tote are easy to contact, and you can get friendly service with any of your queries or questions.
Betting Markets
The Tote has a vast pool and betting market; being an esteemed gambling brand, you can enjoy a range of markets and betting options.
Live Streams
Watch your favourite racing events from your phone or tablet. You can stream the races whilst on the move. Place a bet and watch the event from your phone.
One downfall of this is that that streams aren't necessarily watchable when you join in play betting.
Tournaments
They have many tournaments and chances to win huge jackpots from the app or mobile browser version.
The Tote App Deposit Methods
You can make the minimum deposit using the many payment methods at Tote.
This includes e-wallets, debit cards or pay-by-phone options. Find all of the best payment methods to make safe and secure payments.
This includes:
Skrill
PayPal
Debit
Neteller
You can also find other betting sites that use PayPal, for quick and secure payments whilst on the move.
The Tote App Reviews: What They Said
We've tried the Tote app, but we also researched what others were saying.
Generally, the app has great reviews, even notching 4.5 stars on Google Play Store.
Here's what some of the glowing reviews said:
We reviewed this application ourselves but we have also had look to see what others are saying.
What did Paul haver to say?
"Absolutely fantastic! This is the only betting app I use now. I have tried a few – but have never experienced an app so smooth and professional. Also, very fast payouts, and you can watch any race live straight from the app, whether you have placed a bet on the race or not. Highly recommend this app to all horse racing enthusiasts. Keep up the good work!"
What did JLW say?
"Decent little app for pool betting and 5% extra payout on placepots and quadpots when put on through the app. Recommend if you enjoy doing the pools"
This is what Des said in his Play Store review:
"The perfect App for horseracing , especially if you do placepots & quadpots . No need to be in a betting shop when you can do it in the comfort of your home."
Customer Support
Contact the Tote app customer support by e-mail, telephone or other.
UK Telephone: 0800 032 8188
International Phone: +44 1942 314045
Postal Address: Customer Care, Waterside House, Waterside Drive, Wigan, WN3 5AZ
About the Tote
Tote are a well-known pool betting company that allow customers to break the mould of the traditional fixed odds betting and instead, enjoy the Tote placepot and pool betting.
You can make the most of first racing pool bet markets and other betting variations and they even showcase a Tote jackpot.
Find out more about the established bookmaker that's owned by Betfred to discover everything you need to know – you can check out our full Tote review. You will also find free bets, free Tote credit and plenty of markets that allow you to take prize money from Tote dividend.
Here are some of the benefits of Tote:
Tote Jackpot
Tote fantasy
Always pay at least SP
Lots of Tote Bet Types
Plenty of horse races
Win from the prize pool
Offers for new customers
Lots of Irish races
Best odds guaranteed
Racing pools
Tote credits
FAQs
What Can I Download the Android App On?
Here are just some of the Android models you can download the app onto – any device with Google Play Store is compatible with the app.
Android Phone Models:
Samsung Galaxy S series (e.g., Galaxy S10, Galaxy S20, Galaxy S21)
Samsung Galaxy Note series (e.g., Galaxy Note 9, Galaxy Note 10, Galaxy Note 20)
Google Pixel series (e.g., Pixel 3, Pixel 4, Pixel 5)
OnePlus phones (e.g., OnePlus 7, OnePlus 8, OnePlus 9)
Huawei P series (e.g., P20, P30, P40)
Xiaomi Mi series (e.g., Mi 9, Mi 10, Mi 11)
LG G series (e.g., LG G8, LG G9)
Sony Xperia series (e.g., Xperia 1, Xperia 5, Xperia 10)
Motorola Moto series (e.g., Moto G7, Moto G8, Moto G9)
HTC U series (e.g., HTC U11, HTC U12, HTC U20)
Nokia smartphones (e.g., Nokia 8, Nokia 9, Nokia 10)
Android Tablet Models:
Samsung Galaxy Tab series (e.g., Galaxy Tab S7, Galaxy Tab A)
Google Pixel Slate
Lenovo Tab series (e.g., Tab P11 Pro, Tab M10)
Huawei MediaPad series (e.g., MediaPad M5, MediaPad M6)
Amazon Fire tablets (e.g., Fire HD 8, Fire HD 10)
Asus ZenPad series (e.g., ZenPad 3S, ZenPad 10)
Xiaomi Mi Pad series (e.g., Mi Pad 4, Mi Pad 5)
Sony Xperia Tablet series (e.g., Xperia Tablet Z4, Xperia Tablet Z5)
Lenovo Yoga Tab series (e.g., Yoga Tab 3 Pro, Yoga Tab 13)
Huawei MatePad series (e.g., MatePad Pro, MatePad 11)
What Can I Download the iOS App On?
Here are some of the mobile models you can download the iOS version of the app on:
iOS Phone Models:
iPhone (1st generation)
iPhone 3G
iPhone 3GS
iPhone 4
iPhone 4s
iPhone 5
iPhone 5c
iPhone 5s
iPhone 6
iPhone 6 Plus
iPhone 6s
iPhone 6s Plus
iPhone SE (1st generation)
iPhone 7
iPhone 7 Plus
iPhone 8
iPhone 8 Plus
iPhone X
iPhone XR
iPhone XS
iPhone XS Max
iPhone 11
iPhone 11 Pro
iPhone 11 Pro Max
iPhone SE (2nd generation)
iPhone 12 mini
iPhone 12
iPhone 12 Pro
iPhone 12 Pro Max
iPhone 13 mini
iPhone 13
iPhone 13 Pro
iPhone 13 Pro Max
iOS Tablet Models:
iPad (1st generation)
iPad 2
iPad (3rd generation)
iPad (4th generation)
iPad Air (1st generation)
iPad Mini (1st generation)
iPad Mini 2
iPad Air (2nd generation)
iPad Mini 3
iPad Mini 4
iPad Pro (12.9-inch, 1st generation)
iPad Pro (9.7-inch)
iPad (5th generation)
iPad Pro (12.9-inch, 2nd generation)
iPad Pro (10.5-inch)
iPad (6th generation)
iPad (7th generation)
iPad Mini (5th generation)
iPad Air (3rd generation)
iPad Pro (11-inch, 1st generation)
iPad Pro (12.9-inch, 3rd generation)
iPad (8th generation)
iPad Air (4th generation)
iPad Pro (11-inch, 2nd generation)
iPad Pro (12.9-inch, 4th generation)
iPad Pro (11-inch, 3rd generation)
iPad Pro (12.9-inch, 5th generation)
iPad (9th generation)
iPad Mini (6th generation)
iPad Air (5th generation)
What Bets can you place Via the Tote App
There is a diverse range of wagers you can experiment with using the Tote+ platform.  Bets, such as a win stake, focus on a single race, while others can be applied to multiple races within the same card, such as the placepot. Regarding single-race bets, the Tote Win and Place wagers offer the simplest options for punters.
Simply select a horse to either win or place in a given race.
Furthermore, Tote+ provides exciting promotions for the Hong Kong racing meeting, featuring enticing prices and opportunities to participate in the trifecta and exacta bets.
Keep an eye out for the Tote+ logo to take advantage of these special offers.
Summary
If you prefer pool bets over fixed odds, why not try out the Tote Betting App?
It's a twist from the usual betting, and the application makes betting on the go ten times easier than the Tote website.
There's room for improvement in regards to their in-play betting interface but overall, this app saves you a lot of hassle and is easy to use. Make the most of horse racing betting and other sports as you add to your bet slip. Enjoy betting and watch the biggest race events with the live stream option.
Check out all the related Tote Pool Betting related posts.