A handicap is the most popular type of horse race in the UK and indeed the world. Although the concept may seem complicated at first it is rather simple and exists so that races are competitive and give all horses in the race a fair chance of winning.
The main Classics and Championship races (such as The Derby and Cheltenham Gold Cup), are all run-off level weights and are not handicaps. The most famous handicap in the world is the Grand National but other notable handicap races include the Lincoln Handicap and Melbourne Cup.
Find out more today about horse racing handicaps: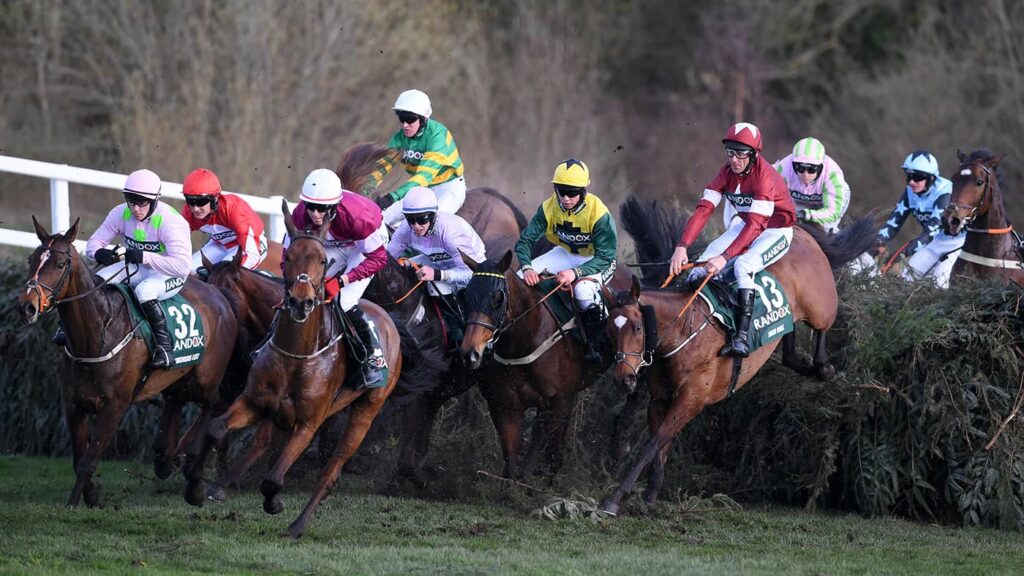 What is a Horse Racing Handicap
A horse racing handicap is a race where the runners carry different weights in their saddles to make the race more competitive. The amount of weight they carry is based on their ability as accessed by their professional Horse Racing regulatory board (such as the British Horseracing Authority); this is to make these races closer and more competitive.
The aim of a horse handicap race is to put every horse on a level playing field and, in theory, all horses in a handicap should dead-heat.
This obviously doesn't happen due to the unpredictability of racing in general, as other factors – such as draw, jockey, ground conditions, horse racing trainer form, and "horses for courses" preferences can all affect the outcome – but that is basically the aim.
Horses are allotted ratings by the"Handicapper", this is based on previous racing performances. Essentially the higher this rating figure the better the horse is.
The Official Rating that horse is awarded allows the Handicapper to distinguish between each horses' ability.
For example, a horse rated 100 is better than a horse rated 95. If these two were to face each other in non-handicap the 100 rated horses could win. However, if these two horses were to race against each other in a handicap race, the horse rated 100 would carry more weight in its saddle than the horse rated 95; this would make the race between them closer.
How Are Weights Calculated for a Handicap Race?
Every point difference in rating is equivalent to 1lb in weight in the saddle.
Therefore in the example above, the horse rated 100 would carry 5lbs more than in its opponent who is rated 95 – this would, in theory, give them both an equal chance of winning the race and "on paper" they should dead-heat!
How Is a Horses Handicap Mark Decided?
All racehorses are given an Official Rating by their horse rating authority, this is awarded when a horse has either:
Won a race
Or raced at least three times
Seeing these races allows the handicapper to get an accurate picture of a horses ability – from this s/he determines that horses rating and this is then their handicap mark.
In some rare circumstances, the handicapper may request a horse to run for a fourth time to determine a rating, this is normally the case if a horse has been injured or beaten a very long way in a race (it is more common in jumps racing). They will request this extra race as they feel that they cannot get an accurate gauge of the horses' ability based on the initial 3 runs.
Can Handicap Marks Change?
Handicap ratings are fluid and move all the time. They are normally looked at every week and published on a Monday.
Every time a horse races, the handicapper/racing authority will access the performance and leave, increase or decrease the rating depending on the result.
Horses handicaps typically move because of the following:
If a horse wins a race a handicapper they will increase the horses rating
If a horse runs a good race – is normally placed or not beaten far – they will probably leave the rating the same.
If the horse runs a bad race and is beaten a long way, he can decrease the rating
Handicaps marks change throughout a horses career, for example, a young and improving horse will often be on an "upward curve" where its rating is increasing but an older horse may be declining and so its official mark would fall.
If a horse is thought to be improving it is often called being 'ahead of the handicapper'. This is where a horse's true ability may not be represented by its current rating. The term is also used if a horse has won a race early in a week and races again that same week before their mark can be officially altered by the weekly review. Sometimes this also referred to as "handicap snip" or "handicap good thing".
Levels of Horse Racing Handicap Races
One of the main benefits of handicap races is that it allows horses of similar ratings to compete against each other. In essence, these handicap races are broken into divisions, known as classes. In most races, the horses in these races will have similar ratings and weights so competition is fair.
The higher class of handicap race the better the prize money.
A trainer decides which handicap race to enter his horse in. They will often balance the prize money, quality of opposition and weight their horse would carry in this race when making their decision.
Using the example of our 100 rated horses. The trainer could enter this horse in an 80 – 100 handicap (meaning horses rated between 80 – 100 could enter) OR he could enter it in a 90-110. The reasons behind both would be:
If the 100 rated horse ran in the 80-100, as he is rated the best horse in the race – with the highest rating – he would be required to carry more weight than the other horses (which is obviously a negative). On a positive note, these horses are deemed to be naturally slower than him.
The other option is racing against better horses in a 90 -110 race. In this race, there would be horses rated higher than him which means they are better than him, however, he would be carrying less weight than them.
As you can see both approaches have benefits.
What is a Handicap Penalty?
As mentioned above, handicap marks and rating are accessed every week, however, handicap weights are confirmed when a horse enters a race, this is normally 5 days before. If a horse races after this 5-day declaration stage and wins they are often given extra weight; this is known as a handicap or winners penalty.
The weight of the penalty differs and some races may not even incur a penalty – that is when a horse would be "ahead of the handicapper" as discussed above.
How is The Weight Carried in a Horse Race?
The extra weights are carried in a weight cloth, which goes under the saddle. The total weight figure includes:
The jockey
The saddle
The weight-cloth
After every horse race every jockey must 'weigh-in' and 'weigh-out' on official weight scales – these are in the weighing room. This is to make sure that the horse carries the correct allotted weight.
Popular Questions
How does a handicap work in horse racing?
A handicap works in horse racing by having the different horses carry different weights based on their previous runs and ability.
The concept of this is to make the races closer between horses of higher and lesser abilities.
Why are horse races called handicaps?
Some horse races are called handicaps as the better horses in the horses are penalised (and carry more racing weight) than less talented horses.
Handicaps are the most common type of race in UK racing and throughout the world, as they offer great competition and good betting opportunities.
What is the difference between a handicap and a non-handicap horse race?
The difference between a handicap and a non-hanidcap race is that in a handicap horse race, horses can carry different weights in their saddle to make the race more competitive. In a non-handicap all horses carry the same weight – so the best horse normally wins.
How do I know if my horse is well handicapped?
A horse is considered well handicapped if it's official rating is deemed to be below what the horse is actually capable of, this can be based on a young horse improving faster than the handicapper can keep up with.
Summary of Horse Racing Handicaps
A horse racing handicap race is designed to give an increased chance of winning for all the horses.
As discussed, they are the most popular and common type of horse race in the world, where each horse will carry a weight determined by its ability and ratings. These ratings change on a regular basis and are reviewed after each run to get an up to date opinion on a horse's ability.
We hope you have found this guide to the handicap system useful, remember to check out our blog for more horse racing news and views.
Check out these top handicap betting sites. listed on this page. All of the sites made the list of the horse racing betting sites.