The King George VI Chase is second only to the Cheltenham Gold Cup in terms of prestige for the top chasers in Britain and Ireland.
The King George VI Chase takes place on the 26th of December 2023.
The roll of honour includes great names such as Mill House, Arkle and Pendil and in modern times, multiple winners include Wayward Lad, Desert Orchid and the superb Kauto Star.
The King George VI horse race is run at Kempton Park Racecourse, the first day of the Kempton Winter Festival.
Find out more about the King George VI Chase: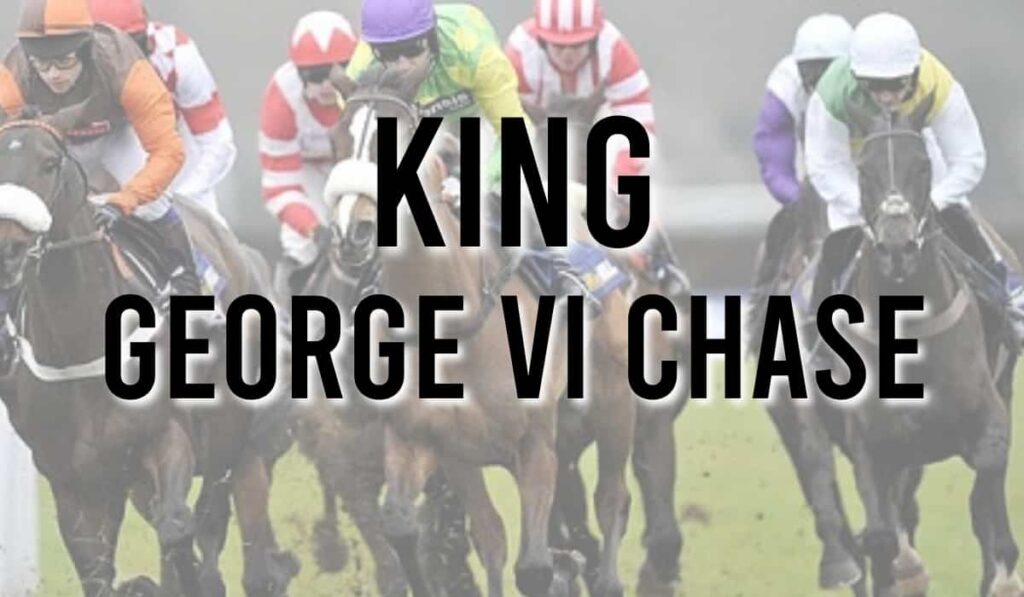 The Race Overview – The King George at Kempton
The King George VI Chase is a Grade 1 race over three miles, the feature event at Kempton Park on Boxing Day. It is a top class chase and one of the very best season.
Although it is a natural target for Gold Cup contenders, the sharp three miles can often suit horses that struggle with the stiffer stamina test at Cheltenham.
Check out our guide for more racing tips on events at Kempton Races.
For all Kempton races, our finest racing tipsters give free horse racing tips!
Famous King George VI Chase Winners & History
The inaugural King George VI Chase was staged in February 1937 with victory going to Southern Halo.
The race was moved to Boxing Day in 1947 and quickly became established as the mid-season target for the top chasers in training. Kempton on Boxing Day is one of the high-lights of the racing year.
The first horse to win the race twice was Halloween (1952 and 1954), a feat matched by Mandarin (1957 and 1959). The latter was trained by Fulke Walwyn who struck again with Mill House in 1963.
Arkle claimed the prize for Ireland in 1965 but was injured during the race when defeated by Dormant the following season and was retired from racing.
Pendil (1972, 1973) and Captain Christy (1974, 1975) were dual winners in the 1970s before trainer Michael Dickinson began to dominate the race. He won with Gay Spartan (1978), Silver Buck (1979, 1980) and Wayward Lad (1982, 1983 and 1985), the first three-time winner.
Wayward Lad's record was surpassed by the grey Desert Orchid who chalked up four victories between 1986 and 1990. He was denied a sequence of five victories by the French-trained outsider Nupsala in 1987.
Richard Dunwoody rode Desert Orchid to his last two successes and teamed up with another grey to win with One Man in 1995 and 1996. Three-time Cheltenham Gold Cup winner Best Mate won the King George in 2002 for Henrietta Knight and Tony McCoy.
The most remarkable achievement in this race belongs to Kauto Star who won a record five times between 2006 and 2011. A run of four successive wins was ended by Long Run in 2010 but Kauto Star reclaimed his crown in 2011.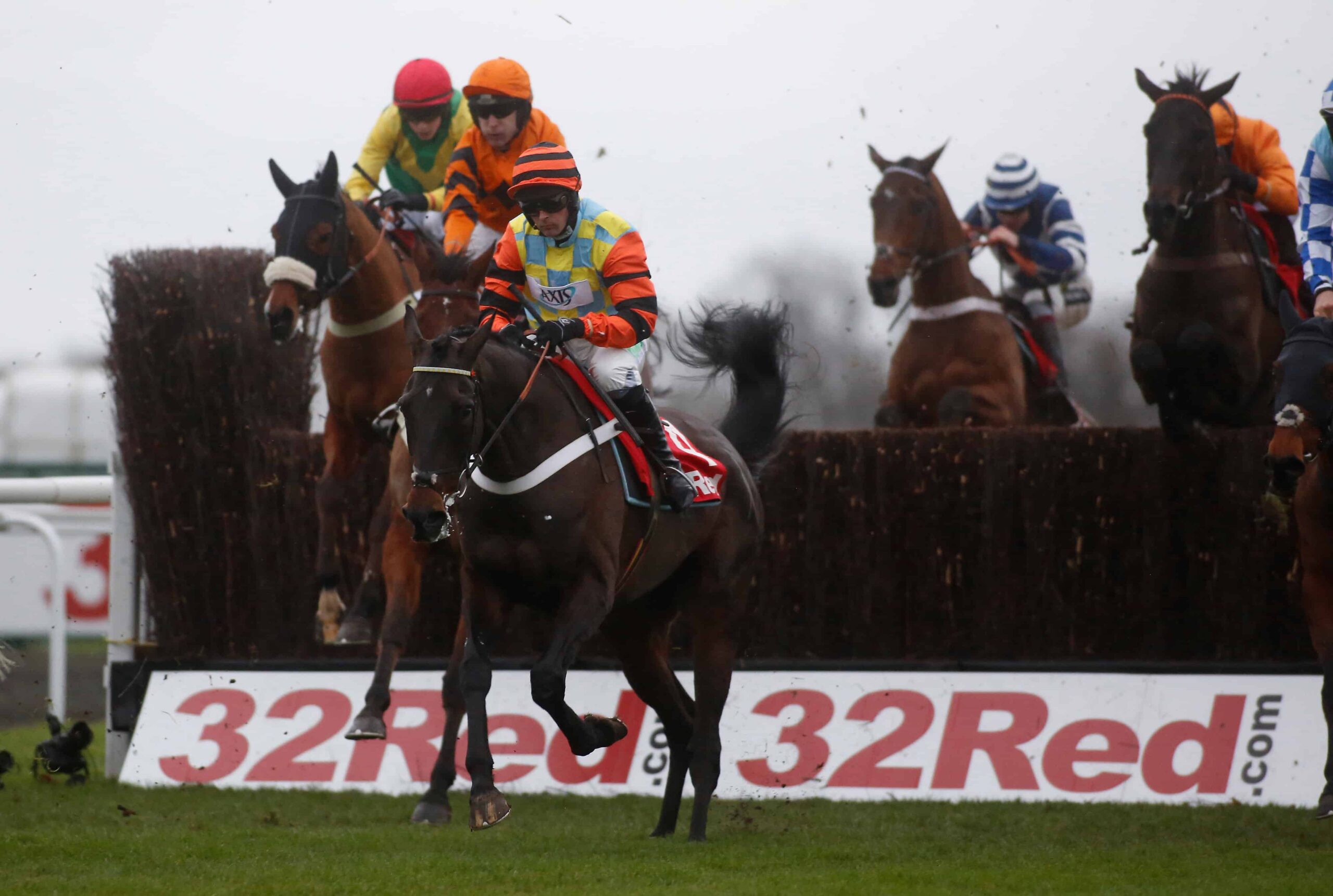 Key King George VI Chase Trials
Previous winners have an extremely good record here.
Silviniaco Conti (2013 and 2014) and Clan Des Obeaux (2018 and 2019) were the latest to successfully defend their title, both trained by Paul Nicholls.
The Betfair Chase at Haydock Park has proved to be a key form guide for the King George VI Chase. Kauto Star, Silviniaco Conti and Cue Card all won the Haydock race before following up at Kempton Park.
Clan Des Obeaux also ran in the Betfair Chase in 2018 but started his 2019 campaign in the Champion Chase at Down Royal.
Ladbrokes King George VI Chase Betting Trends
Favourites have a good recent record in the King George VI Chase, winning six of the twelve renewals between 2008 and 2020.
Kauto Star returned odds-on favourite for his first four victories and was 3-1 second favourite when completing his nap hand in 2011.
Long Run (2012), Silviniaco Conti (2014), Thistlecrack (2016) and Might Bite (2017) were all short-priced favourites in a race which rarely throws up a shock result.
Edredon Bleu was 25-1 when scoring for Henrietta Knight and Jim Culloty in 2003.
The longest-priced winner since then was Clan Des Obeaux at 12-1 in 2018.
Many King George VI Chase horses will race in more races throughout the years. Stay updated on the horses and place ante-post bets if you want to wager on them early.
King George VI Chase Previous Result
Check out the latest result from this race:
Top Trainers and Jockeys of the King George Chase
Paul Nicholls has an astonishing record in this race with eleven victories. He trained See More Business (1997 and 1999) before Kauto Star's incredible record-breaking run (2006, 2007, 2008, 2009, 2011). Nicholls has since gone on to score back-to-back victories Silviniaco Conti (2013, 2014) and Clan Des Obeaux (2018, 2019).
French trainer Francois Doumen was successful five times here between 1987 and 2000. Nupsala's shock win over Desert Orchid in 1987 was followed by two wins for The Fellow in 1991 and 1992. He won again with Algan in 1994 before First Gold provided with him a fifth and final success in 2000.
Nicky Henderson won twice with Long Run (2010 and 2012) and once with Might Bite (2017).
Colin Tizzard is the only other trainer to interrupt the domination of Paul Nicholls since 2006, scoring with Cue Card (2015) and Thistlecrack (2016).
Betting on Ladbrokes The King George VI Chase 2023
Ante-post betting on the King George VI Chase is available all year round.
The result often has a big impact on the market for the Cheltenham Gold Cup in March.
Bookmakers usually offer enhanced odds on the King George favourite for new customers to a limited stake.
It is unusual for there to be a large field for this race and it is often down to single figures. There were only five runners when Thistlecrack won in 2016 and the same number lined up for Clan Des Obeaux's second success in 2019 so each-way betting is sometimes limited to two places.
King George Chase Stats
The flat nature of Kempton's track suits fast, accurate jumpers who like to race up with the pace.
Previous course form is a definite plus and many King George winners already had at least one Kempton victory to their credit.
They do tend to go a fast gallop here so it still provides a decent stamina test. Horses stepping up from two and a half miles have often been found wanting in the home straight.
The race is usually won by an experienced chaser with at least eight previous races over fences and one or more victories over three miles.
Class is also a key factor with most winners officially rated 172 or higher and having won at least once in a Grade 1 chase.
The most successful age range is six to eight, winning all bar two of the ten renewals between 2010 and 2019.
Kauto Star and Desert Orchid were both aged eleven when chalking up their final victories here.
The King George has never been won by a mare.
Southern Hero was the oldest winner at 12 years old.
King George VI Chase Facts
The King George VI Chase is a Grade 1 National Hunt horse race run annually at Kempton Park Racecourse in Sunbury-on-Thames, Surrey, England.
The race was first run in 1937 and is named in honour of King George VI, who was the reigning monarch at the time.
The race is run over a distance of 3 miles and 1 furlong, with 16 fences to be jumped.
The race is open to horses aged five years or older and is the most prestigious chase of the National Hunt season.
The race is held on Boxing Day, the day after Christmas Day, each year.
The race is part of the Jockey Club Racecourses' King George Weekend, which also includes the Christmas Hurdle and the Feltham Novices' Chase.
The race was won by the legendary horse Arkle in 1964 and 1965 and Desert Orchid won 4 times as did Kauto Star. See More Business was another popular winner.
Popular Questions
What are important facts about King George VI Chase?
Here are some important facts about King George VI Chase:
The King George VI Chase is run at Kempton Park, Great Britain
The King George VI Chase is for horses aged 4 and above
The King George VI Chase is a National Hunt Steeplechase in Great Britain
The King George VI Chase distance is about 3 miles
Summary of the Ladbrokes King George VI Chase
The King George is the highlight of the Christmas period for racing fans as some of the leading chasers from Britain and Ireland clash at Kempton Park racecourse. It is regarded as the second most prestigious chase of the jumps racing year having been won by many greats over the years.
There are more races in December that you might enjoy, so make sure you check them out.
A Boxing Day bet on Desert Orchid or Kauto Star became part of the Christmas tradition due to their remarkable achievements in this race.
The King George is always a thrilling spectacle and provides valuable clues for the Cheltenham Gold Cup and Cheltenham Festival in general.
Boxing Day Horse Racing Information Articles
Keywords and subjects covered – Kauto Star, Kempton Park racecourse.