The Kingwell Hurdle is a Grade 2 race over two miles at Wincanton in February.
The Kingwell Hurdle takes place on the 17th of February 2024.
It is open to four-year-olds and upwards and is regarded as a trial for the Champion Hurdle at the Cheltenham Festival in March.
The Kingwell was won three times by Champion Hurdlers Bula and Lanzarote and the most recent horse to go on and win at Cheltenham in the same season was Katchit in 2008.
Find out more about the Kingwell Hurdle: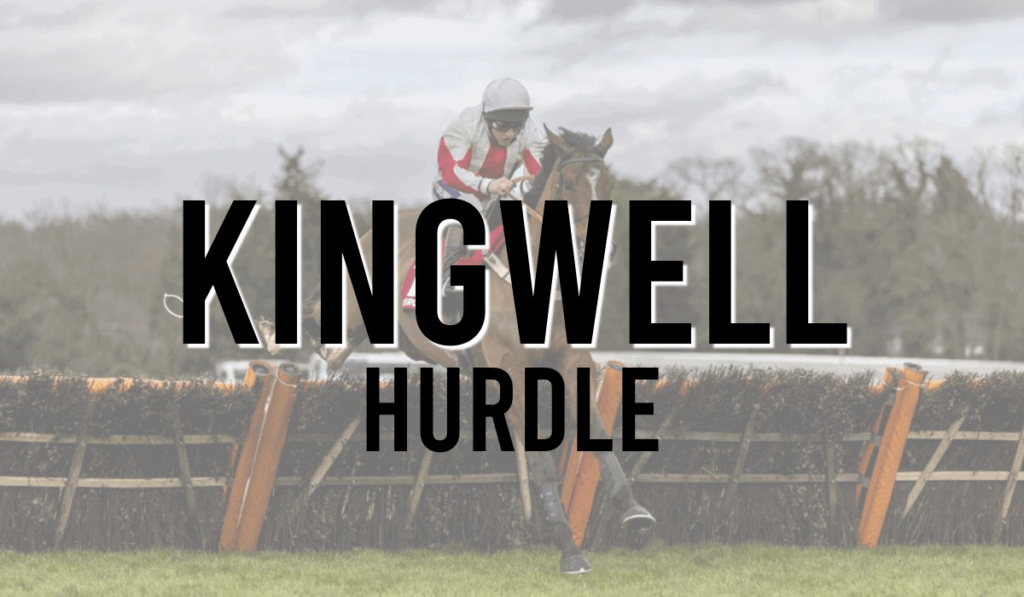 Race Overview – The Kingwell Hurdle
Horses must be four years old or older to compete in the Kingwell Hurdle, a Grade 2 National Hunt hurdle race.
There are eight hurdles to clear throughout the race, which is run at Wincanton over a distance of roughly 2 miles (1 mile, 7 furlongs, and 65 yards, or 3,077 metres).
The Kingwell Hurdle is a popular race in February.
Many Kingwell Hurdle horses will race in more races throughout the years. Stay updated on the horses and place ante-post bets if you want to wager on them.
If you are looking for more racing tips for events taking place at Wincanton Racecourse then check out our Wincanton racing tips page.
For all Wincanton races, our finest racing tipsters give free horse racing tips!
Kingwell Hurdle Previous Result
Check out the latest result from this race:
Famous Kingwell Hurdle Winners
The Kingwell Hurdle was first run in 1971 but was not given Grade 2 status until 1991.
Remarkably, Fred Winter trained the first six winners. He won it in 1971, 72 and 73 with Bula. The horse won the Champion Hurdle following the first two of those victories. He later had the Bula Hurdle named in his honour, now known as the International Hurdle. Bula later transferred his talent to fences with victories including the Black and White Whiskey Gold Cup and the Gainsborough Chase.
From 1974 to 1976 the Kingwell was won by Winter's Lanzarote. He won the 1974 Champion Hurdle among 23 victories during his career. Sadly he suffered a fatal injury when attempting to win the 1977 Cheltenham Gold Cup. He is remembered by the ultra-competitive Lanzarote Handicap Hurdle.
Fulke Walwyn finally ended Winter's domination of this event when scoring with the smart Dramatist in 1977.
Trainer David Elsworth came close to emulating Winter when winning it five times in seven years between 1982 and 1989. The most notable of his winners was Desert Orchid in 1984. The popular grey won this as a five-year-old and went on to become a racing legend, winning four King George VI Chases and the Cheltenham Gold Cup in a glorious career.
The high quality of Kingwell winners was maintained throughout the 1990s and 2000s. Champion hurdlers Alderbrook (1995), Hors La Loi III (2000, 2002) and Katchit (2008) all added their names to the Wincanton roll of honour.
Binocular (2012) was the most recent Champion Hurdle winner to land the Kingwell Hurdle. He had won at Cheltenham in 2010 for Nicky Henderson.
Other noteworthy winners include Azertyuiop (2001), Inglis Drever (2005), Zarkandar (2013) and Goshen (2021, 2022).
Key Kingwell Hurdle Trials
Three of the last eleven Kingwell winners ran in the Christmas Hurdle at Kempton on their previous start. Two of the three had been successful and one had been unplaced.
Seven of the last eleven winners took their chance in the Champion Hurdle at the Cheltenham Festival, although none were successful.
Binocular (2012) and Zarkandar (2013) both finished fourth and Elgin (2018) finished fifth at Cheltenham.
Kingwell Hurdle Betting Trends
It is worth noting that no more than six runners have contested the Kingwell Hurdle in the last twelve seasons. This largely explains why all twelve winners were in the first three in the betting including six winning favourites; Binocular (2012), Zarkandar (2013), Melodic Rendezvous (2014), Yanworth (2017), Song For Someone (2020) and Goshen (2022).
Zarkandar was the shortest priced of those at 1-3 while Yanworth and Goshen also returned odds-on at 2-5 and 4-7 respectively.
The longest-priced winner during the same period was Elgin who beat five rivals at odds of 5-1 in 2018.
Horses aged five and six have fared best in recent seasons.
Azertyuiop (2001) was the only four-year-old to win in the history of the race.
Floyd (1989) and Dreams End (1997) were the oldest winners at the age of nine. An official rating of 150 or higher is normally required to win this race.
The highest-rated winner in recent seasons was Zarkandar (2013) on 168, 3lbs higher than Binocular the previous year.
Kingwell Hurdle – Top Trainers and Jockeys
No Trainer has yet managed to match the six consecutive winners of Fred Winter from the inaugural running onwards in 1971. The wins were supplied by Champion Hurdlers Bula and Lanzarote with three victories apiece.
David Elsworth trained the winner on five occasions during a dominant seven-year spell; Walnut Wonder (1982), Desert Orchid (1984), Hypnosis (1987) and Floyd (1988, 1989).
Paul Nicholls has won it four times, most recently with Grand Sancy in 2019.
Alan King also has four Kingwell winners to his credit; Katchit (2008), Mille Chief (2011), Yanworth (2017) and Elgin (2018).
Richard Dunwoody is the leading rider in the history of the race with five winners; Floyd (1989), Kribensis (1990), Valfinet (1994), Dreams End (1997) and I'm Supposin (1998).
Peter Scudamore rode the winner on four occasions while Richard Pitman and Tony McCoy won it three times apiece.
Betting on the Kingwell Hurdle
The Kingwell Hurdle does not have a good recent record for producing Champion Hurdle contenders but it remains an interesting trial.
It usually attracts a small but select field and shock results are few and far between.
Favourites have a solid recent record and the form book is the best guide for finding the Kingwell Hurdle winner.
Facts about the Kingwell Hurdle
The Kingwell Hurdle is a National Hunt hurdle race in Great Britain and is open to horses aged four years or older.
The race is run on the New Course at Wincanton Racecourse over a distance of about 2 miles, and during its running there are eight hurdles to be jumped.
The race is scheduled to take place each year in February.
The Kingwell Hurdle was first run in 1971.
Summary of the Kingwell Hurdle
Thank you for checking out this Kingwell Hurdle guide.
We have looked at facts and figures about the race so you can make an informed decision if you are looking to place a bet or simply enjoy watching the race on TV or at the track.
Here are all of February's horse racing related posts: