The December Gold Cup at Cheltenham, recently known as the Caspian Caviar Gold Cup (2014-2020), is one of the most prestigious two-and-a-half-mile handicap chases of the season.
The December Gold Cup takes place on Saturday 16th December 2023.
There have only been two dual winners; Poquelin (2009, 2010) and Frodon (2016 and 2018), both trained by Paul Nicholls.
Notable past winners include Flyingbolt (1965), Pendil (1973) and Pegwell Bay (1988).
Find out more December Gold Cup: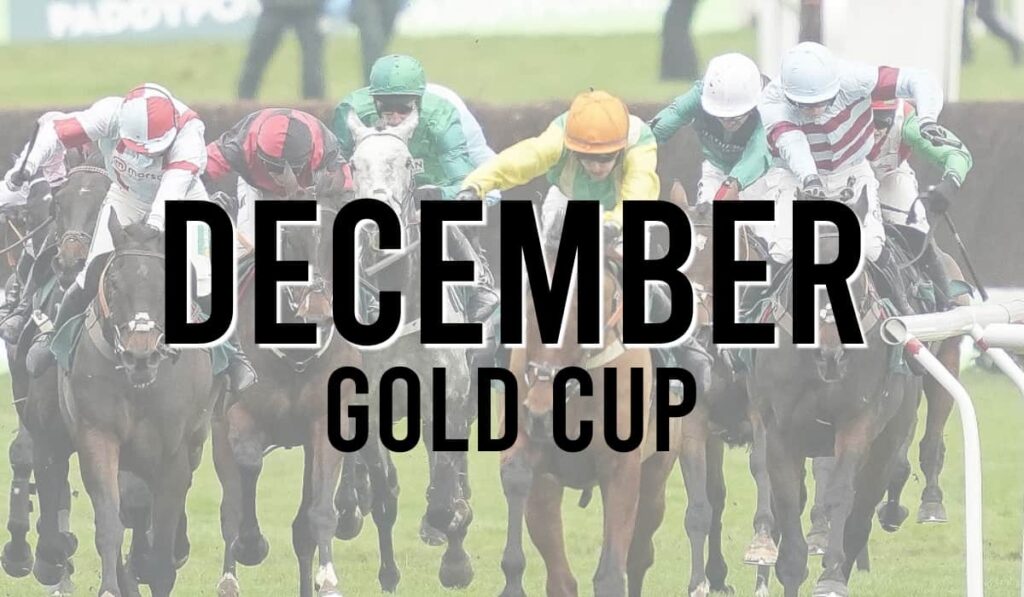 Race overview – Caspian Gold Cup
Horses must be four years old or older to compete in the Grade 3 National Hunt steeplechase, the December Gold Cup.
There are seventeen fences during the race, which is run on the New Course at Cheltenham over a distance of around 2 miles and 4 and a half furlongs (2 miles 4 furlongs and 127 yards, or 4,139 metres). It takes place in December every year.
Famous December Gold Cup Winners
The race was run as the Massey Ferguson Gold Cup from 1963 to 1980.
Flyingbolt defied the top weight of 12st 6lbs to win this race in 1965. He is still officially rated second only to his stable companion Arkle, both trained by Tom Dreaper in Ireland.
Flyingbolt was a brilliant hurdler as well as a leading chaser, winning the Supreme Novices' Hurdle and the Irish Champion Hurdle. He also finished third in the Champion Hurdle at Cheltenham. He won 18 races including the Arkle Trophy, the Queen Mother Champion Chase and the Irish Grand National.
Fred Winter trained Pendil to win this race with 12st 7lbs on his back in 1973. He won the King George VI Chase at Kempton in 1972 and 1973 and was second in the Cheltenham Gold Cup. His weight-defying victory in this race was arguably the best performance of his career.
Although nothing of the class of Pendil or Flyingbolt has won in more recent years, it has remained a very competitive event.
Popular winners in the 1980's include Observe (1982), Fifty Dollars More (1983), Beau Ranger (1984), Combs Ditch (1985) and Pegwell Bay (1988).
Poquelin (2009 and 2010) became the first horse to win the race twice. His achievement was matched by Frodon in 2016 and 2018. His second victory was notable for carrying 11st 12lbs with Bryony Frost in the saddle. He went on to win the King George VI Chase at Kempton in 2020.
Key December Gold Cup Trials
November's Gold Cup Chase (previously known as the BetVictor Gold Cup) over the same course and distance has been the key form guide for this race in recent years. Seven of the last twelve winners ran in that race. It is worth noting that none of them had won and only three had been placed so it is a race worth re-running for hard luck stories.
Three of the last twelve winners returned to Prestbury Park for their next race in the Cheltenham Trophy Handicap Chase. Double Ross (2013) and Village Vic (2015) won both races. Targets for the winner vary at the Cheltenham Festival in March. Frodon won the Ryanair Chase while Coole Cody won the Festival Plate.
December Gold Cup Betting Trends
The last twelve favourites have all been beaten in this race.
The average winning SP during the same period is over 10-1 so that indicates just how tricky a handicap this is. Only two horses carried more than 11 stone to victory during that period; Niceonefrankie (2014) carried 11st 5lbs and Frodon (2018) carried 11st 12lbs.
French imports Unioniste (2012) and Frodon (2016) both won as four-year-olds but the most successful age range has been from six to eight.
Coole Cody (2021) won it as a ten-year-old, the oldest winner since Garnishee won at the same age in 1974.
December Gold Cup – Top Trainers and Jockeys
Paul Nicholls is the most successful trainer in the history of the race with five winners; Poquelin (2009, 2010), Unioniste (2012), Frodon (2016, 2018). Irish raiders are not that common in this event, Chatham Street Lad (2020) and Sir Oj (2005) being the only victories for the Emerald Isle since 2000.
The leading jockey is Richard Johnson who has three victories; Legal Right (1999), Monkerhostin (2004) and Village Vic (2015).
The last seventeen renewals have all been won by different jockeys.
Popular Questions
What are important facts about December Gold Cup?
Here are some important facts about December Gold Cup:
The December Gold Cup is run at Cheltenham Racecourse, Great Britain
The December Gold Cup is for horses aged 4 and over
The December Gold Cup is a National Hunt Steeplechase in Great Britain
The December Gold Cup distance is 2 miles and 4½ furlongs
Summary of the December Gold Cup
Thank you for reading our December Gold Cup guide.
It is a highly competitive handicap and has been won by many top-class stayers over the year, with many going on to have success at the Cheltenham Festival in March.
You can check out the Cheltenham horse racing tips page for our tips on this race or take a look at more horse racing in December.