There are a number of greyhound racing bet types you can place to make the spectacle of watching greyhound racing even more exciting.
There are lots of various greyhound betting options, the most popular dog racing bet types include:
Win bets
Place bets (each way bets)
Show bets
Win/Place bets
Win, Place and Show bets
Reverse forecast bets
Trio or treble forecast bets
Pick six bets
Multiple bets and accumulators
We explore them all in our type of bets guide.
Find out more Greyhound racing bets: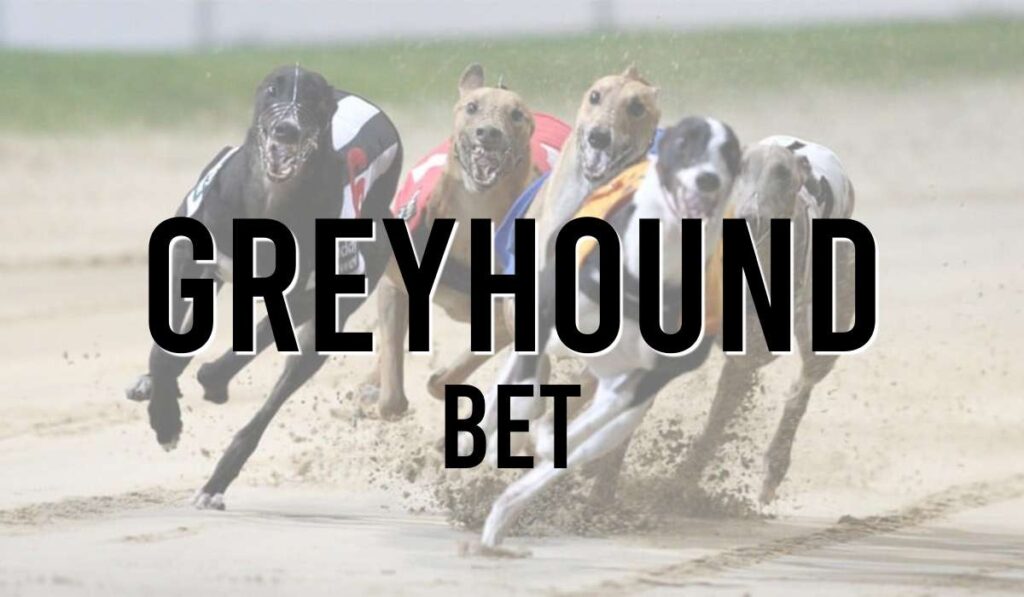 Greyhound Win Bet
A greyhound win bet means exactly that; you place a bet on the dog you think will win the race. This is probably the most simple and straightforward type of greyhound racing bet that you can place; you are picking the dog you think will win. Choose your winning greyhound, place your bet, and keep your fingers crossed!
There is always a favourite for a race and this is who the bookies think is the most likely winner and this will be reflected within the betting odds that you're offered – a favourite is considered the most likely to win.
Those dogs that are perceived to be more likely to lose will have larger odds. This means you will get more money if they do win but statistically, they are less likely based on their previous form or breeding.
A Greyhound Place Bet or Each Way Bet
Another option when placing your greyhound bet is a greyhound place bet (or each-way bet).
This is where you can bet on a dog to finish first, second or third place. Obviously, the odds for choosing this option will be significantly less attractive than betting on an outright winner. However, it does give you the opportunity to gamble with a little bit of security. After all, a small return is better than no return at all, right?!
There's betting available on many different sites, such as Bet365 greyhound results and Ladbrokes greyhound betting, where you could also find your greyhound results. Ladbrokes and Bet365 are very famous for their greyhound bets.
Greyhound Forecast Bet – Types of Greyhound Racing Bets
A greyhound forecast bet is when you try to predict the future. Don't worry, it's not as daunting as it sounds!
There are a few different forms of forecast betting and greyhound racing betting options, they all come with their own odds and rules.
Straight forecast – all you do when placing a straight forecast bet is decide which dogs will win and come second in the correct order.
Tricast betting – you must predict which dogs will win, place second and place third in the correct order. This is extremely hard to predict but the odds reflect this and you can walk away with a full wallet if you get this right.
Exacta – essentially it's just like the Straight forecast, only there is a minimum £2 stake and the amount you win will differ in every race because it is based on the Tote pool dividend.
Trifecta – Trifecta greyhound betting is the same as Tricast bets in that you have to predict which dogs will place first, second and third in the correct order. The main difference is that there is a minimum stake of £2. Much like the Tricast bets, it's hard to predict, but the returns you will see for a winning stake will reflect this.
Reverse Forecast – the reverse forecast bets are, as the name suggests, a variation of a straight forecast and trifecta forecast formats. You still have to choose which dogs come first, second and third, but with a reverse forecast bet it doesn't matter which order they finish in. As long as you correctly predict the names of the dogs that finish within the top 3, then your bet will be a winning one.
As you can see there are a few different types of dogs bets available.
The most famous greyhound race is the prestigious greyhound derby!
Greyhounds Trio Betting
The greyhound's trio bet is another name for tricast betting, and it's when you must correctly predict the placing of the top three runners. This is where the 'Trio' part of its name comes in.
However, just to confuse things there is also a betting method known as 'All ways' Trio betting. This is where you are betting on three greyhounds but the bet is split six different ways. You are betting on those three dogs finishing in any order in the top three, so it's very much like an extended version of a reverse forecast bet.
It is a more popular greyhound bet types because it covers a lot of bases, so you have a much greater chance of a return on your stake.
Greyhound Accumulator Bet
If you really feel like throwing caution to the wind then the greyhound bet type for you is the greyhound accumulator bet. This is where you try to predict the outcome of multiple greyhound races at the same meeting.
Which is the sort of bet where you are able to stake a pittance and walk away with a life-changing amount of money? For example, if you bet 30p on the outcome of ten races and the odds are 1,666,666-1, then you'll win a cool half a million pounds!
Summary of Greyhound Bets
The greyhound betting options are much the same as when betting on the horses.
They are a number of various options from singles, forecasts and multiples as we have covered in our "Greyhound Bets Explained Guide".
If you have won on your bet be sure to check out bet calculator to see what you can expect back from your local betting shop or online betting site.
Best Greyhound Betting Sites
The sites on this page all offer great betting options on greyhound racing, horse racing and other sports. These leading bookies made our list of best betting sites including William Hill racing, Ladbrokes racing, Coral and bet365 – with many offering free bets, ante post betting, free bet stakes and other perks to new customers for a greyhoundbet and more.