Want to work out what you have won on your accumulator bet? Use our free bet calculator now and work out your winnings quickly and easily.
Our easy to use Accumulator Bet calculator will work out your winning return.
Simply enter the details below (including your preferred odds format), the number of selections, any Rule 4 deductions, finishing positions (win, place or dead heat) and your total stake. From that information, we will calculate your return & total profit.
The accumulator bet calculator is also mobile-friendly.
Looking to win more and improve your bets? Check out our Accumulator Bet tips.
Use the free accumulator bet calculator now: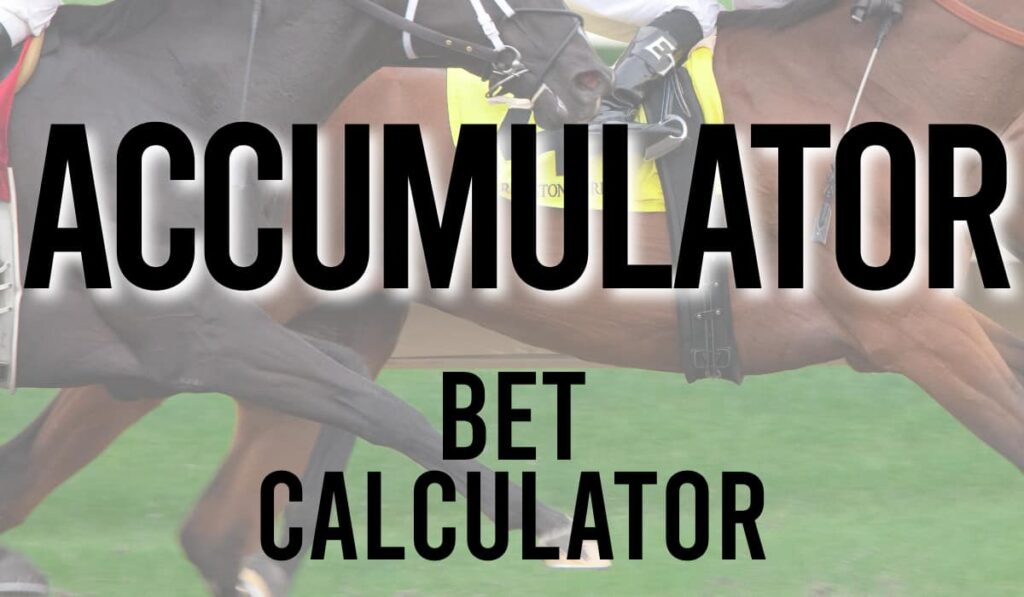 How to Use Our Accumulator Betting Calculator
Here is the step by step guide how to use the accumulator bet calculator:
Select "Accumulator" on the 'Bet Type' dropdown
Select 'Number of Selections' on the dropdown
Select the 'Outcome' for each selection like "Winner", "Placed", "Lost"
Select the 'Odds' for each selection like "2/1", "4/1", "15/2"
Select the 'Stake' wagered per bet like "£10", "£20", "£50"
The Accumulator Betting Calculator will work out total outlay, total return and total profit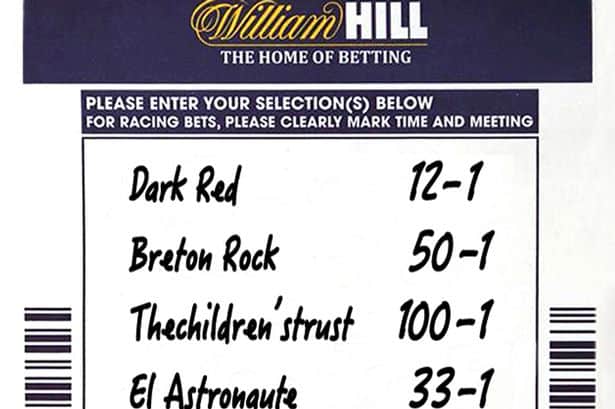 Frequently Asked Questions About Accumulator Bets
Here are popular questions we get asked about acca bets and our acca bet calculator:
What is an Accumulator Bet?
An accumulator bet is a bet containing at least four selections that are combined into one bet.
The odds of each choice are multiplied by the next one to give you the overall odds.
A benefit of an accumulator bet type is that winnings are much higher, however, only a single selection must fail for the entire bet to lose.
Accumulators are one of the most popular horse racing betting types, as it means you can select a few horses and the excitement builds as your horses win or get placed. It is a popular racing choice.
How to Place an Accumulator Bet?
Here is a step by step guide on how to place an accumulator bet:
Choose the horses you want to bet on.
Add all selections to your betting slip.
Look under the 'multiple' segment and there will be 'accumulator'.
Enter the sum that you want to stake.
Double-check your choices and click 'place bets' or hand your slip to a cashier.
You can place this bet type both in traditional betting shops or with an online betting account.
Are Accumulator Bets Worth It?
Accumulator bets are certainly worth it if you want to win big.
However, many betting tipsters say that accumulator bets should be avoided because they are hard to win.
All selections need to win or to be placed, unlike a Lucky 15, Lucky 31, Lucky 63 and other types, where you only need one winner to make a return.
What is the Best Accumulator Bet?
The best accumulator bets are:
The above are our favourites but much of it boils down to personal choice.
Popular Questions
How do you calculate an accumulator?
The best way to calculate an accumulator is to use our free bet accumulator.
It's simple to use and you can work out your returns swiftly and accurately.
How is an Accumulator Bet Calculated?
An accumulator bet is calculated simply, the winnings from one bet is simply based on the next one and winnings get greater and greater.
As an accumulator can be a large bet we would recommend using our acca calculator.
Do All Picks Have to Win on Accumulator?
Yes all picks have to win on accumulator as winnings roll onto the next selections so all picks have to win (or be placed if it's an each-way version).
Some of the best online bookmakers offer Acca insurance, which means if one selection loses they give you a free bet bonus – which is brilliant!
How do you use the Accumulator bet calculator?
To use our acca cacultaor:
Select "Accumulator" on the 'Bet Type'
Select 'Number of Selections'
Select the 'Outcome' for each
Select the 'Odds' for each selection
Select the 'Stake
The Accumulator Betting Calculator will work out your returns
Summary of Acca Free Bet Calculator
A winning accumulator bet builds and builds, with the winnings from one selection being wagered on the next.
These "acca bets" (as they are known for short) are known as "GO HARD OR GO HOME"; as the winning selections roll over and the potential returns rise, winnings can be impressive.
Using our simple free accumulator bet calculator (accum calculator) to work out any potential returns – you simply enter your preferred odds format, the number of selections, the results and your stake. We then do all the work instantly showing your return & total profit!
Good luck with your bet and please remember to gamble responsibly!
Other Betting Calculators
As well as our acc bet calculator, we have created a bet calculator for every type of bet you can place on horse racing, select any you choose below:
Don't forget to also check out our handy racing and betting blog, for news and views.