Our Lucky 63 bet calculator will work out your winnings on your Lucky 63 bet. Simply fill in the details and we will do all the hard work.
With 63 different bets on a Lucky 63 – hence the name – trying to work out the winnings yourself is not easy. However, it is with our free, mobile-friendly bet calculator. Simply enter the results, odds format, the betting odds and your stake and the returns will be generated immediately.
Looking to win more and improve your bets? Check out our Lucky 63 Bet tips.
Use the Lucky 63 bet calculator now:
How to Use the Lucky 63 Bet Calculator
Make sure that on the bet calculator "Lucky 63" is selected on the 'Bet Type' dropdown
The 'Number of Selections' will default to 6 selections
Select the 'Outcome' for each selection, either "Winner", "Placed", "Lost", "Dead Heat", "Void" or "Non-runner"
Select the 'Odds' for each selection, such as "2/1", "10/1", "7/4" (you can choose your odds format – decimal or fractional)
Select the 'Stake' wagered per bet, such as "£1", "£5", "£10" (if you prefer you can select "Total Combined Stake")
The Lucky 31 bet calculator will then work out the total outlay (total stake), total return and total profit
How to Use the Lucky 63 bet Calculator
Check out the video below for an in-depth look at the Lucky 63 Bet Calculator:
Frequently Asked Questions about Lucky 63s
Here are the most popular questions we get asked about the Lucky 63 bet and our Lucky 63 bet calculator:
What is a Lucky 63 Bet?
A Lucky 63 bet is s a multiple bet that consists of 63 different types of bets.
There are six selections that you wager on, and there are singles, doubles, trebles, four-folds, five-folds and a six-fold all included.
Lucky 63 bets are extremely exciting and popular as they provide a number of combinations that could lead to a generous return.
With that said, it is key to note that although there are more chances to win, it will cost more in terms of the stake. If you bet £1 on each, then it will cost a stake of £63.
The amount that you win is dependent on the selections that you get correct and the odds of them. You can enjoy returns from as little as one of the bets winning, but it is unlikely that you will see a profit from only one.
A Lucky 63 Bet Explained
Here are some things you should know about a Lucky 63 bet:
It is a popular multiple for football and racing
There is a total of 63 bets
This is from six selections
It includes singles
Here's what a Lucky 63 bet consists of:
6 x singles
15 x doubles
20 x trebles
15 x four-fold
6 x five-fold
1 x six-fold (one six fold accumulator)
As you can see, there are lots of various ways to get a return and the amount of your return depends on the odds of the winning selections (the win odds).
Below is an image that demonstrates how the variety of bets work out with a Lucky 63 bet: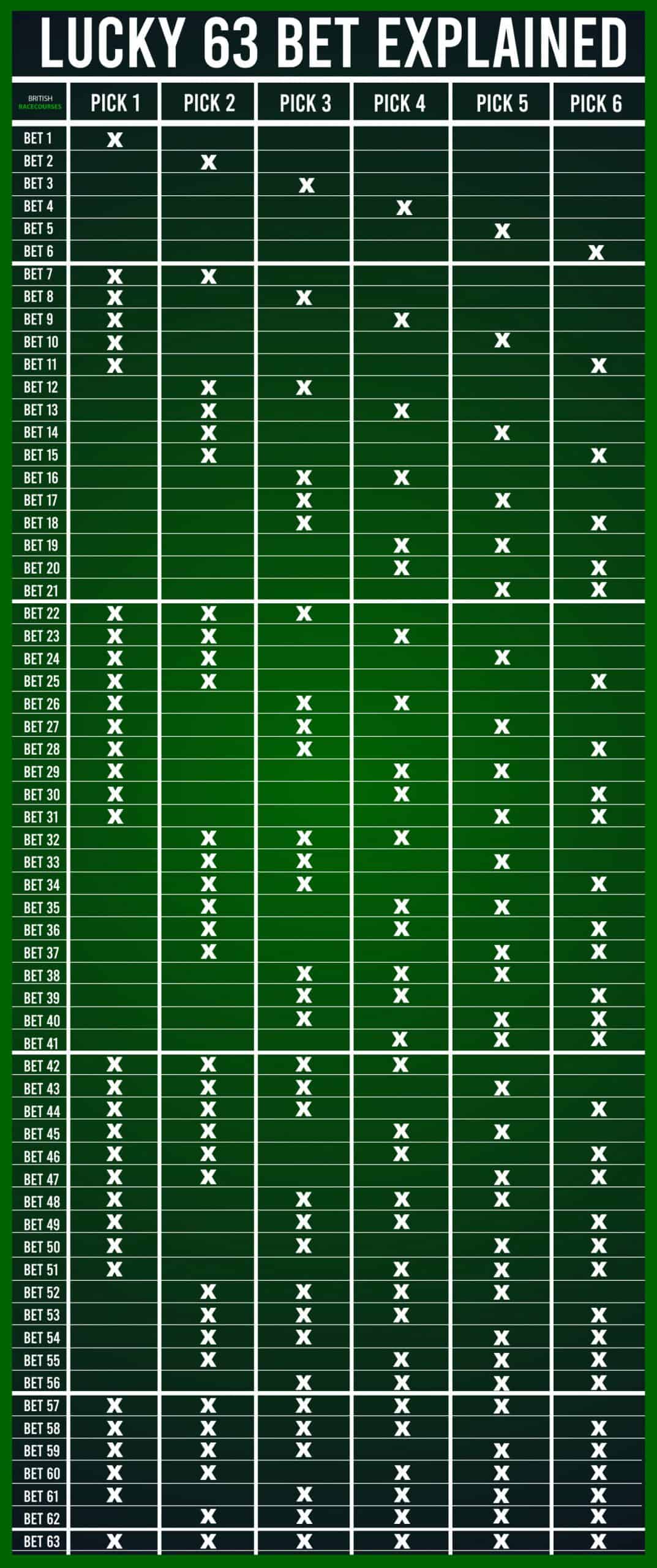 Example of a Lucky 63
When trying to calculate the potential return. of a Lucky 63 bet, it can, as you imagine become complex. It's difficult to work out how much you have coming your way with 63 bets to work out. Rather than manually working it out, simply use our bet calculator and we will do all the hard work for you.
To get a profit, you will need at least three selections to win. That's a generalisation as it comes down to the odds too. But usually, four or five selections will get you a very good return.
What makes it different from a traditional accumulator is that if one selection loses, the show goes on. You can still cheer on your other teams or horses, as the prize remains high.
How to Place a Lucky 63 Bet
You'd think that placing a bet of this magnitude would take a lot of time and care. In fact, you just need to concentrate on the six selections you want to wager on. After that, simply find the Lucky 63 box if – betting online – and place the stake. If you type in £1, then expect the stake to total £63.
If you want to bet in a traditional high street betting shop, you simply fill in the required and hand it and your stake to the cashier.
Can You Place an Each Way Lucky 63
Another common question when it comes to placing a lucky 63, is whether or not you can do it as an each way bet. When placing it as an each way bet, it will give you more chance of winning money back, but you will also double the stake. There will be a total of 126 bets.
Video Guide to a Lucky 63 Bet:
Check out the lucky63 video below to learn more about the Lucky 63 bet:
Popular Questions
How do you win a Lucky 63 bet?
In a Lucky 63 only one selection needs to win to get a payout.
How do I calculate my Lucky 63?
You can calculate a Lucky 63 by working out the individual bets that it is made up of:
6 x singles
15 x doubles
20 x trebles
15 x four-fold
6 x five-fold
1 x six-fold
Or for ease use our free bet calculator and we will do the hard work.
How much is a 50p Lucky 63?
A 50p Lukcy 63 costs £31.50.
This is worked out as 50p x 63 bets.
Is A Lucky 63 A Good Bet?
A Lucky 63 is a good bet for punters who enjoy multiple bets, these types of bets are popular on meetings such as the Cheltenham Festival and Royal Ascot.
Summary of Our Lucky 63 Bet Calculator (Lucky 63 Calc)
If you love the Lucky 31, then you will certainly enjoy this multiple bet – which gives you twice as many bets.
One distinct difference to this particular bet is that they provide a number of single bets, making it far easier to get some form of return. For that reason, it's super-exciting and offers numerous ways to earn a profit.
There is more risk and money needed for the stake but it equally provides lots of ways to win!
Using our free and easy Lucky 63 bet calculator is the easiest way to calculate your winnings, rather than try and do this manually.
Give the Lucky 63 a go next time you're betting, it's a fun bet and especially popular with Saturday Punters watching on TV.
Betting Calculators
We have created a bet calculator for every type of bet you can place on horse racing. Here is the full list of horse racing betting calculators available: