Many horse racing punters debate whether the Racing Post RPR ratings are the best metric when studying horse racing form or whether the top speed ratings or official ratings are the best ways to judge a horse's performance.
The Horse Racing RPR is a ranking scoring guide to help bettors evaluate their choice bets and make an informed decision. It is different from the OR, or the Official Rating.
Racing Post Ratings (RPR) are based on a horse's racing ability in relation to the weight carried in the race. The RPR ratings are expressed in pounds (lb) so a horse rated 106 is regarded as 8lb better than one rated 98.
In our Horse Racing RPR rating guide, we provide you with all the information needed to understand what RPR means and how it is different from other metrics.
Find out more about Racing Post Ratings: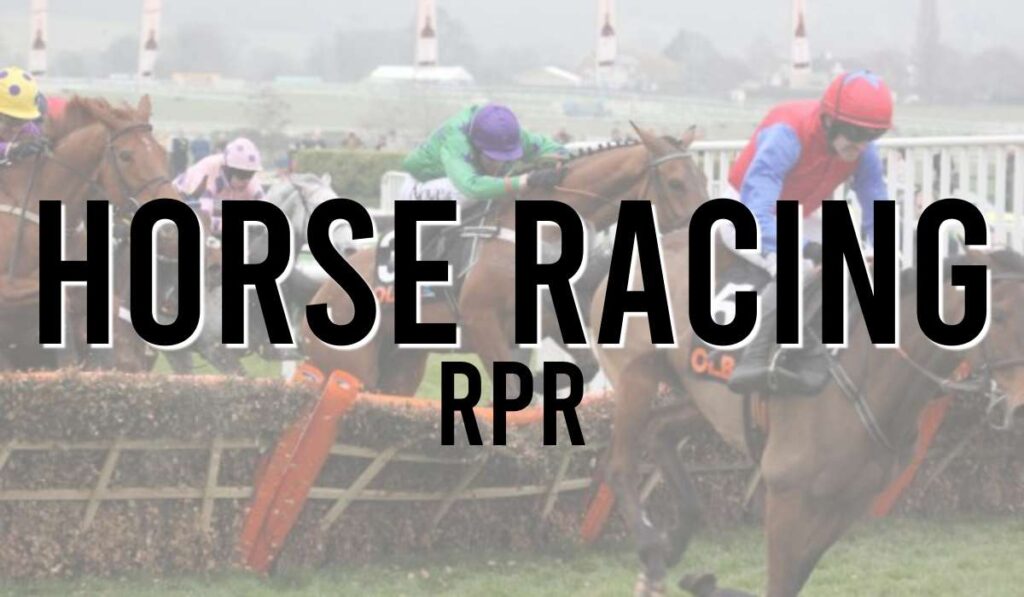 What does RPR mean in Horse Racing?
The acronym RPR in horse racing stands for Racing Post Rating.
The RPR (Racing Post Rating) is the rating of horses by the independent and private handicapper of the Racing Post newspaper.
The Racing Post Rating is adjusted depending on the weight of the horse.
The horse racing official rating is a different scoring system to RPRs as the OR (official rating) is assigned to a horse by the handicapper of the British Racing Authority.
One thing is for sure, the top horse racing tipsters all use RPR Ratings provided by the Racing Post as part of the selection process.
Why Is The RPR Different From The OR In Horse Racing?
The main difference between RPR ratings and horse racing official ratings is the calculations are carried out by different organisations.
Here is an image showing where you can access the data on the racingpost.com website to see the official rating and racing post rating: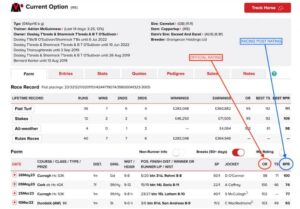 The British Horseracing Authority (responsible for the governance, administration and regulation of horseracing) employs a handicapper to assign ORs (official ratings) to horses. The BHA horse racing official ratings determine the weights horses carry in handicap races.
The Racing Post Rating (RPR) is calculated by a private handicapper who tends to consider the most recent performances of a horse. The scoring systems differ and both RPRs vs OR can vary in metrics.
Should I Use RPRs Or ORs?
When researching horse racing form it is advised to use both Racing Post Ratings (RPR) ratings and horse racing official ratings (OR) as part of making your predictions and working out a horse's chance.
The RPRs and ORs differ and being able to make calculated decisions on both the official handicapper's opinion (OR) and the professional Racing Post handicapper (RPR) is great for punters to better-informed decisions.
Our leading horse racing tipster David Dooley said this when asked "Is OR better than RPR?".
I use both the official rating and RPR rating to help choose my betting tips. If I had to choose a preferred metric I would choose RPR's as the Racing Post scoring systems is highlights the ratings a horse has run up to on its last few runs
It is wise to consider several other factors that can influence what rating a horse will run to like ground conditions, trip and racecourse form as horses will only run to their highest rating under their optimal conditions.
Why RPRs are Great Over Different Horse Racing Distances?
If a horse runs over varying distances RPRs are a much better metric than the (OR) horse racing official ratings.
A horse will have an optimal distance to compete at and the (OR) horse racing official rating is the same no matter what distance the horse runs over.
RPR's take this change in the distance into account and may rate the horse in question much nearer the official rating it has achieved from previous efforts when running over that distance.
As an RPR rating can vary depending on the trip for the horse we believe this is much better than an official rating which remains the same even if a horse runs over an inadequate trip.
Why RPRs Need Analysis Over Different Going Conditions?
Horses have optimal conditions when it comes to ground conditions with some horses running better on firm ground and some relishing the soft ground going.
The RPR ratings are based on the horse's recent runs and through comprehensive research, you might find the horse runs too many different ratings on soft ground to the ratings when encountering firm ground.
You still need to delve a lot deeper into the formbook to find the ratings of the horses depending on the ground conditions they are running in today.
Why RPRs Need Analysis At Different Racecourses?
Every racecourse is unique with some being right-handed and some being left-handed.
The gradients of different horse racing tracks can also differ greatly, with some being flat and others undulating tracks.
There is a well-known saying "horses for courses" and a horse can run much better depending on the racecourse conditions.
The RPR doesn't tell you whether a horse will run to that rating at the racecourse so studying the formbook in important.
What Affects A Horse To Run To His Best RPR Rating?
Here are some reasons why horses might be affected in being able to run to their best RPR ratings:
Draw Bias – If the horse is drawn badly this can hugely affect the outcome of the race
Pace of the Race – slowly run races usually suit front runners whereas a fast-paced race benefits the closers
Trainers Form – horses can run better than normal when a trainer is in good form
Jockeys In Form – confidence in a jockey can help the horse to run better
Headgear Application – the use of cheekpieces, blinkers or visors can affect the chances of winning
Other important factors that can seek improvement in the horse's form are wind operations or being gelded to improve.
What are the Most Accurate Horse Racing Ratings?
The most accurate horse racing ratings are using a combination of Timeform, Racing Post (RPR) ratings and BHA horse racing (OR) official ratings.
Combining all three horse racing ratings allow you to make a decision based on different specialist opinions.
The 3 main raters of Timeform, BHA and Racing Post have a reputation for accuracy and their ratings are widely accepted as a definitive assessment of racing merit.
Summary of Racing Post Ratings
RPRs (Racing Post Ratings) can be a good tool when it comes to trying to pick your daily selections. Many seek the highest rated horse but there are more variables than that.
The ratings are just the opinion of the Racing Post handicapper and should be used alongside other form guides.
Noting RPRs of a horse's performances when faced with similar conditions will give you a much better indication of what rating a horse will achieve.
Professional gamblers spend a lot of time studying more than RPRs and understand other factors that need to be considered.
Horses are evaluated and given a fresh rating after each race and sports bettors love the RPR's ranking guide.
Here are all the articles related to horse racing stats for the UK and Irish races.