The Haydock Champion Hurdle Trial is a Grade 2 race over two miles in January. It is open to four-year-olds and upwards and now bears the name of four-time winner The New One (2015-2018).
The Champion Hurdle Trial takes place on the 20th January 2024.
The race has been won by three Champion Hurdlers; Granville Again, Flakey Dove and Rooster Booster.
Other notable winners include Ekbalco (1983), Vicario di Bray (1989), Mysilv (1996), Dato Star (1998 and 2000) and Inglis Drever (2005).
Find out more about the Champion Hurdle Trail: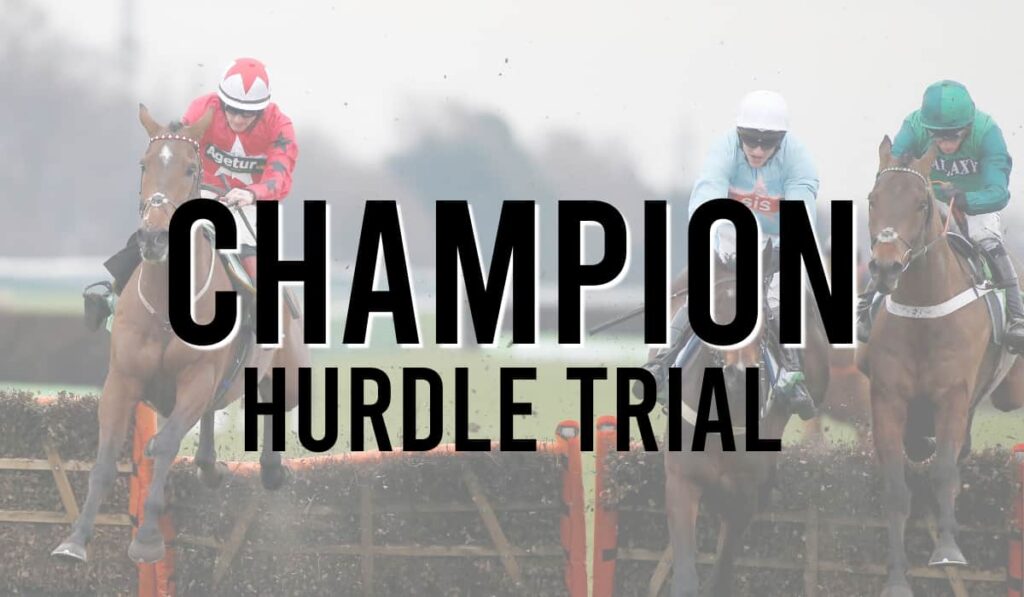 Race Overview – The Haydock Park Champion Hurdle Trail
Horses must be four years old or older to compete in the Grade 2 National Hunt hurdle race, the Champion Hurdle Trial.
Nine hurdles must be cleared during the course of the race, which is raced at Haydock Park over a distance of around 1 mile 712 furlongs (1 mile 7 furlongs and 144 yards, or 3,149 metres).
The Campion Hurdle Trail is due to take place in January 2023.
For all Haydock races, our finest racing tipsters give free horse racing tips!
Famous Haydock Champion Hurdle Trial Winners
The Champion Hurdle Trial was first run in 1981 with victory going to Starfen, trained by Peter Easterby and ridden by Tim Easterby. Further top-class winners followed with Mercy Rimell's Gaye Chance (1982) and Roger Fisher's Ekbalco (1983).
Jonjo O'Neill's Vicario di Bray was an impressive winner in 1989 and the first Champion hurdler to win the trial was Granville Again in 1992, trained by Martin Pipe and ridden by Peter Scudamore. He won the 1993 Champion Hurdle by a neck from 50-1 outsider Royal Derbi.
1994 winner Flakey Dove won the Champion Hurdle at Cheltenham in the same season. She became only the third mare in history to win the Champion Hurdle, winning 14 of her 44 career starts for Trainer Richard Price.
Another brilliant mare to win this event was Mysilv in 1996. She had won the Triumph Hurdle and the valuable Tote Gold Trophy.
Dato Star became the first dual winner of the race in 1998 and 2000, trained by Malcolm Jefferson and ridden by Lorcan Wyer.
The grey Rooster Booster won the Champion Hurdle in 2003 and won this race as a ten-year-old in 2004. His other career victories included the County Hurdle and the Bula Hurdle at Cheltenham and the Agfa Hurdle at Sandown Park.
2005 winner Inglis Drever would eventually prove to be a champion stayer, claiming the Stayers Hurdle in 2005, 2007 and 2008.
The New One made this race his own between 2015 and 2018 for Nigel and Sam Twiston-Davies. He won the Ballymore as a novice but successfully dropped back to two miles. Although he never won the Champion he still amassed over £1 million in prize money for his owners during a glittering career. He won 20 of his 40 career starts including the International Hurdle on three occasions and the 2014 Aintree Hurdle.
Champion Hurdle Trail Previous Result
Check out the latest result from this race:
Haydock Champion Hurdle Trial – Key Trials
Five of the last ten winners of this race ran in the Christmas Hurdle at Kempton. None of them were successful in that race but four were placed.
Six of the ten had recorded at least one previous victory at Haydock Park.
Three of them ran in the Kingwell Hurdle at Wincanton next time, Melodic Rendezvous won both races in 2014. Celestial Halo (2012) finished second and Navajo Pass (2021) finished third.
The Champion Hurdle at Cheltenham is the main objective for winners of this race. However, the recent record is poor. Eight of the last ten Haydock winners made it to Cheltenham but not one of them managed a place.
Haydock Champion Hurdle Trial Betting Trends
Six five-year-olds have won the Haydock Champion Hurdle Trial, the most recent being Navajo Pass in 2021.
Two ten-year-olds have won here; Rooster Booster (2004) and The New One (2018).
Favourites have a good record in this race with six winners in the past ten renewals.
The New One was the shortest-priced winner at a prohibitive 1-6 in 2015. He was also a winning favourite for the following three seasons at 8-13, 6-4 and even money respectively.
Celestial Halo won as the 6-5 favourite in 2012 and Tommy's Oscar returned at 4-7 in 2022.
There have also been one second favourite and three third favourites in the same period.
The longest-priced winner was Navajo Pass at 4-1 in 2021.
One disappointing aspect about this race is that it has attracted no more than seven runners in the last ten renewals.
An official rating of 150 or higher is usually required to win here. The highest rated winners during the same period was The New One (167) when recording his first victory in 2015.
Haydock Champion Hurdle Trial – Top Trainers and Jockeys
Nigel Twiston-Davies trained the winner of this race five times in a six-year period. The New One was responsible for the first four victories from 2015 to 2018. He then won it with Ballyandy who won a thriller in 2020 when rallying bravely to beat favourite Pentland Hills by a nose.
Sam Twiston-Davies was on board all five of his father's winners and leads the jockey standings in this race. Lorcan Wyer won it three times; Nohalmdun (1987) and Dato Star (1998 and 2000).
Betting on the Haydock Champion Hurdle Trial
The Haydock Champion Hurdle Trial has not shed much light on the Cheltenham Festival in recent years.
It has been attracting small fields and is often decided by jockey's tactics.
It has been dominated by the fancied runners but the form should be treated with caution for the rest of the season.
Facts about the Champion Hurdle Trial
The Champion Hurdle Trial is a Grade 2 National Hunt hurdle race in Great Britain which is open to horses aged four years or older.
The race is run at Haydock Park over a distance of 1 mile and 7 and a half furlongs, and during its running, there are nine hurdles to be jumped.
Summary of the Champion Hurdle Trail
Thank you for reading our Champion Hurdle Trial guide.
The race has over the years has attracted some top-class hurdlers who have gone on to have success in the big race at Cheltenham, although over recent years this has not been the case.
We have looked at history, trends, tips and betting so you all have the info you need about this great race.
There are more races in January that you might enjoy, so make sure you check them out.
Check out our Haydock tips page if you enjoy watching races at Haydock Racecourse.
Other Popular Horse Races in January
Here are all of January's horse racing-related posts: