Welcome to our jockey profile on the fantastic William Buick.
William Buick, a Norwegian-British flat jockey, was born on July 22, 1988.
In 2010, Buick won his first Group 1 race in Canada. Since then, he has won Group 1 races in the United States, England, France, Germany, Hong Kong, Ireland, Italy, and the United Arab Emirates.
He has won in four British Classic Races: the Derby in 2018 and St. Leger in 2010, 2011, and 2021.
For more information about William Buick such as his upcoming races check out our guide:
William Buick Booked Rides
Here are all the William Buick horses running today and future entries:
An unexpected error occurred.
If no entries are shown above then William Buick has no confirmed future rides.
William Buick Recent Form
Here are all of William Buick's recent finishing positions.
An unexpected error occurred.
The list above shows all of William Buick's recent racing stats, runners, and form guide to see if the horse jockey is in good form.
Key Stats of W.Buick
Name – William Buick
Date of Birth – 22 July 1988
Birthplace – Norway
Riding Weight – 8 stone 4 lb (53kg)
Big Wins: Epsom Derby, St Leger, King George VI, Irish Oaks and Queen Elizabeth Stakes (to name a few!)
Nationality – Norwegian-British
Age – 35 years old
Height – 5'11
Jockey Profile of William Buick
William Buick was born in 1988 and shared the champion apprentice title with David Probert in 2008.
He was stable jockey to John Gosden from 2010 to 2014, recording back-to-back victories in St Leger in 2010-2011.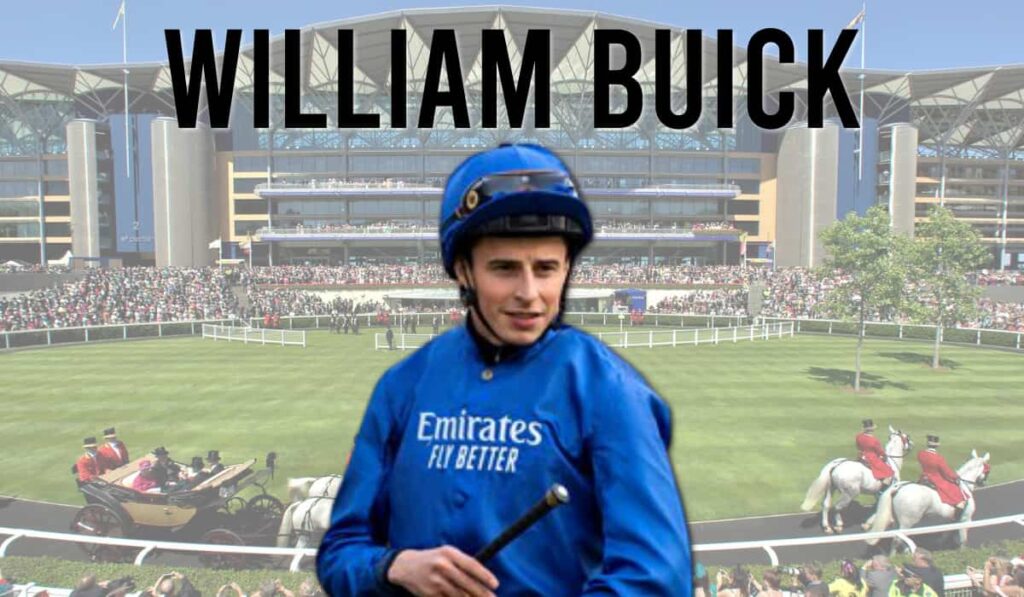 He joined Godolphin the following season and was made top jockey for Sheikh Mohammed's operation in 2016.
In 2018 he rode Masar to victory in the Epsom Derby, the first horse to win the race in the famous all-blue of Godolphin.
Buick finished runner-up in the 2020 jockeys' championship behind Oisin Murphy.
William Buick – Key Jockey Stats
Buick recently took his career victories past the 1500 tally and has won around 200 Listed and Group races in Britain.
His brave pursuit of the jockeys' title in 2020 resulted in his best year numerically with 139 winners, eclipsing the 130 winners he rode in 2012.
Buick consistently averages around 20% strike rate and is regularly among the winners at Newmarket and Kempton.
His recent figures at Windsor and Leicester are worth noting where he has achieved a 30% strike rate.
William Buick's Big Race Wins
Buick's first Group 1 victory came in the E.P.Taylor Stakes in Woodbine, Canada in 2009 aboard Lahaleeb for Mick Channon.
Further International success followed aboard Gosden's Dar Re Mi (Dubai Sheema Classic) and the Arlington Million (Debussy) in 2010.
Buick's first British Classic success soon followed with Arctic Cosmos in the 2010 St Leger, a victory he repeated the following year on Masked Marvel.
Buick also rode Nathaniel to victory in the King George VI and Queen Elizabeth Stakes in 2011.
The following year brought nine Group 1 victories across the world including the Irish Oaks on Great Heavens.
One of the best horses he rode for Gosden was the filly The Fugue, desperately unlucky in the Epsom Oaks before winning the Irish Champion Stakes.
In 2015 Buick rode Prince Bishop to win the Dubai World Cup and won the Irish Derby aboard Jack Hobbs. He had finished runner-up at Epsom on the colt behind stable companion Golden Horn.
The Group race winners have continued to flow ever since but none will have given him more pleasure than the Derby victory of Masar in 2018.
In 2021 Buick finished third in the Derby aboard Hurricane Lane behind less-fancied stable companion Adayar.
He gained handsome consolation when driving out Hurricane Lane to win the Irish Derby three weeks' later.
William Buick's – Most Famous Victories
Masar's Epsom Derby win in 2018 will always hold special significance for William Buick. Not only was it his first Derby success it was also the first horse to carry the Godolphin blue to victory in the world's most famous Classic race.
Masar had been a smart two-year-old, winning the Solario Stakes and running in top company in France and at the Breeders' Cup. He routed the opposition by 9 lengths in the Craven Stakes and started favourite for the 2000 Guineas. Masar finished a close third at Newmarket but the conventional wisdom was that he would not stay the Derby trip.
He started at odds of 16-1 and was settled in midfield by Buick before sweeping down the outside to beat Dee Ex Bee. His three-year-old season was curtailed by injury and he never recaptured his best form but Buick compared riding Masar on Derby day to "driving a Rolls Royce".
William Buick

Rides
To see Wiliam Buick booked rides check out today's racecards and tomorrow's racecards.
If you are looking to place a bet on this popular and brilliant jockey with an online betting site be sure to check our guide to the best UK betting sites.
Summary of Flat Jockey William Buick
William Buick is a hugely popular and successful jockey the world over.
A multiple Group 1 winner he has had success on the biggest racing stages whilst also thriving on home soil at racecourses in the UK.
One of our favourite jockeys here at British Racecourses.
Other Top Jockeys
Check out our profiles of other leading jockeys.