The Rendlesham Hurdle is a Grade 2 race over an extended three miles at Haydock Park in February.
The Rendlesham Hurdle takes place on the 17th of February 2024.
It is a significant trial for the Stayers Hurdle at the Cheltenham Festival in March.
The last horse to win both races in the same season was Baracouda in 2002.
Other notable winners include Kasbah Bliss (2008, 2009), Reve De Sivola (2016) and Zarkandar (2017).
Find out more about the Rendlesham Hurdle: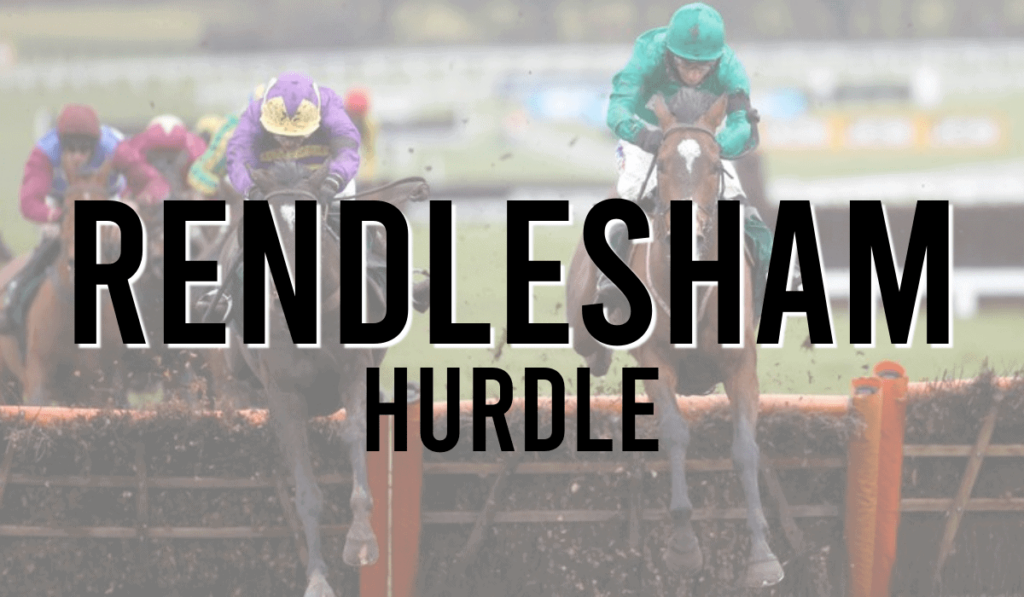 Race Overview – The Rendlesham Hurdle
Horses must be four years old or older to compete in the Rendlesham Hurdle, a Grade 2 National Hunt hurdle.
There are twelve hurdles to clear during the race, which is raced at Haydock Park over a distance of around three miles and a half furlongs (3 miles and 58 yards, or 4,881 metres).
This is a popular race to take place in February 2023.
If you are looking for more racing tips for events taking place at Haydock Park then check out our Haydock Park betting tips page.
For all Haydock races, our finest racing tipsters give free horse racing tips!
Rendlesham Hurdle Previous Result
Check out the latest result from this race:
Famous Rendlesham Hurdle Winners
The Rendlesham Hurdle was first run at Kempton Park in 1980. Derring Rose, a subsequent Stayers Hurdle winner, won the first two runnings. It was changed to a limited handicap between 1995 and 2001.
Baracouda won the race in 2002 for Francois and Thierry Doumen. He won the Stayers Hurdle later that season and again in 2003. His other career wins include the Long Walk Hurdle four times, the Long Distance Hurdle twice and the Ascot Hurdle twice. The same trainer won the Rendlesham again in 2008 and 2009 with Kasbah Bliss.
2016 winner Reve De Sivola never won the Stayers but he did win the Long Walk Hurdle for three successive seasons from 2012 to 2014. He was a popular stayer trained by Nick Williams.
Zarkandar (2017) was another high-class winner, trained by Paul Nicholls and ridden by Harry Cobden. He won the Triumph Hurdle as a juvenile and his other significant victories included the Betfair Hurdle, International Hurdle, Kingwell Hurdle and Aintree Hurdle.
Key Rendlesham Hurdle Trials
There are no obvious trials for the Rendlesham and the recent trend has been for it attract small fields of six or seven runners. These usually feature a leading contender for the Stayers as well as some progressive handicappers.
Only three of the last twelve winners had won on their most recent outing.
Four of the last twelve winners ran in the Stayers Hurdle at the Cheltenham Festival but all were well beaten. In fact, none of the last twelve managed to win another race in the same season.
Rendlesham Hurdle Betting Trends
Favourites have a poor record in the Rendlesham Hurdle.
Only Emitom (7-4) in 2020 has won in the past twelve seasons.
There have been five winning second or third favourites during the same period but there have also been a couple of shock results.
Closing Ceremony (2015) won at 12-1 and Wholestone (2022) returned at 16-1.
The latter won the race at the age of eleven, matching the achievement of Reve De Sivola in 2016.
Other eleven-year-olds to win the Rendlesham were Floyd (1991) and Deano's Beano (2003).
There have only been two winning five-year-olds in the history of the race; Derring Rose (1980) and Cyborgo (1995).
Rendlesham Hurdle – Top Trainers and Jockeys
David Nicholson won this race a record four times; Baydon Star (1993), Pharanear (1997 and 1999) and Buckhouse Boy (1998).
Martin Pipe and Francois Doumen both won it three times.
Richard Dunwoody won the race for three successive seasons with Baydon Star (1993), Balasani (1994) and Cyborgo (1995). Jockeys to win the race twice include Richard Johnson and Andrew Thornton.
Betting on the Rendlesham Hurdle
The Rendlesham Hurdle has proved tricky for punters despite only attracting a small field. Recent records suggest it would be wise to look beyond the favourite and treat the form with caution.
Facts about the Rendlesham Hurdle
The Rendlesham Hurdle is a National Hunt hurdle race in Great Britain that is open to horses aged four years or older.
The race is run at Haydock Racecourse over a distance of 3 miles and half a furlong (4,023 metres), and during its running, there are 12 hurdles to be jumped.
It is a Grade 2 race and it is scheduled to take place each year in February.
The race was first to run in 1980.
Summary of the Rendlesham Hurdle
Thank you for reading our Rendlesham Hurdle page.
A high-class staying jumps hurdle race, it has been won by many top-class horses over the years. In this guide we have looked at betting, recent winners, top trainers and more.
Here are all of February's horse racing related posts: