The Ascot Hurdle is a Grade 2 race over two and a half miles at Ascot in November.
The Ascot Hurdle is held on Saturday 25th November 2023.
The race has proved to be a significant trial for both the Champion Hurdle and Stayers' Hurdle at Cheltenham.
Famous past winners include Dawn Run (1983), Morley Street (1990, 1991), Baracouda (2001, 2002), Annie Power (2013) and Faugheen (2014).
Find out more about the Ascot Hurdle: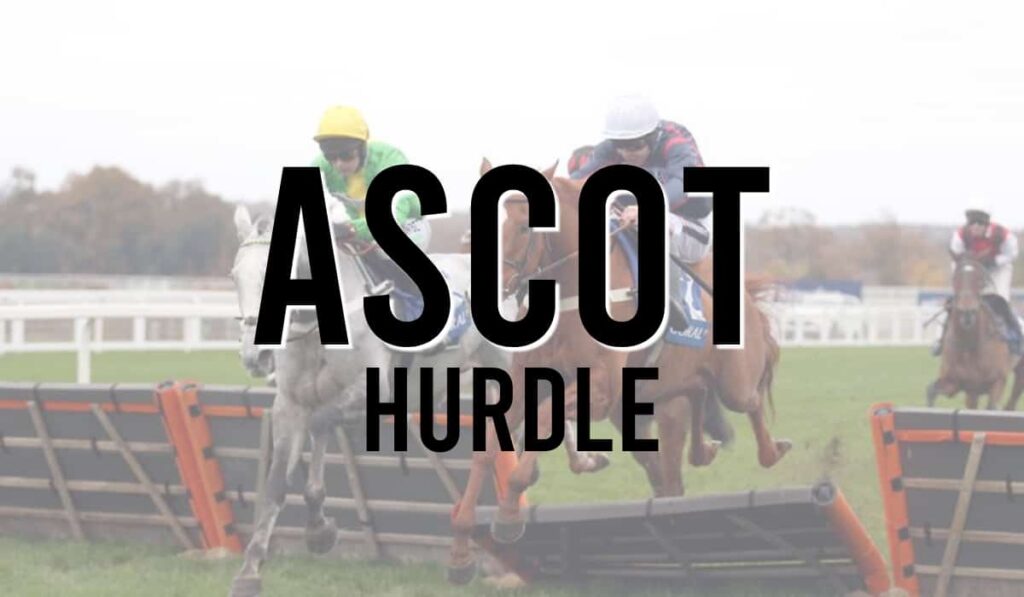 Race Overview
Horses must be four years old or older to compete in the Ascot Hurdle, a Grade 2 National Hunt hurdle competition held in Great Britain.
There are 10 hurdles to clear throughout the race, which is raced at Ascot over a distance of around 2 miles and 3 and a half furlongs (2 miles, 3 furlongs, and 58 yards, or 3,875 metres).
Every year in November, the race is expected to take place. It is presently run as the Coral Hurdle and sponsored by Coral bookies.
Ascot Hurdle Tips 2023
Here are some tips for Ascot Hurdle in November 2023:
2 points to win for GOSHEN
1 point each way for THEATRE GLORY
Horses from the Ascot Hurdle will also be seen in many more races during the year. Spectate the horses to see how they do or place your bets on ante-post betting.
Ascot Hurdle Previous Result
Check out the latest result from this race:
Famous Ascot Hurdle Winners
The Ascot Hurdle boasts a very impressive roll of honour featuring top class hurdlers and future chasing stars. Dawn Run (1983) famously went on to win the Champion Hurdle the following year and the Cheltenham Gold Cup in 1986. She remains the only horse in history to have won both championship races.
Dual winners of this race include Gaye Brief (1984 and 1985), Morley Street (1990 and 1991), Baracouda (2001 and 2002) and Hardy Eustace (2006 and 2007). Gaye Brief, Morley Street and Hardy Eustace were all winners of the Champion Hurdle while French-trained Baracouda won the Stayers' Hurdle in 2002 and 2003.
Ascot Hurdle winners to go on to make their mark over fences include Monet's Garden (2004) and Silviniaco Conti (2010). Monet's Garden was a very popular grey who won the Old Roan Chase three times (2007, 2009 and 2010) with the race now named in his honour. Silviniaco Conti won the King George VI Chase for Paul Nicholls in 2013 and 2014. The high quality of winners was maintained with Annie Power (2013), Faugheen (2014) and Rock On Ruby (2015), all Champion Hurdle winners.
Key Ascot Hurdle Trials
Class is often the key to the Ascot Hurdle. Most previous winners had at least four victories over hurdles including one or more at Grade 1 to 3 race. It is not unusual for a horse to win here on their seasonal reappearance and an official rating of 153 or higher is usually required.
Immediate targets for the winner include the International Hurdle at Cheltenham and the Christmas Hurdle at Kempton Park. Silviniaco Conti (2010) and Song For Someone (2020) both won the International Hurdle. Faugheen (2014) and Yanworth (2015) won the Christmas Hurdle on their next start.
Ascot Hurdle Betting Trends
Zaynar (2009) and Silviniaco Conti (2010) were only four but nothing has won the Ascot Hurdle from that age group since. Hardy Eustace (2007) and Rock On Ruby (2015) both won here at the age of ten and there is no significant age bias.
Shock results are extremely rare in this race, the last twelve winners all having been in the first three in the betting. The longest priced winner during that period was Silviniaco Conti at 100-30. Course form can be a positive factor with four of the last twelve winners having won at Ascot at least once previously.
Ascot Hurdle – Top Trainers and Jockeys
Nicky Henderson has trained the winner four times since 2008: Chomba Womba (2008), Zaynar (2009), Oscar Whisky (2012) and Buzz (2021). Harry Fry (2015, 2018 and 2019) and Willie Mullins (2013 and 2014) and are other trainers to note.
Jockey Barry Geraghty had a great record in this race with four victories between 2008 and 2016. Nico de Boinville won it in consecutive seasons in 2020 and 2021 with Song For Someone and Buzz.
Popular Questions
What are important facts about Ascot Hurdle?
Here are some important facts about Ascot Hurdle:
The Ascot Hurdle is run at Ascot Racecourse, Great Britain
The Ascot Hurdle is for horses aged 4 and over
The Ascot Hurdle is a National Hunt Hurdle race in Great Britain
The Ascot Hurdle distance is 2 miles and 3 and a half furlongs
Summary of the Ascot Hurdle
Thank you for reading our Ascot Hurdle guide.