Punters are shocked when they find out bookies can ban online betting accounts or even bet in UK betting shops for some people – this often happens for customers who are winning too much.
Bookmakers are ultimately businesses and they are not legally obliged to take bets.
We regularly receive various stories and grievances about being banned by certain corporate bookies.
Have you been gubbed by bet365, gubbed by William Hill, or gubbed by Paddy Power and wondering why your accounts are closed or heavily restricted with bets? Many online sports bettors are sourcing betting companies with no limits to allow high-stakes bets.
Find out more today about being banned from a bookmaker, including the reasons this can happen, how to avoid it and also how to ban yourself if you feel your betting is out of control.
Find out more about betting bans: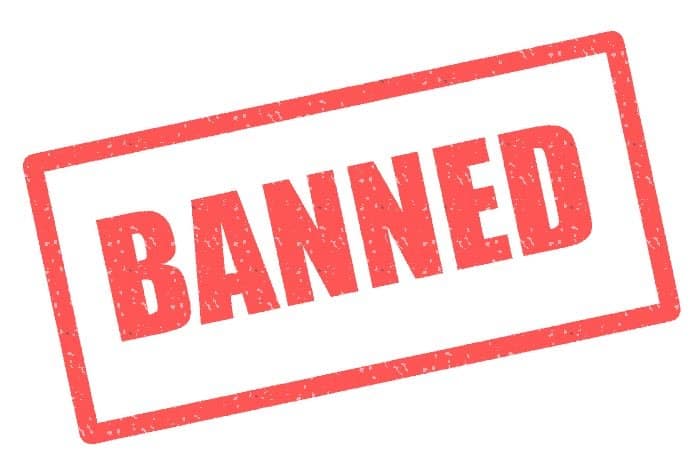 What is Being Banned by A Bookmaker?
It is as it sounds, a bookmaker will stop accepting bets from an individual and impose a betting ban on them.
A bookmaker can give you a ban for a certain period of time or a lifetime ban if they see fit.
This decision is entirely up to the discretion of a bookmaker; as a business it is up to them who they choose to do business with.
Although betting is a hobby and pastime to most, it is obviously business for a bookmaker and the choice of who they "do business with" is theirs.
A person may find themselves banned from their local bookies or their online horse racing betting account for a number of reasons which we explore below. We think they are all very valid – although it seems unfair to be banned when winning too much, especially if this is all fair and above board.
Who Are The Best Bookmakers For Large Bets?
The best two bookmakers for wagering large sums of money are Betfair Exchange and Tote Betting.
If you have a betting account restricted, then signing up for Totesport and Betfair is a great solution.
Why Does Tote Not Ban Punters or Close Accounts?
There are no limits to the amount of money that can be staked or won on a Tote bet. Unlike most bookmakers who can ban or restrict your account, Tote allow you to enjoy unlimited fun. Place bets all you want without the dread of having your account restricted.
Tote is known to be a lot more generous with its bet size limits and tends not to close or restrict sports bettors.
Shrewd punters used to not wager bets with Tote because "the size of the betting pool provides a natural limit to the available winnings". But now, with SP guarantee you get the best of both and if the Tote dividend is lower than the starting price you get paid on the highest odds.
Here are some of the reasons you should look into signing up with Tote:
Why Does Betfair Exchange Not Ban Punters or Close Accounts?
Betfair has no reason to ban or close your betting account when because you are betting against other exchange users.
Betfair's exchange is similar to eBay but for betting.
Peer-to-peer betting is placing bets against other exchange users so the bookmaker has no exposure to fixed odds sportsbook markets.
Reasons For Being Banned From A Betting Shop
The most common reasons for being banned from a betting shop are:
Aggressive or rude behaviour towards staff
Winning too much – especially if it is considered that you have inside information or an unfair advantage
If they think you are a professional gambler
Irregular or suspicious betting patterns
If the bookie feels you have a problem and are trying to curb this and help you
Abusing bonuses with multiple accounts, read more on the right way to do this
Reasons For Being Banned for Online Betting
The most common reasons for being banned from betting online:
Winning too much
Irregular or suspicious betting patterns
If the bookmaker thinks you are a professional gambler
Gubbing – read more in our what is gubbing? article
If the bookie feels you have a problem and are trying to curb this and help you
How To Avoid Being Banned By Bookmakers?
Some of the reasons are fair enough, if you are rude to staff in a betting shop we think you deserve a ban and if you have a perceived problem we think you should be getting help, but if you are a legitimate punter and are banned for winning too much that can seem unfair.
The best techniques to stop getting banned by the bookies for this reason are:
Spread your bets across multiple bookies (keeping bet amounts below a £500 stake ideally) – essentially have multiple online betting accounts or visit different local betting shops. Basically, diversify bookies, so sign up with Betfair, William Hill, Ladbrokes, bet365, Unibet etc.
Stake bets in round numbers – you are less likely to look like a pro-punter then.
Place your fixed odds bets early
Place some Acca bets with multiple selections
Avoid gubbing
Can I Ban Myself From The Bookies?
If gambling is a problem for you and you're gambling beyond your means, or it is just causing your anxiety and stress, you should stop.
All of the leading UK bookmakers are fantastic with helping problem gamblers – then will close your account quickly, freeze an account, impose time outs, impose gambling limits and more, all to allow you to bring this problem under control.
Here are British Racecourses we are strong advocates of responsible gambling, follow the links on our pages to get professional help if you think that you need this.
Popular Questions
Can betting sites ban you for winning too much?
Betting sites can ban you for winning too much because they are a profit-making business.
If the bookie feels you are winning too much, placing suspicious betting patterns or are a professional gambler they can decide to ban or limit the activity.
Most UK sportsbooks do ban or severely limit sharp bettors for winning on football betting or horse racing bets.
How to avoid being banned by bookmakers?
The best ways to stop being banned from bookmakers are:
Don't abuse free bet bonus offers (bonus hunters)
Leave some funds in your betting account
Place plenty of bets
Use the Betting App (professional gamblers mainly work from desktops)
Place Accumulator Bets (Football Accumulators or Horse Racing Accas)
Play Casinos and Slot Games (showing you play bingo, slots and casino helps the account)
Why do bookies restrict accounts?
Bookies restrict betting accounts if they are winning too much money from their bets placed.
Online bookmakers want to accrue lots of punters who regularly lose whilst restricting those that win.
The business plan for betting companies is to take your bets if they think you are going to lose in the long run.
Summary of Being Banned From a Bookmakers
Customers get banned from bookmakers for a whole range of reasons as mentioned above.
As covered, this can be due to a variety of reasons from being rude to staff to winning too much on winning bets. We think being banned for winning is tough – especially if you are having a lucky streak or doing well with your betting.
On the other hand please remember to always gamble responsibly and when the fun stops – stop!
Banned Betting Account Alternatives
Here are all the alternative betting accounts from bookmakers and betting exchanges you have been banned from.
All of the above sports betting sites come highly recommended by both fun and professional punters. There are many bookmakers to choose from at the moment, but you can rest assured that the ones above are all safe and regulated by the Gambling Commission for peace of mind.
A bookie can decide to ban or limit the activity of a player who has won more money to put it simply. This isn't surprising as bookies are part of companies working to make a profit, so it isn't really all that weird when a bookie decides to ban a player who has won a lot of money. Punters should also always avoid arbitrage betting.