Sports betting and horse racing betting brands often have a mobile app or at least a mobile-friendly website connected to them. This makes it extremely simple to place a bet while on the go.
But what are the best sportsbook betting apps and what should you be looking for? Our sportsbooks guide will help you find the best app for wagering bets on the go.
We have analysed and researched the best betting apps for iPad iOS users and the best iPhone smartphone betting apps in November 2023.
These betting apps were made in a clever way so that racing and sports fans can use them quickly and easily. You will be able to use your mobile device to find live odds, in-play betting, live stream races & sports, place a bet, get a welcome offer, great betting odds and an easy-to-use betting slip.
Betting using the best mobile betting apps and best sports betting apps is safe, secure, fast and enjoyable and is a fast-growing and popular way to bet.
Read on for more information on the UK's best betting apps: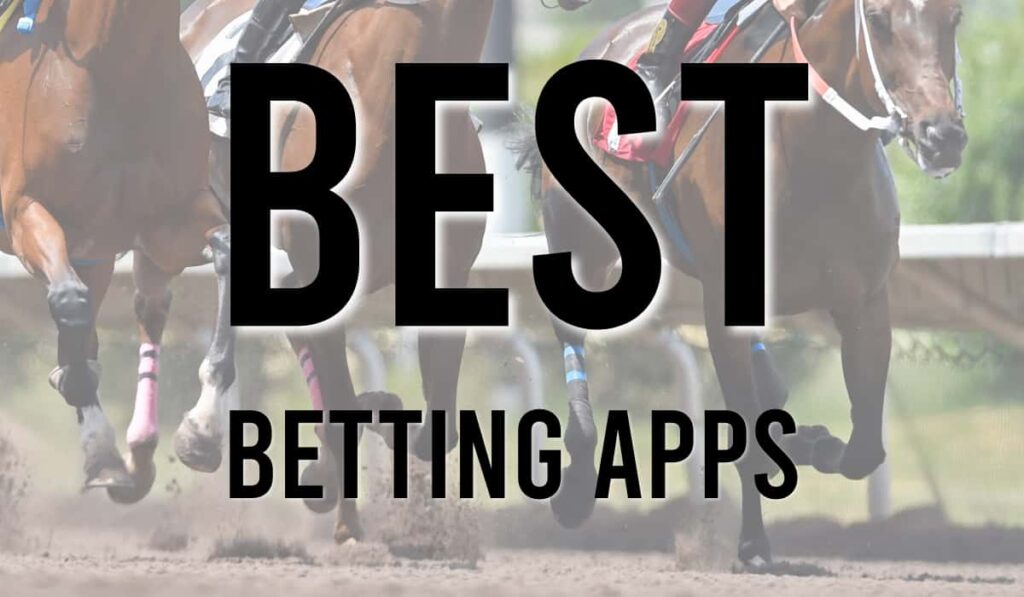 The Best Betting Apps in 2023
From our research and testing, below is a list of the best mobile betting apps in 2023:
Simply follow the links and check these best betting apps for yourself or check out what our teams thought were the best betting sites and why we put them to the test in our in-depth guide.
What Should I Look For in a Sports Betting App?
When you are looking for the best betting app much depends on your own personal preference, however, in our tests and research we identified what we consider to be the most important features of a good betting app.
Our review looks in more detail at these, which include are:
Ease of use – all the best gambling apps on the market are easy to use and navigate. You need to be able to place bets, deposit and withdraw quickly. To download a gambling app is also easy and quick from the Google play store.
A wide range of sports options – obviously we are a horse racing site but we love a wide range of sports including football, rugby, tennis, motor racing and more. All the betting sites we list have apps that cover a full range of sports betting and sports events.
Live streaming options – as well as being able to bet whilst on the move one of the main benefits is that you never need to miss a race, whether in the pub, on the bus or on a walk. All of the best apps offer horse racing live streaming at courses from Cartmel to Carlisle, Ascot to Aintree, Newbury to Newton Abbot – including all those listed in our guide.
Possible offers for new customers – as you would expect when signing up to the best online horse racing betting websites or via the best online betting app you will be entitled to all the benefits of all betting sites, which can include a free bet, sign up, welcome bonus (a first deposit normally required) and best odds. We recommend that you take advantage of such benefits.
A full range and different types of bets – mobile apps offer all the benefits of standard traditional betting websites and you won't be restricted in what they offer, which means you'll be able to enjoy in-play betting, great odds, watch the action live, easy deposit and withdrawals, spread betting, best odds guaranteed and more – all from the comfort of your mobile or device.
All of the above features will be part of a top sports betting app, there are different options to suit everyone, and there is a wide selection to choose from to bet on your favourite sports.
Why Bet Using a Betting App?
Many people prefer to bet using a UK betting app as it's simple, effective and speedy compared to online betting or going into UK betting shops (check out betting shops near me to find your local shop).
In today's world, you can bet digitally from either a mobile sportsbook app or from a bookmakers official website, this depends on your preference, but the bottom line is that many of the top betting sites are accessible via mobile phones as many people want to place bets quickly.
Most new betting sites now only exist online or in mobile format.
Also betting apps often work better, as they are optimised for mobiles. They subsequently can offer a better and more streamlined betting experience.
We think you should bet using a betting app (or bookmaker app) as it enables easy betting when out and about. They are a great option for people with busy lifestyles and are a big part of the gaming, casino and betting industry.
Mobile apps are simple and you can navigate your way around the application without hassle or fear of freezing and crashing. Many of the top racing best sites also come with both an official sports app and a mobile-friendly site (mobile site) that you can access from your browser.
All the sites we have listed above come with brilliant apps that can be downloaded on both iOS betting and Android. These top-of-the-range apps are being constantly updated for ease of use and so punters can gain quick access to their chosen reliable racing betting app anywhere in the world.
Using betting apps can help you to find out the horse betting results on your mobile browser or app.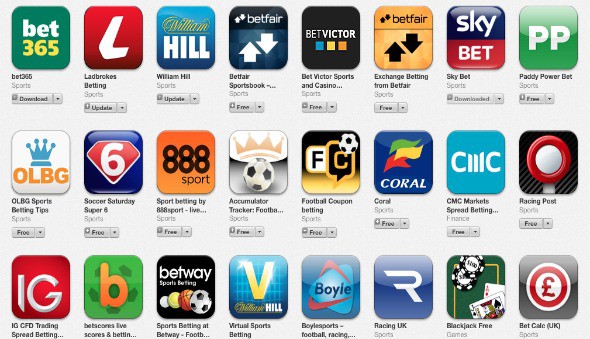 What Are The Features of the Best Mobile Betting App in the UK?
There's no need for any crazy features when it comes to a mobile betting app or the best sports betting apps. The main thing is to have a reliable, secure and easy-to-navigate app.
Additional beneficial features may include live betting, cashout, live odds and different types of bets.
Let's take a look at these features in more detail:
In-Play Betting – this is often available on the official betting website too, but it's great to have the option to use live betting via your app. It is quick and easy and means you never miss out on the action.
Cash Out options– again, this feature is available on lots of sites. But you may get quicker access to the cash-out feature. This is important as you may not have time to be sat in front of a PC all the way through a sporting event but checking on the move can allow you to make an informed decision. This applies to cashed out or partially cashed out betting.
Live Odds – a great thing about apps, is that you can easily access the odds as they change. In a fast-moving betting world that is very important.
A wide range of sporting markets – the best apps pretty much have a range of markets. We enjoy apps that have an app that matches their site and means you can bet on everything from football to tennis, rugby to racing and everything in between.
Notifications and updates – provide you with the chance to set notifications for offers and upcoming events, so you never miss out when you place a bet. You can also notifications and updates of any free bets or events that may be of interest.
Live Streaming and live betting options– if you bet in play, you could be privy to the live stream, and watch the action unfold with a high-quality video stream. Also, you, of course, want to see the racing action live. You need never miss the action now.
Welcome bonus for new players (new customers on mobile) – welcome bet and welcome bonus to new customers (a new customer offer or free ber offer) when opening a brand new account, as is normal with any new betting account on a mobile website or otherwise (qualifying bets and a free bet stake may apply).
Range of betting markets – including horse racing, football betting (pre-match and in-play) and more sporting events, there are betting markets for all.
Different appliance functionality – the best apps can work across Android and tablet betting, whichever is your personal preference.
Secure Payments – safe and secure payments and withdrawals with various cash-out options including debit card, Paypal betting, Neteller and more. Credit card payments are not allowed but most offer a full array of options.
Easy to navigate and use – very simple user-friendly interface, a good mobile betting experience is key with betting apps.
Bet builder – many also have bet builder options.
Customer service –just because you are on the move doesn't mean that customer service needs to be compromised. You will find live and phone support available via most top apps. In our guide highest ratings were offered to those with great customer service.
Range of payment options for app for betting – as mentioned above everything from bank cards to e-wallets including betting via phone bill, Boku betting and Trustly betting. A variety of banking options is important. Most major bookmakers will have a full range of bet payment methods.
Competitive odds and best odds – most online bookies all do best odds guaranteed – but this gives peace of mind. These persk are extended to betting apps in the UK as well as via PCs.
Safe to use and verified – in the same way, that websites are verified and safe, the top 10 betting apps are the same. It is important to ensure that they have been officially licensed by UK Gambling Commission and other huge licensing bodies.
Daily promotions – we also searched for mobile apps that offered daily promotions. Many of the top bookmakers are now providing betting app users with updates on their daily promo, whether a free bet or a price boost. This will keep your finger on the pulse. You can also get the occasional horse racing free bet.
You should look for all of these factors when betting in the UK, all the apps we look are suitable betting apps for android options as well if you are looking for a new betting app.
What We Looked For In The Best Betting Apps in the UK
We looked for all of the features above when selecting the best and top notch apps and making our shortlist.
We essentially enjoyed betting apps that offered lots of markets, extra features and a range of bet types. These offered the best experience for punters.
Plus, if we managed to find a live stream capability, that was great as that is a feature we really value. As well as standard streaming, some allowed you to tune in afterwards with video replays!
This is a great feat for UK horse racing betting sites, it offers customers to stay in touch whilst on the move and if they missed a race they can catch it later.
You can simply place your bet and join the action from the live stream.
What Sports Can You Bet on with a Sports Betting App in the UK?
You can bet on all sports with the best sports betting apps, these include:
Horse racing – UK, Irish and Worldwide
Football
Rugby league
Rugby Union
Tennis
Basketball
Athletics
Soccer
Cricket
Hockey
Greyhound racing
Virtual markets
And many more of the most popular sport options and live markets with UKbookmakers.
Is It Safe to Use Apps For Betting?
This a common question we get asked and yes, it's safe to use the best sports betting apps.
We would say to be sure that they are the official apps from the store – you can normally see this from the reviews. The safest way to do so is to use our links or visit the official bookie site and use their link.
If a company has a license and audits, it will be safe.
A betting app is encrypted and take lots of precautions against potential hacks. Nonetheless, it is integral to ensure that you also use a safe and secure payment options.
Utilise the best e-wallets, debit cards and other secure payment types, to protect you from any threats.
Another way you can ensure a safe app is to check independent reviews, like ours here or use the app reviews and to find the great sports betting app for you!
Download for iOS and Android
The best sites and betting apps provide highly functional betting apps that are available for both iOS and Android users. To download, simply visit either the App Store or Google Play. It is easy to download the app, search in the store and check the reviews.
You will never be expected to pay for these types of downloads, install them for free.
Does No Mobile App Available Mean I Can't Use the Bookmakers Online?
No, most bookies have physical shops as well as "normal betting websites" – apps basically are the newbies on the block.
Most online bookies now have apps as these are more functional and less likely to crash which is why they are growing in popularity.
Are Sports Betting Apps Free To Download?
Yes, the best bookmaker betting apps are free whether this is the best racing or best football betting app.
They have a variety of payment methods when you are looking to put money into these accounts, as well as being governed by the gambling commission, to give you peace of mind.
The ones that we have selected at the top of the page are all free to download via the correct and best channels. They cover racing, tennis and also act as excellent football betting apps.
What's the Best Betting App on Android in the UK?
There are lots of excellent android betting app options around – again explored above – if you are signing up for a new betting app make sure you get your welcome bonus (you'll need to make a first deposit and place a qualifying bet).
The ones that we particularly like are bet365 and the William Hill app.
Other Questions About Betting Apps And New Mobile Betting Sites
Here are the most popular questions we get asked about betting app offers, betting app deals, horse racing apps and their use in general:
Does Bet365 Have An App?
Yes, there is a bet365 mobile betting app – it's very popular, one of the biggest and one of the best, for ease of use and you can live stream all the action too. It's one of our top picks.
Check it out today by following the link at the top of this page to find out more about their sports betting app.
What is the best betting app UK?
Much of this obviously boils down to personal preference, we think the best sports betting apps and football betting apps mobile are easy to navigate, have a wide range of sports, good odds and generous welcome offers.
At the moment we particularly like Paddy Power, the Ladbrokes horse racing section, William and bet365; these all offer a generous offer and some a free bet when signing up. We think they are the bets betting apps in the world
All the sportsbooks' mobile apps we review can be used for football.
Which betting app has the best cash out?
Again most offer this but a personal favourite is the bet365 mobile app as they are easy to work around and their payouts are often generous.
The best app for horse racing betting will depend on your own personal preferences.
Other good ones are the Betfair mobile app,The Betfred mobile appand the Paddy Power app.
What is the best betting app offers for horse racing?
The best betting app offers is the bet365 extra place bonus for handicapping races.
The handicapping races have large numbers of horses taking part and the each-way betting app offers can play up to the first 10 places.
Imagine wagering an each-way bet and being paid for the 2nd, 3rd, 4th, 5th, 6th, 7th, 8th, 9th and 10th finishing position. We think bet365 are perfect example of a great betting app.
What are the best football betting apps?
A lot of racing fans also love football, all the best betting apps we have reviewed are also great football apps, so you can enjoy both sports from your mobile or tablet with ease.
You can enjoy live streaming, a range of betting markets, cash-out options and the odd free bet as well with the best football betting apps.
There isn't a bespoke football betting app as such it is the standard leading online bookmakers, particularly popular and good ones include William Hill and Paddy Power.
The best betting apps offer ease of use and good versatility.
Are sports betting apps better on IOS or Android?
A betting app for android or IOS/Apple is no different.
Check out the full list of the best UK iPhone betting apps in November 2023.
The top-rated iPhone betting app recently voted on was the bet365 iOS betting application for new bettors.
They will have the same functions, so it makes no difference to the user and punter experience. Essentially an android app is the same as an IOS one.
How many betting apps should I have?
To be honest you probably only need one as long as it covers the full range of sporting events that you are interested in, individual terms and conditions will apply to each different betting apps so these are always worth checking out. The most popular betting apps for our followers include bet365, Ladbrokes (one of the biggest bookmakers in the World) and William Hill.
What is the easiest betting app to use?
There are lots of betting apps available – especially when you search for "best betting apps UK" so deciding and trying to find the best or easiest to use can be tricky.
All the ones we mention are easy so you can rest assured with all those listed in this guide.
Are sports betting apps free to download?
Sports betting apps are free to download.
You download them from the app store in the same way you do any other app including bet builder options. You won't be charged for gambling apps as they are always looking for new customers and don't want to put up any barriers to purchase and want to make it easy for you to place a bet.
Many of the best racing apps are also the best football betting platforms as well.
Can I cash out with my sports betting app?
Yes, of course, you can – a sports betting app works exactly the same as a normal online betting website or online sports betting platform so you can use the cash-out feature in the same way as it will be available. So – you can cash out when you have a sportsbook bet at home, on the bus or on the move – perfect for in play markets.
They will also have other features on the standard website versions, such as bet builder options.
Can I use my betting app abroad?
More often than not yes, but it depends if betting is legally allowed in this country. The ability to use your betting app or best horse racing betting app abroad is nothing to do with the app per see but it is a legal decision and law of that country or domain.
Check out our how to bet online abroad guide.
How easy is it to use the best betting app and betting app features?
Is it very easy to use the best betting app – whichever you personally decide that is – as they are all made to similar high-class specifications with great interfaces and sleek designs.
What are the benefits of using the best betting app and ios betting apps?
The benefits of using the best betting apps for customers online are that you can:
Place bets easily on the move
Watch live streaming of sports – a variety of live streams
Variety of bet payment options and deposit methods
Quick and easy withdrawals
There are many benefits but these are what we consider to be the most important.
What is customer support like for the best betting app?
The customer support for the best betting app is the same that you would expect from any online betting platform. You can contact the online via chat support or via phone.
Facts about Sports Betting Apps and Mobile Phone Betting
There are many different types of betting apps available, each with its own unique features and offerings.
Most betting apps allow you to place bets on a variety of different sports, including racing, football, basketball, baseball, hockey, and more.
Some betting apps also offer casino-style games, such as slots, blackjack, and roulette.
Most betting apps require you to create an account and deposit money into that account before you can start placing bets.
Most betting apps offer a variety of different payment methods, including credit and debit cards, PayPal, and more.
Betting apps typically have very user-friendly interfaces, making it easy to place bets and track your progress.
Most betting apps offer customer support in case you have any questions or problems.
Betting apps are typically available for both iOS and Android devices across mobile or tablet device options.
The average person spends 3 hours and 43 minutes on their phone each day.
1 in 3 adults own a smartphone making mobile betting hugely popular across a range of sports betting markets.
There are over 2.2 billion active Android devices.
The average person checks their phone 46 times per day.
80% of people check their mobile phone within an hour of waking up.
67% of people say they couldn't go a day without their phone.
The average person spends 5.4 hours on their phone each day.
52% of people say their phone has made them more productive.
There are 3.5 billion unique mobile phone users.
1.2 billion people use their phone as their primary device.
Popular Questions
Is There One Sports Betting App That is Better Than All the Others
There is not one sports betting app that is better than all others. We have reviewed lots of different ones and selected what we consider to be the best – all these are listed on our site.
Check out the best ones today as well as any sign up offer bonuses for new customer offers.
Can I cash out with my sports betting app?
You can cash out with sports betting apps.
Most apps operate in the same way as a standard betting site – including cash out – they are just more user friendly and less likely to crash.
When betting on the move we definitely recommend an app.
What is the best mobile betting app?
The best mobile bettings apps are:
Read our guide for more information.
What is the best betting app for football?
The best betting app for football are:
Ladbrokes
Willliam Hill
Betfred
Betfair
Paddy Power
All of the ones featured in our guide are superb options if you are looking for football betting on the Premier League, domestic league or international matches.
The best football apps we would say are the ones we include here although you can find specific guides to the best football betting apps when searching the internet for more detailed analysis of that.
What Should I Look For in a Sports Betting App and in the Best Android Betting Apps UK?
The factors you should look for in a Sports Betting app are:
Secure – (UK gambling commission sanctioned)
Easy to use
Live stream options
Variety of payment options
In-play betting
Easy to deposit and withdraw cash
Visit our website for a full breakdown.
Does No Betting Mobile App Mean I Can't Use the Bookmakers Online?
If the site doesn't have a mobile betting app it doesn't mean you can't bet online.
There are lots of options for UK betting – including in shops, traditional online sites and also mobile apps.
Some bookies offer all three options others just one. To be clear though you can bet online without having to download a betting app is that is your preference.
What are the features of the best betting app?
The features of the best betting app choices are:
Ease of use
Live streaming
Cash out features
Wide variety of sports to bet on
What is the minimum amount that can be bet using the best betting app?
The minimum amount that you can bet using the best betting app varies from bookmaker to bookmaker so you need to check individual terms and conditions.
What is the maximum amount that can be bet using the best betting app?
The maximum payout using the best betting app will depend on the bookmaker, check out out maximum betting payout pages for the precise figures.
What are the payment methods accepted by the best betting app?
Payment methods accepted by the best betting apps are varied and includes:
Bank transfer
Skrill
Apple pay
Boku
Paypall
How secure are the best betting apps?
The best betting apps are all secure, the ones that we list all have high levels of protection and enjoyed by thousands of punters and bettors every day. Read our full guide for more information.
Summary of the UK's Best Betting App & Best Sports Betting App Options – Bookmaker Apps
Apps offer a range of benefits and are new to the betting world across a range of sports betting markets. They are very popular due to the fact that they are easy to use and can be used when "out and about" and "on the go".
They offer all the same benefits of a normal betting site including a range of betting options, sports, live streaming, great welcome offer options, extra places, deposits and withdrawals options, racing every day, special offers etc as well as offering new customer offers (welcome offer or free bet) should you be signing up.
However, these top betting apps are less likely to crash and are optimised for efficient use so if you are betting when on a tablet or mobile device we definitely recommend downloading one of the great betting app options mentioned above. We have tried to highlight the best offers but these change a lot.
We hope you have enjoyed our best sports betting app guide and found one suitable for your needs.
Other Horse Racing Betting Brands and Popular Sports Betting Apps
As well as the top betting sites listed above which represent the best sports betting apps, here is a full list of other horse racing betting brands available in the UK and Ireland that are definitely worth checking out. All of these best horse racing gambling websites on this page come highly recommended.
Most of the above betting sites and desktop site options include a free bet (to use on all betting markets and sports bets including acca selections) when signing up for an online account you get other perks such as live betting, live horse racing streaming, free bet options, enhanced odds, odds boosts, betting options, market coverage of different events and other benefits we cover above, check out the individual pages as full t&cs apply to each one. more opportunities come onto the market nearly every day.
Happy hunting from a new site or online betting apps and if you are lucky enough to win don't forget to use our free betting calculator which works out the vast majority of bets.
Associated keywords and searches with app betting and popular betting apps in our best UK betting apps, best sports betting apps and sports betting apps guide:
Free bet stakes, free bets and bet credits stake with 1st deposit (qualifying deposit) on ios and android on uk sports betting apps
Best football betting apps (full football betting markets) and sports betting apps plus tablet device options including android device options. A look at the best betting apps in the UK including ios and android options.
UK betting apps – good apps for sportsbetting (including cricket betting sites and football markets)
Betting odds and live streamed events plus horse races on uk sports betting apps
First racing pool bet and weekly promotions for sports betting markets,enhanced odds and casino bonus.
Time limits and responsible gambling with uk sports betting apps
Racing bets – betting tips and ipl betting, bet credits stake with betting apps uk.
Casino games including tracks, poker, baccarat, craps, bingo, keno, lottery
Winnings, funds, casinos and games, including esports (plenty of options) with new customer bonus/bets for new customers
Deposit requirements and payment method exclusions – withdrawal requests and bet builders