The York 2023 Ebor Festival's fourth day takes place on Saturday, August 26th at York Racecourse.
The 4th day of the York Ebor Festival is called Ebor Day which features the Ebor Handicap and the Lonsdale Cup.
Find out more the 4th day of the Ebor Festival: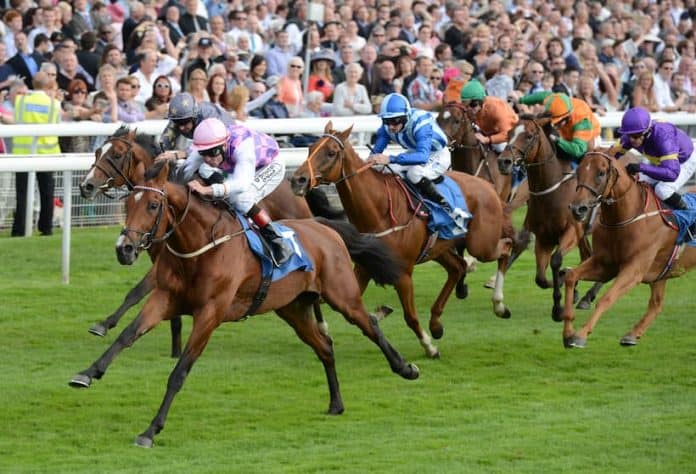 Day Four Racing of the Yorkshire Ebor Festival
Here are the full racecards of the 4th-day racing of the York Ebor Festival 2023:
13:50 York – Group 3 Strensall Stakes
The 2023 Strensall Stakes is a Group 3 betting event that takes place at 1.50 pm on the final day of the York Ebor Festival.
14:25 York – Melrose Stakes Heritage Handicap
The Melrose Stakes is a prestigious heritage handicap race that takes place on the last day of the York Ebor Festival, which is held in August of every year, the same day as the Ebor Handicap.
15:00 York – Group 2 Sky Bet City Of York Stakes
The 2023 City of York Stakes is a group three race over 7f at 3.00 pm on day four of the Ebor Festival.
15:35 York – Ebor Heritage Handicap
The 2023 Ebor Heritage Handicap is the richest handicap on the flat in Europe.
The Ebor is a handicap for four-year-olds and upwards over a mile and three-quarters and prize money reaching a staggering £ 1 million for the Ebor winner.
16:10 York – Roses Stakes
The Roses Stakes is a Listed event over five furlongs that is only open to two-year-old runners and gives fillies and mares a 5lb allowance.
16:45 York – Sky Bet Class 2 Handicap
This Sky Bet Heritage Handicap is a Class 2 handicap event that is open to runners three and older and is raced over a distance of one mile and four furlongs in August at the York racecourse during the York Ebor festival.
Don't be deterred by the runners at higher odds because the event often draws a large field and has produced some big-priced winners over the years.
17:20 York – Apprentice Stakes
York Ebor Festival Day 4 Betting Offers 2023
Here are the best betting offers for the 2nd day of the 2023 York Ebor Festival.
Summary of The Yorkshire Ebor Festival Day 4
We hope you have enjoyed our day 4 Ebor guide useful.
Good luck and we hope you have a great days racing!
2023 York Ebor Festival Posts
Here are all the related articles to the York Ebor Festival 2023:
If you do choose to bet, please bet responsibly.
Keywords Associated With York Ebor Festival Day Four Racing
2023 York Ebor Festival Day 4 Racing
York Ebor Festival 2023 Day Four Preview
2023 York Ebor Festival Day Four Races
2023 York Ebor Festival Forth Day Runners
2023 York Ebor Festival 4th Day Betting Odds