Welcome to our official guide to York Racecourse.
We explore this great British racecourse in detail, looking at its long history, the main races and meetings (including the Ebor Festival and Juddmonte International Festival), a guide to track, local hotel picks, full fixtures, travel information, and betting guides.
The York Racecourse was recently voted in December 2023 as the best horse racing track in Yorkshire.
In our York Races guide, we explain what is happening at York races tomorrow, the times of the last race at York, York races tips and what's on at York races.
If you are looking for the latest betting tips for York, check out our full guide to York Racecourse tips.
Find out more about York racecourse today: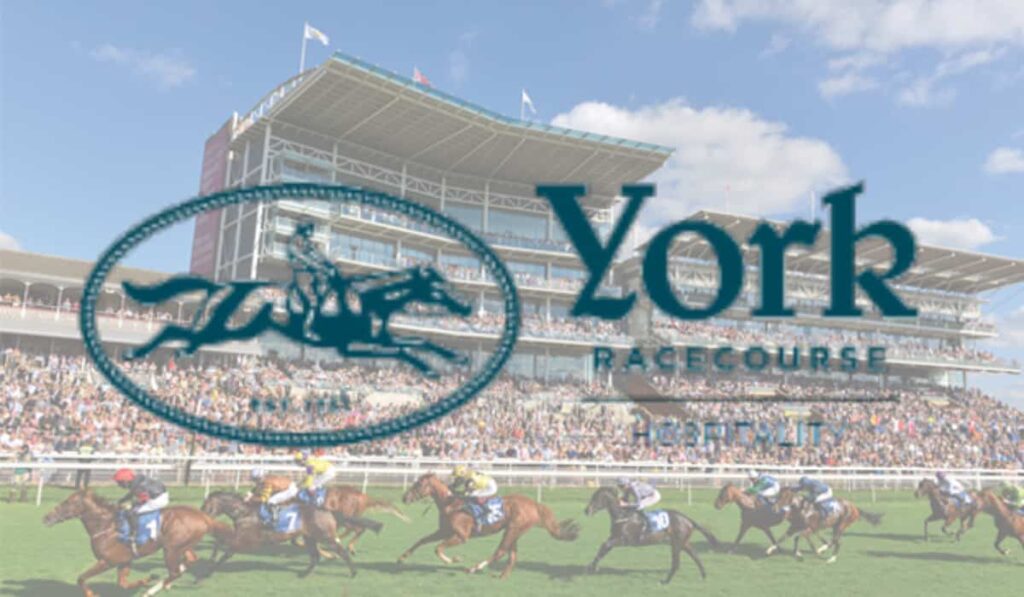 Overview of York Racecourse
South West of the city of York, the racecourse is the second biggest in the UK in terms of prize money offered per meeting (just behind Ascot racecourse) and third biggest in the UK in terms of total prize money offered throughout the year.
York is a picturesque and historical city in North Yorkshire and is often lauded as a tourist destination with friendly locals and plenty to do and see. One such attraction is the racecourse, situated next to The Chocolate Works, which used to house the Terry's of York chocolate factory.
The site is currently being redeveloped into mixed residential and commercial use, which is likely to draw even more people to this end of town.
Whilst by no means the biggest racecourse in Britain in terms of size, York is well-loved by those in the industry for its charm and intimate feel. It boasts good old-fashioned Yorkshire hospitality with a dose of racing and feels unlike any other course in the UK.
The racecourse has 180 stables, set out in four quadrangles, and houses a Bowling Club.
York Racecourse played host to a visit from the Olympic Torch, Pope John Paul II and the cast of ITV drama A Touch Of Frost!
The racecourse has won awards not just for its racing but also its wine lists and its stunning colourful floral arrangements, which are designed and tended to by a whole team of gardeners throughout the summer.
York makes for a great day out and a unique racing experience hosting some of the biggest races in the flat calendar, including The Nunthorpe, Yorkshire Oaks and Ebor.
York has won the title of 'Best Racecourse in the UK' three times: in 1997, 2003 and 2017.
York Racecourse History
York's history of racing is long and varied, with archaeological evidence suggesting there may even have been racing on the site as far back as Neolithic times!
It's not clear exactly when horse racing arrived in a formal fashion to the Knavesmire (the name of the site it sits on today), but the official party line is that it was in 1730 when it moved from a nearby sit due to flooding.
The first structured programme of races was definitely in 1751; making York just the second such racecourse in the UK.
By the 19th century, there were two regular main meetings at York, and the popularity of racing continued to grow thereafter.
In 1982, the Pope visited to give mass and attracted an estimated 190,000 people.
Two years later in 1984, the racecourse held its first-ever music concert, and in 2014, it served as the starting line for the Tour De France.
York Races – The Main Events
The undisputed main event at York is the Ebor Festival, held annually in August. It's a four-day meet, running Wednesday through to Saturday and consists of the Juddmonte International Day, Ladies' Day, Nunthorpe Day and Ebor Day. The latter includes the Ebor Handicap, run over 1 mile, 5 furlongs and 188 yards, and is the most valuable flat handicap in Europe.
The name 'Ebor' is a shortened form of 'Eboracum', the Roman name for York.
The Ebor meeting attracts around 90,000 people across the four-day period.
The main races include:
York Races Tips
The tips for the next York Races meeting are always popular amongst punters.
Check out our guide to the best horse racing tipsters online which will include a tipping service for York horse racing.
If you are planning to attend York Races tomorrow you recommend checking out tomorrow's racecards guide to find all the runners and riders.
York Racecourse Map
Below is a map of York Racecourse with all the various starting positions shown:

York racecourse is a left-handed and flat race track.
With this layout, York races map shows the race as being a fair track and most horses, if good enough, tend to fair well.
A long galloping straight makes it ideal for strong galloping horses who are able to find their stride. The long straight also means that most horses tend to get a clear run at some point.
In recent seasons, the field tends to come more down the centre of the track particularly when the going is soft.
It has a straight 5f and 6f track, whilst 7f races start on an off-chute. All other races are run on the round course.
York Racecourse Address
The official address of York Racecourse is:
York Racecourse
Knavesmire Road
York
YO23 1EX
Tel: 01904 620911
How to Get To York Racecourse
Below are the most popular ways to get to York racecourse:
By Car – York racecourse is just south-west of the city centre, but easily accessed by road rather than walking. There's free car parking every day of the year on-site. The postcode and info for your sat nav is Knavesmire Road, York, Yo23 1EX.
By Shuttle Bus – shuttle buses run from York Railway Station frequently on race days, with return tickets normally costing £3. Shuttle bus tickets can be bought with York races tickets online or from the driver. Several coaches and minibuses also serve York racecourse and park either on-site or across the road at The Chocolate Works.
By Air – as with many racecourses, there are facilities for helicopter landings and private jets, although this is considerably less popular at York than it is some other British courses.
Best York Races Betting Sites
When visiting York Racecourse and looking to place a bet there are lots of options to consider.
One of the most popular is to place a bet with the on-course bookies. However, for ease, many prefer to bet via online betting sites or mobile betting apps. This is obviously a quick and easy way to bet and they often bonus and welcome offers to take advantage of if you are a new customer.
From our research, here are some of the best horse racing betting sites around.
Hotels Near York Racecourse
The city of York is a tourist destination in its own right, so there's plenty of hotels to be found in the city centre including:
York Races 2024
Here is the horse racing calendar for York Races in 2024:
| Date | Racecourse | Weekday |
| --- | --- | --- |
| 15/5/2024 | York | Wednesday |
| 16/5/2024 | York | Thursday |
| 17/5/2024 | York | Friday |
| 25/5/2024 | York | Saturday |
| 14/6/2024 | York | Friday |
| 15/6/2024 | York | Saturday |
| 12/7/2024 | York | Friday |
| 13/7/2024 | York | Saturday |
| 26/7/2024 | York | Friday |
| 27/7/2024 | York | Saturday |
| 21/8/2024 | York | Wednesday |
| 22/8/2024 | York | Thursday |
| 23/8/2024 | York | Friday |
| 24/8/2024 | York | Saturday |
| 8/9/2024 | York | Sunday |
| 11/10/2024 | York | Friday |
| 12/10/2024 | York | Saturday |
Check out our guide for the full list of UK horse racing fixtures in 2024.
York Racecard
The racecards for York races will be released the day before the York races 2023 dates races are set to happen. You can view full racecards in advance, check out – tomorrow's horse racing meetings and today's horse racing meetings. In these, you will get an advance look at all the runners, trainers, form and riders.
You can also of course purchase a racecard from the track which carries much of the same useful information. Many like to keep these as souvenirs, especially from big horse racing events.
York Racecourse Events
The conferencing and hospitality facilities allow for lots of public and private events to take place year-round.
Music concerts take place throughout the summer, and themed parties every Christmas and New Year.
The venue is available to be booked for private functions also, and is a popular wedding destination for the county; booked well in advance throughout 'wedding season'!
FAQs
✅Is York Races flat or jumps?
York has consolidated its position as one of the leading British racecourses on the Flat.
Between 1867 to 1885 it used to home jump racing.
But in the 21st century, it is now a flat only horse racing track.
✅Can you pay on the day at York Races?
Yes, you can buy tickets on the day.
But if you want discounts for party bookings you need to book in advance.
Bear in mind summer months will be extremely busy so arrive early if buying tickets on the day.
✅Awards Won for York Racecourse?
York won the Racecourse of the Year title in 2019 from British Racecourses.
It also won awards in 1997, 2003 and 2017 from The Racegoers Club for being the best UK horse racing track.
The Times newspaper survey had York on top of all the racecourses in the UK.
✅Is there a dress code for York races?
There isn't a strict dress code as such but most tend to be smart, with most gentlemen choosing smart trousers and formal shoes. Gentlemen are required to wear a jacket, collared shirt and tie in the County Stand, although a cravat may be worn instead of a tie.
There is no formal dress code for ladies, however, the course says "think wedding guest attire", so smart, fashionable and stylish.
Often on ladies day, women think about this.
✅What are the main races at York?
There are many great races throughout the year, the main ones are:
The Musidora
The Dante
The Nunthorpe Stakes
The Yorkshire Oaks
The International
The Ebor
✅What is the address of York Racecourse?
The address of York racecourse is:
York Racecourse
Knavesmire Road
York
YO23 1EX
TEL:01904 620911
Summary of York Racecourse
A stunning racecourse with brilliant races and a huge amount of Yorkshire charm. A day at York races is something to remember forever and the Ebor Festival is one of the highlights of the British sporting calendar.
York is a hugely recommended and stunning racecourse, which is easily accessible and always has a great atmosphere.
Whether you are a seasoned racing fan or just looking for a wonderful day out, York is definitely worth a visit.
A British Racecourse Guide top pick and one of our Top 10 Racecourses in the country.
Other Racecourses in the UK and Ireland
Our team as of December 2023 our teams at British Racecourses have reviewed the other following racecourses in the UK and Ireland;
Don't forget to check out our horse racing blog where we cover lots of topics from what to wear at the races to analysing all the different horse racing bet types and more.