BetBull is a sports betting app with a difference. This app is built around accumulators, with betting advice provided by a range of gambling enthusiasts and former professional sports personalities, turned into aspiring tipsters.
Each of these amazing horse racing tipsters competes to climb a leaderboard, offering suggestions and tips for BetBull customers.
This makes BetBull a fine choice for anybody new to sports betting (looking for tips and advice) or a seasoned punter looking for something different. It is one of the most exciting new sports betting sites around – where you can follow your own instincts or follow the suggestions of the experts on the leaderboard.
Find out more about BetBull betting today: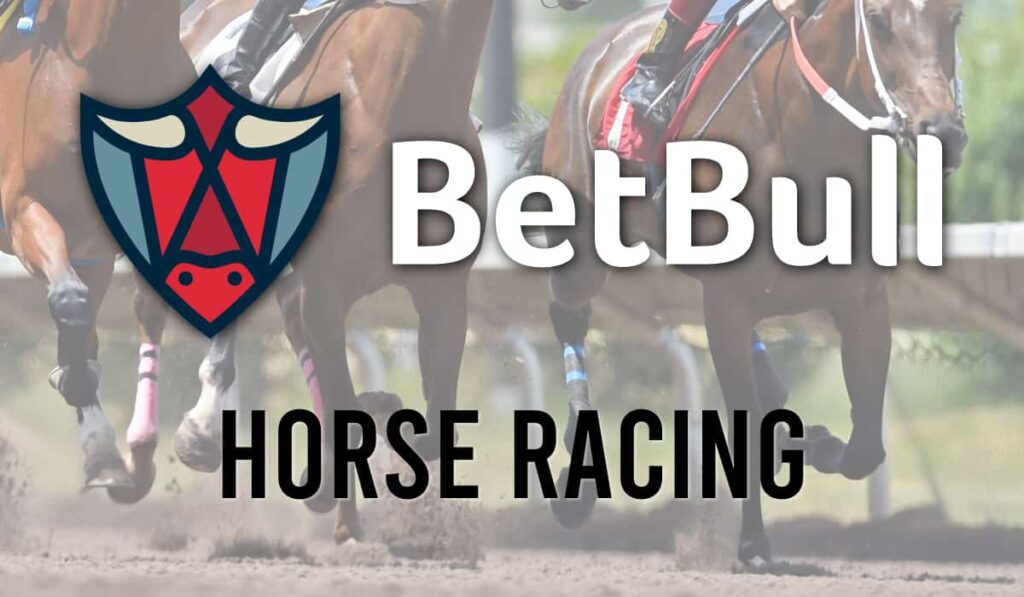 BetBull Welcome Offer & Sign-Up Free Bet
Most online gambling sites love to offer a good welcome bonus to new customers and BetBull is no exception.
Currently, BetBull will match your first deposit in free bets, up to a limit of £50 which is a great incentive.
There is a minimum deposit of £10 to claim this bonus. However, should you deposit £10 into your new account, you'll have £40 to place bets credited.
As discussed, this welcome bonus is eligible for a deposit of up to £50.
BetBull Free Bets UP TO £50 IN FREE BETS
Min Deposit £10 and bet on sports. #AD Full T&Cs apply.
Full T&C's Apply
To get the BetBull welcome offer follow these simple steps:
Follow the link to BetBull above on this page.
Sign-up for a new account and deposit a minimum of £10 into your account.
This is arguably one of the most generous types of bonus for new customers out there. Like any free bet, full Ts and Cs apply but you can use your balance on any sports betting tips provided by the BetBull experts, which includes racing.
New customers will struggle to find another betting site as generous as BetBull UK.
Wagering Requirements
As discussed, for new customers to receive the welcome bonus of free bets (and to double their money), you must deposit 10 pounds of more into your BetBull account. Once you may have moved past this initial sign-up, the minimum deposit for BetBull is just £5. You can set your own limits on a maximum deposit moving forward.
After this, the betting experience on BetBull is fairly standard. You'll place your bets and based and if your bet comes in, your winnings will be credited to your BetBull account. From there you can leave your funds in your account or withdraw them to your bank once you have achieved the minimum total. As always with online gambling, your stake will also be returned if your bet comes in.
Loyalty Promotions & BetBull Player Rewards
We have discussed the BetBull offers open to new customers – in the form of a sign-up bonus – but here at British Racecourses, we love to see existing customer looked after as well.
Longer-term players tend not to experience loads of rewards or promotions with BetBull when compared to more standard bookies such as bet365, William Hill and Ladbrokes, but the occasional free bet is credited.
BetBull does however operate a Loyalty Club programme, which offers boost points to long-standing customers. BetBull is still in its infancy and as time goes by we think, more and more rewards will become available.
As BetBull is a betting app, you can arrange for push notifications to be sent straight to your mobile phone too. This means you'll quickly get any new offers that may be available – including that elusive free bet bonus!
Of course, these Betbul notifications also mean that you'll have quick access to the latest betting odds on a variety of sports markets, as well as any hot tips. Time can sometimes be of the essence when it comes to betting on sports so BetBull ensures that you can act quickly and reap the rewards.
BetBull App & Brand Overview
BetBull describes itself as a, "social betting" experience, where you will, "never bet alone." This is because this betting app offers a wide range of tips for the player, with experienced gamblers sharing their wisdom and betting tips on where you should place your wagers. This, in theory, gives you a greater chance to win than on traditional betting sites as you have more opinions shared.
Again, let us stress, there is no such thing as a "sure thing" when it comes to sports betting. That's the magic of sport – nobody can ever truly predict what will happen on the field or track! However, whether you are looking to choose a selection of football matches, horse or greyhound bets for an accumulator (either picking a team to win the game or a player to score first) or simply bet on which horse or dog will place first in a race, BetBull offers a unique betting experience.
There is a lot to admire about this mobile app and it's a unique approach to sports betting, and you're likely to have a fun time following the advice provided by the tipsters that populate the app. There are a large number of experts to choose from – before long, you'll know whose advice is worth taking and who should perhaps be ignored.
Events to Bet On – BetBull Sports Markets
The BetBull app sportsbook offers many different options to place a bet on.
The sports available for betting on with the BetBull app are:
Football
Bet Bull Horse racing
Rugby Union
Basketball
Darts
American Football
Boxing
Ice Hockey
Cricket
Tennis
Volleyball
Golf
Aussie Rules Football
F1
MMA
Snooker
Table Tennis
eSports
As you can see the BetBull sportsbook is one of the best and most varied around.
Football betting is arguably the most popular of the BetBull betting options. Players can bet on many outcomes in football games, such as the final score, the first player to score, and number of other options for novelty bets such as red cards, etc.
It's not only football fans that the Betbull mobile app caters for, though. If you're on this site, you are presumably primarily interested in racing and you will be very well looked after. You can place all types of bets from singles to accumulator bets, with winning bets paid promptly.
BetBull Horse Racing Section
It's simple to negotiate the racing section of the BetBull app. Click through the sports betting options until you find horse racing (it's right at the top of the page) and take a look at your options.
The horse racing markets are divided by country first, with a list of races scheduled to take place in that nation on the day you check the app. If there is more than one racing event, don't worry – they'll all be covered. Naturally, full results of races around the world are also available. They run some great specials, including some great Betbull Cheltenham Festival offers.
Other festivals that BetBull covers include the popular Grand National Festival!
Pick the horse that you'd like to get on and follow the prompts. It's pretty simple, really. Just be aware that you will not be able to watch the race unfold in the app. BetBull does not support live streaming of sports events.
You may also struggle to find too many reputable tipsters for racing. As discussed, football betting is the bread and butter of a number of BetBull experts. If you take the time to search the leaderboard you'll find somebody able to offer some suggestions, though.
Here are all articles related to the market-leading UK Betbull bookmaker:
Important Information about BetBull Sports Betting
| | |
| --- | --- |
| Owner | |
| Website | |
| Established | |
| Offer | |
| Minimum Deposit | |
| Accepted Currencies | |
| License | License |
| Payment Methods | |
| Software | |
| Support | |
Visit
BetBull Mobile Betting App
As we have stated BetBull is a mobile app rather than a conventional website. It is available in the iOS and Android app stores, so you should not have trouble finding it. The usual terms and conditions of an app store will apply before you can download the mobile app.
You'll need to ensure that adult content downloads are enabled and that BetBull is available in your country if you are based outside the UK. We think the Bet Bull app is one of the best around for betting, it is slick and easy to use you can place everything from single to accumulator bets with ease.
BetBull In-Play Betting
As BetBull prides itself on creating a social betting experience, you can enjoy in-play and live betting options with this app.
If you're betting on a football or rugby union match, for example, you are not limited to placing a wager pre-match. You can react to events on the field as they happen and the odds fluctuate accordingly.
Live Streaming with BetBull
As mentioned, live streaming is not available with BetBull at the time of writing. If you want this, you'll need to look into the app or website of one of the major high street names, like Coral.
Don't let that deter you from downloading the app and opening an account with BetBull, though. It remains well worth investigating. You will need your Betbull login and be logged in to enjoy this feature.
Payment Methods & Depositing
BetBull accepts the following bet payment methods at the time of writing:
BetBull accepts credit cards, but it is illegal to use a credit card to gamble following guidance from the UK Gambling Commission.
You'll likely find that any attempts to bet this way will be rejected and your account may be blocked. This option remains open as BetBull is registered in Malta and is used by players in other countries outside the UK with different laws surrounding betting.
Ts and Cs apply to different payment methods, so read up on these before you make a deposit into your BetBull account. Ensure that you gamble responsibly, too. Betting is not a game, and while BetBull's tipsters make it fun and enhance your chances of winning, only deposit funds that you can afford to lose.
Can you deposit on BetBull with PayPal?
BetBull does not accept Paypal although it does accept payment methods such as Visa and Mastercard.
BetBull Withdrawal Options
Although PayPal is an accepted payment method to make a deposit on the BetBull app, players cannot withdraw funds to a PayPal account. The other methods listed can all be used to withdraw your winnings.
A withdrawal to Skrill or Neteller is by far the fastest way for players to get access to their money. This withdrawal is usually completed within a few hours. It sometimes takes up to a week for the funds to reach a bank account if you use your debit card to bet.
If you have any issues with making a withdrawal on BetBull, be sure to reach out to the customer service team. The app has a live chat option as well as a support email address.
How long do BetBull withdrawals take?
BetBull withdrawals take anywhere between three to five business days.
Who Owns BetBull?
BetBull is owned and operated by Vivaro Limited, which is based in Liverpool. Betbull Games Limited is a legitimate business that is governed by local licensing bodies. This ensures that customers in all markets can bet with confidence and security.
Licensing
Officially, BetBull is licensed in Malta. In this country, the company registration number is C45929.
BetBull is fully licensed in Great Britain by the UK Gambling Commission under the numberGV44662. This means that the betting app is regulated and restricted by the terms and conditions of this governing body. This also means that players can gamble with BetBull with confidence. They are rightly strict on underage gambling.
Software Used
BetBull software ensures that all customer data is completely encrypted for your protection. The software boasts SSL v.3 128-bit software. If you have further concerns, contact BetBull customer service. They tend to reply very quickly.
Betbull Customer Support
There are a number of ways that you can reach customer support at BetBull. If you have trouble accessing your bets or another promised bonus, for example, the app has an email support address.
There is also a live chat facility on the BetBull website. Just remember that you'll need to download the app to place a bet with this bookmaker.
BetBull Free Bets UP TO £50 IN FREE BETS
Min Deposit £10 and bet on sports. #AD Full T&Cs apply.
Full T&C's Apply
Popular Questions
Does Betbull do horse racing?
Betbull does horse racing both UK, Ireland and international races are covered.
Summary of BetBull Racing
We hope this BetBull review has been helpful to you.
It should be pretty clear that we rate this app as a great option for sports betting. It offers a generous welcome offer to new players, and the minimum deposit is very reasonable.
There are other betting sites with more expansive sports markets to place a bet on, but the social betting aspect of BetBull helps it stand apart from the crowd.
In a busy marketplace, BetBull is a total original, fun and its easy to see why it is growing in popularity every day.
Pros
It's a social betting experience, unmatched by another other
The tips leaderboard is a great and unique idea
A range of betting markets
Live betting options
Follow other punters and share betting tips
The live chat facility and customer service are pretty impressive
Fully licensed and regulated
Live betting is always available
Betbull best odds guaranteed on applicable bets
Cons
Other sites offer more payment methods and a larger selection of betting markets
It can be tough to get a free bet after the welcome bonus has been claimed
Overall though, our impressions following a full BetBull review are very positive. If you enjoy the idea of social betting, this app is well worthy of your time.
Other Racing Betting Brands
We really enjoy BetBull online betting but here is a full list of other racing betting brands that may also interest you, check them out today:
The online sites above all offer a variety of welcome bonuses and sign up offers to new players so you are sure to find something you like.