Have you found yourself being out and about when you want to watch horse racing events?
Being able to watch live-streamed events will be incredibly beneficial for punters wanting to watch and bet while being on the go!
Unibet offers a wide range of streams for sports events, such as horse racing, live stream football, greyhound racing and other various sports teams events.
This brilliant guide will let you in on everything you should know about the Unibet live streaming service, so keep reading!
Find out more about Unibet live streaming: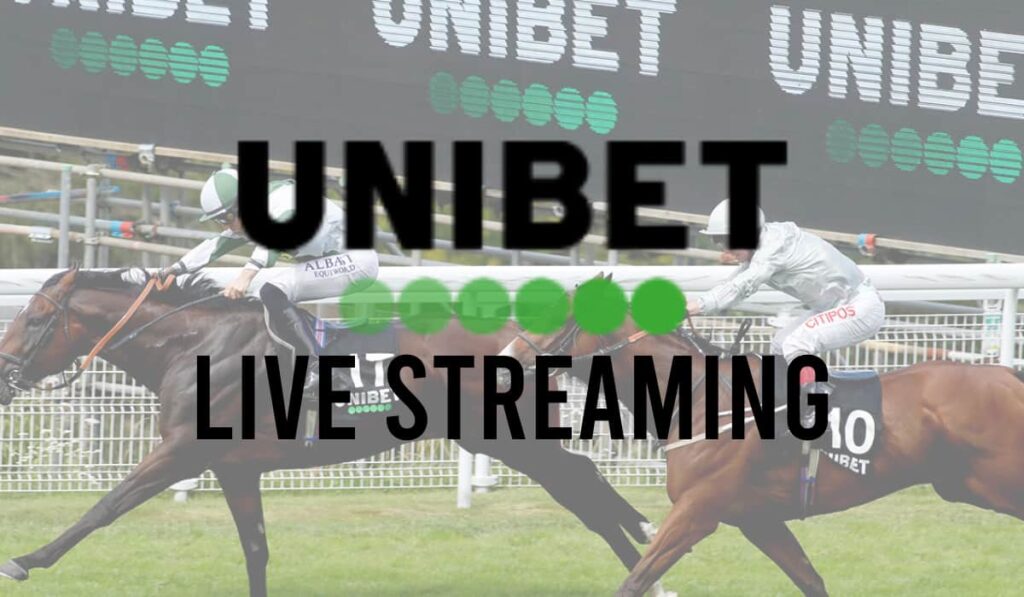 What is Unibet TV?
Unibet TV is the platform service where you will find the opportunity to explore and view the active sporting events that you can bet on as you access always updating odds.
The Unibet TV facility can be accessed via the Unibet mobile apps, as well as their website.
This live-streaming feature brings racing and sporting fans straight into the action, closer than ever!
Is Unibet safe to play on?
The Unibet streaming service is operated by Platinum Gaming Limited. Unibet has been regulated by the Gibraltar gambling commissioner under the gambling act and licensed by the UK gambling commission.
Being regulated, licensed, and operated by amazing and reputable companies, such as Platinum Gaming Limited helps bettors to play responsibly.
Gambling can be addictive, therefore, it is important that you are careful with gambling services.
Watching Racing Live on Unibet – Step by Step
Here is our step-by-step guide to watching racing live on Unibet:
Log in or create an account for Unibet.
Locate the sportsbook, then locate the 'streaming' tab within Unibet tv.
Explore the long list of sporting events available to watch and bet on.
Choose the specific market and event.
View the latest odds for your choice.
Click the TV icon
You now will be able to access Unibet live streaming!
Always ensure that you know which Unibet payment options Unibet allows on their site.
How Much Do I Need to Bet to Watch Live Video on Unibet?
Unibet allows customers to place a tiny minimum bet requirement of £1 stake per race!
You will be able to access the amazing horse racing commentaries as soon as you have placed the small bet, catching in on all the action!
Unibet Live Streaming BET £10 GET £40 IN FREE BETS
The subscription for Unibet customers is absolutely free!
Wouldn't you like to be a Unibet member, gaining casino bonus fun, free bets, and live streams constantly?
Is Unibet live streaming free?
You can access streaming Unibet sports events for free when you are a Unibet member!
You must, however, have placed a bet within the last 24 hours to access a live stream on Unibet TV today!
If your account is empty, you can still watch the live sports betting options on Unibet live streaming – just ensure you have placed a bet within 24 hours.
Despite being rare, there can occasionally be a small fee for a specific event on Unibet TV as the stream may be extremely expensive, however, this will be shown boldly!
Is There a Time Delay on Unibet Live Streaming?
There is a very small timing delay, reaching around 10 seconds to 30 seconds long.
Depending on your internet connection, this can differ your delaying time. If you are watching from Safari, Google Chrome, or Internet Explorer, you should always ensure the internet is to its full standard.
Usually, there will be a delay within in-play betting in horse racing events, therefore, it is important that you are aware that delays can occur when live streaming.
Unibet Live Stream Video Not Working
If your Unibet Live streaming feature on Unibet TV is unfortunately not working, this could be because of the following reasons:
Your internet connection is slow or network congestion has appeared.
Technical issues within the mobile app or live stream.
You have not placed a bet within the past 24 hours.
You have not placed a £1 minimum bet stake yet.
How Can I Watch Horse Racing on Unibet – Watch Our Video
To watch our videos all about live-streaming the horse racing, check out our Youtube Channel!
Why is it a good idea to use Unibet live streaming?
There are so many reasons why you should use Unibet TV for Unibet live streaming, here are a few to mention:
Watching your favourite events live
You can review all of the latest odds for live betting with your favourite events, betting as you go!
When you watch sports betting events live, you get to view the action as it happens (with a slight delay), therefore, when you notice any changes in the live race or other sports momentum, you can switch your odds!
Be in the moment!
Feeling as if you are at the event is one of the favoured points for live streaming.
Any accounts playing the live streams will feel in the moment!
As you get to watch on the go, you can feel like you are at the event wherever you are!
Keep track of your bets
When you watch live streaming events, you can keep track of your bets in a sturdier stance as you will get the chance to shift your bets depending on the momentum of the game.
Viewing Unibet live streams gives you the greatest betting options for sure!
Here are all articles related to the market-leading UK Unibet bookmaker:
Summary of Unibet Live Stream
Unibet Live streaming is great for keeping up with your bets and ensuring the best outcome you can get!
Streaming Unibet TV has definitely made a massive improvement for Unibet, as their customers will be able to watch football (premier league), horse racing, and so many more events!
Enjoy!
If you want to watch the best live streams then the below online bookmakers also offer this great perk:
All of the above offer live sports streaming options, check them out today.