Rossa Ryan is a highly talented jockey who has gained widespread recognition for his success.
Born on August 6, 1996, in County Cork, Ireland, Rossa was interested in horses from a young age.
His father, Richard Ryan, was a former jockey, and his mother, who worked with horses, also influenced his passion for the sport.
Find out more about Rossa Ryan:
Rossa Ryan Booked Rides
Rossa Ryan's upcoming rides are:
An unexpected error occurred.
If no entries are shown above then Rossa Ryan has no confirmed future rides.
Rossa Ryan Stats
Rossa Ryan recent stats are:
An unexpected error occurred.
The list above shows all of Rossa Ryan's recent racing stats, runners, and form guide to see if the horse jockey is in good form.
Rossa Ryan Facts
Name – Rossa Ryan
Age – 23 years old
DOB – July 3rd 2000
Place of birth – Galway
Nationality – Irish
Height – 5'8
Weight – 8st 9lbs
Rossa Ryan Big Wins
Rossa Ryan has had many notable victories throughout his career as a jockey, but some of his biggest wins include:
Ayr Gold Cup (2018) – Ryan rode Baron Bolt to victory.
Hungerford Stakes (2019) – Ryan rode Sir Dancealot to victory in this highly competitive race.
Greenham Stakes (2019) – Ryan rode Mohaather to victory in this race, which is often seen as a key trial for the 2,000 Guineas.
Dubai Duty Free Shergar Cup (2019) – Ryan was the winning jockey in this international competition, which sees jockeys from around the world compete against each other.
British EBF Premier Fillies' Handicap (2020) – Ryan rode the horse Almareekh to victory.
Park Stakes (2021) – Ryan rode Kinross to victory in this important race.
Ross Ryan Career
Ryan began his professional career as an apprentice jockey in 2015, riding his first winner at Wolverhampton on March 28 of the same year. He quickly gained attention for his skills in the saddle, and in 2017, he was awarded the prestigious Champion Apprentice title.
Since then, Ryan has gone on to establish himself as one of the most promising jockeys in the United Kingdom. He has ridden winners at many of the top racing events, including the Royal Ascot, the Goodwood Festival, and the St Leger Festival.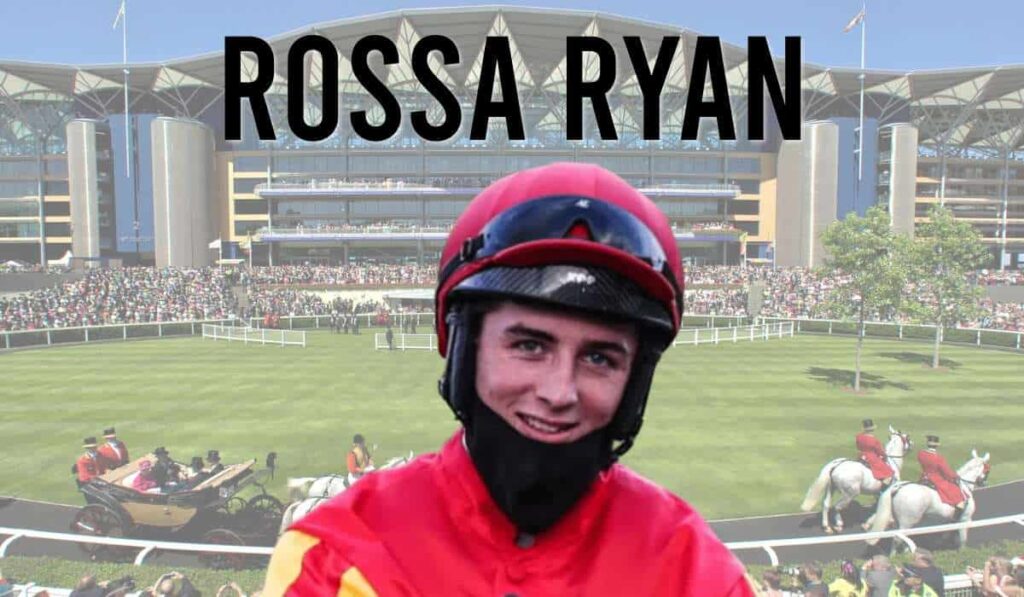 One of Ryan's most notable accomplishments was his victory in the 2018 Ayr Gold Cup, one of the most prestigious flat races in the UK. He rode the horse, Baron Bolt, to victory, beating out 24 other competitors in a highly competitive race. The win earned Ryan significant recognition in the racing community and cemented his reputation as a top jockey.
Ryan has continued to build on his success, and in 2020, he rode his 500th winner. He has also established himself as a reliable jockey for some of the most prestigious racing stables in the UK, including Andrew Balding and Richard Hannon. His success has led to him being nominated for various awards, including the 2020 Flat Jockey of the Year Award.
Off The Track
In addition to his accomplishments on the track, Ryan is also highly regarded for his professionalism and dedication to the sport. He is known for his focus and attention to detail, which has allowed him to consistently perform at a high level.
Summary
Despite his relatively short career, Ryan has already achieved a great deal in the racing world.
He has established himself as a highly-skilled jockey with a bright future ahead of him.
With his focus and determination, it is likely that he will continue to be a major force in the UK horse racing industry for years to come.
Other Flat Racing Jockeys