Is the ground soft for today's racing and you are looking for which horses will act in the ground? Well, we look at factors that can help you decide which horses are worth looking at.
It's true that some horses don't act on certain types of ground and if a horse prefers quick ground, it will not run to its full potential on soft ground as it doesn't suit its running action.
A good way to gauge whether a horse will act on soft or heavy ground is to observe their breeding.
If their sire or dam was a mud lover, there is a good chance that their progeny would also act on soft or heavy ground.
Our Soft Ground Horses guide provides heavy ground sires and mud lovers for you to follow.
Find out more about soft ground horses: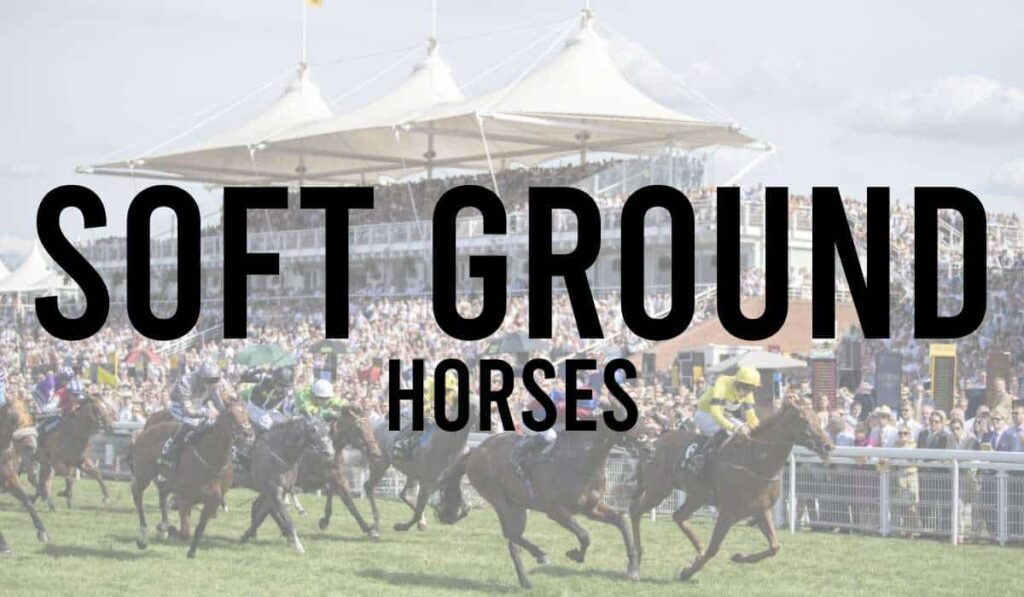 Soft Ground Horses Running Today
When the ground conditions are soft or heavy, shrewd gamblers are on the hunt for mud lovers.
Some racehorses thrive when the underfoot conditions are soft or heavy ground.
Our best horse racing tipsters provide daily tips and, as part of their analysis, will research selections that will run well in the going conditions.
Check out the free horse racing daily tips that integrate if the horses will cope with the ground:
Horse racing tipsters prefer the conditions to be the wet and softer ground because they can search for mud-loving horses running today.
If there are no races with Soft / Heavy going today the tipsters will filter Today's Card of runners and riders to oppose horses who relish the mud.
Sire Stats for Soft and Heavy Ground
The following table lists the top sires by wins-to-runs strike-rate on heavy or soft ground.
| Name | Heavy | Soft | G/S |
| --- | --- | --- | --- |
| Captain Rio | 13% | 14% | 8% |
| Intikhab | 7% | 20% | 17% |
| Hawk Wing | 9% | 10% | 9% |
| Shamardal | 22% | 16% | 20% |
| Avonbridge | 18% | 11% | 8% |
The heavy ground sires have a great strike-rate on heavier ground conditions.
When studying the sire statistics the data shows the ground conditions are a key part.
Why do some horses like soft ground?
Some horses like soft ground because of the running action related to how the foot shifts when it hits the surface.
A horse with a sloping shoulder will act on the softer ground better as it would be better at handling the surface.
The running style and frame of the racehorse determines how well the horse will run in softer conditions.
Best Soft Ground Horses
Here are the best soft-ground horses to breed from:
Authorized
Bahamian Bounty
Belardo
Camelot
Dalahkani
Dandy Man
Danehill Dancer
Dark Angel
Excelebration
Excellent Art
Farhh
Fast Company
Galileo
Halling
Hellvelyn
Jeremy – Act well on soft (Mud lovers)
Kodiac
Kyllachy
Lope De Vega
Mahler
Mastercraftsman
Mayson
Monsun
Night Of Thunder
No Nay Never
Notnowcato
Passing Glance
Pivotal
Roderic O'Connor
Saddler Maker
Sea The Stars – Handle soft ground well, and also like good ground
Showcasing
Sir Percy
Zoffany
Popular Questions
What is the difference between heavy and soft ground horse racing?
The main difference between soft and heavy ground is how far the horses sink into the surface.
The soft ground on a turf racecourse has a large amount of moisture in the ground.
The heavy ground on a turf racecourse sinks very deeply into it and the turf starts to cut up.
How do you know if a horse likes soft ground?
The best way to know if a horse likes soft ground is to inspect its recent form in similar going conditions.
The previous form on soft going is a great indicator of whether the horse will handle the ground conditions.
If a horse has won or been placed on soft or heavy going, it is probably safe to assume that similar underfoot conditions will pose it no problem.
For punters trying to find out if an unraced horse will handle the softer underfoot conditions you need to research the Progeny Horse Racing Statistics and whether the sire handled the soft or not.
Summary of Soft Ground Loving Horses
Soft ground is common for UK and Irish horse racing due to the amount of rain forecasted throughout the year.
As the jumps season is in winter the weather tends to be much wetter and the temperature is much lower so most National Hunt horses encounter soft or heavy conditions regularly.
The soft surface can be harder for horses to run on as the ground is deeper and moisture in the ground causes the racehorses to run much slower.
Savvy sports bettors always hunt for horses that like soft ground when it rains.
Mud lovers perform very well in soft and even better in heavy ground conditions.
Here are all the articles about horse racing stats for the UK and Irish races.
Subjects covered in our soft ground horses guide – soft going, good to soft, testing ground, sire stats