The horse racing goings are the ground conditions at UK racecourses or Irish racecourses on which the races will take place.
The going is determined by the amount of moisture in the ground.
It is measured by the clerk of the racecourse and is a very important factor because some horses prefer running on a certain type of going.
Find out more about horse racing goings: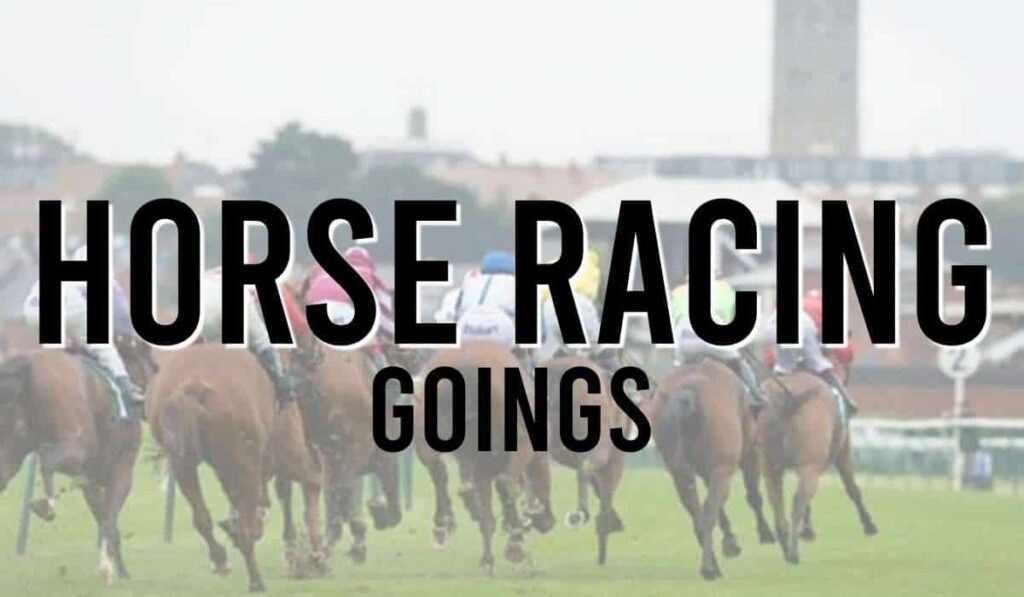 The Different Types of Horse Racing Goings
The official going is given by the clerk of the course to describe the state of the ground (the racing surface).
This is important because racehorses perform differently on different surfaces, many displaying a distinct preference for either faster or slower ground.
Generally, fast conditions favour the sharper, speed horses while soft ground puts the emphasis on stamina and favours the stronger, staying type of horse.
Types of official going on turf are:
Firm Going
Firm going is the quickest and hardest type of racing surface, it is basically when the ground is firm or hard and there has been no rain.
Many trainers will not race their horses on firm ground due to the risk of injury.
Racecourses are watered when necessary to maintain some moisture in the ground to try to prevent firm going.
That said, there are some horses who are suited by fast ground but fields are usually small when the going is officially firm due to trainers being cautious about running.
Good to Firm Going
Good to firm is the official description of ground that is quick but has some "give" in it. It is considered suitable for most racehorses.
Racecourse officials are constantly monitoring the weather and will water the track if the ground is fast, with no rain forecast. Ideally, racecourses are looking to maintain good ground.
Good to firm is a common going type in peak summer.
Good Going
Good ground is considered ideal conditions for racehorses. It is when the ground has some cushion and moisture in it but it is neither hard nor soft underfoot.
When the going is good it will attract large fields at the big race meetings – only horses who need soft ground are likely to stay away. It is generally considered a safe racing ground.
Good to Soft Going
Good to soft ground is good ground with a bit more moisture in it, a horse will make a print into the ground.
Good to soft ground has enough moisture in it to be considered suitable for horses who favour soft or a "bit of cut" as it is sometimes referred to.
Only fast ground specialists can be considered at a disadvantage in these conditions and may choose not to run.
Yielding Ground Horse Racing Going
Yielding ground in horse racing is unique to Irish racing and is the equivalent of the British good to soft.
Yielding Ground Horse Racing Going means the racecourse has a significant amount of "give" to the ground due to recent rain.
Yielding means that the ground yields to the pressure of hooves.
Yielding is a description peculiar to Ireland for horse racing going reports.
Soft Going
Soft going is when the ground is soft and slightly muddy underfoot.
Soft ground is common during the jumps season and national hunt horses are generally better able to handle these conditions.
Soft ground has a greater impact on flat racing, sometimes turning the form book upside down for horses used to racing on good or fast ground at other times of the season.
Heavy Going
Heavy ground in horse racing is a phrase used to describe a turf track that has been massively softened by rain.
Heavy going is the official description of saturated ground and this is as testing as it gets for racehorses.
Trainers are reluctant to risk their best horses in these conditions, fearing a gruelling race that could leave its mark and affect future targets.
The heavy ground racecourse conditions are loved by some sires who are known the horse racing community as mud lovers.
Types of Official Going for All-Weather Racing
The types of going for all-weather racing are:
Fast Going
Even artificial surfaces are affected by the weather and can still vary. A fast all-weather track has minimal moisture in it and will result in very fast times.
The all-weather racing fast-going surface is quick and dry with minimal moisture. Horses can move quicker and post significantly faster times.
Standard Going
The "standard going" for all-weather horse racing is deemed optimal, with neither too much nor too little moisture in the ground.
The clerk of the racecourse strives to achieve the horse racing track to be "standard going" and is considered the ideal or standard surface for all-weather horse races.
Slow Going
When all-weather tracks contain a lot of moisture, they are described as slow and this will be reflected in the times.
Similar to soft ground on turf, slow is used to describe an all-weather racing surface with moisture in it.
The slow horse racing going reports means the all-weather track is wet on both the surface and base.
Do Horses Like Different Ground Conditions?
Yes, different horses like different ground conditions.
The going reports can determine the entries of a horse running and naturally impact the betting odds.
It is important to check the previous form on how a horse has run in the varying ground goings when trying to pick a winner.
A horse's trainer decision to run a horse can depend on the ground conditions.
Some horses are specialists on a particular ground condition because of their running action, with those with higher knee action preferring softer going.
Whereas some racehorses may be adaptable to different horse racing goings and win on various ground conditions.
The conditions may vary the performance, so it is important to read the horse racing results.
Soft Ground Horses
Some racehorses thrive when the underfoot conditions are soft or heavy ground.
Mud lovers or horses who enjoy softer horse racing ground conditions tend to do well in the UK as it is a wet country.
When horses run on ground conditions that don't suit them, they perform below their best.
The knee action and breeding can hugely affect the performance of a racehorse if he prefers a different type of horse racing ground conditions.
Check out our full guide to soft-ground racehorses.
Fast Ground Horses
Lighter-frame racehorses seem to perform better on a firm ground surface.
If the horse is heavy the faster ground conditions can cause bruised feet, tendon injuries, splints, sore shins and laminitis, known as concussive laminitis.
A dry surface means horses can run faster and often results in the quickest race times.
Horse racing trainers will always research the racecourse going reports to see if their horse will get their favoured horse racing going.
Check out our full guide to fast-ground racehorses.
What is the GoingStick?
The GoingStick is a device used to measure the racecourse going.
The clerk of the course uses the GoingStick to gauge the softness or hardness of the ground conditions.
The ground is assessed by an official steward on the day of the race to check the amount of moisture in the ground is assessed by a numerical reading on the 'GoingStick'.
The TurfTrax GoingStick is poked into the ground and depending on how far the stick goes in, the reading will show how much moisture is in the ground.
The racecourse goings are of importance primarily for the safety and welfare of racehorses.
But for shrewd horse racing punters, the racecourse going reports are a primary factor when analysing the outcome of races.
Summary of Racing Goings
The going is a very important factor to consider with your horse racing betting.
You should be particularly wary of extremes of going. Firm ground is rarely seen outside of the summer and courses will go to great lengths to prevent going faster than good to firm so that conditions are safe for horses and jockeys.
The British weather can change the going dramatically in a short period of time so it is can be a factor in ante-post betting. Trainers will not hesitate to withdraw their best horses if conditions turn against them.
You can profit from noting down horses with a clear ground preference. By studying a horse's form and reading post-race comments, you can pinpoint those likely to improve in extremes of going.
We hope you enjoyed this guide, be sure to check our horse racing blog (UK) for more topics and discussion.
Here is a full list of the best horse racing betting brands around at the moment, some have some great welcome offers, check them out today.
The horse racing going is determined by the amount of moisture in the ground and is assessed by an official steward on the day of the race.
Horse Racing Stats