Want to find out more about the Grand National favourites for this year's race? We take a look at the favourites today and rate their chances, looking at key facts and figures.
As with all races, the favourites are the horses that are considered to have the best chance of winning. Their odds and chances are calculated by the bookmakers, who look at a range of statistics to calculate their betting odds.
But who will win this year's National? Will it be Noble Yeats, Any Second Now, or Grand National 2023 favourite Aint That A Shame over the Aintree fences?
Find out our selections for Aintree Festival day 3 races where we provide a detailed analysis of all Saturday racing including a huge price for Grand National Tips.
In this guide, we'll look at some of the Grand National betting favourites who are expected to be dominant in this year's Grand National betting markets.
Find out more about The Grand National favourites: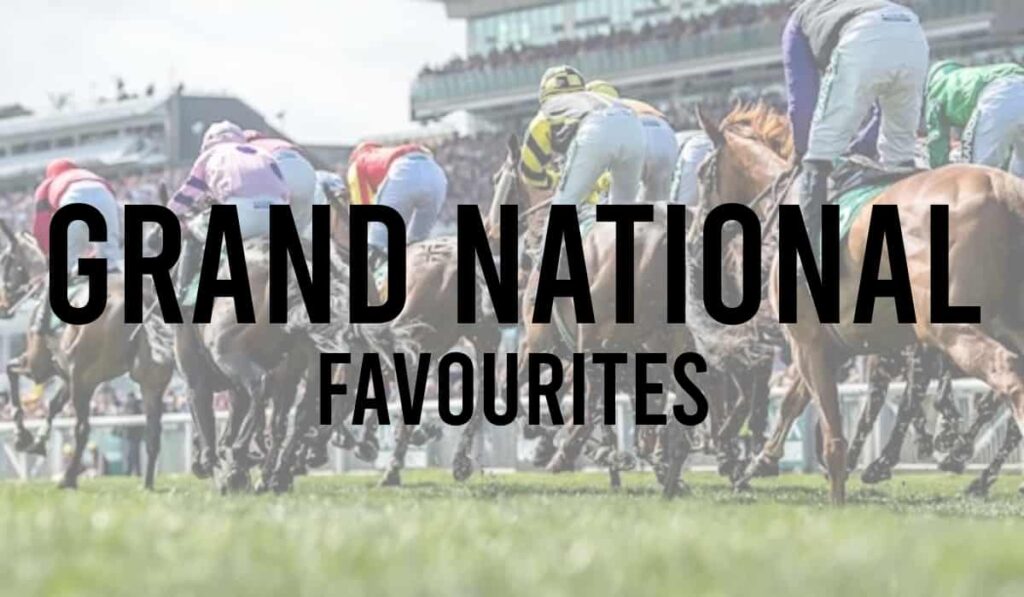 Who are the Grand National Favourites 2023?
The punter's favourites for the grand national in the betting market have been.
Noble Yeats
Conflated
Gaillard De Mesnil
Any Second Now
Longhouse Poet
How Many Grand National Favourites Have Won?
There have been 66 favourites or joint-favourites for the Grand National in the last 50 years, with 40 finishing the course. In recent years, they've been even more consistent, with only one favourite – Teaforthree in 2014 – failing to finish the race.
The list below shows that only 14 favourites or joint-favourites have won the Grand National since the early 1900's.
Tiger Roll – 2019 (4/1)
Don't Push It – 2010 (10/1jf)
Comply Or Die – 2008 (7/1jf)
Hedgehunter – 2005 (7/1)
Earth Summit – 1998 (7/1)
Rough Quest – 1996 (7/1)
Grittar – 1982 (7/1)
Red Rum – 1973 (9/1jf)
Merryman II – 1960 (13/2)
Freebooter – 1950 (10/1)
Sprig – 1927 (8/1)
Poethlyn – 1920 (11/4)
Jerry M – 1912 (4/1jf)
Drumcree – 1903 (13/2)
A favourite or joint-favourite has only won the National eight times since 1968, accounting for only 16 percent of all favourites. Hedgehunter (2005), Comply or Die (2008), Don't Push It (2010), and 2019's winner, Tiger Roll, are the four that have come out since the turn of the century.
Grand National 2023 Tips
When seeking Grand National tips, looking for horses that have raced well in recent Aintree Grand Nationals – is a solid place to start.
Although, up until recently, it was widely believed that horses weighing more than 70kg could never win. This allowed gamblers to eliminate a sizable portion of the field. However, this tendency appears to be reversing, as seen by the fact that Many Clouds won the Grand National in 2015, despite the fact that six Grand National winners had carried 70kg or more in weight since 2009.
You can take a look at the full line-up of the Grand National runners.
How to Pick Your Horses for Grand National
It's no secret that this famous race is both thrilling and eventful, especially when you know the bet credits stake or how much to place on your first bet. But, before doing anything drastic, you should do your research to prepare for the Grand National.
Take a page from the experts who make the Grand National predictions by considering the following factors when choosing your horses:
Weight
Age
Stamina
Previous Experience
Betting on The Grand National Favourite
If you want to place a bet on The Grand National favourite check out these bookmakers:
All of them made our list of the best UK betting sites. They also have a wide variety of betting methods payments.
Responsible Gambling
Being a responsible gambler is more than just knowing if the correct payment method exclusions apply to your wager, who to bet on, or when the free bets expire when it comes to the Grand National. New customers and return clients should know to do the following:
Prior to playing, set your time and monetary constraints.
Only gamble with the amount of money that you are willing to lose.
Most importantly, you should never go after your losses.
This is quite self-explanatory but, if you are angry, depressed, or not in a great state, then you shouldn't gamble.
Popular Questions
What Is The Best Outsider For The Grand National?
The best outsider for the 2023 Grand National is Burrows Saint.
Priced at 20-1 he is a great outsider in the field to back each way.
Some of the biggest betting brands online are paying top 7 places for each way bets.
When is the Grand National Taking Place?
The Grand National Opening Day on April 13, 2023, will officially kick off this year's three-day racing event.
Ladies' Day will be held on Friday, April 14, 2023, and the Grand National Day will be held on Saturday, April 15.
The Randox Grand National Steeplechase, on the other hand, will begin at 5:15 p.m. on April 15th.
Where is the Grand National Held?
The 2023 Grand National will be held at the Aintree Racecourse at Merseyside.
How to Watch The Grand National?
The Randox Grand National of 2023 will be shown live on several TV stations.
You can also stream the Grand National on both ITV Racing and Racing TV.
What Time Does The Grand National Take Place?
The Grand National has been moved back to 5:15 PM in recent years, and it is now broadcast on ITV1.
The later race schedule is primarily to attract more viewers, as there were typically many other sporting activities – such as football – happening at that time when the race was run around 4:00 PM.
What are the requirements for horses at the Grand National?
Horses must be seven years old or older and have previously placed in a three-mile or longer recognized pursuit in order to participate in the Grand National. It's also a handicap race, so the horses must stay within certain weight limits.
How many fences are in the Grand National?
The Grand National course has 16 obstacles in total, 14 of which are jumped twice during the four-mile, two and a half furlong distance, the greatest Jump racing distance in the UK's Grand National.
Thorn fences were once made of natural thorn hedges and were known as such. They are currently made of Sitka or Norway spruce, which is carried down from the Lake District and woven into a plastic birch structure that allows flexibility if a runner makes a mistake at the leap.
Becher's Brook, Canal Turn, and Valentine's are just a few of the well-known obstacles at Aintree, all of which pose varied challenges for the runners and riders. Each fence is different in height, with the shortest being 4ft 6″ and the tallest being 5ft 2″ with a 5ft wide ditch on the take-off side.
Final Thoughts of The Grand National Favourites
If you're new to the sport, it's easy to be overwhelmed by all the information associated with the Grand National. There are lots of factors to take into consideration before placing a bet and making your Grand National selection.
The favourites we have covered on this page all have a great chance – they are with good trainers, have proven form, good jockeys, should handle the course and jump well. Some punters, choose to ignore these facts and follow their "gut", selecting names, silk colours or such factors. Whichever you are – we wish you luck!
Here are all the related articles to the Randox Grand National 2023.
If you do choose to bet, please bet responsibly.