The eagerly anticipated Grand National event is fast approaching and if you're anything like us, you'll be scouring the web for the best Grand National special offers and free bets around.
In this one-stop guide, we'll walk you through placing a bet on the Grand National online, finding the top and most rewarding bookmakers, bagging some free bets and getting the best odds. It may seem overwhelming but there are generous options out there and we make it easy for you to find them.
The greatest steeplechase in the world is one of the most captivating races every year. There are huge wins up for grabs and lots of bookmakers to consider, so read on for everything that you need to know about betting on the Grand National 2023.
Find out more now about how to bet on The Grand National online: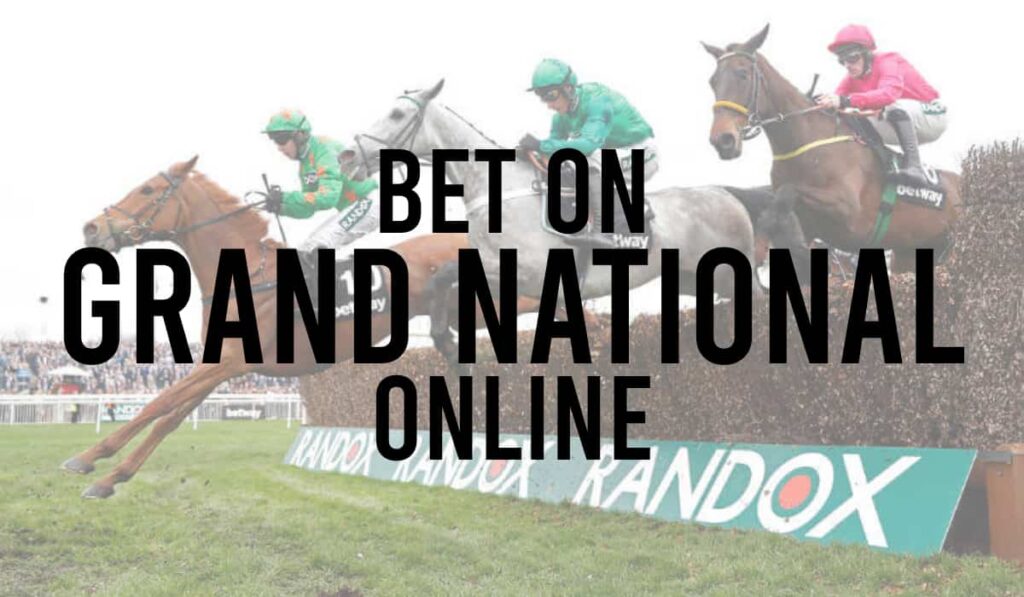 Can I Put a Bet on the Grand National Online?
The easiest way to place a bet on the Grand National is to bet with an online bookmaker.
Placing online bets is simple and easy, plus you can sometimes land a free bet bonus as a newcomer to a betting site – terms and conditions will apply so be sure to check them out.
There are generally lots of generous offers, especially around the time of The National, with lots of special offers and free bet bonuses for new customers.
Bookmakers pull out all the stops for the Grand National offering free bets bonuses, extra places and other punter incentives.
Are Betting Shops Open for The Grand National?
Betting shops and bookmaker stores are open during the Grand National, allowing you to go into the nearest branch to place your bet; the Grand National is in fact their most busy day of the year!
Betting shops therefore often stay open longer than the usual opening hours on Grand National day and you can pop in at any time to place your bet. With that said, the most generous offers often occur online.
It's easier for online bookmakers to offer lots of free bets and special offers. As each bookie competes for your attention, they continue to brandish exciting promotions and incentives for you to join. This is a great situation, with the bookmaker happy to gain new customers and for punters to embrace great deals.
Throughout the United Kingdom there are thousands of high street betting shops so check out your nearest bookmaker:
Your local high street betting shop will be showing the race at 5:15pm so you can watch the Grand National race live.
Choosing a Betting Site – How to Bet on the Grand National
When searching for the latest Grand National odds you will find a number of top and widely-recognised bookmakers such as Ladbrokes, Bet365, 888Sport and Coral.
We have thoroughly researched the best offers for the Grand National and here's our list of the best betting sites for the Grand National:
How to Bet on the Grand National
Here's our step-by-step guide on placing a Grand National bet online, following our steps, and landing huge potential wins.
Firstly, find your favourite bookmakers with the best promotion and visit their website.
You can then register by entering your details, this only takes a minute.
The sites we have recommended are encrypted and only have secure payment methods, you can deposit to qualify for your favourite promotion.
Visit the categories and select the Grand National, you can then browse the Grand National odds.
Select your bet type and place your bet – it's that easy!
How Do You Find the Grand National Market or Odds Online?
For all the information you want on the Grand National, simply visit the chosen bookmaker and select their Grand National category.
Most online betting sites showcase their Grand National odds all year round despite the event taking place once a year, every April.
You can also find all the horse racing results on our page today!
For all details on the race such as the odds, the market, the runners and times you can simply browse their Grand National category.
You can also find all of the Grand National tips and advice for the event using our full breakdown and expert picks.
Grand National Bet Types
There are lots of different types of betting available for the event but we have pointed out the most notable bets and features below:
Win Only
If you want to bet on choosing the winner, then you can place a win only bet. If your runner gets first place then you win, if they don't, then you lose. There are higher odds available for win only bets. Win only bets remains the same regardless of single or accumulated odds.
Each Way Bet
Each way bets return on any runners that place. Each way bets can payout on 1st and 2nd place or 1st, 2nd and 3rd places or any of the top four. Applies to single and multiple bets.
Some of the best horse racing betting apps are offering extra places on the Grand National races with some bookmakers offering to pay up to 7 places.
Non-Runner, No Bet – NRNB
If you place a bet on a horse that drops out of the event prior to the start, then you will have a non-runner, most top bookmakers offer a non-runner, no bet deal. That means that you get a refund if your horse doesn't race.
Faller Insurance
There's nothing more disappointing than having your pick fall at the first Grand National Fence. Lots of bookies like Coral Faller Insurance are now offering a faller refund. If your horse falls, unseats or is brought down you will receive a free bet.
Generally, it matches your stake and can be anything between £5-£20 in free bets.
Check out our guide for more information on previous Grand National fallers statistics.
Placed Finish Refund
If you didn't opt for each way and just miss out on a win then you could get a refund. Enjoy free bets if your horse places but does not win. This is a special offer put on by many bookmakers during the Grand National build up.
Ante-Post Betting
You don't have to take the starting price and could opt for ante-post betting which enables you to potentially take a bigger price than you would have got at the start. There's a risk to ante-post betting, if your horse doesn't line up then you will lose your stake.
Grand National Best Odds Guaranteed
Grand National betting has never been better, there are a lot of bookmakers now offering the best odds guaranteed (BOG). That means that they only offer the best odds, if you find any better odds, they will match them.
Best odds guaranteed are not offered until the day of the race. Here are well-known bookies that are currently offering BOG:
Tips on Free Bets
When it comes to shopping around for The Grand National, you will want to start looking early. This allows you to get a lay of the land, and discover various promotions and deals being offered prior to the race.
As mentioned above you will be able to get insurance, refund offers, place finishes and free bets when you register at different online bookies. Choose your Grand National bets carefully with plenty of Grand National 2023 free bet bonuses given when you sign up to the top bookmakers.
To qualify for a free bet, your first bet may need to match the minimum odds in the terms of the bet. Read the terms and conditions before activating your promotion. Payment restrictions apply. The qualifying bet is the first bet you make, you may need to meet a minimum deposit.
Please note, your free bets expire after seven days. This can vary from bookmaker to bookmaker, but generally, you have seven days to place your bet once the free bet is credited. A free bet expires, be sure to check the terms.
Who Are the 2023 Grand National Runners?
You can find out more about the runners, trainers and jockeys with all of our full information on the Grand National line up on our Grand National 2023 runners.
Any Second Now – 11-12
Conflated – 11-12
Hewick – 11-12
Galvin – 11-11
Noble Yeats – 11-11
Envoi Allen – 11-8
Royale Pagaille – 11-8
Fury Road – 11-6
Capodanno – 11-5
The Big Dog – 11-5
Delta Work – 11-4
Sam Brown – 11-4
Franco de Port – 11-3
Lifetime Ambition – 11-3
Carefully Selected – 11-1
Chris's Dream – 11-0
Coko Beach – 11-0
Gaillard du Mesnil – 11-0
Longhouse Poet – 11-0
Minella Times – 11-0
Darasso – 10-13
Burrows Saint – 10-12
Pencilfulloflead – 10-12
Ga Law – 10-11
Happygolucky – 10-11
Le Milos – 10-11
Quick Wave – 10-11
The Shunter – 10-11
Escaria Ten – 10-10
Farclas – 10-10
Remastered – 10-10
The Big Breakaway – 10-10
Threeunderthrufive – 10-9
Cape Gentleman – 10-8
Cilaos Emery – 10-8
Diol Ker – 10-8
Roi Mage – 10-8
A Wave of The Sea – 10-6
Minella Trump – 10-6
Vanillier – 10-6
Velvet Elvis – 10-6
Ain't That A Shame – 10-5
Corach Rambler – 10-5
Enjoy d'Allen – 10-5
Lord Lariat – 10-5
Ash Tree Meadow – 10-4
Battleoverdoyen – 10-4
Cloudy Glen – 10-4
Gin On Lime – 10-4
Mister Coffey – 10-4
Mr Incredible – 10-4
Ashtown Lad – 10-3
Gabbys Cross – 10-2
Hill Sixteen – 10-2
Eva's Oskar – 10-1
Rapper – 10-1
Recite A Prayer – 10-1
Death Duty – 10-0
Dunboyne – 10-0
Francky du Berlais – 10-0
Frontal Assault – 10-0
Our Power – 10-0
Sporting John – 10-0
Back On The Lash – 9-13
Fortescue – 9-13
Defi Bleu – 9-12
Born By The Sea – 9-10
Gevrey – 9-10
Milan Native – 9-10
Punitive – 9-10
Captain Kangaroo – 9-8
Darrens Hope – 9-8
Fakiera – 9-8
Mortal – 9-8
Captain Cattistock – 9-5
Fantastikas – 9-5
Secret Reprieve – 9-5
Glamorgan Duke – 9-1
The record shows on average 16% of Grand National SP Favourites win the race so punters love to try their luck backing an outsider with the race being like a lottery. With 40 runners and 30 obstacles to jump you need a lot of luck in running to pick the winner of the 2023 Grand National.
Find the Grand National Betting Page
Finding the Grand National betting page on any bookmaker is simple, usually, sites showcase the event on their homepage in the build-up and especially on Grand National Day.
Here's how to find the event's betting market:
It will vary slightly on each bookmaker, most will showcase the Grand National on the homepage in the months building up. You can click on it and peruse the different markets and betting opportunities.
If it's not on the homepage, scroll the categories and pick out the British horse racing section.
You can then find Grand National and scroll through the various Grand National odds and markets before placing your bet.
If for any reason you still cannot find the event then take a look at the Aintree racecourse and pick out The Grand National, the big race takes place at 5.15 pm on Saturday 15th April.
Check out the horse racing betting odds and pick out your favourite. You can then add it to you bet slip and enter your stake. If you are using a free bet, scroll the bet slip and select the free bet.
How to Withdraw Your Winnings
If you're lucky enough to pick a winner, then making a withdrawal is simple. Follow our steps to withdraw your winnings.
Log into your account – your win should show on your balance.
Click on the banking section of your account.
Choose withdraw and enter the amount you wish to withdraw and the account you want the funds to go into.
Confirm and you will receive your winnings within 3 days.
FAQs
What time does the Grand National start?
The Grand National of 2023 takes place on April the 15th and starts at 5.15pm.
The Grand National is always an April event and you can keep up to date on times, results and more using our full page and guide on The Grand National times.
Who were the previous Grand National winners?
Here are the previous Grand National winners from the past 10 years:
2012 – Neptune Collonges
2013 – Auroras Encore
2014 – Pineau De Re
2015 – Many Clouds
2016 – Rule The World
2017 – One for Arthur
2018 – Tiger Roll
2019 – Tiger Roll
2021 – Minella Times
2022 – Noble Yeats
How are free bets credited?
Once you have matched the minimum deposit and made the first qualifying bet, you will receive your free bet. Free bets are credited to your account and you can start using them right away.
If you have any issues, you can contact the bookmaker via customer support but generally, it is easy, the free bets show in your account and you can use it for horse racing or any Grand National bet.
How long are free bets valid for?
Place Grand National bets and activate free bets, free bets are usually valid for seven days from the date they are awarded. Be sure to check the terms and conditions as this varies between sites.
If your free offer is specifically for betting on the Grand National online then it may be that you can only use the bets for Grand National betting.
Can I watch the Grand National live online?
Watch the Grand National online, you can tune in live from the ITV website or the Racing TV website – watch it from any mobile, tablet or desktop. Alternatively, you can watch it on television with Racing TV or ITV.
Find out more about the channels, the best way to watch it on the move and more with our full guide on watching the Grand National.
Summary of Betting on The Grand National Online
When it comes to Grand National, betting online is the most simple and effective way to place your bets. Although we love the atmosphere of a betting shop and you can still get great odds online and some good deals. We believe that the best offers for the 2023 Grand National and other horse racing events are now via online betting sites.
If signing to a new site, you could get horse racing free bets, refunds, insurance and great prices. Always check betting account deposit methods too, most of the welcome bonuses and Grand National offers are eligible via various payment methods including e-wallet, check out betting sites accepting PayPal or Skrill betting deposits, visa debit cards or pay by mobile betting methods.
Please note that this is a Grand National 2023 betting online guide, using our experience in the industry, and does not constitute professional advice.
Keywords Associated With Bet On Grand National Online
How do you place a bet on the Grand National
Grand National online bet 2023
How do I bet on the Grand National
2023 Grand National betting online guide
How to place a bet on the Grand National 2023
Where to place bets on Grand National 2023
How to use online betting for Grand National 2023
Grand National 2023 betting online guide
2023 Grand National online betting
Here are all the related articles to the Randox Grand National 2023.
If you do choose to bet, please bet responsibly