Most of us love to see an underdog winning – it's a British thing – and there is no exception with the 2023 Grand National race.
Our betting experts provide daily dark horse tips and have researched the Grand National runners and riders to find insider tips on which horses have a good chance at a bog price.
Historically packed full of incidents – if you check out the Grand National falling statistics you will learn more than half the field fail to complete the Aintree Grand National Course – in light of this, often a "dark horse" or outsider can emerge victoriously.
The top-rated horse racing tipsters are consistently studying form to try and find the "dark horses" who could outrun their betting odds in the Grand National. Sometimes these are improving horses, sometimes those returning to form or whose trainer knows what it takes to train a winner.
Our source of information comes from trainer quotes, shrewd gamblers and surveys conducted in our horse racing fans' social media groups to reveal the dark horses for Randox Grand National in 2023 who has 'each-way chances' despite 'massive prices in the betting market'.
In our Grand National Dark Horses guide, you will learn the pundit's Outsider Grand National Tips and which horses could be valuable in the betting markets.
Find out more about the Grand National dark horses: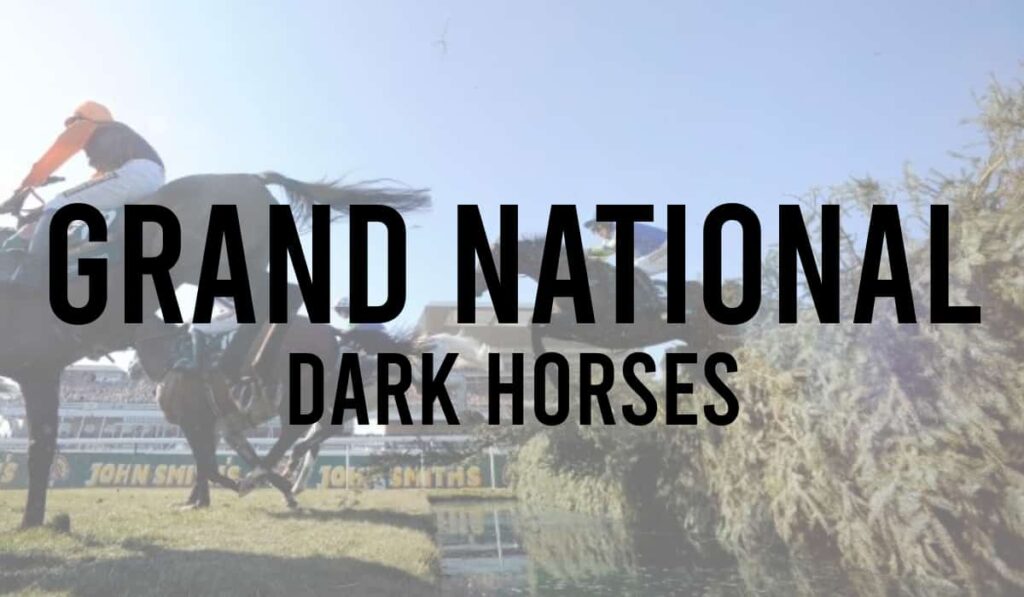 Could Dark Horses in the Grand National Betting Run Well?
The Grand National is a handicap race which means ALL of the Grand National horses should have the same chance of winning the racing event because the better horses on the official ratings need to carry more weight. Read more about handicap races.
If you were to watch the Grand National race live on TV then effectively all 40 runners and riders should dead heat because every horse is handicapped to have the same chances.
So how can you have outsiders in the betting markets at 100-1 and short-priced Grand National Starting Price Favourites in November 2023?
If you are looking to find a 2023 Grand National dark horse that will outrun the odds you need to consider those with favourable characteristics that have been overlooked by the bookmakers and ante-post punters.
The truth is that the odds do not reflect the horses' true chances of winning. But the horse does not know what odds they are!!
Every year there are several dark horses who outperform the odds and it's researching the runners and see who might be an incorrect price. It is a famous race for the unexpected being expected, anything can happen in this race. Read on for more with Grand National outsider tips.
How to Find Dark Horses in the Grand National Betting?
Here are ways to try and find dark horses who could outrun their current odds in the betting ring:
Have previous course form
Love the ground conditions of the race – read more about racing goings.
Look to have improvement up their sleeve
Be on a winning handicap mark
Seem ahead of the handicapper on the Grand National Handicap Weights
Have unlucky stories in running from previous races
Eyecatching jockey booking
Four Dark Horses for the 2023 Grand National
Trying to find a previous performance that suggests stamina is on their side or might have more improvement is where you can find value in the betting markets at Aintree in the 2023 Grand National.
Here are the four dark horses we think could run better than their latest odds are priced at:
Velvet Elvis
Mr Incredible
Enjoy Dallen
Delta Work
Wagering each way bets on these four horses is advised by bookmakers offering extra places on EW bet types.
Popular Questions
What does the phrase dark horse mean?
The phrase dark horse is used in the Grand National and other horse racing events to describe an "underdog". It is a horse that is unlikely and not expected to win the race and very little is known about them.
We've picked out some of the dark horses that we have researched and heard about that we believe could be worth a punt. yet their odds and non-existent hype allows them to fly under the radar.
What dark horse has won the Grand National?
Although it's unlikely for underdogs to win, we punt on them because it's a possibility and the rewards are huge. In the past, dark horses such as Aurora's Encore have won against all odds. Aurora's Encore was a 66-1 underdog that won the national in 2013.
Before that – we saw 100-1 odds come in with Tippery Tim back in 1928 and the year after another 100-1 was enjoyed by Gregalach.
That's what we love about the Grand National, anything can happen and over the years we've romanticised the dark horses in these races and the chances of winning.
How to bet on the Grand National online?
If you have found an underdog that you'd like to bet on, why not check out the different possible bets and place your Grand National bet online.
What horses are running in the Grand National?
Who are the Favourites?
Grand National favourites 2023 can be found in the betting odds article where we reveal all of the odds.
Final Thoughts on Grand National Dark Horses
Over the years the 40 horses challenging each other for the huge Grand National Prize Money on offer have seen some amazing finishes.
The 2023 Grand National has so many horses with great chances and several have been earmarked as "lively outsiders".
The dark horse tip for the Grand National will be a horse that we can see running a great race. The dark horse will generally be a longer price but we feel offers good value.
With all the leading online bookmakers offering some great Grand National Free Bets you can stake your money on your fancied horse and place the free bet welcome bonus on a dark horse who might win you big win payouts.
If you are shopping around for new betting sites online to capture the biggest odds on your selection we have a guide on how to place a bet on the Grand National online to assist bettors looking to have a flutter on the gee-gees.
Let's hope some of the selections above are Grand National Dark Horses to follow and manage to grab a place for each way bets placed.
Keywords Associated with Grand National Dark Horses
Grand National tips outsider
Grand National outsiders
Outsider tips for Grand National
Grand National favourites 2023
Rachel Blackmore Grand National
Here are all the related articles to the Randox Grand National 2023.
If you do choose to bet, please bet responsibly.